Creating a blogger outreach strategy has been one of my top priorities in link building since I started to focus on this challenging side of SEO. It is also become one of every online marketer's arsenals for marketing their content, page or website to let everyone know that their online asset exists and it has something of value to offer.
There are several reasons why blogger outreach has become a normal part of content promotion these days. The most common among them are:
Earn links (since link building today has become more difficult, most of the brands consider outreach as one of the viable techniques to acquire high quality and relevant links).
Build relationships with like-minded people.
Increase visits to a website (direct traffic and referred visits from referring link domains).
Tap into influencers' radars and make the website known to them.
With so many benefits of blogger outreach, we often neglect the lessons we can learn from it and further improvements we can do to advance our approaches in this aspect of online promotion.
Here are a few real life examples on how I used blogger outreach in some of my content marketing campaigns and provide you tips on how you can effectively use it for your brand. I will also cite lessons I learned from my almost one year experience in doing blogger outreach.
Crowdsourced Content
With three group interviews I already covered on my blog, I realized that the most significant purpose of creating a crowdsourced content (group interview) is not to add more links to a link profile but to actually help spark connections with influencers/top personalities in the industry.
Relationship building will take you into many places and given that this part of marketing is what most brands are not accustomed to, it could bring you an advantage over your competitors. The more effort you exerted on influencer outreach, the likelihood of earning the biggest share in the search market is higher.
Increase in influence could result to increase in brand signals which will associate additional links and shares to your website.
Publishing group interviews will not always be suitable to every industry, based on the following reasons:
Different industries have different levels of competition.
Some industries have high numbers of non-participative brands (there are industries where brands are not willing to participate in any community discussions for some valid reasons – e.g. their own branded information are too confidential).
For industries that have active communities, crowdsourced content would be a good topic idea for  a content marketing campaign. To start with creating this type of content, here is a step by step guide that you can follow:
Step 1: Prospect influencers in your niche
There are so many ways and tools that you can use to find influencers in your niche, but the most effective tools that worked for me are Google search and Buzzsumo.
Google search
You can use simple search queries to discover pages/posts that already list down popular websites in your niche.

See if those websites have an active webmaster/blogger that you can engage with for interview opportunities. If there is real person behind that blog/site, you can list down the name and his/her email address in a spreadsheet.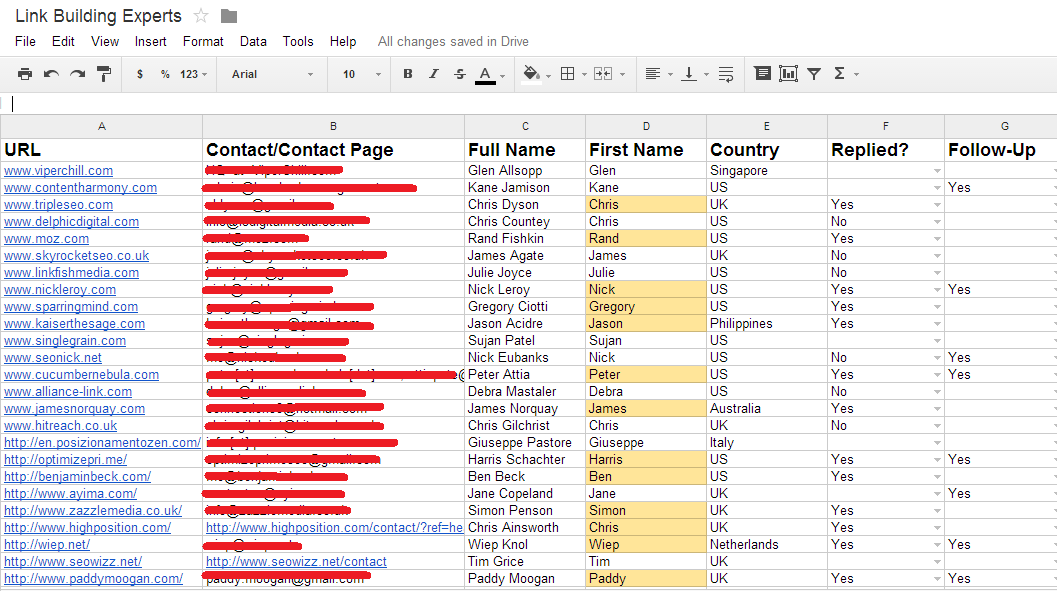 Buzzsumo
Buzzsumo is definitely one of the best places to find popular content as well as influencers and journalists that you can contact for your link development campaigns.
You can use any terms/phrase that are related to your industry to discover the most popular/shared content.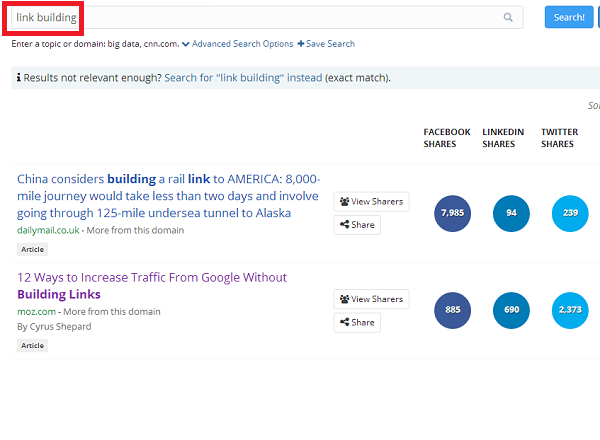 Click "View Sharers" and filter only the results by influencers.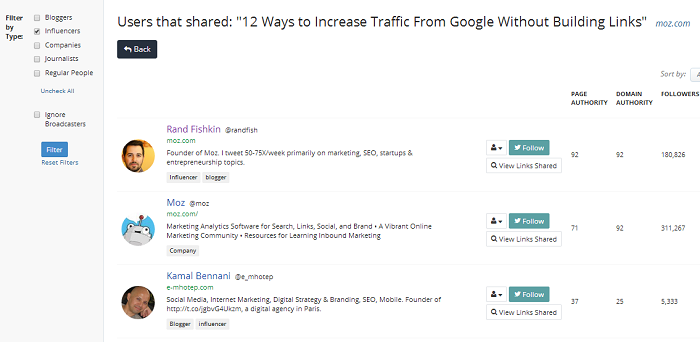 Collect all the names and the URLs of the websites of those influencers in the result and list them all down in a spreadsheet.
Other prospecting tools to find more industry influencers
Niche directories
Other sites' resource pages that list down industry's popular websites or influencers (do a Google search using this advanced search query – inurl:links OR inurl:resources)
Step 2: Gather your influencers' email addresses
There are useful tools that you can use to help you identify your influencer's email address. A few of my favorite tools are:
Google search ("*domain.com" full name)
Step 3: Pitch to your influencers
When pitching influencers, the most important thing you must consider is the basis/purpose of your pitch. This should be clear in your entire email message to bait a response from your outreach recipients.
For my first three group interviews, I used two simple email templates to pitch influencers whom I know would be interested to share their personal tips/insights about my content's theme.
Below are the examples of two email copies that I used for my third group interview (the most actionable link building tip):
For initial outreach: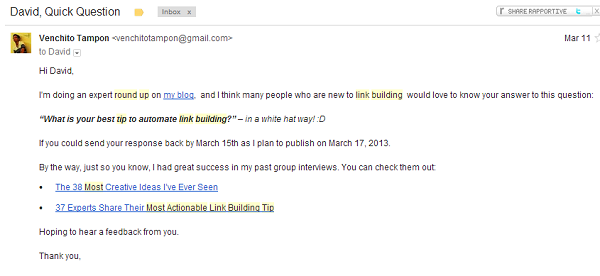 For follow up: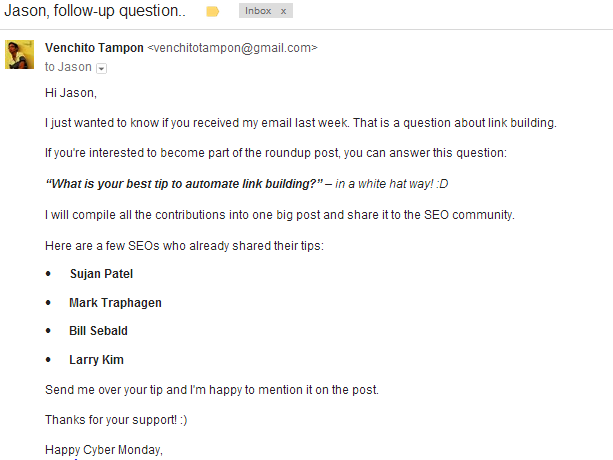 This approach resulted to:
For the first group interview (creative content marketing):
Target interviewees: 159
# of responses: 50
Earned contributions: 38

For the second group interview (most actionable link building tip):
Target interviewees: 99
# of responses: 52
Earned contributions: 37

For the third group interview (natural link building):
Target interviewees: 108
# of responses: 49
Earned contributions: 28

Just imagine if you have a regular group interview published on your blog every quarter (if one piece can earn an average of 80+ links, then in a year, you'll have 320 additional links).
Well, if you ask me, the first group interview took only 5 hours to complete (2 hours for prospecting and 3 hours for the outreach).
Since the list of participants from the first group interview could still be used for the subsequent outreach campaigns, the total number of hours consumed would have been lower than 5 hours.
Step 4: Consolidate your influencer's contribution into one big post and publish it
Once you start receiving responses from interview participants, it is very important to note in your spreadsheet which of them had submitted their contribution, those that would need a follow up outreach and those who're not really willing to participate. This will help your next outreach campaigns to prioritize interview targets who love to participate in such kind of community discussions – group interview.
Once done, you can now consolidate all of your influencers' contributions into one big post. You can add a cool design if you want but make sure that texts are readable and easy to digest.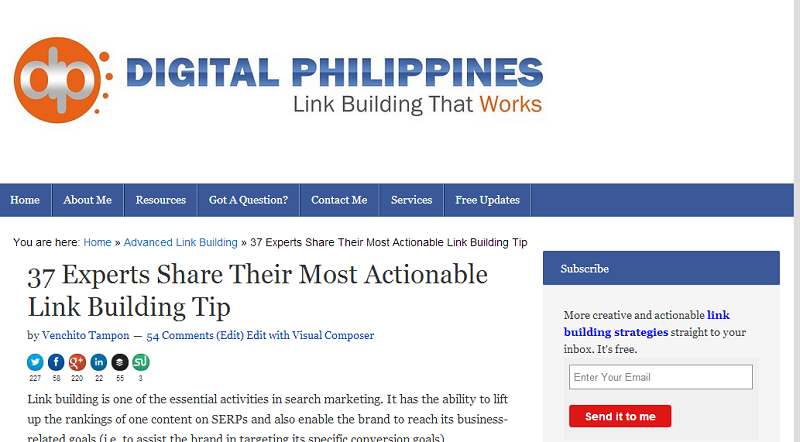 Step 5: Insanely promote the group interview
There are several ways to promote a content asset, and this topic has already been covered on many SEO and content marketing blogs so I won't need to discuss this in this article.
However, below are a few techniques that you can try to get the word out of your content asset:
Make social sharing buttons visible on your page (this may sound pretty basic, but there are several blogs that haven't done this yet).
Participate on relevant community discussions (forums, Q&A sites, blogs, etc..) by answering industry-related questions and link to your post
Use linker outreach to promote the page to people who've shared similar content and have existing blogs/sites that are relevant to your industry (remember not to ask for a link, if they're linkers, they already know what to do).
Link your group interview from your third party content pieces (e.g. guest post) to attract more readers to it and increase the chances of earning more links and shares from people who've been attracted to your page.
More resources to promote your content
Optional Step: Upgrade your successful group interview
If you have a group interview that had been successful in earning brand signals in the past (shares, links, mentions, news citations, etc.), you can upgrade it to a more comprehensive resource content by adding more useful tips/information from other influencers who haven't contributed to your interview post. They could be from your past list of link targets/influencers that haven't replied to you due to personal or work issues or had changed their contact email address, which made it difficult for you to reach out to them.
To get started, you can assess your previous list of influencers by identifying their new websites, and/or personal email addresses, to change those important details in your spreadsheet and increase the odds of getting responses from them in your next outreach.
Case study
I'm doing a simple experiment today and it's quite getting successful.
As part of improving my brand's content assets, I am currently working on upgrading my previous group interview – the Most Actionable Link Building Tip.
I prospect for more influencers that I haven't reached out in the past and those that weren't managed to respond to my previous pitch.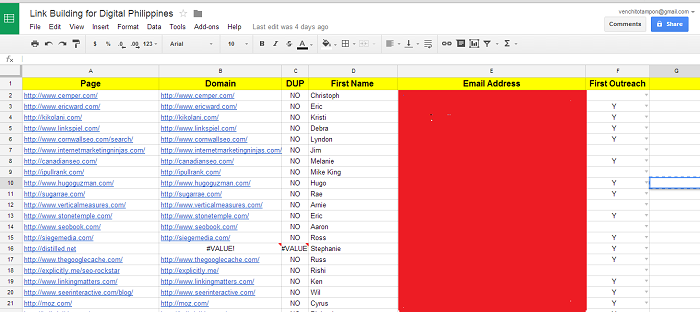 Before doing the outreach, I think of ways on how I can get more responses from my interviewees.
So I spent at least two minutes to identify the influencer's current status on the web and include it to my email pitch.
Below are a few basic information I considered to add to my email copies:
The influencer's latest blog post and my personal take on the article (based on the value that it provides to its readers).
The influencer's latest status updates on Twitter (I used AllmyTweets or Twitter's list feature to make this scalable).
These two basic things are enough to evaluate my influencer's status, which I included to my blogger outreach pitch.
Email to Adam Connell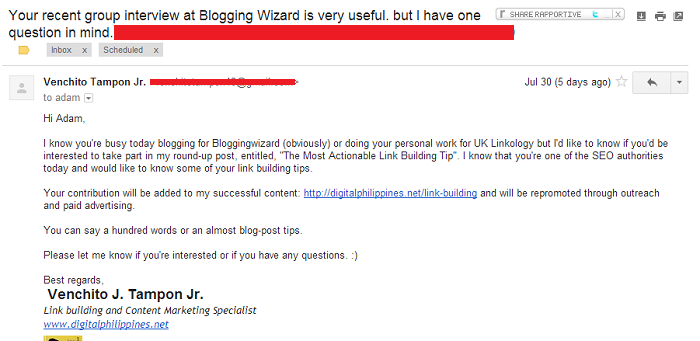 Email to Aleyda Solis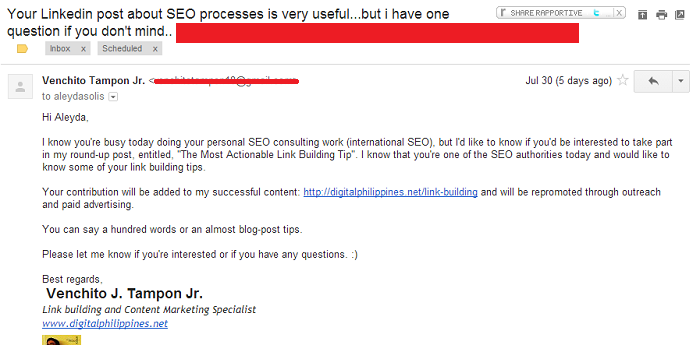 Spend at least 15 minutes to identify your influencers' status updates on Twitter in a regular basis. This could help you make your pitch more personalized and catchy to your targets.
Guest Blogging
I already covered this link building technique last month, but just a recap of the process, here is a short step by step guide that you can follow:
Prospect both for horizontal, vertical or local-centric guest blog targets (use advanced search operators when doing Google search to ease the process of finding them).
Qualify your list of domains based on authority and brand metrics (domain authority, ave. # of social shares, ave. # of comments per post, etc..)
Collect important details from the domain (site/blog name, categories it belong, three topic suggestions for the blog, name of the contact person, his/her position and his/her Twitter profile).
Use email templates (one for outreach specialists and one for agency marketers), send three topic suggestions and let them choose the topic that they want you to write for them.
When you get a response, you can now create the guest article based on the level and type of audience, and the type of content that is prominent on the blog.
To make this more scalable and more effective in getting higher response and link acquisition rates, I added a few tips/insights that you can consider.
Ask to whom you should send your topics
The most crucial part of a guest blogging process is outreach, seeing that if you won't get a response or even catch the interest of the blogger to let you write an article for them, you would need to find another way to engage with him (which will take another minute of your time to reach out to that person).
Perhaps, one of the most common issues when sending emails to outreach targets is not having connections with the right contact person.
When gathering email addresses of bloggers using tools, there'll be times that the only available contact emails are support/info email addresses (e.g. support@domain.com or info@domain.com)
These email addresses don't have any specific names attached, therefore, you don't have any idea of the contact person that you're trying to reach out. If this is the case, asking to where you should send your email pitch is the best way to do.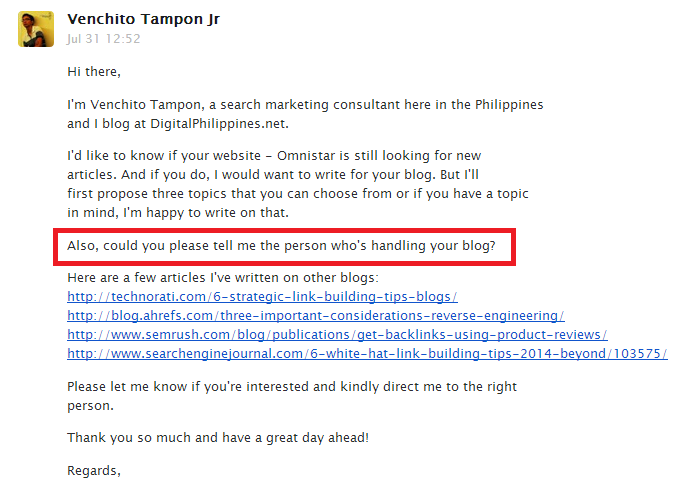 Take note that you still need to clarify your intention of your sending your email to get them send your email pitch to the right person (e.g. blog/content manager)
When done right, you should receive a positive response like this example.

Use branded email signature to your email to add credibility to your pitch
Email service providers have their own features of allowing users to change their email signatures. These email signatures are the last few texts that your recipient will read yet it will add credibility to your pitch and to you as the sender.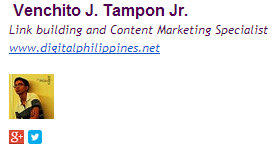 Here are a few things you can add to your branded email signature:
Complete name
Position and your company
Website URL
Personal picture
Social profile links (Facebook, Twitter, Google+, etc..)
Providing these basic personal details to your pitch would allow your recipient to know more about you and your brand (which will make it easy for them to know whether or not your pitch deserved to be replied).
Getting interview coverage from relevant blogs
Mentions that describe and discuss more about your brand are probably one of the important links that every brand must be able to acquire for their websites.
Initiating interviews to bloggers who had successfully published individual and group interviews in the past is one effective way to add more branded links to your site's link portfolio.
A few months ago, I connected to a few bloggers in the internet marketing industry and ask if they would like to conduct an interview with me, ask me questions and publish the interview on their blogs.
The process is simple. I searched for blogs/domains that are regularly publishing interviews with influencers/experts in the internet marketing niche (a simple Google search will do).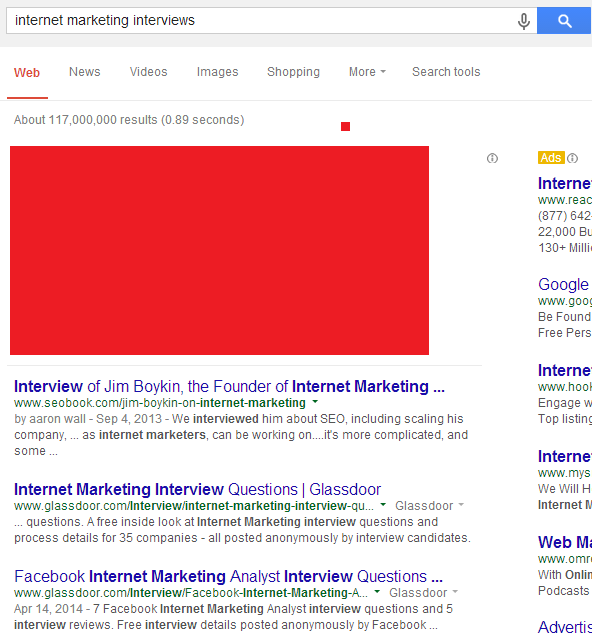 You can also reverse engineer your influencer's website and identify those domains that provide him links through interviews. CognitiveSEO and Reverse Image Search are good link prospecting tools for this activity.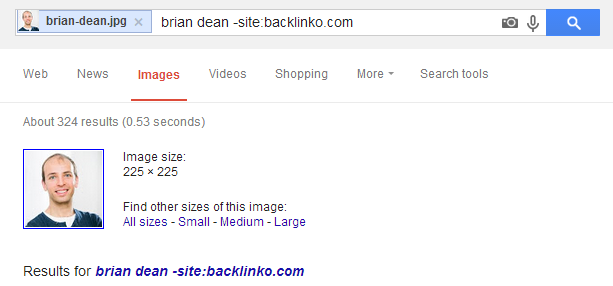 After building your list of prospect blogs, you can now start creating an email copy. Here are a few tips for creating a personalized and targeted email copy for your outreach:
Make your message clear and straightforward.
Ask if he/she is still looking for interviewees coming from your industry.
Provide proofs that you're capable of answering in-depth questions that are related to your niche (in my case, I used my guest articles).
Below is the exact email that I used for testing this approach: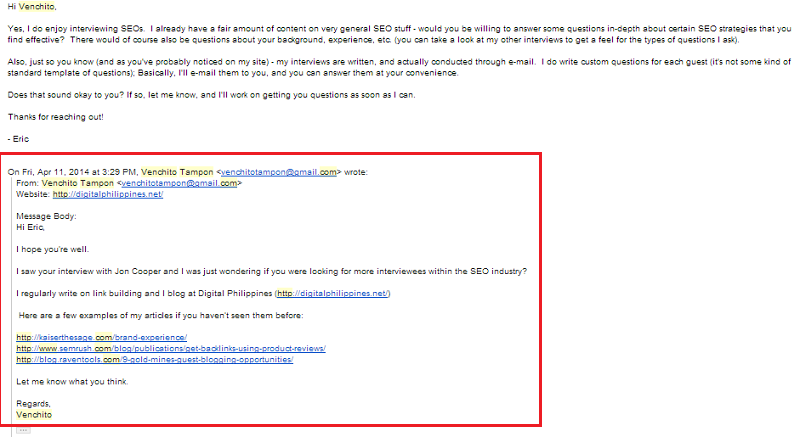 After sending 10 personalized emails, I got three responses (30% conversion rate) with one that is interested to ask me questions for the interview.
This approach resulted to an interview link from Eric Gati.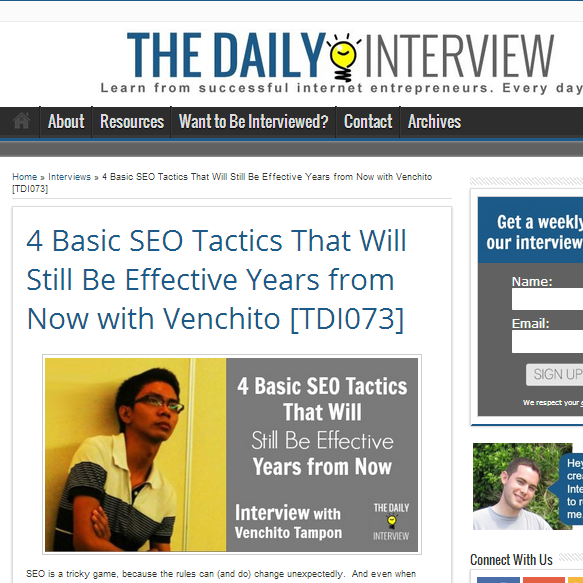 Testimonials
Testimonials add credibility to the unique selling point of a product/service, which encourages other potential customers to buy/use it.
Providing testimonials about the products or services of other brands is a good opportunity to build relationships with the owners and net a few links from this approach.
Since I've been blogging for the past one year now, I already have a list of influencers, mostly comprised of agency marketers who sell SEO tools in the market. These influencers have their own domains which I already targeted before for content placement and interview opportunities.
So what I did is to assess their domains and look for more link opportunities (either mentions or simple citations on a single page). Then I've found out that most of them have press or testimonials pages that have a few product/service testimonials from SEOs and internet marketers.

This mention happened just after I reached out to Razvan (founder of Cognitive SEO), asking if he is still looking for additional testimonials for his product.
You can do the same by creating a list of all the industry tools that you used before.
Populate your list by prospecting for testimonial or press pages on Google search.

Filter the results by those domains that are connected to your business and you know you're capable of providing testimonials.
Reach out to them and ask if they're still looking for additional testimonials for their products/tools. There are high tendencies of getting responses using this approach because they themselves will definitely benefit from it.
10 Lessons I Learned from Doing Blogger Outreach
Lesson #1: Spend time in identifying your main audience before performing your outreach
This is the most basic part of blogger outreach but the most overlooked aspect when prospecting for outreach targets.
Highly targeted prospects are people that are capable and are more likely be interested to your pitch. These are the audience that your brand should start engaging with given that there might be some of them who'll start to follow your brand and become your brand loyalists.
As an example, I had a client where his main business is to offer personal injury services to local businesses in US.
The niche where he belongs is very competitive, meaning that most of the possible linkers in the space are all his competitors (which we know, most of the time, competitors are hesitant or are less likely to link to their competitor's domain – your domain).
So what I did is to identify the site's target audience level and type and find the industries where they are actively participating.
Instead of focusing on law-related blogs, I target sports blogs and car driving websites that are definitely part of my client's target audience (since my client is primarily offering personal injury and auto accident/injury services).
Some actionable tips
Always spend time in identifying your main audience (those that would really convert to customers/clients as soon as they landed on your website's page).
Widen your reach and tap into industries that might potentially bring you significant traffic if you've been participated in their communities.
Lesson #2: Use the blogger outreach tool that are most convenient to you and to your team
Outreach tools could be your life's saver if you know how to use them to speed up your processes and get more good results for your online marketing campaigns.
So it is very important to take consideration the usefulness of the tool and how it can make your campaigns more efficient.
I personally use Right Inbox as my outreach tool, basically because it has an option to be paid through Paypal (well, I don't have credit cards. :D). Other outreach management tools like Buzzstream and Yesware don't yet offer Paypal as payment options.
The main point here is to always consider your budget, your payment system and the utility of the tool before you start purchasing it for your outreach campaign.
Lesson #3: Follow up people to track the progress of your outreach campaign
Performing a follow up outreach to your targets gives you a second chance to receive more responses and achieve the goal that you set beforehand for your blogger outreach campaign.
The main benefit of doing a follow up is that it allows you to identify issues that caused your recipients not replying to your pitch (e.g. problem/error issues in the email service provider).
Another benefit of follow up is that it helps you to filter out prospects in your list that don't really manage to respond to your first outreach, which will help you prioritize participative recipients in your next outreach campaigns.
Lesson #4: Test other techniques to bait your link targets
We all know that search marketing as well as online marketing in general, is a fast-paced industry, wherein online marketers should be able to adapt quickly to the changes that search engines are constantly doing to improve the search experience for users, and to become more reliant to what users would want to see and consume from various websites and from the web.
Given this, you'll have to make sure that you always come up with new techniques to capture the interest of your users and your link prospects (if it is for link building). This would not only make your outreach campaign evolve in nature, but actually allows your team to see better results in terms of response and conversion/link acquisition rates.
I'm testing a new link building technique in the law niche, but haven't been successful in terms of getting responses and links. Though it may seems to be failure at times, it only proves that I really have to think another problem that webmasters or bloggers are facing today and try to come up with solutions to offer to them, which will open doors of link opportunities.
In link building, your aim is to come up with solutions that will help solve other people's problems. With that mindset, you'll always come up with new strategies and techniques that will produce links, shares and mentions to your website or to your clients' domains.
This old post by Jason Acidre is a good list of alternative approaches that you can try for your link development campaign.
Lesson #5: Make your process scalable and easy to understand by your team members
SEO processes, particularly link building processes would always need proper planning and implementation to make everything flow smoothly and to adapt to certain changes Google had implemented and will still launch in the coming days.
Though this topic would need another blog post to cover, here are a few insights that I'd like to share about creating your own link building process:
Start with an end in mind. What are you trying to achieve? Always start your document with objectives that will give proper direction to users who will read it.
Make your tutorial a guide by listing down the step by step process on how to do it. Include screenshots and ensure that it is easy to understand and apply.
Test the process by yourself or look for someone who're new in the industry and let him follow the process. If he applied it correctly, then it could now be part of your link development documentation processes.
For a more through post about creating business processes, here is an awesome post from Grant Merriel.
Lesson #6: Never forget your past linkers when looking for outreach targets
When starting a new link building campaign, the most common approach is creating a new list of link targets that are relevant and could provide significant value to a certain website (in terms of bringing that website referred traffic, assisted conversions and etc..)
Though there's no wrong with that approach but it would be much better if you first take a look at your website's existing referring linking domains and assess whether they would still be open again for link opportunities for your brand.
The main why you need to start first with your existing links is that there is a high potential that you'll acquire links from your site's current linking domains given that there is a history of linking and because there is already established connections with them.
Lesson #7: Understand the reason why you're doing outreach and insanely be good at it.
In every business activity, it is very important to understand first the purpose of performing it than just doing it straight. In blogger outreach, it is very much the same. If you don't understand the reason why you're reaching out to a target, you will always come up with sub-par/low quality results.
I've been doing guest blogging for a few internet marketing blogs for almost six months now. And my main purpose of doing it ever since is to increase my site's visibility on the internet marketing niche, SEO in particular, and to establish relationships with authorities and industry influencers.
This led me earned several link opportunities that I only wished way back when I started blogging.
Links from SEMRush resource page: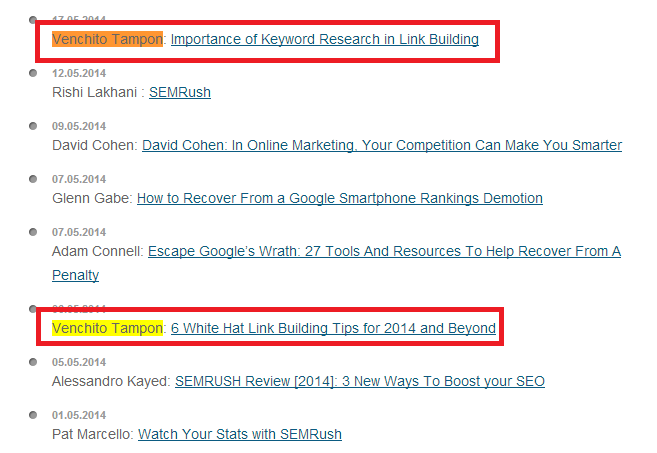 A link from DejanSEO page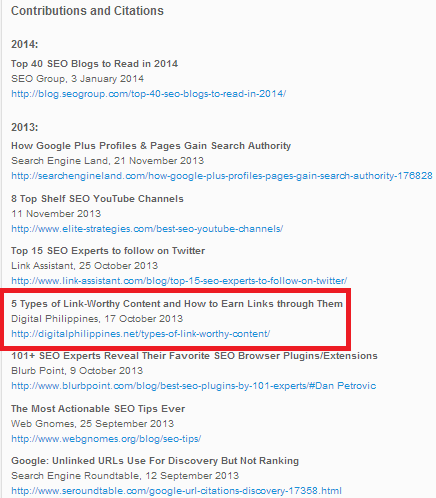 If you liked this post, you can subscribe to this blog or follow me on Twitter and Google+.
 Image Source: 1
Hear about new posts as they happen. Build extraordinary links.