Link building has been existent over the web for several years even before it was considered by search professionals as part of the search engine optimization process.
Links remained to be a valuable tool for Google to determine if the site/page/brand is deserves to rank in search results, which are primarily based on how popular a brand is (since Google is getting more brand-bias these days), how authoritative the page (through links acquired over time) and how trusted the site is (minimally based on social metrics and the overall trust flow of the site).
Given the truth above, it is very important to learn how to create an efficient link building process, wherein links would just flow naturally with a considerable speed and duration period.
One of the proven ways to streamline the flow of link building activities is to maximize the time spent for each task, allowing team members to focus on the most important workflows in order to yield better results for each link building campaign.
Time maximization is achieved through qualifying existing and future link prospects based on the campaign's minimum standards. The more refined your filtering process is, the more time you can save from undue costs of unexpected results of irrelevant and low quality link targets (since these targets will not certainly produce the same yields like that of your high-end link prospects .
Better link qualification is essential for an efficient link acquisition.
There are two methods of qualifying your pre-existing and existing database of linking pages/sites.
Pre-qualification
Metric-based qualification
Let's dig into each processes mentioned above.
Pre-qualification
The common flow of campaigns looks something like this (see image below):

Whereas link targets normally undergo in the qualification process to see if they pass the standards set by the link building manager.
For large scale link development campaigns, separating a huge amount of wheat from chaffs in the qualification phase will take a much longer time than simply pre-qualifying link prospects during the prospecting phase and only including link partners in the list that are likely to be qualified as high end link targets.
Find websites that are linking to all of your competitors' sites. You can use Moz's competitive link finder to see which brands are actively linking out to relevant websites in your space.
Understand how your competitors acquired backlinks from them. See if links are voluntary rewarded by your potential link targets (i.e. competitors established their authorities and thematic brands simply just mentioned them from their own sites).
You can base your content theme on potential link targets and on the pages they linked out to. Find a content topic that is aligned to information in pages mentioned by your potential link targets.
Remove page loading barriers such as advertisements when doing link prospecting in order to quickly see if the page is the right prospect for the campaign. Header advertisements tend to capture your 2-3 second attention, which is already an enough time to decide if the page/site is worth to add to your backlink database.
Elements of the page that fasten my ability to pre-quality a link prospect:
Relevance of the site/page to my client's brand (look at the brand's logo, header and categories).
Content that is below the fold (close the tab immediately!).
Too many headers and sub-headers (indication of unplanned site architecture).
Multiple site categories that go beyond their main content theme.
Non-pleasing design (this may affect the engagement rate of visitors trying to visit that site, which is a main factor to consider if you want to bring relevant visitors to your brand). These elements are pretty easy to use when doing a quick analysis of the potential linking site/page.
Another way to pre-qualify a potential link opportunity is to note other link acquisition tactics (not prioritized during the day) that you can use for one specific link target in your spreadsheet.
Instead of removing linking pages that are not necessary for your current link building technique, why don't you just transfer them to other tabs or spreadsheets? So you can easily find them once you need targets for your next link acquisition tactic.
Use Ahrefs, OSE or any other third-party link analysis tools to export a list of all your existing referring root domains. Check out if there are opportunities to acquire recurring links from them (see if there's a blog and it constantly publishes link-obtainable posts like regular third-party contributed content, round-up posts, list post, etc..).
Pre-quality your current link targets based on the level of relationships you had with webmasters and bloggers. Conversion rate is much higher when there are previous connections given that conversations are pretty much shorter than the usual time spent with non-engaged link partners.
Practice every activity I mentioned above in order to remove unqualified link targets even during the link prospecting phase so you'll not waste time getting them to undergo your main qualification process and still will not pass your set link standards.
Metric-based qualification
This is where your main qualification phase takes place, which are solely depend on what metric(s) you'll be looking at to qualify every link prospect in your database.
I've covered a few qualifiers that you can use for each link building method you are executing.
Domain and page authority
This is a metric popularized by Moz that calculates how likely a page will rank in search results. The higher the domain and page authority of the website is, the better it will perform in SERPs. If you want to learn more about how domain and page authority are calculated, check out this page and this.

Don't solely rely on these two metrics since they just estimate how ranking potential of a page/website. You can accompany DA and PA with Majestic SEO's trustflow.
Trust Flow is a number predicting how trustworthy a page is based on how trustworthy sites tend to link to trustworthy neighbors. The higher the trustflow of the domain is, the more you should acquire a link from it.
Indexation
Indexation allows you to determine if your potential linking domain is getting found by search spiders. This is important since you want that the pages where you'll get links (either old or new) will be found by new visitors from the search engines.
To check if your domain target is indexed in SERPs, simply do a Google search for site:domain.com.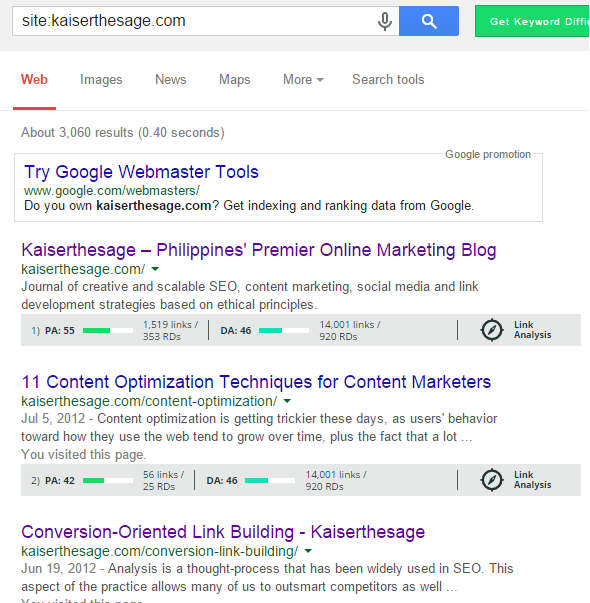 See if the homepage is listed in the top of search results.
If the branded pages of the domain are indexed, then consider the website as part of your link database.
Number of linking root domains
The quantity of individual domains linking to a specific website is an indication of how a site is trusted by other brands in the industry. However, you have to check backlinks from those root domains to see if they're editorially mentioned your backlink prospect. If it the link was given voluntary, then consider the website as your high-end link target.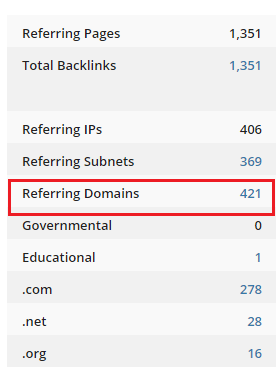 Link velocity
Use link profiling tools like Ahrefs to see the growth of the link profile of your target domain. This can help you identify line patterns that may suggest an unexpected increase of backlinks over time.
If there are continuous hundreds of links every week and thousands were added within a single week, then there may be manipulative actions that were done for the target domain. Skim backlinks pointing to that domain to check out if they are legit and credible enough to consider by Google.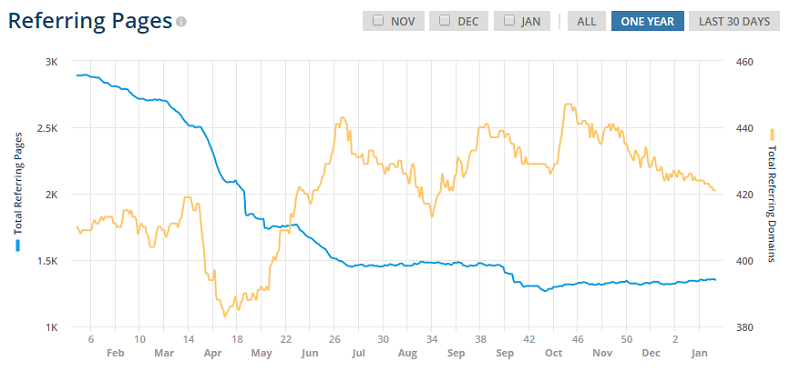 Algorithmic update proof (content and link-based)
Looking at the past search performance of the website can help you determine if there's a big likelihood that your linking pages will stick in the domain for the longest time, since there are cases where websites that had been slapped by Panda or Penguin filters will soon gone out from rankings in the search results.
Use SEMRush to see the historical data of the site particularly on its organic search data. Then refer to this Google algorithm change guide on Moz to check if the site was hit by a content/link-based penalty on a specific date/month.
Content above the fold                      
When top heavy update was announced by Google, many websites with so many ads that buried down the contents in their homepages were penalized by the said search engine.
In that case, when you're looking for a blog to target for distributed content, you'll have to see if multiple ads (of whatever type) are pushing down the contents in the page. If you find one, then remove that to your list of backlink opportunities.
Qualification methods shared above will help you get the best results for your campaign as you are able to filter out unnecessary link targets even during the link prospecting phase.
We recently launched our new agency – LinkCore Media, a link development and content marketing agency. If you're looking for a high quality link building service, then you can contact our team to help you create a link strategy that fits your brand and industry.
Whenever you're ready…here are 4 ways we can help you grow your client or business through performance-based link building:
Claim your Free Link Building Strategy Session. If you've achieved initial traction from Google, we can help you scale up to record-breaking search traffic and sales faster, claim your FREE Link Building Strategy Session. We'll brainstorm some ideas to increase your search traffic through ROI-driven backlinks, including practical solutions to add more content within the next 90 days.
If you'd like to learn the exact link building strategies we use for free, go to our blog or visit our resources section, where you can download guides, cheatsheets, and templates we use for our most successful clients.
If you know another marketer who'd enjoy reading this page, share it with them via email, Linkedin, Twitter, or Facebook.