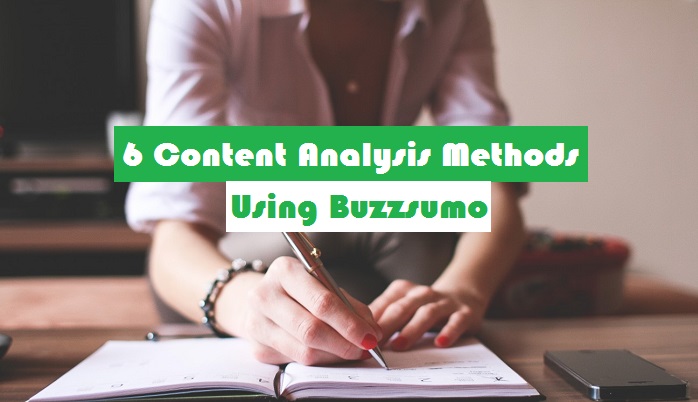 Buzzsumo is relatively new to the market when I first saw its features that are useful in content ideation and content promotion activities. The easy to use dashboard and navigation makes the tool highly regarded by many marketing professionals as one of the best content marketing tools in 2014 both for advanced and new content marketers.
Disclaimer: I am not an affiliate marketer of Buzzsumo but just want to share my knowledge with you on how this product can help you get tremendous results for your content marketing campaign.
Content analysis is searching for specific content assets (either hosted on your site or on other brands) and identifying and analyzing their potential business values in order to set goal-oriented actions for your campaign.
In order to deeply this topic, let me share and discuss to you 17 content analysis methods that you can apply using Buzzsumo.
1. Insight-driven analysis based on other brands' content assets
Competitive analysis is the most common and underrated techniques to improve current set of actions based on insights formulated from analyzing other brands' existing strategy or tactics.
This can easily be performed using Buzzsumo's top content feature.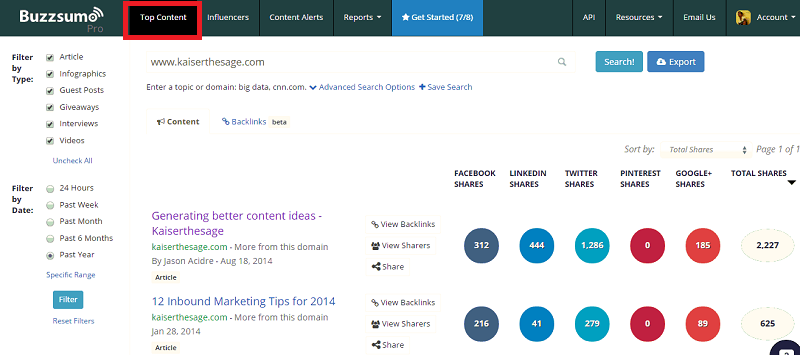 Few things to consider in order to get the most value out of the search results (domain's internal pages):
Filter the results by content type if your website is only hosting one or two types of content (e.g. news sites covering text-based content or video blogs publishing video posts).
Sort the results by specific social shares (i.e. Twitter shares). Base it on your current social media stats. If you are getting several shares on Twitter, then you can push your other social profiles (Google+, Facebook, Pinterest, etc..) to leverage your overall social campaign. If you're not really concerned with just one social site, then simply sort the results by total shares.
If the site covers general topics in your space, you can be very specific with the results by adding keywords to the search bar (e.g. kaiserthesage.com "content marketing")
See if the post/page is consistently earning links and shares (this is a good signal that the site has an outstanding position in SERPs).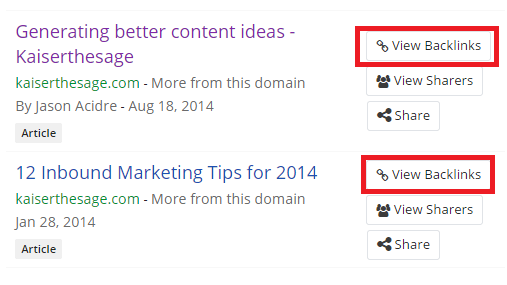 One other tool that I'm very much acquainted with Buzzsumo is its domain alert feature.
The feature allows you to send alerts to your email every time the brand/site was mentioned on other blogs.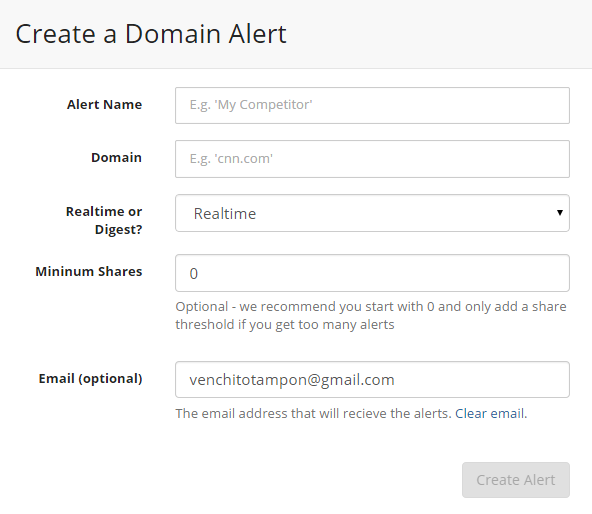 You can set the alert by realtime or daily digest (daily digest can save you time, good for productivity, since you can just read all emails once every minute/hour of the day).
You can also use link feature if you want to receive alerts about links generated on other blogs pointing to the domain/site you want to monitor regularly.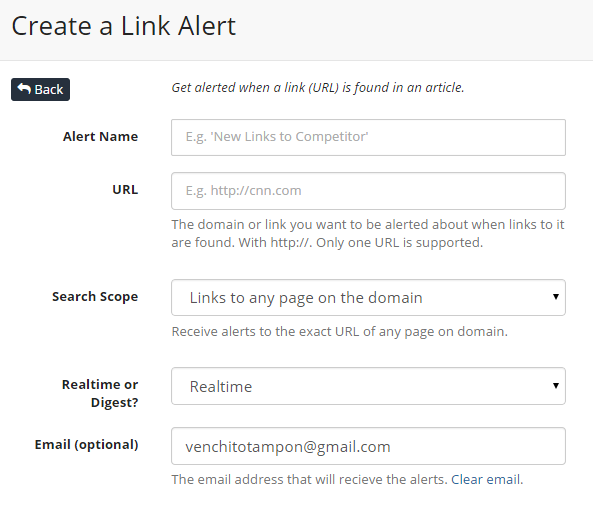 I suggest you use the search scope, "links to any page on the domain" so you don't have to create another alert to monitor the other pages of the domain (in case you use the search scope, "links to the exact url".
Insights from other brands' content assets that you can consider for your own campaign:
See if your competitors or domains that you regularly monitor are focusing on producing high quality content and earning links or are just building links from other blogs (guest posts) (links generated by your competitors can be tracked using Buzzsumo's link feature). Replicate their strategies or invest on two activities: high quality content production and active content promotion.
To which level of readers are they tailoring their content to? Check out social shares of their content, look at the # of social followers of their sharers and from that, you can determine the level of audience that they target (either common readers or influencers). This is not an absolute metric but a good factor to consider.
Identify their most engaged content type. There are times that a blog will have most successful social performance on its video content rather than on other content types (text-based), because it is what the community is interested to consume among all content types.
2. Focusing on author relationships rather than on hosted domains
Marketing is generally focused on relationships. Any type of relationships when built with strong foundation can largely impact one campaign's results.
So it is important to not just focus on creating a huge list of domains but on investing on relationships with authors/people whom you want to engage with for deals or content partnerships.
If you still don't have a spreadsheet of authors' names, you can apply any of the methods to create your own database of authors:
Do a Google search for industry personalities (e.g. "authors" OR "journalists" OR "bloggers" "industry"). You will commonly see blog posts curating lists of the best blogs/bloggers in 2014 or previous years. Check if listed blogs still exist and jot them down in your note/sheet.
Use Alltop or DMOZ to find popular/authority blogs in your space and identify the owners of those blogs by looking at the site's branded pages (about us, team us, blog section, etc.).
Identify multiple authors of a popular blog (where several contributors are allowed) by using the domain-specific filter of Buzzsumo (domain.com).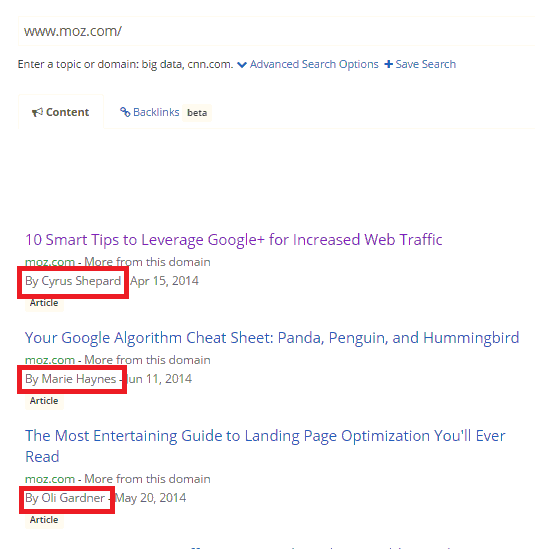 Actionable points to analyze author relationships:
Utilize contributed content by authors to spark interests in conversations. Adding the site's URL (where the author contributed his/her content) to your pitch will signify commonality between you and the other author.
See what topics are being discussed by the author on his contributed blogs and niches he's penetrating (e.g. entreprepreneurship, marketing, startups) so you can use this as your own advantage of widening your content outreach and connecting to other niches' community as well.
Set author alert (Buzzsumo's feature) to track future posts of the author. Engage with the author by sharing his new posts on social and/or linking to his future content. Letting him know your pre-outreach activities can secure positive response from him.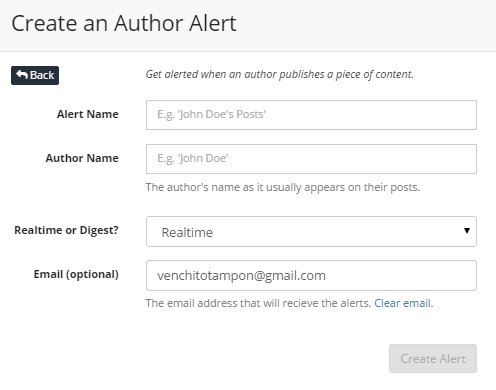 3. Identifying commonality in social sharing by popular authors or brands
Brands that are connected to each other always have at least one similar attitude or characteristic in terms of sharing popular content and linking to useful and trending posts in the community.
Using social's commonality can help you identify which posts had been shared by popular authors/brands, which only proves the quality of the content.
Buzzsumo can help you identify the most-shared content in your space, basing it on the common shared post by popular brands. Shared all functionality of Buzzsumo allows you to do that.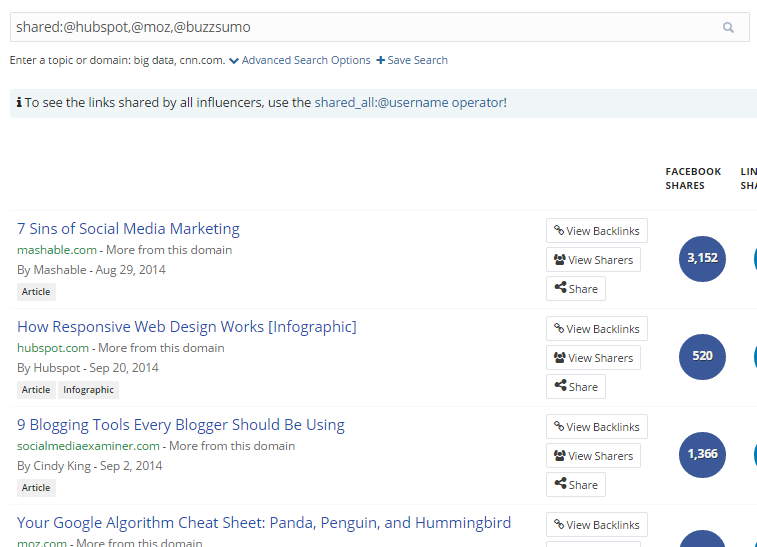 Few things to keep in mind in this content analysis approach:
Note websites that are not hosted by social profiles you included in the query (shared:@hubspot, @moz, @buzzsumo). Getting exposure on those websites have high amplification rate given that there is a solid community composing of popular brands/authors/influencers in the industry that are ready to share new posts published on those websites.
Find other social influencers who'd shared the content (use the view sharers feature). These influencers when engaged can become your potential brand partners/evangelists, so keep an eye on them.
Look for potential linkers (use the view backlinks feature). Because content listed in the search results are highly recommended by popular brands or social influencers, the link acquisition rate (in terms of link earning) in the blog where content is published is higher.
4. Tapping engagement signals for press coverage
There are thousands of content managers and outreach specialists that aim to get their brand stories covered on top news sites (whether local or niche-specific). However, there are only a few companies that are able to penetrate the press market because of not being able to create a strategy that will benefit not only their websites but journalists they're trying to connect with.
Content prospecting and analysis for press coverage is now easy with Buzzsumo. Filtering the results by journalists will help you find top press professionals in your industry. Pro tip: If you are working in the local scene, filter the results by location as well (type in the country or city in the left side of the dashboard).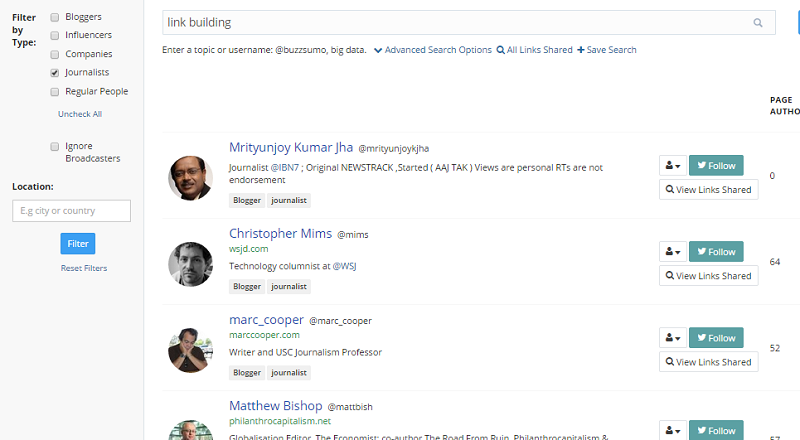 To find more journalists, type in the domain's URL in the search bar plus a niche phrase/keyword. In the given example, you can use www.wsjd.com "link building" to search for more journalists working on WSJ and writing about the same topic.
Engagement activities that you can try out for effective press coverage:
Analyze what type of links and which blogs journalists are most commonly sharing on social platforms.
Use the commonality function of Buzzsumo (shared:@hubspot. @moz, @buzzsumo) to find posts commonly shared by journalists you've found in the dashboard's search results. You can focus your pitch on what interests your target content amplifiers (journalists) to increase response rate in your outreach campaign.
Tweet journalists (with personalization) straight from Buzzsumo's dashboard.
5. Leveraging topical analysis in a regular basis
Consistently monitoring the changes happening in your industry's content environment is an effective tactic to improve your brand's current content strategy.
Using Buzzsumo, you can analyze content in your space and use the gathered data to make decisions that can refine your content marketing campaign.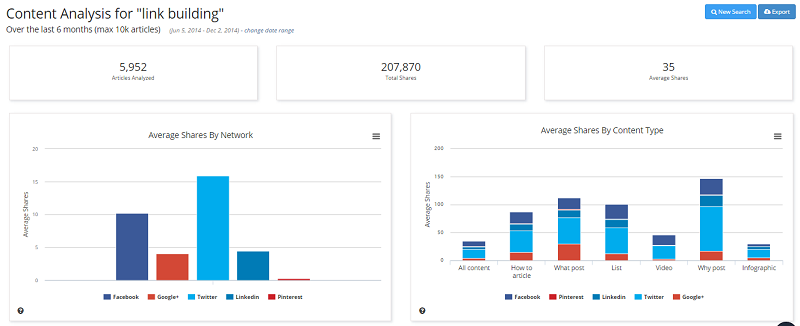 Notable features of Buzzsumo's content analysis feature:
Average shares by network – helps you to focus on one or two social networks that have high chances of amplifying your future content pieces.
Average shares by content type – gives you a more specific overview of what social platforms (by content type) you should really invest your time and effort in content promotion.
Total shares by date published – provides you insights on what day(s) you should schedule your social updates and earn the maximum engagement signals for your content.
Average shares by content length – you can consider this data when creating your content to ensure higher engagement performance on social sites.
Most shared domains by networks – domains in the graph are good to monitor for future link opportunities. Submitting content to those sites can give a boost to your brand's exposure and social following.
Popular topics for content related to "keyword" – you can gear your content creation activity towards these popular topics so you can quickly attract exposure and social shares for your content/brand.
Top pieces of content for "keyword" – do a competitive analysis (identifying social sharers and potential linkers) to understand the behavior of your linkers and what type of content is already working effective in your niche.
6. Setting content and link alerts to improve current content strategy
In online marketing, setting email alerts for your campaigns is one of the best strategies to stay up-to-date with industry changes and learning from what works with other brands and related niches.
Getting inspirations from other niches/companies can help you make unique actions that can guarantee results for your brand. You may want to check out this post on SiegeMedia about 10 content creators that you can inspire your content marketing.
One way to constantly seek for inspirations is to set an alert system in your email (monitoring new posts, brand mentions and link opportunities in your space).
Buzzsumo has a keyword/brand alert feature that can help you keep track of content and link opportunities.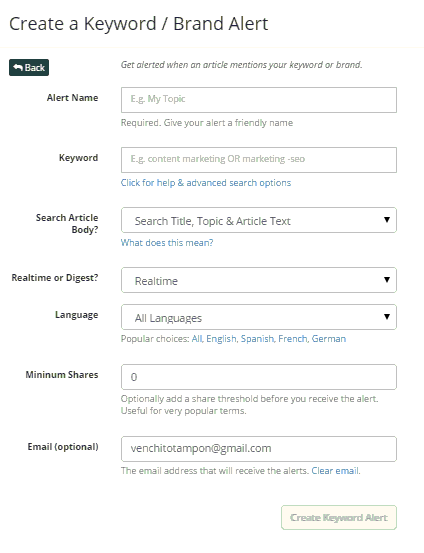 Things that you can do with Buzzsumo's keyword/brand alert:
Track targeted keywords and related industry phrases to open up opportunities for link outreach (new posts are more inclined for changes than old/outdated posts – so make sure you perform link request outreach after you've tracked new posts).
Be broader with keyword monitoring. You can also track entity names and associations to widen your reach. This is effective if you have a content that discussed tools or products in your industry.
Don't forget to find new sites that publish regular roundup posts. Bloggers who're still building their brands from scratch are willing to commit their time for brand partnerships.
Content analysis can provide great insights for your content marketing campaign which are vital to improve your content assets in terms of link acquisition, social performance and branding.
Other Resources:
If you liked this post, you can subscribe to this blog or follow me on Twitter and Google+.
How our LINK BUILDING AGENCY builds 250 links/mo consistently using Predictable Link Building Methodology™…
Using a SIMPLE and PROVEN system

Using a SCALABLE strategy
No private blog networks
No creepy outreach emails
SHOW ME THE FULL LINK BUILDING STRATEGY