Building backlinks in 2014 has been tougher than pre-penguin years and will be more difficult in the years to come. Seeing that a lot of webmasters already knew common link building tactics we SEOs are doing, it's easy for them to detect pitches/outreaches that only aim to get links that we want from websites we're reaching out to.
That kind of scenario only shows us that we need to look for new strategies in link building, strategies that would give real value to our clients.
We are real marketers, not just SEOs. We should make sure that all our campaigns as well as our actions are profitable to the business of our clients.
In this post, I'd like to share 11 profitable backlink sources that will surely give you links that you need for your website.
User-generated content
There are so many user-generated websites that you can take advantage of to promote your existing content/page.
Slideshare is one of the websites that you need to start leveraging for content promotion because it can give highly targeted visitors to your website.

This is an example of how slideshare can drive relevant visitors to your site through a link/mention on an influencer's slide presentation.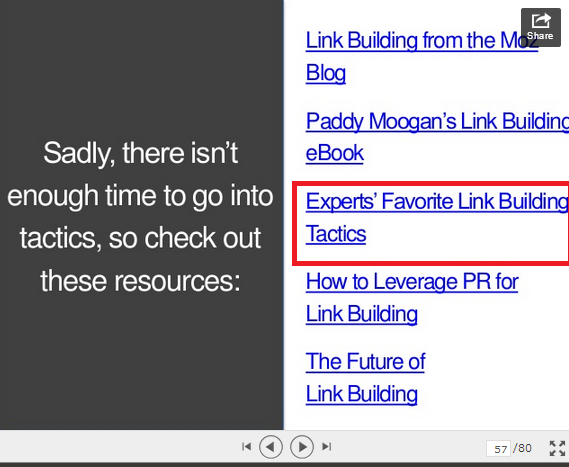 There are several ways to get visibility through links/mentions from popular slide presentations on Slideshare. Here are a few that you can consider:
Build relationships with influencers in your space through blogger outreach and link inclusion in your site's internal content (round-ups).
Invest in building your brand on Slideshare by adding more highly valued slide presentations that are actionable and provide real insights to your community.
Optimize your distributed content by targeting long tail keywords people are searching for to find information about your brand. Ranking for keywords using your visual content can help increase your chances of earnings/links from influencers, bloggers or speakers who are doing their research on the subject matter.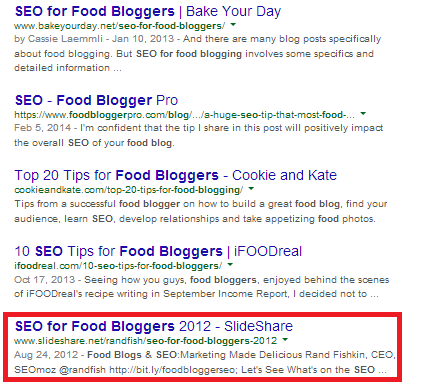 Customize your Slideshare profile by adding eye-catching images to attract new subscribers as new brand followers.
Link to your social accounts from your Slideshare profile (applicable for premium users) to pass link juice to your social accounts and to help grow your brand's social following.
Capitalize on ranking forum pages
Forum marketing is one of the under-utilized content promotion techniques these days but if you will only look at the value that it provides to site owners or business owners, you would really want to invest in participating on industry-related forums.

This is an example of how marketing your website on forums can help you increase your referral traffic as well as bring potential customers/clients to your brand (which should be the aim of every link builder today).
How to find profitable forums:
Do a Google search for "your industry" forums query, sort the page results by Domain Authority (DA) and list all potential forum sites in a spreadsheet.
Add to your spreadsheet forums that are found using customer's search query (e.g. shop [industry] business). Since this type of phrases is what customers are using to you're your products/services online, they are more likely to buy/purchase from your brand.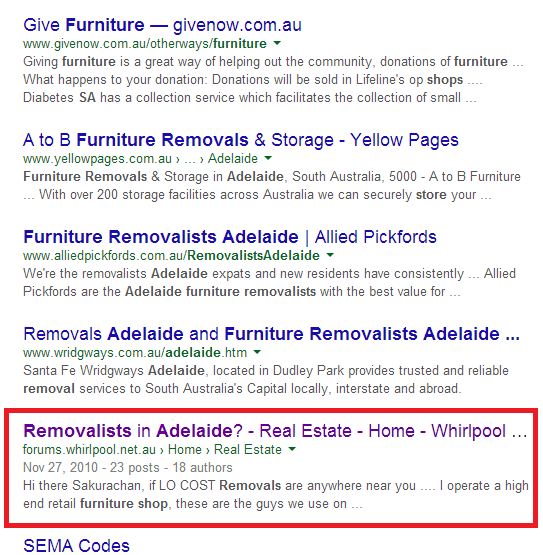 Reverse engineer your competitors' websites and look for niche-specific forum sites where they are actively participating.
Now that you have a list of forum sites, you can now build links using forum marketing. This is doable in two ways:
Complete your branded forum profile by adding important details about your website/brand (never forget to link to your homepage URL and social accounts to get more visibility to those pages)
Answer relevant questions on forum threads that you know you can provide value to (base it on your experience/expertise). Since the more you contribute on forums, there are chances that people would get to notice you and begin to follow your website/brand, leading to more link opportunities.
Industry newsletters
Newsletters from big brands/authorities in your space are good link sources given that they can really provide targeted visitors to your website for the main reason of the relevancy, between the newsletter link and your website.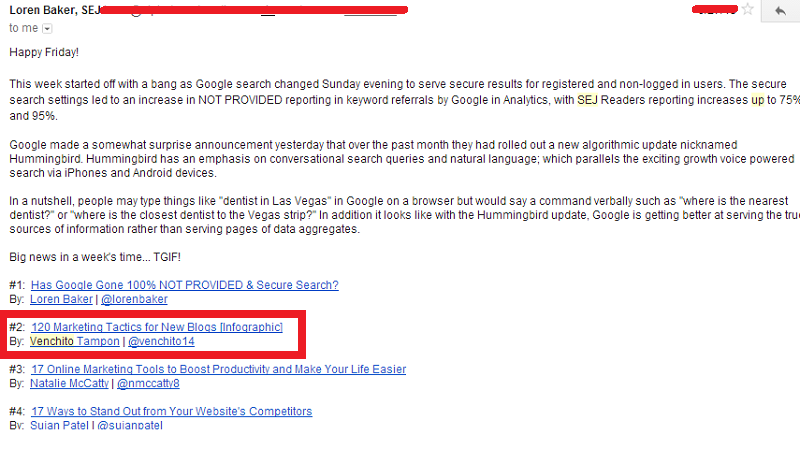 This is a just an example of thousands of newsletters that people received from brands, some of them could bring traffic to your page/website, some are not. Nevertheless, they are places that can increase the online visibility of your business.
How to find websites that have relevant newsletters:
Use Twitter search to find newsletters that are connected to your brand (do searches for [industry] newsletter)
Do Google search for [industry] newsletter and find pages that allow users to earn mentions in newsletters either through content contribution or simple community participation.
Track upcoming newsletters using Fresh Web Explorer or Talkwalker Alerts.
How to get links from newsletters:
Become a regular contributor for blogs that send weekly/daily listings of articles to their existing subscribers.
Identify the types of content people are consuming in your space, create those content types on your site and heavily promote it (contact the content manager and just simply share your content). Classic example is Moz Top 10.
Submit your content to community sites in your industry and earn a mention from weekly newsletters they're distributing to their members (e.g. Inbound.org's Daily Digest). Start connecting with active members in those communities to help your content rank high on the listings through their individual upvotes.
High traffic directories
Getting targeted traffic is one of the best benefits you can get from directories (whether they are local or niche-specific).
The reality is some people are still using directories to research for top blogs/sites in your space, which if capitalized could provide continuous visits to your website (these are visits that are likely to engage with your brand in the long haul).

Alltop is one of the high quality directories that are strictly reviewing site submission to ensure that they only list sites that people could get value from (which are based on the authority and utility of content produced by them).
How to get inks from high traffic directories?
Submit your site to high quality directories with strict editorial guidelines. Usually they accept websites that have regular content (blog posts). So make sure you always keep your blog up to date to get higher chances of getting accepted on those directories).
How to find high traffic and customer-converted directories
Use customers search queries to discover local and niche directories (where to buy [product/service], shop [industry] business or shop [local] business)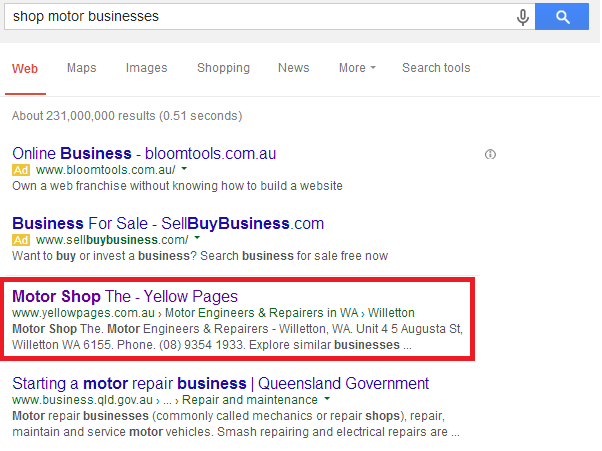 Quickly search for curated list of directories in your space (e.g. top car directories), filter out websites that have low Domain Authority, without strict editorial guidelines and would need reciprocal links before being accepted to their listings.
Authoritative curated list
Earning a mention from a curated content adds credibility to your brand and can send trust, relevancy and authority signals to search engines, which makes it easy for your website to rank for highly competitive keywords.
There are so many ways to leverage this content-centric link building method, a few of them are:
Create a spreadsheet of blogs that consistently curate lists of websites, tools, resources or content pages. Find them using Fresh Web Explorer or any other alert mention tools. You can use any of the following phrases to find those blogs:
"your keywords round up"
"your keywords round up post"
"your keywords weekly round up"
"your keywords mash up post"
"your keywords post of the day"
"your keywords post of the week"
See the type of content industry curators are including in their lists. Replicate those content types and publish them on your blog. Reach out to those curators and get links.
Invest in building relationships with industry curators (start with five persons). Incentivize them by giving free access to premium products or offer something that will catch their interests and get them know your brand.
Help the page to get to the top spots of search results by mentioning it from your guest articles and from your other link building efforts like forum marketing and blog participation, to help it earn organic traffic, which can be turned into referral traffic back to your website.
High-tier resource pages
A resource page/post that provides comprehensive information about a certain topic will naturally earn editorial mentions from relevant websites/blogs which helps the content to get more eyeballs from its targeted readers (bringing more traffic to the website where the content is hosted).
I always believe that earning editorial mentions should be one of the link building goals that SEOs should start targeting today, besides the traffic and conversions linking pages could bring to websites they're handling. Editorial/contextual links could prove the following:
Your content/page is valuable in terms of the message and new information it contains.
Your content/page reveals your brand's expertise on certain topics.
Your content/page has a story that is educational, humorous or interesting (which is worth sharing to other people).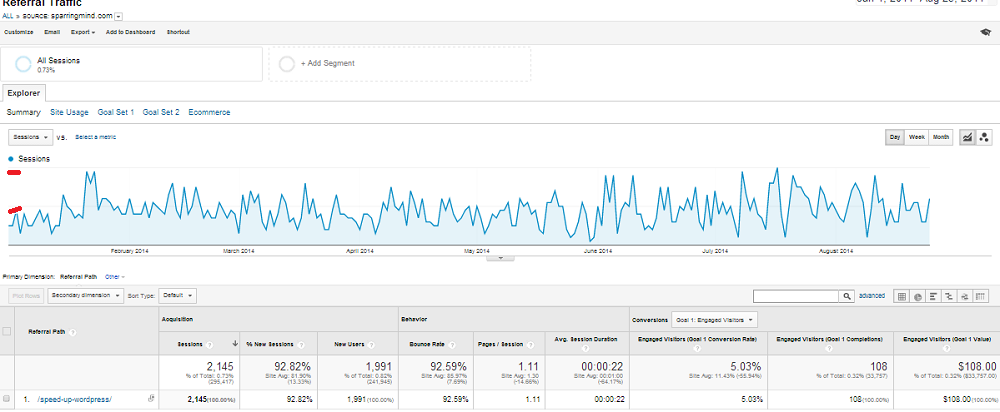 This is a screenshot of my client's Google Analytics account that shows the referral visits he earned from an authoritative page (editorial mention).
This could also happen to your website by performing any of the following online activities:
Spend at least 15-30 minutes answering relevant questions on industry forums (show your expertise by adding brief but straightforward and actionable answers).
Optimize your content assets both for search engines and users by adding industry terms/phrases, local and niche entities and maintaining the purpose of each of your asset throughout the process of writing/creating them (check out this post by Distilled about content matrix).
Use content promotion strategies applicable to your content piece to have higher chances of earning links from your target linkers/bloggers. You can follow these actionable tips by Brian Dean.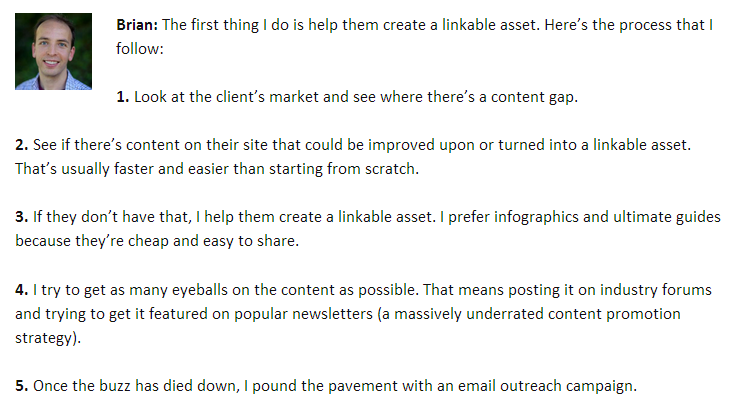 Always look at the longevity of the information of your content (evergreen), since it always matter if you want to consistently earn links from researchers/bloggers who're looking for references for their works. If you have timely pages on your website, you can just combine them into one big post, making them more up to date and ultimate resource in your industry (e.g. turn your link building 2014 and 2015 posts into one big resource page).
Identify assets in your website that received a lot of natural links in the past six months using Ahrefs or OSE, then think of ways on how you can add more valuable information to them. By doing this, you'll get more chances of earning contextual links once your start promoting it to previous and new (potential) linkers in your industry.
One example of this is my updated link building post where I included additional contributions (tips) from 6 link building experts (you can click on the link to check out their contributions).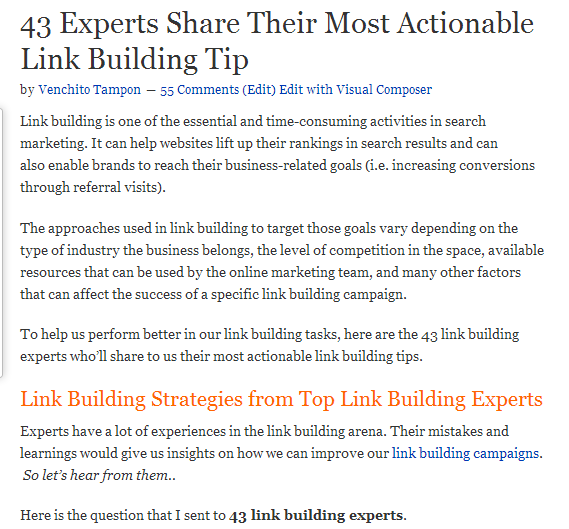 Contribution request on Twitter
Journalists, researchers or even bloggers today are now using Twitter to find insights or tips from top personalities or influencers that they can include as references or additional information for their works (their own content).
You can find those types of people by manually searching their status updates on Twitter (use #journorequest or #prrequest as your Twitter search terms).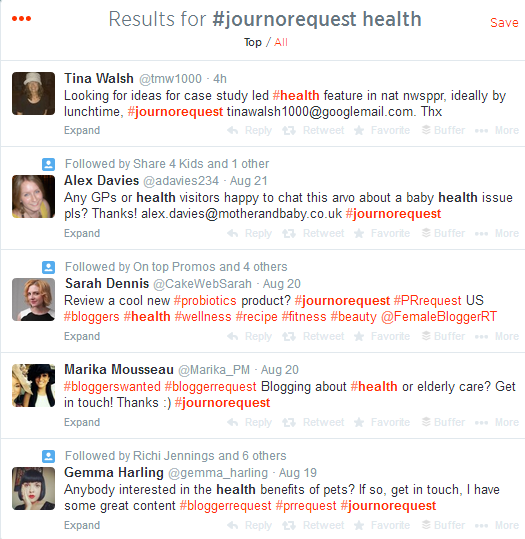 You can also automate this approach by using IFTTT and Twilert tools. Use the RSS feed of Twitter (from Twilerts) and Gmail as your IFTTT options. Make sure that you add your keywords or industry terms to your Twitter alert in Twilerts to generate relevant results.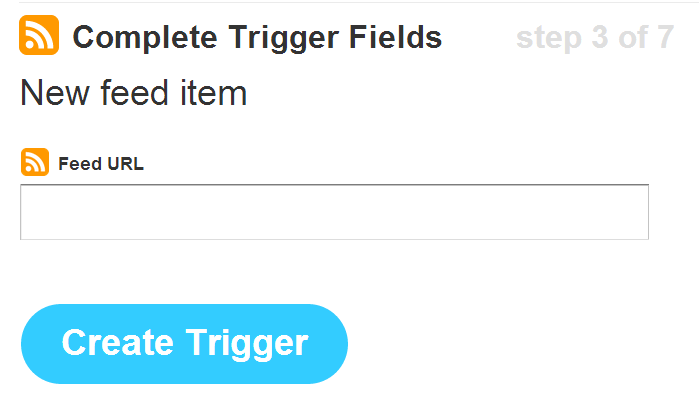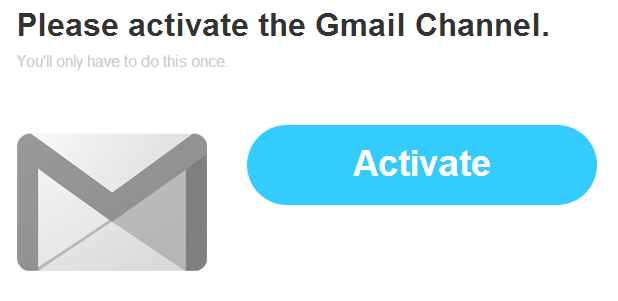 IFTTT will send you email alerts when there are journo or PR requests found on Twitter. It will look something like this:

When you received this kind of email alert, it is time to approach the journalist/blogger by following this simple step by step guide:
Follow the person's Twitter profile.
Ask the person if he'd like to give you his email (always direct the conversation to email to easily engage him, especially if you want to build a stronger relationship with that person).
Provide a brief but useful comment/tip/insight about the topic for his upcoming post.
Invest in building connection with that person to earn more mentions/links from his future posts (both internal and external content).
This approach is like pulling attention from people who're ready to give you links but still want to get your contribution about the topic you're an expert in. I guess this can be one of your powerful link building techniques that you need to start leveraging today to build authority/influence in your niche as well as to get the desired attention that you want for your brand.
Competitor link building
Competitor link research or reverse engineering is one of the untapped ways to find link opportunities in the early stages of a link development campaign.
You will not only be able to find your competitors' backlinks but also can help you:
Determine what type of content resonates to your targeted audience and make this as one of your go-to strategies when looking for better content ideas for your website.
Estimate the number of linking opportunities you can prospect on based on the links acquired by your competitors (make sure that you identified correctly your competitors – those that are very similar to your offerings (products/services), market audience and status level).
Estimate the number of linking root domains you need to pursue to rank for a specific keyword (this can be based on the average number of root domains pointing to the five pages ranking in search results for your target keyword).
To get started with competitor link research, you can use any of the following tools (for the link prospecting phase):
Mentions.net
Mentions.net allows you to find social and web mentions of your website as well as of your competitors' sites. The tool will ease your work of finding those mentions since it will automatically provide you a list of web mentions in real time for keywords/sites you're targeting.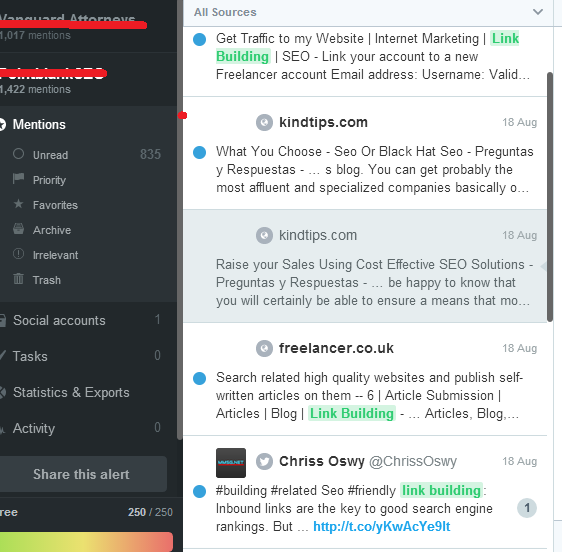 Monitor Backlinks
This tool will allow you to track incoming links to your domain as well as to your competitors, making it easy for you to identify opportunities that are worth pursuing in terms of authority and relevancy of those links to your brand. It also has a feature that will generate the link data of links, such as their page and domain authorities, which if you will sort according to those metrics, you'll find tons of high quality link opportunities (from guest blogging sites to resource pages).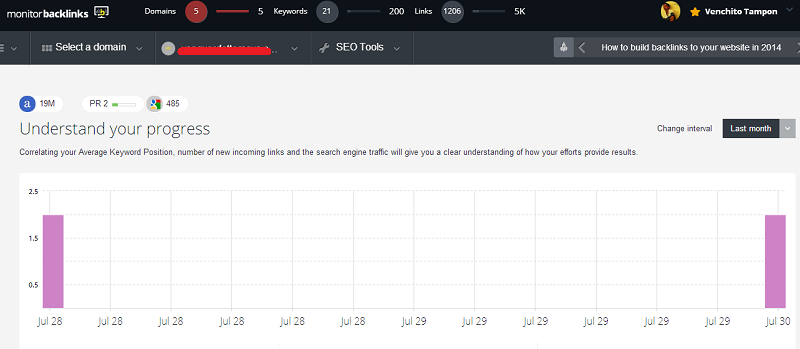 If you're still wondering how to use the tool, here is a short step by step guide for you.
Step 1: Login to the tool, add your own domain as well as domains of your competitors.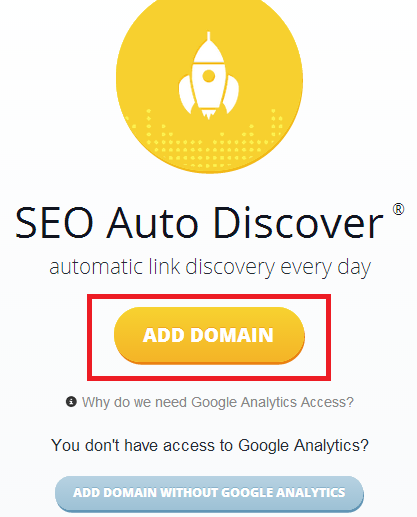 Step 2: Select your domain and click competitors in the drop down menu.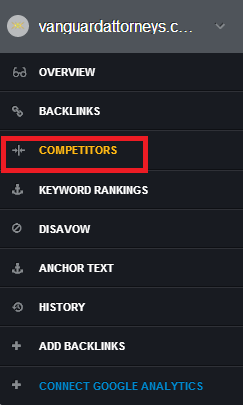 Step 3: Click View Links on your preferred domain.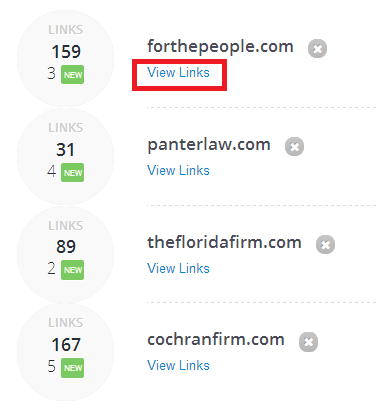 Step 4: Scroll down to the bottom of the page and click the Export button.

Step 5: Do the same pattern to all of your competitors' links (from Step 1 to Step 4), then consolidate all the links into one spreadsheet.

Step 6: Use Ahrefs' Batch Analysis to get link data of those links.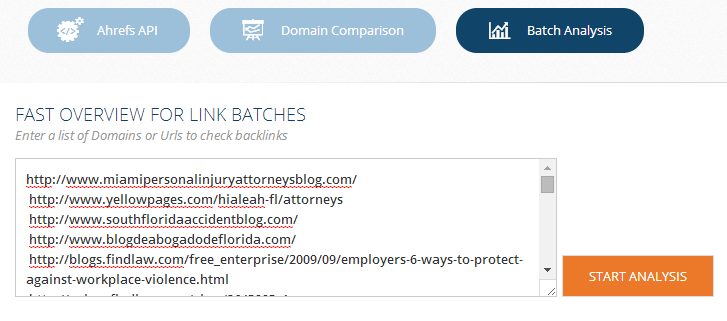 Note: You can only generate data for every 200 links (batch basis).  
Step 7: Export the list of links with link data from Ahrefs.

Step 8: Remove unnecessary columns and only include Ahrefs Rank, Domain Rank and Domains (All Referring Domains) columns.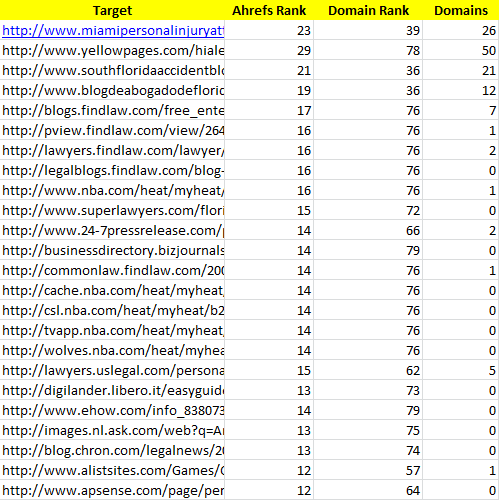 Step 9: Include those additional data (Ahrefs Rank, Domain Rank, Domains) to your previeous spreadsheet.

Step 10: Filter your data by ascending Domains (Referring) and Domain Rank or Alexa Rank.
Click Sort & Filter in Excel, then choose Custom Sort.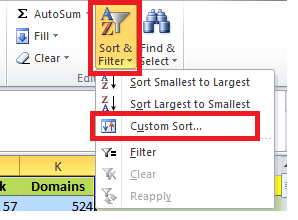 Click Domainsin the Sort by drop down list, then choose Largest to Smallest in the Order section. Click Add Level, then choose Domain Rank in the drop down list and Largest to Smallestin the Order section.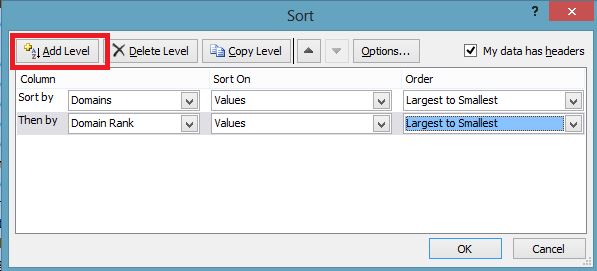 When done, you now have a spreadsheet of all the links acquired by your competitors, sorted by the highest to lowest Referring Link Domains and Domain Rank.

How to leverage your list of competitors' backlinks and mentions
Reach out to those brands that mentioned your competitors' domains/pages and just simply share your own page/post (make sure it is very similar to your competitor's content).
Determine how your competitors managed to earn/get those links. See if they focus on creating content assets in a consistent basis and replicate that same method to your brand.
Invest in building relationships with curators and influencers who link to your competitors' domains, as they would naturally link to you as well when you have solid connections with them.
Create another list of link opportunities for roundups/curations (where your competitors get links from). See the type of content those curators/bloggers link out to and create that type of content.
Discover authoritative media outlets that mentioned your competitors' brands (with or without links). Create another spreadsheet for Press Media or journalists, and reach out to them when you have a new brand story that you want to be covered.
Testimonial link building
If you're an affiliate in your industry (helping other companies to generate sales through your product reviews), then you can use testimonials as your value proposition in your linker outreach to get links from industry shops.
As an example, I had a client who's working as an affiliate marketer in the tech industry and one of his main goals is to build links to his website to increase his site's domain authority and get more traction on other relevant blogs.
So what I did is to create a list of WordPress shops that have testimonial or press pages that link out to site owners/users that used their products (WordPress themes) and also those who just want to provide testimonials for those shops.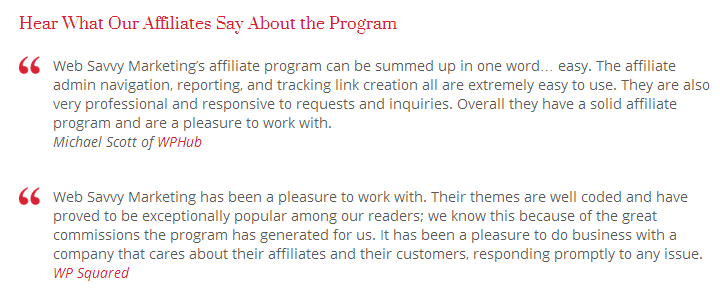 You can also apply the same approach by first discovering testimonial pages that can possibly link out to your domain. Do Google searches for terms like:
intitle:testimonials OR inurl:testimonials [keyword]
intitle:affiliates OR inurl:affilaites [keyword]
Intitle:what people are saying [keyword]
Intitle:buzz OR inurl:buzz [keyword]
Intitle:press OR inurl:press [keyword]
For the testimonial outreach, you can use the email template below:
Hi [Name],
I'm Venchito J. Tampon Jr., an affiliate marketer at [my blog]. I stumbled upon your product and [say something about their tool…].
I'm wondering if you would be interested for an additional testimonial for your testimonials page.
Please let me know and I'm willing to add one.
Best regards,
Venchito
Don't stop the connections you started with those WordPress shop owners, once in a while, reach out to them through email or social accounts to get more chances of earning links from their blogs/pages.
10. Second deep broken link building
Broken link building is one of my go-to link building tactics when new clients come on board, seeing that there are always value this link building tactic provides to potential linkers we're reaching out to for link inclusion.
There are two ways to perform broken link building:
Suggest link with the link to replace the broken of your similar content (there must be a direct relevancy between the broken link and your content).
Suggest at least two resources to the webmaster (one link of your content and one link of another similar content but not from your competitor).
How to find broken link opportunities
You can use any of the following approaches to find opportunities for broken link building and create a huge list of resource/links pages.
Advanced Search Queries
The first link prospecting approach in broken link building is the use of advanced search queries. An advanced search query is composed of a keyword and a search operator (e.g. inurl).
Following is a good list of advanced search queries that you can use to create your first list of link opportunities.
(intitle:links) OR (intitle:sites) OR (intitle:resources) "keyword"
(intitle:links) OR (intitle:sites) OR (intitle:resources) "keyword" useful recommended helpful
intitle:links "keyword"
intitle:resources  "keyword"
So for example you're looking for resource pages about cyberbullying (or simply bullying), you can add that keyword or use related phrases to the above list of search queries. The end results will be:
(intitle:links) OR (intitle:sites) OR (intitle:resources) "cyberbullying"
(intitle:links) OR (intitle:sites) OR (intitle:resources) "anti bullying" useful recommended helpful
intitle:links "cyberbulling"
intitle:resources  "anti bullying"
Use any of the above search terms when doing prospecting for links pages on Google.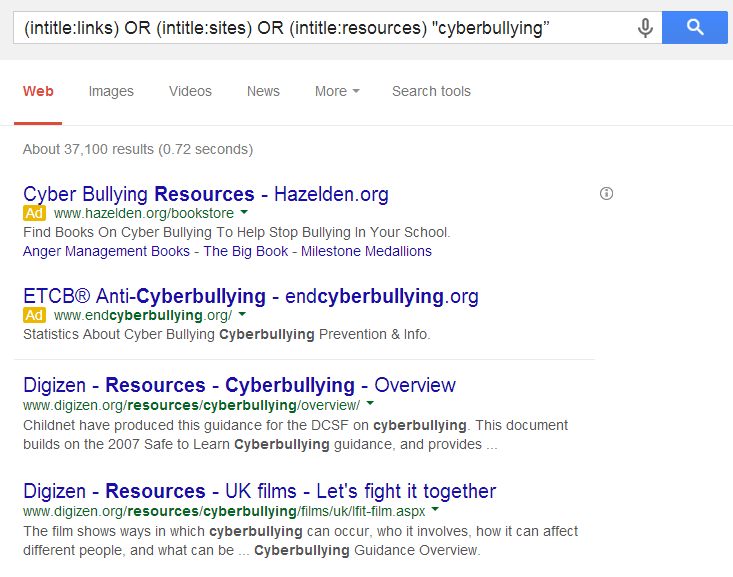 Reverse Engineering
Reverse engineering is simply digging into your competitors' backlink sources. This is doable in two ways:
Tracking backlink sources of a specific URL.
Tracking backlink sources of a specific domain.
URL-specific backlink sources
Using again the above example, your first need to find a similar content from your competitor or simply a page that is already ranking in search results (for the target keyword you want to rank for).

Grab the URL of that content, paste it into your favorite link building tool (either Ahrefs, OSE or CognitiveSEO) and discover resource pages that link out to that content.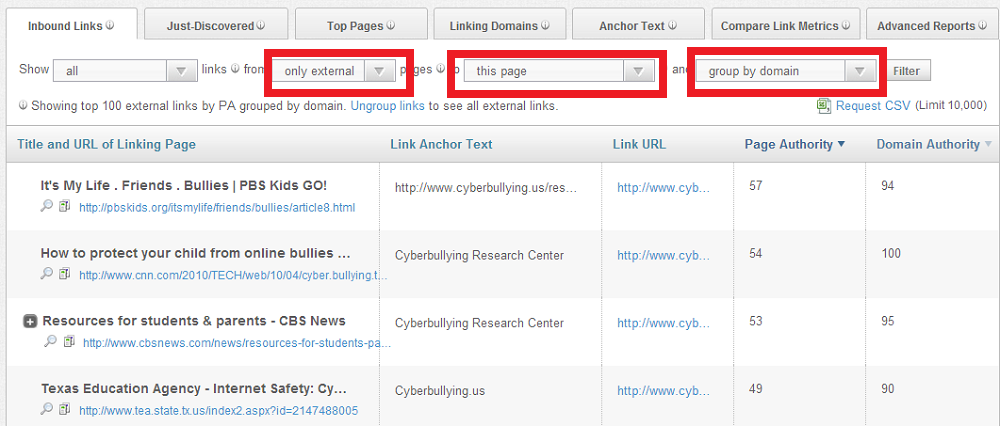 Domain-specific backlink sources
Find a domain that is highly relevant to the keyword you're targeting. As for the above example, you can reverse engineer a bullying website to discover more resource pages.

Since that website is directly discussing your keyword (bullying), you could find several pages that link to it.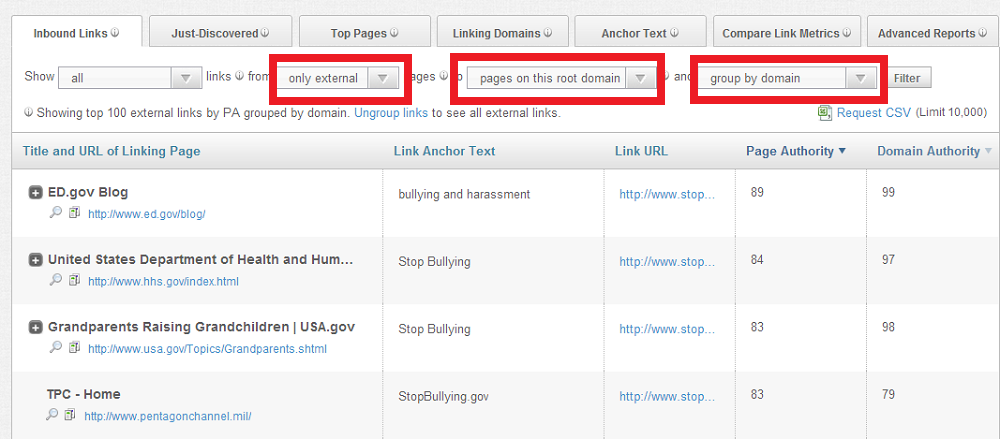 Using top anchor texts as search queries
This method is doable in four easy steps.  (thanks to Garrett French for this awesome tip!):
Step 1: Identify your main keyword
If you're in the driving industry, your main keyword is driving.
You don't need very specific keywords in this method since you want to find a huge list of link opportunities (with main keyword, you'll have chances of creating a bigger list of resource pages).
Step 2: Do a Google search for your main keyword
Search your main keyword in Google and grab the URLs of the pages listed in the top spots of your search results.

Step 3: Grab one URL from your list of pages and identify the top anchor texts used by linkers to link to the page.   
With Ahrefs, you can find the anchor texts used by linkers to link to the page by clicking on the Inbound Links tab and choosing Anchors in the drop down list.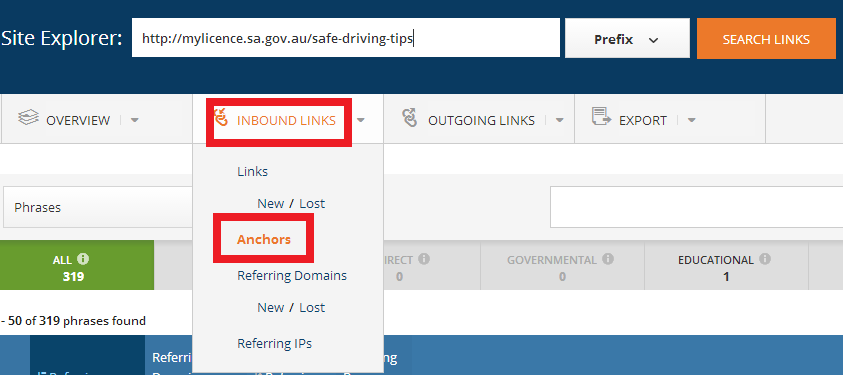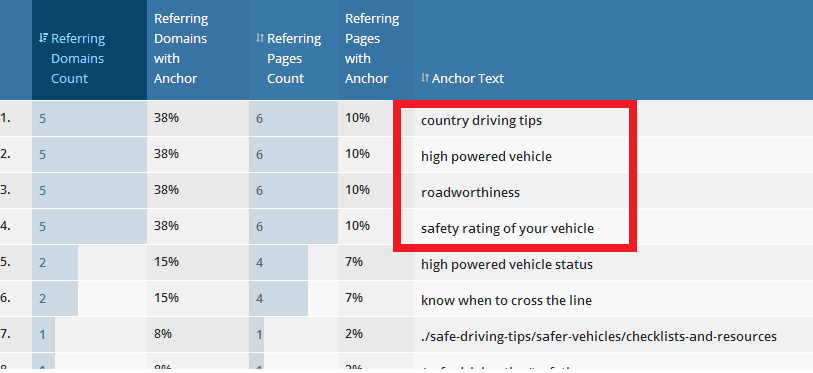 Step 4: Do the same pattern to all of the pages you listed in your spreadsheet. Grab each of the URLs and find their most linked anchor texts.
Step 5: Create another list of anchor texts used in linking those pages.

Step 6: Use anchor texts as your keywords and add them to your advanced search terms.
For the above example, you can add the phrase – "country driving tips" to your advanced search query – (intitle:links) OR (intitle:sites) OR (intitle:resources) useful recommended helpful.
Your new search query would be: (intitle:links) OR (intitle:sites) OR (intitle:resources) "country driving tips" useful recommended helpful.
So by using your list of new keywords (anchor texts), you'll be able to discover new resource pages that link to the pages you listed in your spreadsheet.
What to do with your list of resource pages:
Identify if there are broken external links using Check My Links Chrome Extension.
Reach out to the owners of those resource pages and just tell them that you found error links.
Suggest your content URL as the replacement to the broken link or simply suggest it as an additional resource to their lists of resources.
You may also check out the following posts about broken link building.
The Broken Link Building Bible
Broken Link Building Guide: From Noob to Novice
11. Blog commenters
For blogs that already gained authority in their respective industries, it's easy for them to build links since they have content (videos, blog posts, images, etc..) that will naturally attract links as well as build a solid community that is willing to support the brand in any of its online marketing efforts.
Relationships matter in link building. It helps amplify the content produced by the brand once the community (brand loyalists) starts to promote the content to their own followers either on their blogs or social networks.
If you don't want to start from scratch when finding link opportunities for your blog, you can always go back to those who already connected with you in the past. They are the people who spend time leaving comments on your blog posts and are already familiar with your brand.
To find those commenters, you can use SEERInteractive Comment Contact Exporter, which will allow you to export a list of commenters, with their emails, websites and specific posts where they left their comments.

For commenters who didn't link to their websites, you can still get the URLs of their websites by splitting their emails into Names and Domains.
Step 1: Select the Emails Column.
Step 2: Select the Data menu, then click Text to Columns. Choose Delimited then click Next.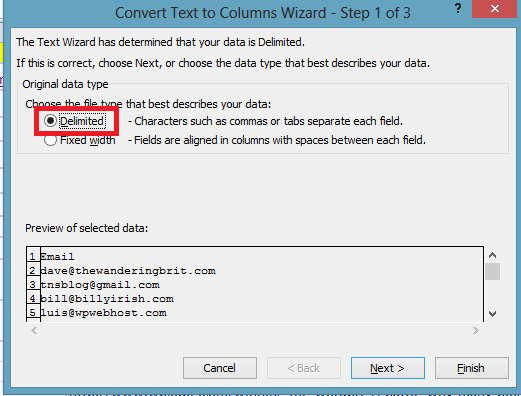 Check the Other check button, add @ then click Finish.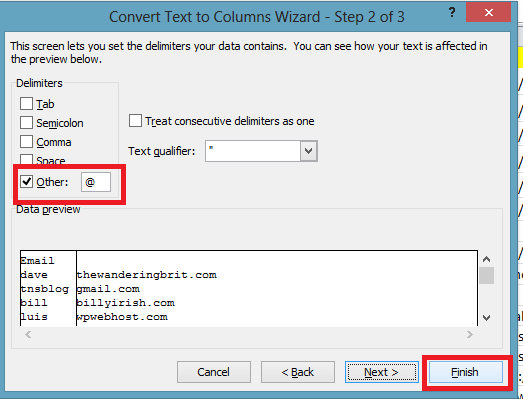 The end result will be a list of blog commenters, with their corresponding emails and websites. You can also add link data to your spreadsheet by using Ahref's Batch Analysis (follow the steps I shared earlier).

If you liked this post, you can subscribe to this blog or follow me on Twitter and Google+.
Hear about new posts as they happen. Build extraordinary links.