Directory link building is one of the initial link building techniques that you can execute to add a little boost to your site's link portfolio, to increase your relevancy signals and to get people find your brand/site on the web.
Generally, there are a lot of discussions about directories whether or not they could still add value to a website's ranking potential and if there are any high quality directories still exist today. Let's dig deeper into each discussion and hopefully, I could provide insights to all of these questions/boards.
Let's get started.
Directories are still good to consider in link building for the following reasons:
Customers still use them to find services/products within a specific city/area and if you are listed in a directory, you have chances of getting found by your target clients/customers.
Getting links from them are easy wins in link building. If you're working with clients, a list of 15 or 20 directory links could add some details to your weekly SEO reports (earning some trust from your client).
Earning citations from local directories sends more signals to Google that your website is tagged or categorized to a specific niche/industry.
Now, you decide whether or not you want to continue building links using directories but the mere fact, it doesn't hurt your website at all (when done in a non-aggressive way) is a good thing to consider for your site's backlink profile.
Quality Factors to Consider in Directory Link Building
With tons of directories out there, you have to separate the wheat from the chaffs to choose only the best directories that you want to submit your website.
Here are a few factors that I consider when qualifying a specific directory:
Domain age – with the use of webarchive, you'll see the year and date the directory has been bought. Though in most cases old directories had been spammed, there are still a few of them that remain high quality.
Editorial review/discretion – you can look at the policy standard/submission pages of the directory site and see how much time they would need to review each website. If they don't have strict editorial guidelines, they're more likely to be automated directories.
Lists down top brands/companies – you can grab one popular company website and search for it in the directory. See if it pops up and the category, tags and descriptions fits right to the company.
Relevancy – Look for closely related directories that don't have any submission from adult and gambling sites or any bad neighborhoods.
Number of listed websites – the faster they list websites, the higher chances that they don't have strict review guidelines (unless they existed for a long time and are ranking for many directory terms).
Anchor texts used to link to submitted websites. If the directory links out to websites using exact match commercial keywords (e.g. personal injury firm in UK, personal injury firm in Florida), then it's more likely deemed as a low quality one.
Types of Directories
There are three types of directories that you can find on the web. They are:
Niche-specific. These are directories that only accept submissions from websites in the same industry/category (e.g. legal services)
Blog. These directories would only accept blogs as part of their listings.
Local. These directories accept submissions from sites located within the same city/country (usually with the same top-level domain – TLD).
Actionable Tips to Build Links with Directories
Reverse Engineer to Find High Quality Directories
A great way to find closely-related and quality directories is reverse engineering. For each type of directory, you can apply reverse engineering by simply grabbing the URL of a target website and discovering its inbound links using Ahrefs.
Search for one website that is ranking for a targeted keyword. You can use queries like:
"your industry" blog (e.g. "personal injury" blog)
"your industry" city (e.g. "personal injury" Texas)
"your company" (e.g. "personal injury firm")
List down all the websites in a spreadsheet and filter out low quality ones based on the metrics I mentioned above. Discover links pointing to them using Ahrefs. You can find and replace terms to quickly look for directories (i.e. using terms like directory, personal injury)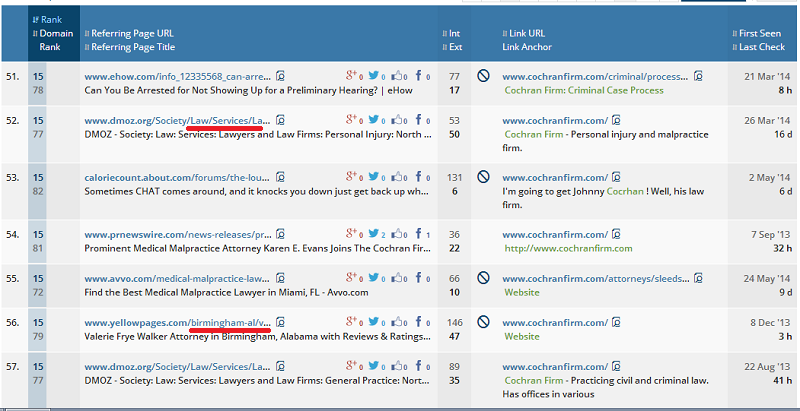 Tip: You can search for more directories by grabbing one website listed in a directory and doing a reverse engineering on that site.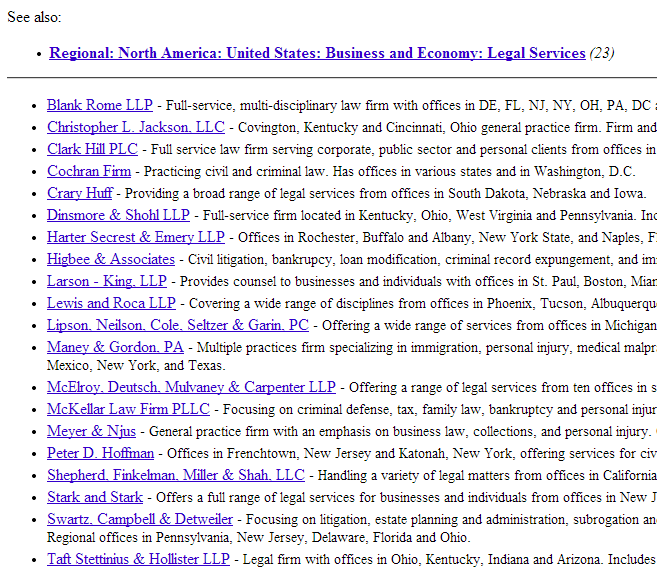 Pay for Editorial Value
Maybe, you're asking if this is considered as a paid link?
Matt Cutts answered this question. If you're paying for editorial value in which the editor reviews the quality and relevance of a submitted website, then it's okay to pay for the directory. However, if you're paying for low quality and automated directories or you are given the option to choose the anchor text used to link to your site, then you should worry about submitting your website to those automated directories.
Spend a little amount of your SEO budget to these directories. Focus more on the usability, site architecture and design of your website. Invest in your content and make it useful to your audience. This investment is more beneficial than just spending money for easy directory links.
Earn citations from local directories
Citation building is known these days because of the value that it provides to a specific brand/website. Aside from getting listed in the directory and helping your customers to find you, you're giving Google and other search engines relevancy signals that will make your website rank for local terms/keywords.
In submitting your business to local citations and directories, you have to remember that when you submit details of your brand, they should be all be the same on all directories. Be consistent with your NAP (Name, Address, Phone number) details so that Google will understand better about your website and help you rank on local search results.
You can check out this post by Richard Marriott to find more link opportunities in the local scene.
To help you save time in finding local citations and directories, I created a spreadsheet that lists down submission sites where you can add/submit your business, only for UK, US and Australia brands.
[sociallocker id="2245″] [/sociallocker]
Perform a Manual Citation Auditing
If there are changes with your NAP and other business details, you have to consider editing your past details existed in your directories. This is the most common problem most local search professionals encounter. And thanks to Andrew Shotland. He just created N.A.P. Hunter Life, a local SEO tool that will help us track our existing local citations and directories (it will be available on Google Chrome Store soon).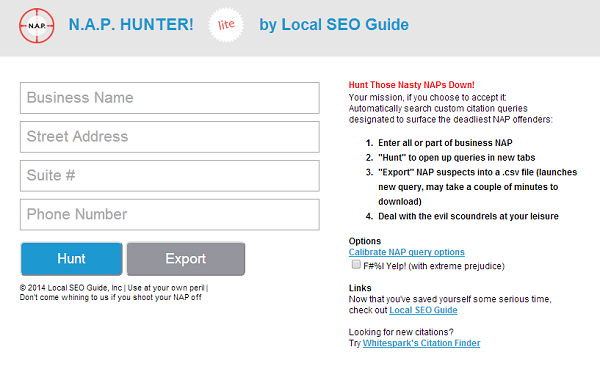 This tool will speed up the process of auditing your existing local citations. Manual citation auditing happens when the brand needs to add or edit N.A.P and other important details about the business.
N.A.P. Hunter Lite will automatically export NAP suspects in a spreadsheet file which will save time in gathering all the links.
Note: The tool will not keep your logins so you really have to document the username and passwords that you use for local citations/directories for you to be able to do some changes when you need so.
Reminder:
Diversify your link portfolio. Never put all your eggs in one basket. Directory link building should only be part of your initial link building strategy as you take time to plan creating linkable assets, fixing technical issues and performing link audit on your website.
If you liked this post, you can subscribe to this blog or follow me on Twitter and Google+.
Image Source: 1
Hear about new posts as they happen. Build extraordinary links.