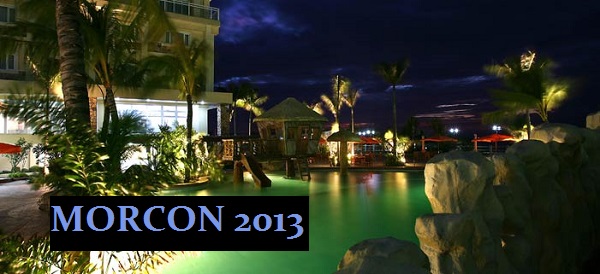 Conferences are made to build a community of like-minded people who share valuable experiences/insights with one another. There are a variety of topics that can be discussed in an SEO conference which includes analytics, social, and search marketing.
This type of conference would somehow help virtual marketers (SEOs) to get out of the virtual box and connect and build relationships with SEO peers offline. There are a lot more reasons why you should attend an SEO conference. Some of them are stated below:
Gaining knowledge from speakers and attendees who make their hands dirty during their daily SEO work (this would help you think more of another strategy/tactic that you can implement with your team members). SEO conference do well in giving actionable insights to marketers which is more valuable than theories per se (why and what of a thing).
Networking with people offline can lead to getting hired by a larger SEO company or obtaining more clients for your team given that in-house marketers of brands who join in the conference get help from SEOs who can give value to their work (and know their stuff really well).
Be inspired by the true-to-life stories of speakers and peers who have been successful in the industry (this can motivate you to give your best shot every time you build links or create a content piece).
Getting ideas/inspiration for your next content asset (this would depend on how you understand the topic discussed in the event).
You're hitting two, three or even four birds with one stone (networking, client acquisition, content ideas, and inspiration in just a one or two-day event). Though you might not be able to get all of these things during the conference, the experience building connections with the speakers and established authorities in the industry is a must to consider.
To maximize your stay in the event, here are a handful of tips you should do before attending an SEO conference:
Identify your goals (personal or business wise) to get the most benefit out of the event. Goals like setting a business meeting or bonding with a prospect marketer would give you a marginal benefit even after the conference (especially if the target person can be your future partner for the company and/or sponsor for your next branded event).
Determine your return on investment (ROI) for attending the conference. Listing down the benefits you can gain and the cost of participating (travel expense, conference fee, etc..) would give you an idea if the conference is worth attending for you. But remember to look at the quality side rather than the quantitative benefits you can receive from the event. The result of your calculations whether the conference would give you a positive ROI or not would boil down to your personal judgment given that knowledge and experience are difficult to quantify.
Take note of the topic(s) that you are most excited to learn about. Not all topics can catch your interest. There is always a preference for one topic over another which can centralize your focus on a few topics. But don't ignore other topics because they can also add value (knowledge) to your marketing efforts.
To give you an example, we will be having an SEO conference here in the Philippines – Mastering Online Ranking Conference or simply MORCON.
And I am excited to attend in this event, seeing that I will learn new actionable insights from internet marketing experts who are not just working for a client but already leading an SEO or IM team. This gave me a motivation to join in the conference given that it will not only give me a higher level of knowledge about the trends/updates in the search industry but it will also help me become more interested in handling an SEO team in the future.
Ok. Let's know more about the speakers..
Speakers:
Topic: Advanced Link Building (Content Marketing & Outreach)
by Benj Arriola – InternetMarketingInc.com – 2007 SEO World Champion
Topic: SEO PH Tool Box: 30 Superb Tools To Boost Your Guest Blogging
by Jayson Bagio – SEOTeky.com
Topic: Integrated SEO: Combining Different SEO Strategies,Techniques and Tactics for your Business
by Victorino Abruga – BusinessTips.ph and BusinessForum.ph
Topic: Exploiting the Flaws of Big Brand Competitors
by Glen Dimaandal – Online Marketing Manager of Emerson Electric Co.
Topic: How to Make Your Testing Results Matter
by Nina Mission Estenzo
Topic: Driving Solid Traffic, Sales & Conversions – Inbound X Facebook
by Roel Manarang – North Social Media
Topic: Twitter and Google+ Hacks for Social Domination
by Kim Tyrone Agapito – Unhyde
Topic: Post Enhance PPC Team
Juanito Cell Jacela
Topic: TBA
by Sean Si – SEO Hacker and God and You
Topic: TBA
by Zafar Ahmed – Digital Marketing Manager at 360factors Inc.
Topic: TBA
by Jonha Ducayag Revesencio – RebelMouse
Topic: TBA
by Eduardo Joven – PinoyRecipe.net
Topic: TBA
by Edward Santillan – SearchFuse.com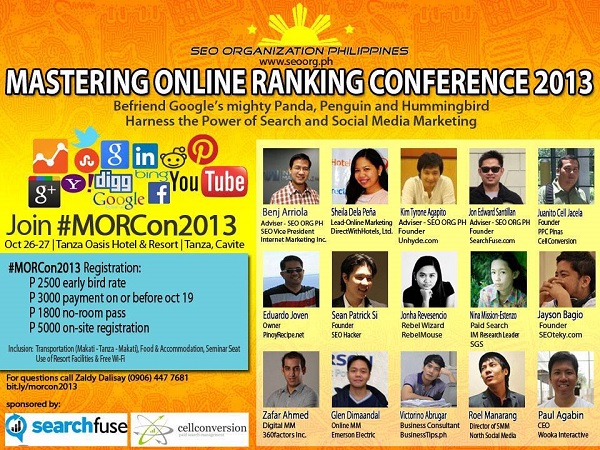 Now, let us hear from our speakers.
How did you get started in SEO or Internet Marketing work?
Sheila: While working for a specialized PR company in Ortigas, my boss gave me a website project, which became my initial motivation to study HTML, CSS and SEO. To further my learnings, I attended several seminars and conferences, read several books and experimented on my own website.
Sean: I started SEO work when I wanted to get more traffic for my blog, God and You. I looked around the web on how to do this and i stumbled upon SEO. I also went to OJT and they hired me to do SEO for their clients. It's a shame to say that I didn't really do white hat SEO. But back then, I had no idea what SEO is really supposed to be like. I also met Glen Dimaandal there. Unfortunately, that company where I spent my OJT in is now closed.
Glen: I finished college with a degree in Journalism, so I tried to find a writing job that would pay better than what newspapers were offering me (P8,000/month) at the time. Fortunately, there was an upstart company called QJ.net in Makati that was hiring. It's owneda gaming blog and it gave me an opportunity to earn call center-level wages while writing about something I was passionate about. It was in this job that I was introduced to the basics of SEO and web analytics.
After 2 years, I was offered a home-based SEO job. Admittedly, I didn't have the knowledge and experience to handle this job effectively so I found myself asking questions to other SEOs and reading a lot of tutorials online. Eventually, I developed a working knowledge and some SEO processes with it. From then on, I moved to a couple of other employers for better opportunities.
Victorino: I've been blogging since 2007, maintaining several blogs in the business and finance niche. As an online publisher, I have to compete with the big brands globally. And in order to be competitive, I have to implement different SEO strategies and tactics, including content marketing and social media marketing. As a business consultant, I also need to hone my SEO skills and grow my SEO knowledge since online marketing is one of the most important keys to business success today.
Roel: I've been an offline marketing manager before on a small company in the Philippines and I started as a blogger around 2008 and an individual online marketing freelancer since 2011 mainly utilizing my skills through Social media.
I started my internet marketing journey through a freelancing site called 'Elance', where I was named as the Top 1 individual sales and marketing expert in the Philippines (just 3 months since I joined) from 2011 – 2012, maintaining that rank in almost more than 15 months while handling projects about inbound marketing. I have served more than 100 businesses around the world including Toyota, Kingston, Elance, App Camelot, MOTU and more.
Currently, I'm working with a freelance team: North Social Media and most of our current projects that we handle are full-scale inbound marketing: SMM, SMO, Email, CRO, Contents, Videos, Mobile etc.
75% of our current clients came from Social media, directly.
What do you expect to happen in Morcon 2013?
Sheila: I'll meet new people in the industry, share my insights, from which I hope a lot of the attendees can learn from and also learn from peers.
Sean: Honestly, I want to be surprised and keep it at that. I think each Morcon is different from the other. Last year we had tons of speakers and very little time to network in the daytime. This year's will probably be different.
Glen: It's my first MORCon, so I expect to meet a lot of new friends and I'm hoping to grow my professional network. Being a corporate SEO, I am only closely tied to the people I work with every day. I want to expand my circles by getting to know other SEOs that I don't necessarily work with.
I'm excited to see the presentations of other, more established personalities like Sean Si, Sheila Dela Pena and Jayson Bagio.
Victorino: Although, I have not yet attended Morcon in the past, I know that the guys in the organization are awesome people. I know them online since most of them are my friends and they are always in my radar. In the search marketing industry, I know that they are the best in the country and even in the global arena. Hence, I expect that Morcon 2013 would be a great and fulfilling experience.
Roel: Although this will be my third time to attend Morcon, it will be my first time to speak on a conference and I feel really excited. I'm expecting to learn more from the other speakers and develop the knowledge that I could gain to our current campaigns. For me, this should be my first step to share the knowledge I have (which I dreamt of) since I believe that I have lots of different and crazy strategies that 'works' very well which not everyone knows yet. Have you heard about marketing using psychology? Hint, hint, hint.
Is Morcon 2013 worth attending? Why do you think so?
Sheila: Yes, MORCon is worth attending because the speakers are those that really learned doing Online Marketing hands-on. Most of the times, the discussion is not just on the concepts but on the actual, tried and tested implementations.
Sean: I think it is with the lineup of speakers. At the very least, you will get a thing or two at the networking sessions there. Perhaps even a client! Events like these build trust and rapport in the Philippine SEO community. Whatever you invest in joining the conversations and activities there is what you'll get out of Morcon as well.
Glen: I dunno, but I have to because I was tapped to speak.
Okay, that was a bad joke. It is: I cancelled my trip to another conference in Makati for this. I think MORCon may be one of the most hardcore SEO conferences in the country and I'm expecting to get some actionable advice from the speakers. More than that, I think the atmosphere will be very relaxed and that will make socialization and networking easier for attendees.
Personally (and this is just me), I've gotten a little jaded about attending SEO and Internet marketing conferences that charge premium registration fees only for me to find out that the presentations are not worth it. I believe I speak for a lot of people when I say I'm tired of hearing speakers deliver "speeches" that are more self-promotional that informative. Since MORCon is a community-driven event, I would expect a richer and more personal experience.
Victorino: Morcon 2013 should be worth a million. I mean the knowledge, ideas and insights that you could acquire in attending the event could help you, your clients or your employer become more profitable. I believe that Morcon is not all about getting high online rankings, but it is also about leveraging those online rankings for the success of your business or career.
Roel: Definitely, since I started attending Morcon 2011 it has been a drug to my brains. I've gained lots of strategies which I continuously develop and apply using my own style.
Bottom point: Knowledge is the greatest investment in this industry.
Can you give us a glimpse of your upcoming presentation?
Sheila: My discussion is aimed at providing some insights on the (not provided) keywords in Google Analytics, and how to possibly unlock it.
Sean: My presentation will look a lot like my latest entry: http://seo-hacker.com/15-important-lessons-learned-seo-start-up/
The difference is it will be live, there will be more stories and there's probably a short Q&A afterwards.
Glen: Sure. It will be titled Exploiting the Flaws of Big Brand Competitors. In the past five years, I've worked for a wide array of employers and clients, both big and small in terms of the company sizes. During that timespan, branding became a very important factor in a website's ability to rank for its keywords. On the surface, big corporations with marquee brand names and deep pockets seem unbeatable. If you're a smaller player, going against them seems like SEO suicide. However, closer looks would often reveal that big players in an industry also have big flaws in their marketing strategies that the smaller guys can capitalize on.
My presentation will reveal what kind of flaws to look for and how you can use that knowledge to win important battles for organic and paid search rankings.
Victorino: My proposed topic is titled "Integrated SEO – Combining SEO strategies, techniques and tactics for your business". Integrated marketing is one of the hottest trends in the marketing industry today. We cannot win the competition by implementing SEO alone. We have to learn how to make a powerful fusion of different online marketing forms (content marketing, social media, relationship marketing, etc.) to win the competition. I also want to emphasize the difference between strategies, techniques, and tactics. SEO people should not only be a tactician or a technician. I mean a SEO mastermind or a SEO entrepreneur should be a strategist and should also know how to lead and manage SEO technicians and tacticians. If you are a SEO employee, and you want to be promoted to a SEO manager, SEO director or even start your own SEO firm, you should not only do the routine of SEO but you have to see the whole SEO picture and even the whole business – you have to learn how to innovate and be a catalyst of success in your entire business or company.
Roel: I'll make it straight, I want people know how to effectively drive sales, traffic and conversions through Facebook. Although the topic that I will discuss might have few mixed of inbound marketing strategies and psychological tactics which we needed to do in order for us to reach success.
I've actually chosen Facebook as the star of my presentation and I'm aiming to do exciting story telling about the case studies we've done since that was the topic instructions which the organizers have given me with different scenario, goals and targeting.
This will be a version of stories about real people with real business results, the mistakes we've done and the techniques we used to reach their goals. Bear with me if I talk crazily fast (my team are used to this) but definitely my presentation will hit your ears and brains once you understand it, solid.
And we're done. Now, let's hear from our fellow SEOs from other countries.
Profiles:

Brian Dean is the Founder of Backlinko.com and the author of Quicksprout's Advanced Guide to Link Building. Check out my interview with Brian.
James Norquay has worked on some of the largest clients in Australia and the USA. Over 8 years experience in the field. Now he run his own SEO and Inbound Marketing focused Agency based in Sydney, Australia. He is also the founder of ProfessionalSEO.com.au.

Matthew Barby oversees online marketing at Wow Internet, a UK digital marketing agency. Check out my interview with Matt.
What's your perception/view about the quality of SEO service in the Philippines?
Brian: My perception is that the quality is a notch above what you'd find in most countries where English is a second language. That perception comes from what I've heard from agencies that tend to outsource their work there and from following SEO experts like Jason Acidre and Sean Si.
James: Have only worked with a very limited number of Philippine SEO's in the past 8 years. Some do average quality work and some do good quality work. It is really a case of finding the SEO's who can do higher quality work and working with them or working with employees locally. Some Philippine SEO's are pushing out great content and blog posts such as Jason Acidre, SEO Teky and Venchito Jun.
Matt: I think that there's a bit of a stigma attached to SEO in Asia in general. It's usually associated with low quality, spam-related link building work that's outsourced to companies located there.
With regard to the Philippines in specific, I've always found myself resilient to outsource work there for a few primary reasons:
The workers in the Philippines are prepared to work for an incredibly low cost which doesn't sit too well with me – I don't like underpaying people, but when even some of the top SEOs over there will charge next to nothing it makes it hard to decide who is going to deliver.
I've had a few bad experiences with outsourcing work in the past and has made me ultra-careful with who I work with – due to this, I usually work with people that I can easily pick up the phone to. Unfortunately, due to the UK/Philippines time zone difference, this isn't always the case.
Having said that, I'm sure there are some awesome companies/individuals working out there – Jason Acidre is a prime example of that!
There is an upcoming SEO conference in the Philippines – Mastering Online Ranking Conference. Do you have any idea about this? (even if you're not based here in our country)
Brian: Sounds cool! I'd like to hear more.
James: Have not heard about it before yet I searched for it on Google and the lineup looks like a good local line up of different speakers from different backgrounds which is good to see. Also I like the location of the conference it looks like a great place.
Matt: If I'm honest, I had no idea – I wouldn't mind a quick trip to the Philippines though 😉 I've done quite a lot of travelling across South East Asia so would be amazing to go out again – unfortunately, I can't see a high chance in me doing so!
If you will be attending this type of conference, what topic would you like to hear about?
Brian: I'd like to hear practical strategies for generating links and traffic. I picked that topic because most business conferences focus on theory and approach…and leave out tactical tips that people can actually use to grow their business.
James: Popular topics which would appeal to people in the search world would be things like (1) Recovery from a Penguin penalty (2) Link building in 2013-2014how things have changed (3) Management of a large SEO team (4) Social medias influence on SEO in 2013-2014
I have picked all these topics because they are important issues and they are current issues that everyday webmasters face so I am sure they will hold value for those attending the conference.
Matt: I'm planning on hitting up a fair few conferences over the coming 12 months, with my main focus being around content marketing. I'm in the process of organizing a huge digital marketing event in the UK with Wow Internet (will release details over the next couple of months), so I'm going to be visiting as many others as possible.
To be honest, I haven't been to enough conferences – I always check out a few and never get round to getting tickets (lazy, I know), but I'm making it my objective over the next year to go to as many as possible.
Going back to why I want to hear more about content marketing… A lot of the work that I'm doing for clients has a huge focus around content marketing at the moment, and I see it as the backbone to a good branding strategy.
What I like to hear is great case studies that people have worked on with loads of actionable tips. This always filters down and gives me ideas for link building, social media strategy, etc on top of this.
Any shout outs to your Filipino fans?
Brian: Hoy! Salamat sa iyo para sa pagbabasa Backlinko!
James: I really like the work done by Jason Acidre so shout out to him.
Matt: I'm not sure how many Filipino fans I have – to be honest, if there are any of you out there, my advice is to pretty much ignore my advice – I talk a load of rubbish most of the time!
Haha, only joking – but seriously, if you like my content, get in touch with me on Find My Blog Way!
That's all for now readers! If you have any questions, comments or suggestions, you can comment below this post.
 If you liked this post, kindly share it to your circles/networks and follow me on twitter @venchito14.
Whenever you're ready…here are 4 ways we can help you grow your client or business through performance-based link building:
Claim your Free Link Building Strategy Session. If you've achieved initial traction from Google, we can help you scale up to record-breaking search traffic and sales faster, claim your FREE Link Building Strategy Session. We'll brainstorm some ideas to increase your search traffic through ROI-driven backlinks, including practical solutions to add more content within the next 90 days.
If you'd like to learn the exact link building strategies we use for free, go to our blog or visit our resources section, where you can download guides, cheatsheets, and templates we use for our most successful clients.
If you know another marketer who'd enjoy reading this page, share it with them via email, Linkedin, Twitter, or Facebook.