Earning links through branded content is one of the biggest challenges of SEOs who are now turning to content marketing to improve their sites' performances. One of the reasons for this difficulty is that not all webmasters would want to link to every content on the web. There are some standards they have installed in their minds to determine whether or not the content that is offered to them is worth linking to.
However, passing to these standards should not be your main agenda.  You should focus your efforts on delivering a high quality content that targets the right audience and solves a certain problem in your industry. This initiative would make your content promotion and link acquisition easier than the usual given that the content itself benefits the prospect linker at some point. The value that you offer to the person pushes him to expose your content to his audience by linking to it (if not, at least share your content to his followers).
There are several reasons why a person would want to link to you (or the different values/benefits that he can gain from your content).  Dan Petrovic covered this topic in his recent post about earning links.
He noted the top reasons why people link to other websites:
Sharing
Relevance
Attribution
Entertainment
Marketing
The ability of your content to earn links varies depending on its target audience, its goals and objectives and your established relationship with the linker. A preparation for the creation and promotion of your content such as building connections with the target linkers would make a significant difference on your expected results for the campaign. The reason is that you can easily ask for a favor to someone who knows you already (higher response rates when you email him). Also, creating different email templates for your outreach campaign as your preparation for the content promotion would help you track which one would yield the best result. This is useful if you're trying to scale your content amplification strategy to minimize costs and workload on your part (as you are able to give to your outreach specialist an email template that is already tested and proven to be effective).
Let's dig deeper into this topic by listing down different types of content and tips on how to create and earn links through them.
1. Visually-Appealing
This type of content requires expertise on graphic designing because you want to come up with eye-catching visuals where people can proudly share them to their followers/peers. Infographics, animated gifs, cartoon images, and videos are a few examples of visually-appealing content. These content pieces have higher engagement on social than plain-text content given that it is easier and more convenient to comprehend information found in an image/infograph.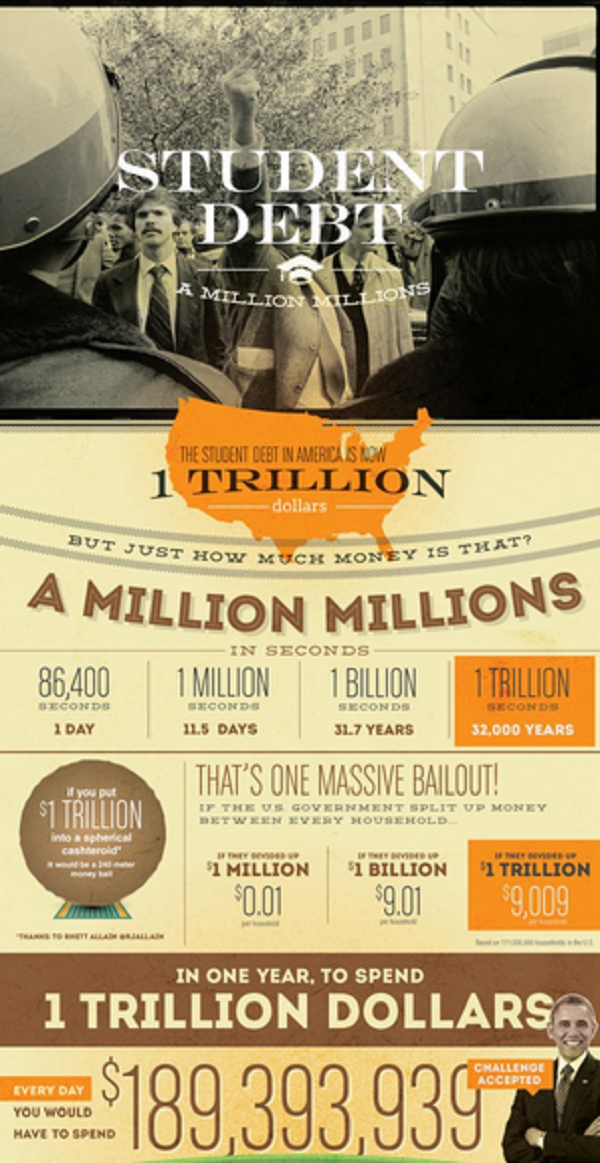 There are two things that would make your content visually appealing:
Uniqueness of the design
Logical format (a smooth flow of information of your content)
Forget about linkbait. Create visuals that would serve as a reference/resource for your target audience. It would be easy for you to earn voluntary-given links for your piece that provides additional information to prospects. (Tip: Make sure your content doesn't have any duplicate; no one of its kind!)
Additional tips when creating a visually-appealing content:
Find an existing content piece that can be improved by adding images. With the use of outdated content finder, you can find a lot of outdated content that can be turned into visuals (e.g. infographic).
To update the content, make it more comprehensive than the original version of it and add your own insights to the topic.
You can also look for existing visuals that managed to earn links and shares in the past and target the same keyword/phrase of the original version of the content. This would help you identify things that can be improved (e.g. lack of information, colors, font, etc..).
Show your product in use. If you want your customers to connect with you, reveal your brand's personality. Taking pictures that spotlight your product, employees and locations of your brand stores are best to attract potential customers to your site given that these images would prove that your brand is engaging with its customers and it has a human voice to speak about its own experience. A good example of this is the CEOSwap between Moz and Seer Interactive where they've shared a few photos of their team members.
Tell your story. Mozzers did a great job on this part by publishing a video about their experiences working in the company, as well as showing up their history as a brand. This kind of content is what people are looking for because this is real company stuff (#RCS) – it reveals the human side of the brand.
You can also try creating an infographic that narrates the history of your brand. Here's a good example of that.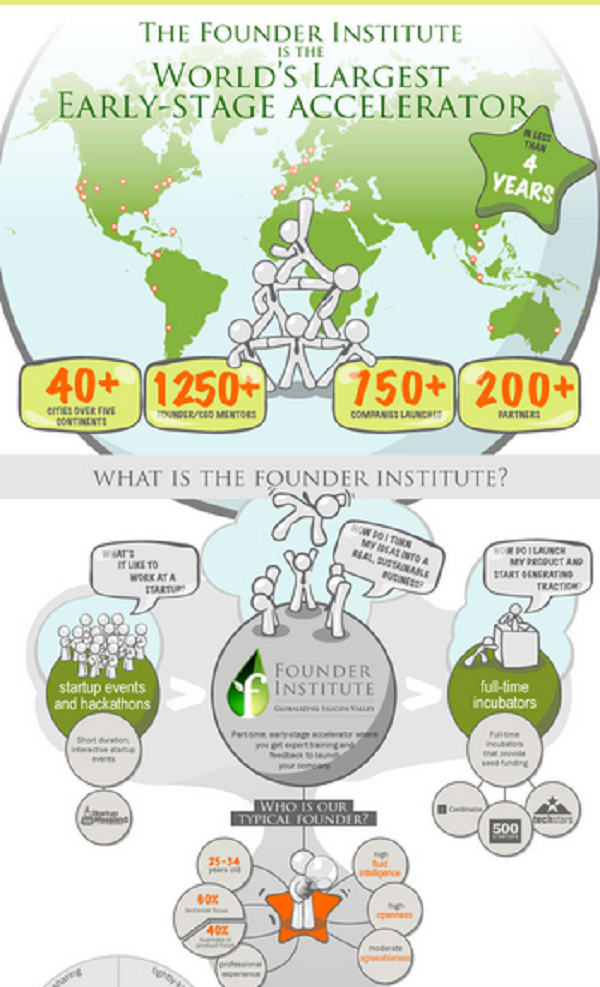 Not always that you want to do guest posting just to mention your brand and/or get a link from other blogs. There are some other ways you can try to get the attention of your prospect bloggers. One example is creating visuals for other websites.
You can use this as an angle to email your prospect webmasters. The likelihood of getting a "yes" response from them is higher given that the created visual could add value to the blogger's content (especially if you craft the image in the most creative way).
To find pages where you can get inspiration for tagclouds, try looking for industry list of terms.
Use this query ("your industry" list of terms) to find those industry lists.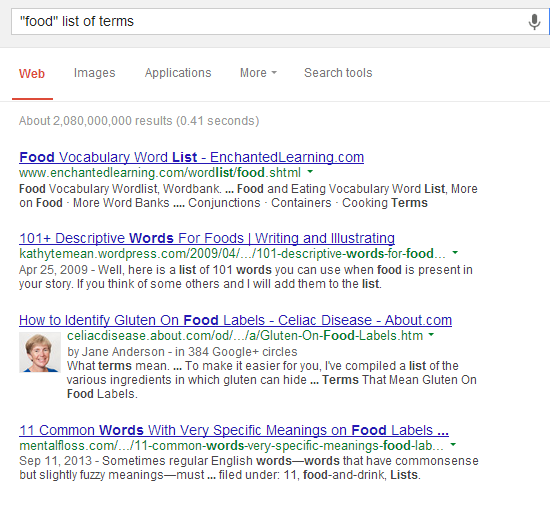 Memes. I saw this meme on the twitter profile of Jason Acidre. A cool guy turned his SEO quote into meme. By using the tactic, he is able to get the attention of an influencer and build relationship with him.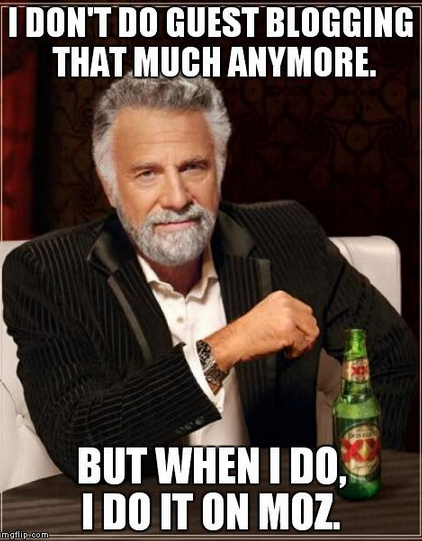 You can also use this tactic to be able to get on the radar of your influencers (who knows they can link back to your site if they find your meme really awesome!).
Use tools like QuickMeme to create your own mini-visuals. Measure how many links/mentions/shares you earn from this tactic so you can scale it for your future marketing efforts.
How to earn links through visually-appealing content:
Reach out to people whom you have been mentioned in your content piece Whether you reference their content, turn their quotes to memes, or make changes to their outdated content, don't forget to send each of them an email, letting them know that you mentioned them on your content assets.
Get your customers add #hastags whenever they buy your offerings. It would add exposure to your content on social where bloggers can notice your product and mention you on their websites (editorial links).
Pitch site owners who write posts about the best visual guides or infographics of the month or year. Doing a Google search and using queries like "best infographics" + "your keyword" would give you a list of pages where lists posts can be found. The more relevant the list page is to your blog, the better. Just offer your visual to them so they can share it or give you a link.
Offer your image(s) to bloggers who wrote successful posts in the past but don't have any eye-catching visuals alongside their content. These are mainly pure text blog posts where you can get links from by creating a visual for the content publisher. If you have a graphic designer in your team, this would be an easy task for you. If none, you can do it by yourself or hire a professional designer on Fiverr.
Target student blogs who might be interested to see your visuals. This is a good opportunity for you if you can share your content and get a link from them (use this query: inurl:.edu + "student blogs" + "your keyword" to find those student blogs).  There are some of these blogs that are already accepting content from non-members while some may need you to take an effort to pitch for a mention/link.
You can try this email template but I recommend that you personalize everything (this would depend on the type of student blogs and the relevancy of the site to your content).
Subject: I want to help the students of [School]
Hi [Site Manager],
I'm Venchito Tampon, a student in one of the universities here in the Philippines. I have my own blog (Digitalphilippines.net.) where I commonly discuss ways/tactics one can apply to promote his/her blog on different web places.
I emailed you because I saw on [College Name] that it has a student blog section where youth engage with each other by sharing their insights about the current trends/issues in the community.
I want to help students who have their own blogs by sharing my knowledge to them.
Last month, I've created an infographic that summed up all the promotional tactics for bloggers. I know that this would be a useful resource for your students and for anyone who will visit your website.
You can check out this link – [URL] if you want to see the image.
If you are interested with it, I can give you the image (for free) and share it with the students of [College Name]
Thank you,
Venchito
Provide reason(s) in your email template why you deserve a mention/link from those student blogs. This would increase your email response rates and get high PR links.
Share your visuals to image-oriented social platforms such as Pinterest and Instagram. Create a list of Pinterest profiles and pitch the owner of those accounts with the intention of giving your visual for FREE. This would somehow increase your email response rates given that they don't need to look for an image; you just provide it for them (you can already attached the image or give the image link to them so they can immediately decide whether or not they would share your visual).
Find them by using this query in Google search: site:pinterest.com + "your keyword". Set a minimum number of Pinterest followers (e.g. 1000) that can be your benchmark when looking for prospect social sharers.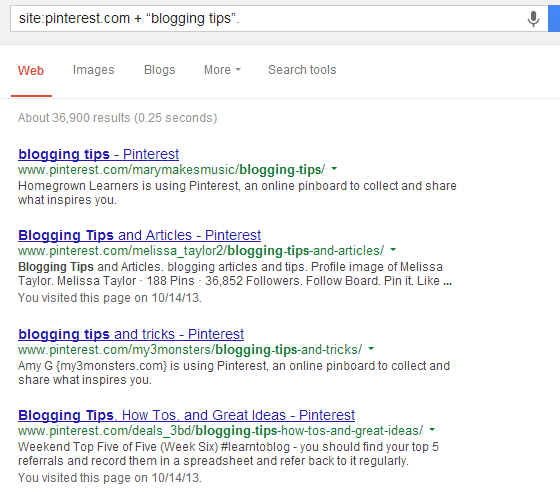 Use this email template to pitch those social sharers.
Hi [Social Sharer],
I was looking for blogging tips these past few days. And I noticed that you're pinning "blogging infographics" on your Pinterest account.
I just want to share my recent infographic – 120 Marketing Tactics for New Blogs. I know that your social followers would love to repin this one given that it is a comprehensive resource for bloggers (new and advanced).
If you want to check that out, here's the link – [URL]
Please let me know your thoughts.
Thank you,
Venchito
2. Brand-Centric
Brand-centric content is naturally optimized for the brand name and related terms (product/services of the brand). Though you may not be targeting non-branded terms that can drive you organic traffic, you can build a better brand awareness by actively sharing your content piece and linking to it from your content distribution channels.
Whatever content you produce as long as it reveals the identity of your brand, it is considered as a brand-centric content. For instance, Skyrocket SEO created an infographic where they conducted a link building survey to show the different views/insights about link building (e.g. most common link building tactic). You can easily see the logo of the brand below the infographic; you know already that they're the one who created the image. This is a kind of brand-centric content that you can create for your audience.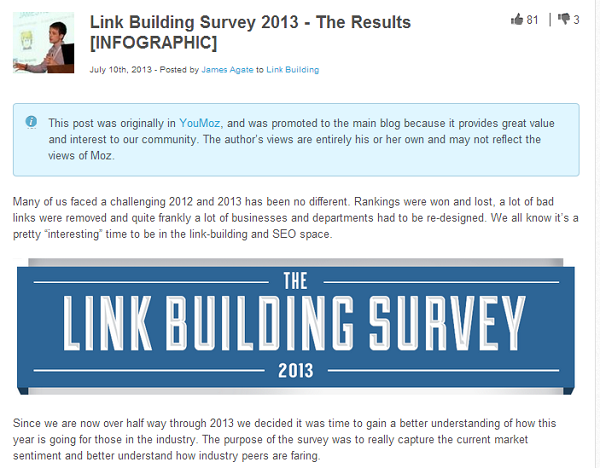 Additional tips when creating a brand-centric content:
If you are organizing an event (conference, seminar, workshop) for your community, get the most out of its value. You can write a pre-conference post that can give your audience an overview of the topics that will be discussed in the event and some insights/views about the field/industry.
Notice how I wrote the pre-conference post. I got insights from the speakers and the views of foreign SEOs (like Matthew Barby) about the importance of attending SEO conferences. This made my pre-conference post valuable to the readers (as they would know the benefits of attending an SEO event).
Make sure you've list down questions that would make your post interesting (e.g. Can you give us a glimpse for your upcoming presentation?).  Send this list to the speakers through email or Facebook.
You can use this email template to pitch them.
Hi [Speaker's Name],
I saw the poster of Morcon 2013 in SEO.org.ph. And I'm glad that you're one of the speakers for the event.
I am about to write a pre-conference post for the said conference and I want you to participate by answering these questions:
–           How did you get started in SEO work?
–           What do you expect to happen in Morcon 2013?
–           Is Morcon 2013 worth attending? Why do you think so?
–           Can you give us a glimpse of your upcoming presentation?
Please let me know if you're interested about it.
And sure, I'll give a link back to your site.
Thank you,
Venchito
Learn how to wait when you do your outreach to speakers since they are busy with their daily work. Follow up them after one or two weeks.
Don't abandon press releases. You don't have to worry about the saying, "Press Release is dead". This isn't true. As long as you're writing a newsworthy content, you won't get any risk (violation against Google guidelines).
Use press release to make your brand terms more visible on search results (when people search for your brand name, they can see news/stories about your brand). This can significantly affect their buying decisions (especially when you've establish a good reputation/story for your brand).
Adding trust seals to your content pieces would indicate authority and credibility of your brand. This would somehow motivate them to buy your offerings as they are able to see the quality of your services based on clients' testimonials and/or customer's reviews.

Optimize your page titles with your brand name. This can help your brand to be seen on the search results and social (especially when your audience starts to share your content piece).
Mention your brand when someone conducts an interview with you. This would not be look like a self-promotional post given that you are only sharing your experience as a marketer (or of any position you're acting in the company).
If you want massive interviews, you can create an interview form page to encourage bloggers to do an interview with you.
Improve your brand's Google+ page by taking advantage of Google+ Hangout. Conduct regular hangouts with the best marketers or influencers in your industry. This would help you build authority and increase influence in your community since people would get a lot f value from a group interview especially if the topic is timely and controversial). See Max Impact Hangouts.
Pro Tip: Before writing posts on other blogs, make sure you have 10 or 20 high quality content assets hosted on your website. The reason is that if a visitor lands on one of your pages (from a site where you place your guest post on), he would stay on your site if you have lots of important and comprehensive posts.
So it's important that you link to your site's other pages and add a call-to-action to every page of your site (this would let them take more actions like reading your site's other page, sharing your content on social, subscribing on your blog, etc..)
How to earn links through brand-centric content:
Link your content to your content distribution channels (e.g. guest posts). Make the most out of your author bio. Don't stuff it with non-branded keywords. Rather, describe your position and your brand's services. This would make your brand and your services known to your potential customers/clients.
Pitch bloggers who are writing product reviews. Find those bloggers using Followerwonk, MyBlogGuest and common search queries like: "product review bloggers" + "your keyword.
There are sites that have their own product review category. You can also search for them by using inurl:/reviews + "your keyword" OR inurl:/category + "product review" + "your keyword" as your query. Example: Charles' SEO tools reviews
Use branded-content link building such as building second tier links to your brand-centric content. This would improve the performances of the first tier links (guest posts) and the brand-centric content assets. More link power is pouring out to both types of content when they both earn links from other sites.
Additionally, when you build first and/or second tier links, you should think conversions. Don't get links just for the sake of passing link value to your page/site. The reason you build links to your pages is that you want people to be familiar with your product/brand and eventually convert them to customers.
A good example of a conversion-type of content is Neil Patel's works.
Neil Patel offers solution to problems of internet marketers through his blog posts.  By writing actionable solutions, he is able to promote his services/products in a not-so-self promotional way. This would not only help him to earn links but can also pass value to his money pages or landing pages (as he links to them from his blog posts).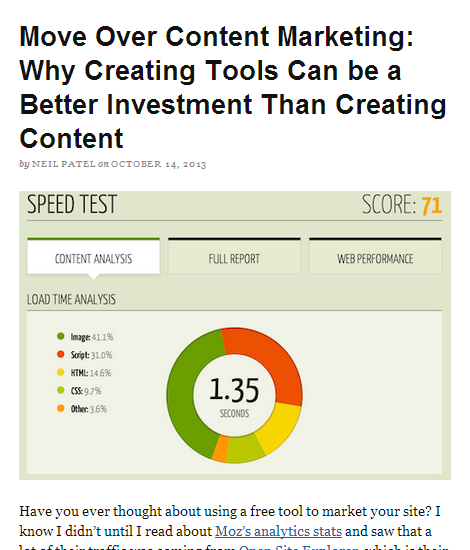 Track unlinked brand mentions using Google Alerts. Use the following queries to setup your Google Alerts monitoring process:
"Digital Philippines" –site:digitalphilippines.net
"digitalphilippines" –site:digitalphilippines.net
"Venchito Tampon" Founder –site:digitalphilippines.net
"Venchito Tampon" content marketing –site:digitalphilippines.net
""Venchito Tampon" link building –site: digitalphilippines.net
Take note that if you don't use queries in Google Alerts, Google will email you hundreds/thousands of junk pieces every day.
Take advantage of recruiting new members for your company. There are lots of sites that can link to your job boards and can give a boost to your brand. Find them by using this search query: inurl:/job boards + "position" + "your niche".  By incentivizing the site owners, you are able to place content on their sites (this is cheaper than placing ads on various ad-sites).
You may also want to check out this post on Moz on how to make hiring easier and fun.
Do a reverse image search for your company logo. Use Google Image Search or Tineye to identify pages where your brand is mentioned but do not give you a link credit.
You don't even know that there are blogs that curate top brands in your industry and include your brand in the list or use your company or your offerings as an example of an engaging brand. (This will happen to your brand if you actually do real marketing activities). They love to feature you or your brand on their blogs.
Help other brands promote their business operations. Create a business card for them. You can do it by yourself or hire a talented graphic designer to do the task for you. It would be great if you take a look at the Linkedin profiles of your target brands and determine whether or not they have their own business cards (to be sure of it, you can email the online marketing manager of the brand).
In exchange for your effort, you can ask for your contact person to mention your site in their resource or partners page.
Analyze what your competitors are doing and outdo their content assets. Use Ahrefs or OSE to determine the types of links your competitors are getting from their content. This is highly recommended given that the linked pages are relevant to your site which would increase your chances of acquiring the same types of links.
3. User-Generated Content
Building a brand community is one of the primary requirements for brands who want to establish authority in their fields and increase their revenues dramatically (consumers would want to purchase a product from a brand that cares for them).
Q&A databases, blog sections, podcasts, forums, product reviews and social media environments are a few examples of UGC content. This type of content can hit two birds with one stone – both traffic and conversion. When users are engaging with each other (through answering to questions and/or adding references to support their answers), adding free content to your site is easier than the usual. The target audience is the one who is creating the content that adds value to the users (positive UI) and may encourage more people to visit the site (increase in traffic).
When the user gains the benefits from your UGC content, the likelihood of letting them to take any action for your brand is higher. The reason is that they've seen the value of the community they belong and offering them a product/service would catch their interest more than seeing it as a burden for them.
Additional tips when creating user-generated content:

You can also give free consultation to top contributors of your UGC content. This is another incentive that would help your content to earn natural links (they would like to feature your good deeds on their site).
 Invest high quality design on your content. The more it is appealing to the eyes of your audience, the more they are encouraged to share your content to their peers. Good designs impress a potential customer which can increase your followers and/or subscribers (as they are compelled to take necessary actions for your brand – subscribing on your blog).
Engage with your audience by answering to questions. If you don't have time for this, you can hire someone to be a moderator who can make sure that the UGC content maintains its quality (by removing spam or self-promotional activities).
What makes UGC content link-worthy?
Easier for members to get direct answers to their questions than any other web discussions.
Provides link attribution to the user's website/blog from his member profile.
Boosts the user's personal branding when he is featured as the top contributor of the site or when his review is considered as the most helpful among all reviews (ex. Amazon reviews)

Offers tangible rewards to users who are actively participating on the discussions. (e.g. Moz's goodies)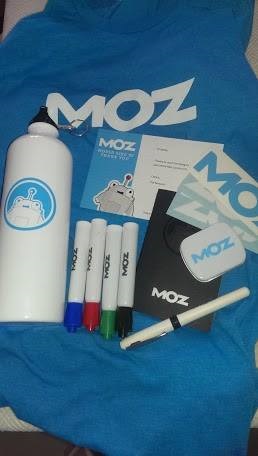 How to earn links through UGC content?
As suggested by Charles Floate:
Add your target keywords to your on page search elements (e.g. page title). This would improve your UGC's performance on search results.
Tip: Mix your keywords with your branded terms when you optimize your page's title so you can create a diverse backlink profile. E.g. "ForeFront Forum | The #1 Gaming Forums on the Interwebz"
Include your content in forum signature links (do-follow). Participate on other site's UGC content. Build your personal brand by contributing valuable insights to the community.
Write guest posts about your forum. Do more of the technical aspect rather than promoting your content. Describe how your forum can solve your industry's problems (explaining in a detailed way would make your post useful to the readers).
Publish a case study that gives emphasis on the performance of your UGC content. (Ex. How To Add 25,000 Members To Your Forum – A Case Study)
Comment on niche-specific blogs using your branded terms as anchor texts. (Use "inurl:/blogs + "your niche" to find them).
Other Resources:
4. Evergreen
Producing evergreen content assets is a good investment given that you are able to attract links, shares and can achieve your marketing goals at its maximum results.
Any content can be considered as evergreen as long as they continuously achieve their goals over time. Jason Acidre's blog posts is a good example of an evergreen content, seeing that almost every blog post he wrote is an ultimate resource which can be easily referred to bloggers who're looking for sources/references for their content.
Other examples of evergreen content:
A. Industry Guides

B. Crowdsourced content where people can get actionable tips from.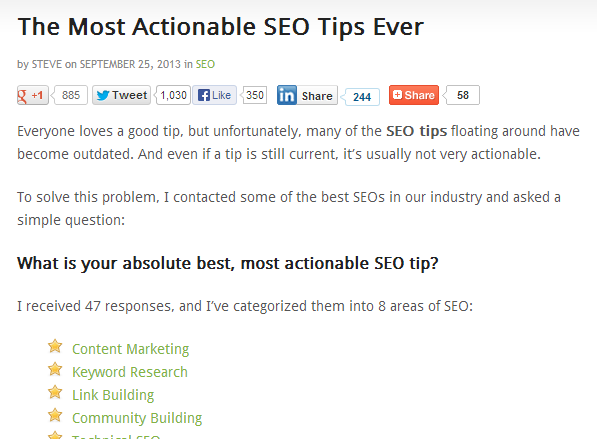 C. List of Acronyms or Definition of Industry Terms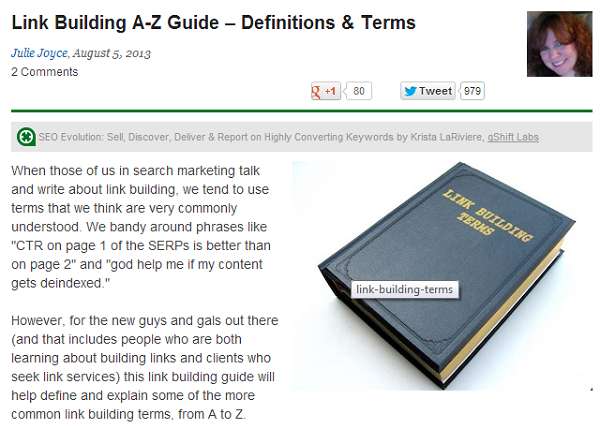 The basic rule to become successful in content marketing is to be the first or the best to create a content that appeals to a target audience and would let them share and/or link to it. You don't have to come up with ultimate guides for every topic discussed in your industry. Focus your efforts to at least one content piece every month. Analyze what other content pieces are lacking in terms of design, format, extensiveness, etc.. Provide useful insights based on your experience and/or get other experts in your industry to contribute to your piece. This can outdo the performance of other site's content assets (as you are able to provide brilliant ideas from industry experts that would make the content more comprehensive).
Additional tips for creating an evergreen content:
Optimize your content for informational keywords given that the more people are searching for that keyword, the more they can use it as a reference for their own content and link to their content distribution channels (especially if the post is ranking at the top spots in search results).
Use tools like Google Keyword Planner and Google trends to find timely and commonly-searched keywords. You can also check out this guide by Anthony Pensabene to find more ideas for your content.
Exceed your reader's expectations. Don't just use the headlines "ultimate guides" or "the definitive guide" just to get traffic to your site. Remember if you don't satisfy the needs of your users, they would just go back to the search results and find another resource (the concept of pogo-stick).
Include other content formats (e.g. slide presentations) to your content piece to encourage your visitors to stay longer on your page. But remember to find only relevant and superb content pieces.
How to earn links through everrgreen content:
Use paid social channels to put more eyeballs to your content (Twitter ads, Stumbleupon, Facebook). The more people are sharing your content, the more chances your page could get links from site owners.
Make use of resource-page link building to boost your content's ability to attract links. Educational and government sites would want to link to extensive post as long as it provides value to the community (give your prospect linker a reason to include your content as a resource). Do a Google search and type in queries like inurl:/resources + "your keyword" to find those resource pages.
Outreach influencers and let them engaged on your content through blog commenting and/or social sharing. The more your content is shared on different web places, the more it becomes visible on social and personalized search results.
I've written a post earlier this month about content promotion. You can check that out after reading this post.
Share your content on your social profiles once in a while so your followers who haven't seen your content can share it to their peers.
 Offer your content to top curators in your industry. Search for them (intitle:list of + "your keyword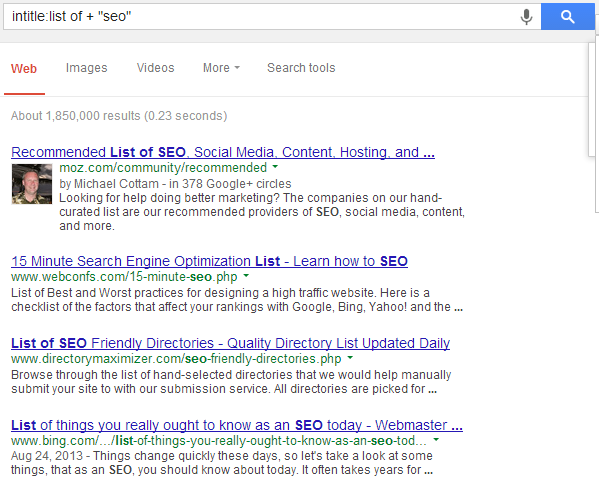 Incentive them so you can get higher rate of link acquisition.
Products or tools can also be an evergreen content if they make the user's work faster and efficient over time. By updating your product, you can improve your user's experience which can give a positive impression towards your brand. One good example of a product improvement would be fixing bugs that could cause errors to your product when in use.
Let's make Scrapebox as an example. Long time ago, it was used for black hat techniques (though some knows how to use it properly). This made the tool popular as you can blast thousands of comments in just a few minutes and get rank fast for target keywords. Though the tool is use for black hat, there's some really good tactics of using it.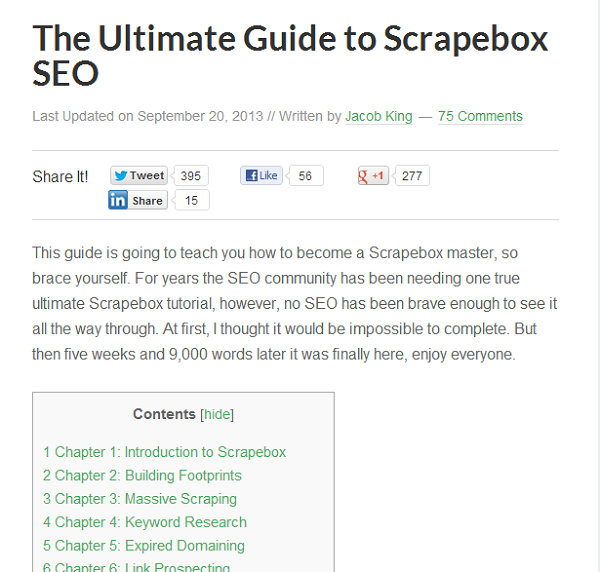 The product itself encourages bloggers to write product reviews about it over time. This made it advantageous to the owner given that it effortlessly earns links through product citations.
Get links from resource pages of related industries. To find your related industry, just type this query in Google search – ("your niche" and). Do not click enter.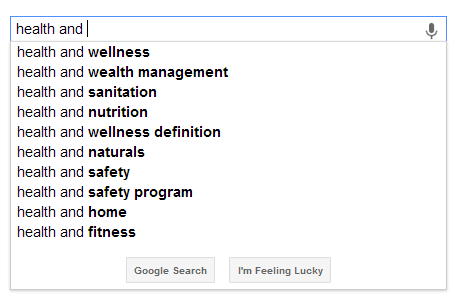 As you can see, there are related industries that can be taken advantage of. Because these industries are related to your field, getting links from sites within the target niche would be an added tactic to your link building strategy.
For instance, if you're selling medical supplies and equipments, you can get links from "resources" pages that are specific to your niche (health). But allowing your campaign to reach other type of audience would help you amplify the reach of your content (which results to more link building opportunities). The main rule when using this kind of tactic is to identify a group of people whom you think can benefit from your content. In my example, medical supplies can also be given to athletes who might be looking for wound care supplies or mommies who need the same kind of supplies (wound care) for their kids.
This approach would help you build more links to your content (as other groups of people can see the value of your piece).
5. Viral content
There's no exact formula to make your content go viral. However, you can apply techniques to semi-automate the process of promoting it (as you need to push it hard in its promotion phase to increase its visibility on the web and hopefully turn it into a viral content).
What makes a content go viral?
Compelling design that describes the concept/message it conveys.
Triggers emotions of people by allowing them to behave differently from the usual (e.g. anger, awe, or fear).
Unique concept of the content or the unexpected hook (the aha! concept)
A recent example of a viral content is the "Telekinetic Coffee Shop Surprise" video…. Mark Acsay explained in his blog post how the video strongly drove the emotions of its target audience (which is the main attribute of a viral content).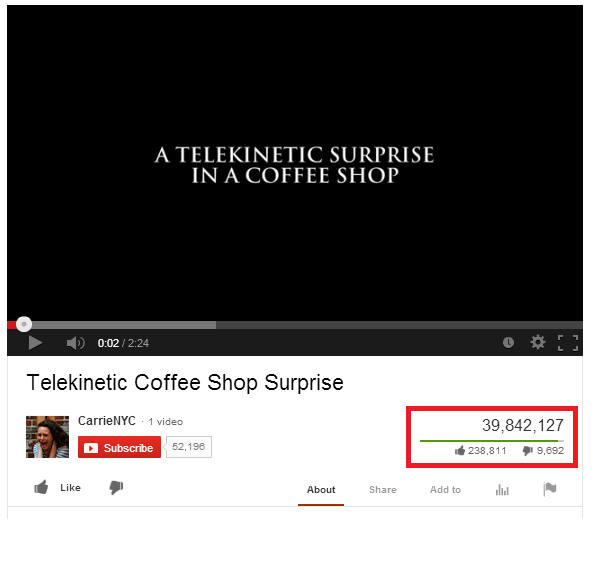 For the ideation phase of a viral content, you can use Google to search for already existing content pieces and get inspiration from them. What I usually do is to add the word why. The reason is that almost all content I've seen in the past that go viral has the word "why" in their headlines. Curiosity allows people to read the content and pushes to share it if it gives value to them (they learn something new from the post!).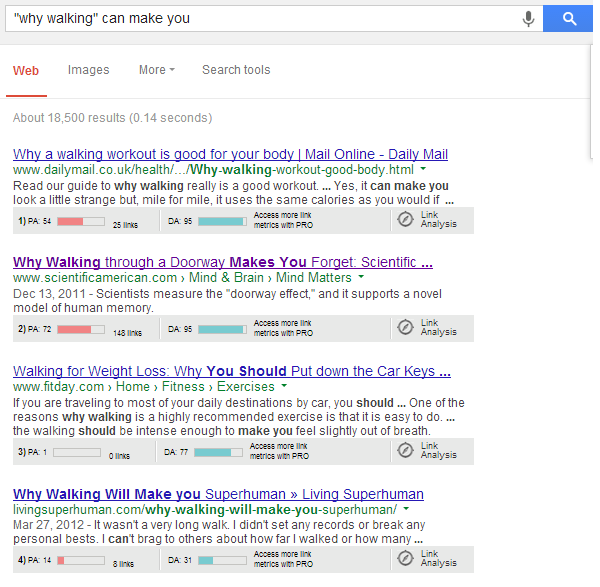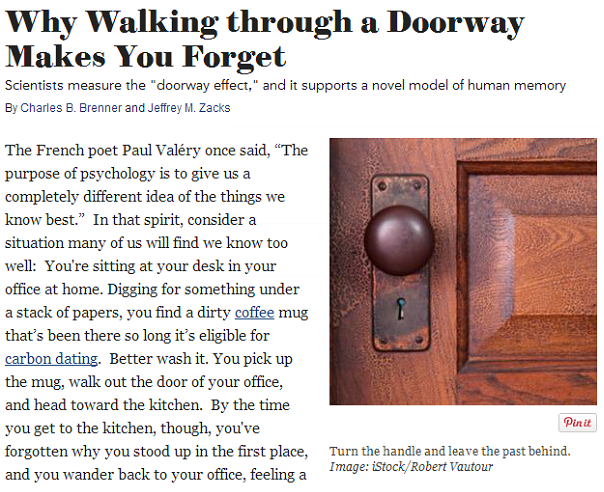 Why Walking through a Doorway Makes You Forget
Crafting an awesome content would not yield to getting links/shares if it lacks promotion. So here are some tips you can do to push your content to its limits.
How would you make your content go viral?
Pitch bloggers who have a huge list of email subscribers. This would semi-automate your marketing efforts since your target bloggers would help your content be seen to a large audience. But remember to only find blogs that are highly relevant to your content so you could increase referred traffic through email.
Add social buttons to your content. Pick social platforms where your audience actively shares content pieces.
If your content is focused on your brand, you can pitch news site owners and/or journalists to cover your story and give insights/opinions about it (to make your content more appealing to your audience as they add some hooks to it).
Use this spreadsheet to list down journalists or bloggers who will cover your story/content.
Here's a cool presentation by Jason Acidre 2 years ago about viral marketing.
Conclusion:
I'll be adding more types of content in the future to help you track what kind of content you are creating. Knowing this would help you strategize your campaign more effectively.
 If you liked this post, kindly share it to your circles/networks and follow me on twitter @venchito14.
Whenever you're ready…here are 4 ways we can help you grow your client or business through performance-based link building:
Claim your Free Link Building Strategy Session. If you've achieved initial traction from Google, we can help you scale up to record-breaking search traffic and sales faster, claim your FREE Link Building Strategy Session. We'll brainstorm some ideas to increase your search traffic through ROI-driven backlinks, including practical solutions to add more content within the next 90 days.
If you'd like to learn the exact link building strategies we use for free, go to our blog or visit our resources section, where you can download guides, cheatsheets, and templates we use for our most successful clients.
If you know another marketer who'd enjoy reading this page, share it with them via email, Linkedin, Twitter, or Facebook.