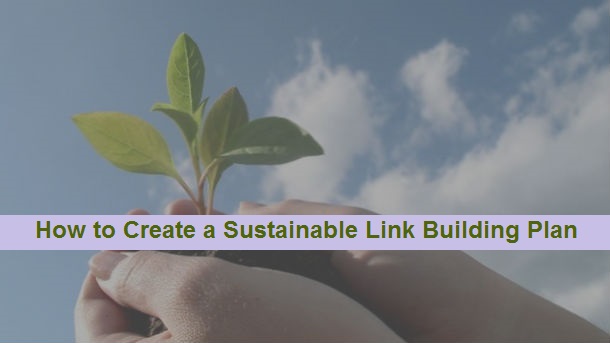 The future of link building lies on the intention, purpose and creativity of search professionals and the actions taken by webspam team in response to the behavior of today's link builders.
Though there's no absolute truth in those link building posts, there is only one thing that we can assure about – No one can predict the future of link building and if links will be devalued or  no longer be a search ranking factor.
I liked the response of Rand Fishkin to a roundup question on Wordstream:
"Relative to other elements in Google's arsenal of algorithmic components, I'd say that yes, the link has been losing value for almost a decade. That said, I don't think that in the next decade, we'll see a time when links are completely removed from ranking features. They provide a lot of context and value to search engines, and since the engines keep getting better at removing the influence of non-editorial links, the usefulness of link measurement will remain high."
The only thing that matters in link building is not how good we are in predicting the death of link building but our own methods in sustaining the link building process we have for our clients.
Your aim should not only to win the game in today's event but also to ensure victories for games in the next several years.
You need to sustain your link building process to be able to adapt to future updates of Google search algorithms and to cope up with the behavior of the next generation of searchers.
In this post, I'd like to cover some ways on how you can sustain your link building process.
Let's get started.
Build and maintain a healthy link profile
Your link profile becomes healthy when unnatural links are immediately removed from pages/sites that linked to your website and relevant and highly-valued backlinks are continuously being added to your link portfolio.
Link audit and targeted link prospecting assures the quality of links that are being acquired for the website as it grows over time.
For a newly-built website, one must set up a six-month link building plan to assure that certain goals can be met in the first few months and to increase the exposure of the brand to its targeted community through content-driven link building and building brand mentions/citations.
You can read this post by Michael King (that was published two years ago) about building a six month link building campaign for newly-built websites
For a penalized website, one must consider penalty identification as its initial action in penalty recovery. Identify first if the penalty is a manual penalty or a result of a search algorithm change/update then head over to specific actions to recover from the penalty.
You can check out this post by Jason Acidre to learn how to recover from a penalty recovery and this guide by Neil Patel for negative SEO recovery (negative SEO happens when someone attacks your website through manipulative actions).
Link risk management also comes into play when building a healthy link profile.
Building links to a website is always accompanied with risks. So it's very important to evaluate first the quality of a link target before implementing your link building tactic to acquire that particular link prospect.
Sustaining your link building process requires a skill of weighing the risks associated with every link you will acquire for your brand.
One way to manage the risks of your links is to regularly review your link portfolio whether or not you see search traffic drops in Google Analytics or even if you don't receive an unnatural link warning in Google Webmaster Tools. Grab a CSV file of all the links you acquired for the past weeks/months and classify them according to risk types and risk probability (use Link Detox or Cognitive SEO for this process). Monitoring your link portfolio in a regular basis can help you fight negative SEO attacks to your website.
This simple checklist by Christoph Cemper is a handy tool to check the quality of links that will be built for the website:
Is the link technically OK?
Can I show the link to Matt Cutts?
Can I show the link to <my competitors>?
Am I able to remove the link?
Actively acquire good links
In terms of link acquisition, one must consider first the value proposition of his brand's content assets to be able to create a list of interested web personalities and use it as an outreach portfolio for content promotion and/or linker outreach.
Evergreen content has the highest value proposition given that the information never goes out of date and will continuously be a valuable resource for industry researchers and content publishers.
When prospecting for evergreen content assets, it is important to consider the following types of links:
Links from another resource page
If you published an industry guide, you can improve its ranking on search results by getting good links from another related resource pages and roundups. Use Mentions.net, Talkwalker Alerts or Fresh Web Explorer to track latest pages/posts that are topically related to your content. Filter out low quality pages/posts (use Domain Authority and engagement as your base metrics) and list down high quality targets in a spreadsheet.
Then use this email copy to reach out to content publishers of those other resource pages.
Hi [Name],
I just saw your awesome [Resource Guide]. Super awesome but why weren't we in it?! We have written a few [pages] that I thought you might want to include.
[URL 1]
[URL 2]
These are old but still really good.
Cheers!
[Your Name]
Discovered links from competitor's resource pages
When your competitor published an evergreen content, his website will more likely get natural links over time. You can use that as an advantage to earn fresh links for your content.
To find those fresh links, grab the URL of your competitor's content, paste it in Open Site Explorer then click the Search button. Then go over to Just Discovered tab.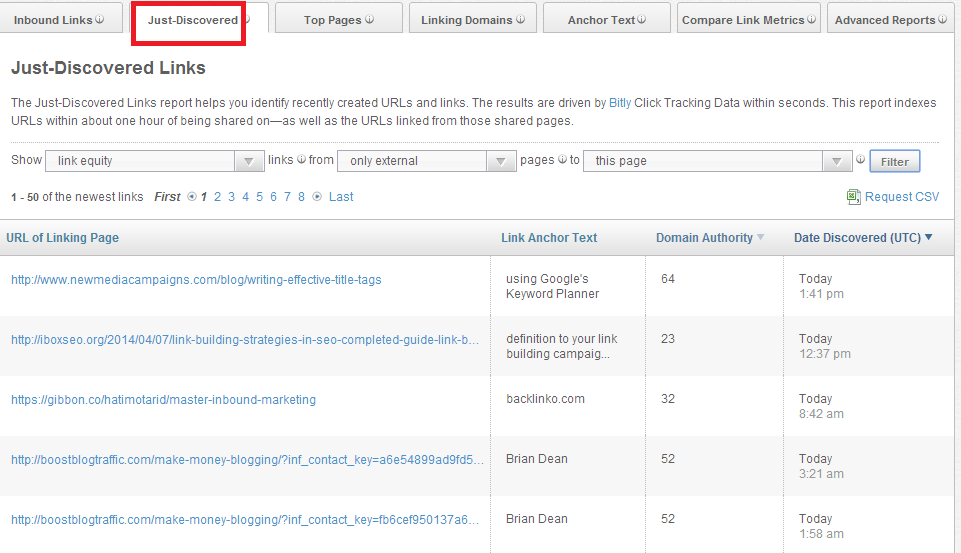 Include this technique to your link building arsenals to continuously add fresh natural links to your old and new content assets.
Process: Identify at least five evergreen content pieces in your industry and track their fresh/discovered links every week/month. Get only the sites/pages that are relevant to your content. Reach out to the publishers of those evergreen pieces. You don't need to ask for a link/share. They will do what immediately when they find your content useful both for them and for their visitors.
Pro tip: Use the number of internal pages that linked to your target page to evaluate the page's value/benefit to its content publisher. If the page has a good number of visits/pageviews, the content publisher will more likely mention it in his future blog posts and/or include it in his list of best resources. Getting a link from that page is worth your effort and time since that content can passively acquire links which can give a boost to your target page and in turn, can bring referred visitors to your website.
Reexamine your previous link building approach
Sustainable link building is improving the approaches used in every link building activity to yield better results in terms of responses (from link building outreach) and links for your page/site.
Here are two things that you need to evaluate regularly in your link building campaign:
1.  Number of responses and links acquired from link building outreaches.
Your response and link acquisition rate depends on the personalization of your email copy and whether or not you target the right webmaster/content publisher.
To improve your response and link acquisition rate, use this formula by Mike King for a more targeted link prospecting and outreach.
Goal Links ÷ Response or Link Rate = Outreach Target
Outreach Target ÷ 20% = Initial List Length
So for instance you want to get 25 links for your content asset and your previous outreaches have an average response rate of 20 percent. By using the formula above, you will get 625 initial list targets. This is the number of targets that you must reach out to get 25 links.
2.  Metrics used for link prospecting
Maybe there's nothing wrong with your email copy. The problem nails down to the quality of your link prospects and to the metrics that you used for link prospecting.
If you have an established blog in your industry and you're still hoping for links from low tier level sites (e.g. DA 10 to 20), then you might want to increase your link standards.
Upraising your link metrics will make your link prospecting more difficult since there'll be a fewer sites to target and a lot of PRs/webmasters to compete with. However, targeting high level tier sites can help amplify your content's reach given that authority websites have an establish blog and social following.
Become the go to brand in your industry
For the past few years until now, search engines favor big brands over small businesses in terms of search rankings. However, small brands can still make a way to win over big companies in the industry.
By becoming the go to brand in your niche, it can help your business actively and passively earn links to your website since people will always find your brand as a great resource of information through your content assets and helpful participation in the community.
You can do an AMA (Ask Me Anything) on your industry's forums/community sites to share your expertise on certain topics and increase your social and brand followers. On Inbound.org, there are regular AMAs that people in the search industry can read and get insights from the answers of different influencers (based on their experiences and personal takes on a certain topic).

When participating on community sites, it is important to track linkers to your twitter handle since most of the bloggers will link to a Twitter account rather on the influencer's blog/website. Use OSE/Ahrefs to get a list of webmasters who linked to your Twitter profile. Reach out to them and ask if they can link to your blog/site instead to your Twitter profile.

You can also track mentions of your brand using Fresh Web Explorer, Mentions.net or Talkwalker alerts. Find pages/sites that mentioned your brand but haven't linked to any of your page. Do your outreach by first thanking them for the mention and ask if they can link to your website.
Humanize your brand by spending at least 10 or 30 minutes of your time answering questions on forums and relevant community discussions.
When engaging with target influencers and customers, always remember this quote from Cyrus Shephard.
"Don't look natural, be natural."
Integrate other marketing channels to your link building  process
Go ahead and start thinking of other marketing channels that can be integrated toyour link building campaign.
Traditional channels like radio and newspapers are still useful tools to get the brand in front of its target audience. Though you will not have an idea of the number of visits and links you can acquire from those traditional channels, it is still a good investment to use those marketing channels to bring potential customers to your business (this is effective especially if you're targeting local communities).
You can check out this post by Peter Attia to learn some PR strategies that you can use to get your business' stories covered by traditional media outlets.
If you want to get more link building tips, subscribe to this blog (use the optin form below) and follow me on @venchito and Google+. (If you're looking for custom link building services, then don't hesitate to contact us). 
Whenever you're ready…here are 4 ways we can help you grow your client or business through performance-based link building:
Claim your Free Link Building Strategy Session. If you've achieved initial traction from Google, we can help you scale up to record-breaking search traffic and sales faster, claim your FREE Link Building Strategy Session. We'll brainstorm some ideas to increase your search traffic through ROI-driven backlinks, including practical solutions to add more content within the next 90 days.
If you'd like to learn the exact link building strategies we use for free, go to our blog or visit our resources section, where you can download guides, cheatsheets, and templates we use for our most successful clients.
If you know another marketer who'd enjoy reading this page, share it with them via email, Linkedin, Twitter, or Facebook.