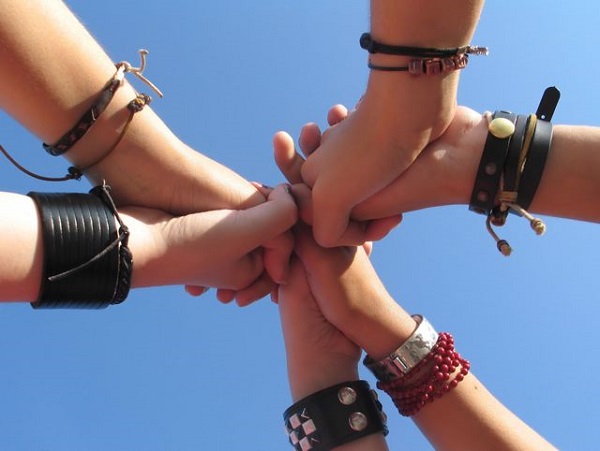 One practical advice that you always hear from advanced SEO practitioners is to identify what types of links your competitors are building for their websites. With the use of the best link building tools like Ahrefs or OSE, you can determine the quality and quantity of links they're getting from other brands. This would make your link building campaign for your brand easier than starting out from scratch (creating your own strategy, testing it and hopefully build links through it).
It's easier because competitor backlink research would give you a list of sites that you can also get links from (by just looking at the backlink profiles of your competitors).
However, this kind of approach would somehow give impression to SEOs that link building alone can outdo their competitors and win in the industry they're working in. The sad truth is that many online marketers had been slaves by links for years without them realizing it (they've been focused on getting links throughout their career).
I do not say that you stop building links. Link building should still be part of your online marketing campaign given that links move people across site over the web and they allow your website/brand to be seen on different web places. But links alone would not always help you win in this competitive space. The reason is that links can be easily replicated by your competitors (with the use of aforementioned tools, they would already know how they can win over you).
Whether you liked or not, your competitors can replicate your links. However, there's one thing that you can do to make it difficult for your competitors to copy your marketing efforts. Simply, build hard-to-replicate content. This may require you some budget to perform really well and make the most out of its value (by promoting it using various outreach campaigns and advertising). Time and money would be always the issue in content marketing nowadays (so you better have some resources beforehand to improve your marketing performance).
Don't worry. There's one free content that you can do for your brand that is hard to replicate – "relationships".
Relationship building is hard to replicate given that there are no tools that can help your competitors track how you gained those connections. So if you will start to build relationships with people who might care about your brand, you can gain a cutting edge over your competitors.

Not all brands have already setup relationships with their target audience. How do I know that? By observing every blog on the web, you'll see some that are not gaining shares/links when their post had been published. There are posts that do not managed to earn at least 30 or 40 shares and that tells us that they do not consider relationship building as part of their marketing campaign. (Disclaimer: Share is not only the factor to determine if the brand had established relationships with people; I just use this as an example to show you how important relationship building is).
Relationship building has other benefits (aside from getting shares) that you should be aware of:
It gives continuous support to your brand (as long as you sustain every relationship that you've built with your audience).
It increases the volume at the top of the funnel. The effect of relationship building multiplies as more and more people are benefited from your connections (the law of reciprocity applies to this – your audience would give you favor of sharing your brand because you care about them which would help your brand amplify its reach to your customers).
It aids you to know the problems encountered by your customers (they'll be open to you since you care too much for them).
It improves how your marketing campaign works as you will be able to know the blind side of it (when someone uses your product, you can immediately ask feedback from him and know the problems(s) that he is(are) experiencing since the time he uses your product.
It enables your outreach campaign to be more effective in terms of obtaining higher response rates thru emails. People who know you already would not hesitate to reply to your email.
Tip: Follow every phase of relationship building that I will share in this post. Do them after you created your own content and link building strategies and before implementing those two. This would give you better outcomes for your marketing campaign (you'll know the reason why when you start to test them yourself).
Five Phases of Relationship Building
Phase 1: Prospecting
In this phase, you want to know specific persons you want to reach out. It doesn't matter if they are influencers or mid-level bloggers. You use your own personal judgment to determine if they are the right prospects for your campaign.
In my case, there are two things that helped me identify the right prospect:
If his topic of interest is similar to mine.
If there is a possibility that I can connect with him. Most CEOs and other executives in other brands would be too busy to have you on board. They would be more likely to introduce you to their sales manager or customer service representative if you want to connect with them.
If the person actively participates in at least one web place (e.g. social, related online community, blog).  You need to look for people that could help you reach your brand-specific goals (share your brand to their peers).
With the above things (guidelines or whatever you call it), you can now search for your target audience. I listed down possible ways you can apply to get a list of prospects (use this spreadsheet to list down all the data).
A. Search Queries
If you're looking for influencers, you can use this generic search query to find them: ("influencers" + "your niche") or ("experts" + "your niche"). You'll find curated posts where influencers' sites and/or social profiles had been mentioned. Go get them and save in the spreadsheet.
B. Interviews
Use this query: ("interview" + "your keyword") + ("interview" + "your niche") to find industry-specific interviews where you can see experts sharing their own insights about certain topics. Surely you can see their blogs, contact details or social profiles that you can use to engage with them.
C. Authority Sites/Blogs
There are several authority sites in your niche that have a huge following base (subscribers, social followers) where you can see members (both influencers and mid-level prospects) setup their own member profiles.
For instance, Moz did a great job in establishing its authority in the inbound marketing scene. He had gathered thousands of subscribers in its database and plenty of social followers who are interested to read or learn in every content piece they're publishing on their site (all related to inbound marketing).
You can also apply this tactic in any niche that you're in.
To find the right prospects, you should identify a footprint that could help you easily scrape prospects that have email address on their member profiles. In my example, "enable javascript" would be a good footprint to remove members in the search results that have no email address on their profiles. (tip from Rohit Palit). This would save time on your part as you are able to already get the contact emails of your prospects. You can use this for the "visibility" phase.
The query that I used to find prospects who are Moz members is: site:moz.com inurl:/community/users/  "enable javascript" "mozpoints:" 800..3000 + "content marketing".
By adding your keyword (e.g. content marketing), your search results would be more focused on members that are interested on your topic. Secondly, you can see the numbers 800..3000. I wanted only to see Mozzers in the search results that received Moz points from 800 – 3000. Those members managed to get those numbers of points because they've been actively participating in the Moz community (blog commenting, answering to Q&A section, writing Moz/YouMoz post).
Though this would not be applicable for you because you may not be targeting Moz as an authority site, it's a good example of how you should find footprints of authority sites in your niche.
You can check out this post by Chris Dyson to find common footprints among websites.
D. Social
Influencers usually engage with their audience on social and having a real-time conversation would make them more interactive and approachable. To find social influencers, use Followerwonk and rank them based on social authority. Highly influential people on social would help your content pieces to be exposed to a large audience (a cheap tactic for content promotion) so you better target prospects with high social authority.
Twitter lists can also be a good spot to find influencers (knowing that the members in these lists are both consist of influencers and mid-level bloggers that you can already start engaging with).
E. Authors Visible on Search Results
Do a Google search for your niche-related keywords. It doesn't matter whether they are highly competitive or not.
You want to see authors who do not only write articles but have their authorships installed on their pages. The reason for finding this type of authors is that you want to look for people who are authoritative in the industry and had already built the trust of their followers. If you can get them trust you, they can pass authority to your name (that's the power of influencing your influencers). Their followers can be your followers if you've got them recommended you to their groups.
All the names you've gathered in this phase should be placed on a spreadsheet so you can easily track the status of your relationships with them. You may be wondering why you need track relationships? The reason is that tracking your status with a person could help you manage easily your outreach campaigns. The stronger your relationship with the person, the higher is your rate of acquisition (in terms of links/shares/mentions).
Phase 2: Stalking
This may sounds like a negative term but stalking actually refers to the phase wherein you're looking for web places where your prospects are actively participating in as well as understanding how they behave in those communities.
Stalking phase would give you the following information of your prospects:
Web platforms that they're actively contributing to (social, forums, blogs, etc..)
Types of content they're interested to read or share
Their behavior towards their audience (are they replying to tweets/retweets?)
Here's how you can find the above list of information from your prospects:
Their own blogs/sites. You can see popular posts section on your prospect's blog. This would give you an idea of what content pieces gathered the most visits on their site (knowing this would help you improve your guest post – if you will be submitting it to their blog).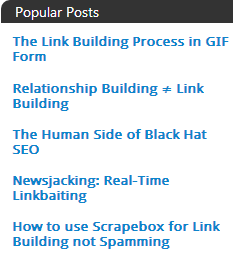 Popular Post Section in TripleSEO blog
Social. Use AllMyTweets (my favorite social prospecting tool) to find social influencers. This would give you a list of the recent tweets of your prospect. The list of tweets would help you track sites where they contributed to or had been mentioned (guest post, interview, curated post).
Not always that your prospect is sharing content pieces that are highly-relevant to his blog's theme.
For instance, SEO experts are not always sharing SEO-related articles but also business blogs where they can get insights about entrepreneurship and branding related pieces.

Niche-related communities. Use this search query: intext:(your prospect) inurl:forum to find industry-specific communities where your prospects are actively sharing their thoughts to.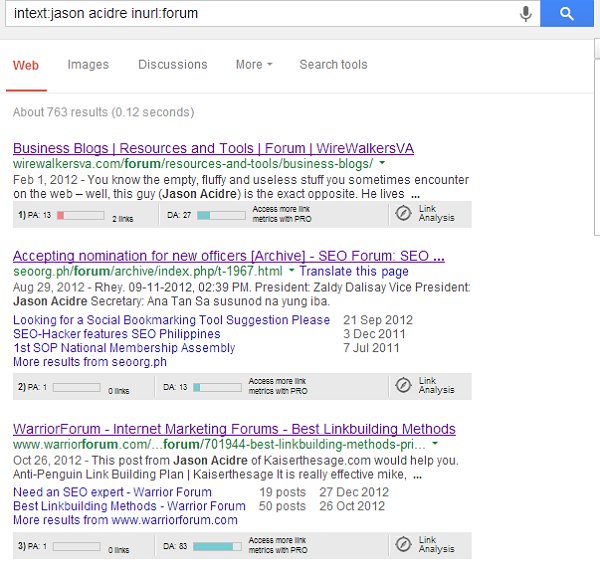 By looking at the conversations of members in the forum threads, you'll get a feel of how the prospect got his mention from peers.
For example, Jason Acidre had been mentioned in several IM forums and blog communities. Let's take a look at how he got the mentions:
Targeted a larger group of audience (link). Someone shared Jason's blog to answer this question: Can you recommend other less-known business blogs?
Jason's blog does not only designed to target SEOs but also those who want to learn about business concepts (yes, he always talks about branding).
Wrote a product-review post (link). One mention is about his popular post – link prospecting using SEOquake. Because of the post's perceived value, it was shared on that forum thread to provide easy tips on link prospecting using that free tool.
Established authority and influence through strategic content assets. (link) Because of his influence in the SEO field, he got his mention to show the effectiveness of white hat strategies over black hat ones. Jason's blog posts revealed this truth as he shows it in his case studies and experience-based posts.
These are just samples of notes that you can list down in the spreadsheet so you could be able to know more about your prospects as well as help you create content that could win the interests of your audience.
Use this common search query: "interview" + "your industry or experts share their + "your industry" to find interview pages where you can get more influencers for your lists of prospects.
Take note of everything you've observed when you're stalking your prospects. List them down on the Notes column of the spreadsheet.
Also, make sure you gathered all the possible and important details of your prospects so you could get in touch with them through any possible means.
Phase 3: Visibility
You can't enter on your prospect's radar if you will not do anything that will catch his attention.
Here are some tips you can try to make yourself visible to your prospect:
Blog commenting. This most popular advice should be at the top of your list when you want to be on someone's radar.
Add value to your comments. The person that you're trying to reach out would remember your memorable comment and would more likely do the favor you asked them.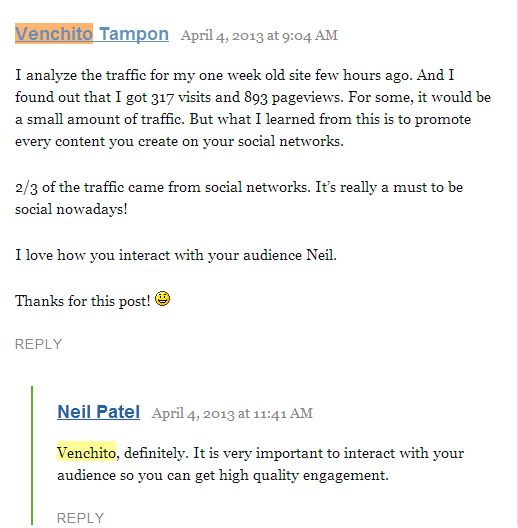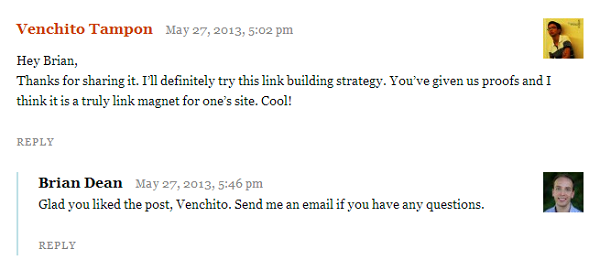 Social outreach. Answer your prospect's questions on social. Even if he is already an expert/influencer in the industry, he asks questions that he might know nothing about.
When you mention him in your post, let him know.  The more you include your prospect's name/site in your content assets, the more he is willing to share it to his peers.
Email. Present yourself to your prospect as a friend and not a competitor. Using email as your medium of communication can help you be on his radar. (Just be natural!)
Here are a few email templates that you can send to your prospect as your first touch point:
Heads Up Email
I bet you know this already. This type of email is used by Brian Dean to promote his posts blog post. The good thing with sending this type of email is that you're just showing your content to your prospect and you're not asking for a link/share. Remember that if they saw and liked your content, they know already what to do (either share it or link it from their site).
Hi [Webmaster],
I'm Venchito Tampon, a content marketer here in the Philippines. I just want to give you a heads up of my recent post on my blog – "How to Promote Your Content Like A Boss"
It's a compilation of the four principles of content promotion and I also listed down several actionable tips for content marketers (e.g. how to find influencers who might be interested to share your content).
It received good feedbacks including a share from Moz's Google+ Page.
If you want to check that out, you can visit this link – http://digitalphilippines.net/how-to-promote-your-content/.
I hope that you are enjoying your weekend, [Webmaster]
Kindest regards,
Venchito
Love Your Work
People are flattered or overwhelmed when they saw that there's someone who appreciated their work. Using this as an angle (appreciation) would increase your response rates when you email your prospects.
Hi [Webmaster],
I just want to thank you for sharing your insights about [topic[ on your [blog].
I learned something new [Explain further what you have learned from the post].
Regards,
Venchito
Questions
If you think of a question that you know your prospect could answer it, you can use this to spark conversation with him. People love to answer questions from their audience as long as they know the answers to those questions.
Hi [Webmaster],
I have one question for you. What is your point of saying…[blah, blah, blah[?
Do you really agree that [blah, blah, blah]?
Would you mind answering this question? I love to hear your thoughts about this topic.
Thank you,
Venchito
If you want to look for more email templates, you can check out this post by Neil Patel.
Phase 4: Rapport Building
You've got a reply from that prospect. Now it's time to build the foundation of your relationship with him.
There's no rule for this phase. When you exchange emails to your prospect, you'll get a feel of how you can approach that person (always be natural!).
Law of Reciprocity
The law of reciprocity simply states that if you do something for me, I'll do something for you. Here are simple tips to apply this law for your campaign:
Share your prospect's content. Use Feedly to update yourself about his latest posts so you'll be the first one to share his work on social (the prospect may be tracking the first sharers of his blog post and he could find you).
Build links to your first-tier guest posts. This is a win-win situation for both of you. You get added value from your effort (building links to your first tier guest posts passes value to your page/site) whereas your prospect's page would get a link value from your second-tier guest posts.
Include your prospect's content/insight in your post. Let him know so he can share it on social and/or link to it from his site (e.g. weekly roundup post).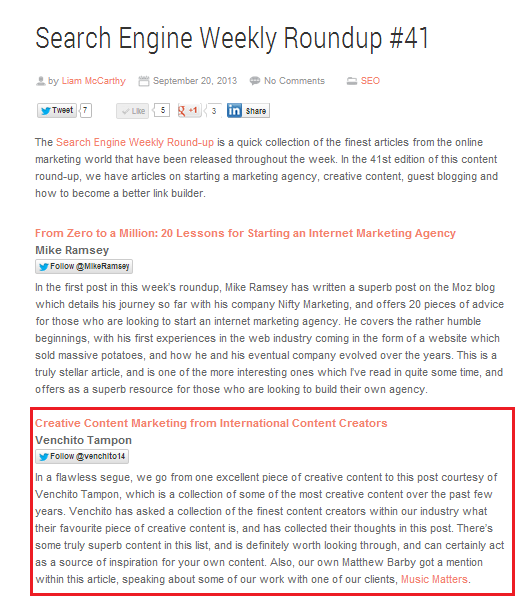 There are a lot more ways to use the law of reciprocity for your marketing campaign.
The key point: The more you help others promote their sites, the more you can obtain links/shares/followers (because you do them a favor). You can check out this post on how to engage your audience.
Phase 5: Sustainment
You don't want to build a one-time relationship with your prospects. You can get more benefits from sustaining the relationship you have with them.
Here's how:
Asking valuable insights from your prospect. This could be made easy if you do the first touch contact with the person (knowing that he can easily remember you and do a favor for you).
You can include his insights to your content. Give credit to where it is due by linking to his social profile or his blog.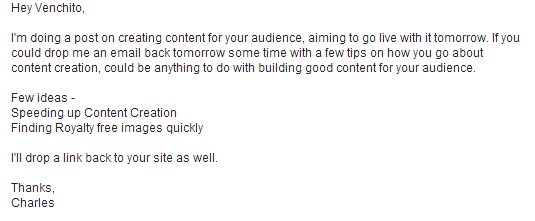 This is the actual email I received last week from Charles Floate. I contributed and got a mention from his blog.
Collaborate with the person to create an awesome content (for your own site or a guest post). One example of this would be The Ultimate Guide to Scrapebox. That is a collaborated industry guide where insights from experts who are using that tool are seen on the page.
This made the post looks more credible in the eyes of the target audience given that tons of tips/advices are provided in that page.
You can also collaborate with your prospects for a guest post.
This tactic is on the process of testing (I'll share the results of this in my future post). Anyway, this kind of tactic has a lot of benefits that you can take advantage of such as:
Share multiplication. The more people are collaborating on that post, the  chances of getting link/share love from the audience are higher (your prospects would surely help you promote the post).
Link baiting. The more extensive the post is, the likelihood of earning links to it is higher. Because tons of unique ideas are laid down on that post, it could be the reason of acquiring links from authority sites or blogs (e.g. including it on a round-up post, another guest post, etc..)
More of these in my future post..
Pitching site owners if they can include your content piece in their weekly newsletters. This part would need a great piece of content for the outreach to become successful. It would help your tactic to gain better results when you have something to offer to your prospects.
You need first to look for prospects that have weekly newsletters and have significant number of subscribers (1000 or more). This would put more eyeballs to your content as more and more people could see your content piece in their inbox.
There are two reasons why I chose sites that have weekly newsletters:
It would be easy for your content to be placed in their newsletter as there would be lesser content they need to review every week (compared to daily newsletters that have tons of content pieces in which you can't get easy content placement)

There might be other marketers/bloggers who are pitching the same prospect you're trying to reach out. Again, placing your content in a daily newsletter would be more difficult compared to weekly newsletter.
From the list that you gathered earlier, you can just simply look at each of the prospects' blogs and determine whether or not their sites have weekly newsletters and if you have a chance to include your content piece in their newsletters.
By just looking at the site, you'll notice already if it has a decent amount of subscribers.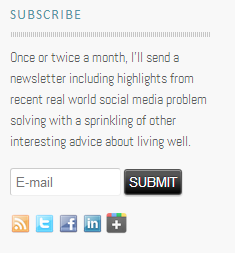 Some sites don't have a visible side bar same as above. If that is the case, you need to use your personal judgment (if they have a large social following, you could consider this as your prospect for content placement). Whereas, if the site is already an authority in your niche, you can consider that as one also, given that authority site has a considerable amount of followers whether it's on social or email.
Now that you have a list of those prospects (for your newsletter content placement), you can now start to pitch them. Use the email template below:
Hi [Webmaster],
Do you still remember me? I'm the one who sent you an email two weeks ago about [topic…blah blah].
I noticed that you're doing a weekly newsletter on your site wherein you are sharing articles about [topic].
You know what, I actually create a content piece that matches the topic you are sharing to your email subscribers. This piece is a [describe your post and how it can benefit their audience].
If you want to check my post, you can visit this link [URL]
Hope you're having a great time today!
Cheers!
Venchito
Always personalize your email as it is the key to increase your email response rates.
One sustainment tip that you can apply for relationship building is to promote your product and at the same time, help other brands create their own content piece (that would add value to their followers).
For instance, the email I received last week from Josh Haynam got my attention because it would add value to my site.
Here's the email: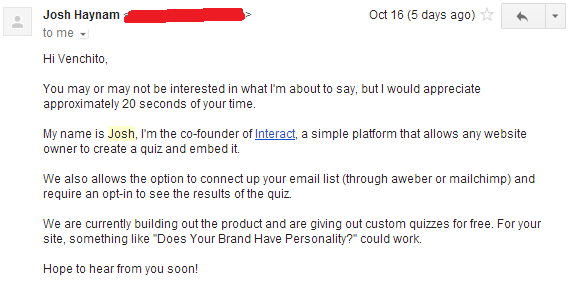 You can use this as an angle for your pitch if you're selling a product/service. This is an effective angle given that it adds value to the prospect you're reaching out (help his site create better content).
There you have it, the five phases of relationship building!
Conclusion:
Indeed, relationship building is something you need to consider in your marketing campaign as it applies to all niches (if it works offline, doing it in the online world would also work as well!).
The rewards you could get from building relationships with people are links, shares, leads (you're being referred by influencers because of the quality of your offerings) and increase in followers and/or brand advocates. These benefits would last as you take care of every relationship that you've built with your audience.
 If you liked this post, kindly share it to your circles/networks and follow me on twitter @venchito14.