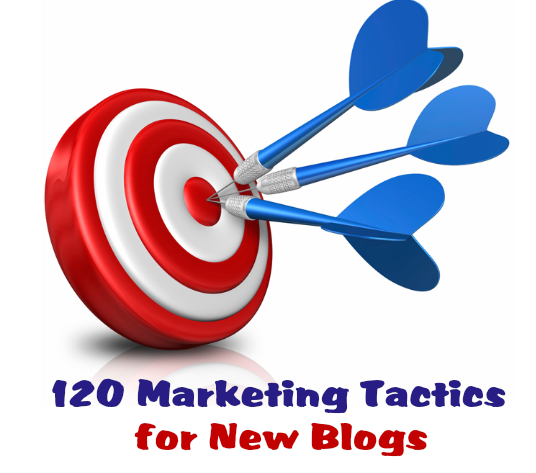 Promoting a new blog/site to a specific targeted audience had never been easy. But with the right blogging and free SEO tools and tactics in this guide, you can get your posts noticed and generate buzz in your community.
I divided this guide into three parts:
120 Marketing Tactics for New Blogs Part I: Social Media, Outreach and Interaction and Syndication (this page!)
Outline:
1. Facebook
2. Twitter
3. Linkedin
4. Google+
5. Pinterest
6. Instagram
7. MySpace
8. Shorten your posts' url
9. Facebook Notes
10. Include the links of your social networks in your author bio
11. Your Contacts
12. Facebook Groups
13. Blog commenting
14. Use KeywordLuv or CommentLuv on your blog
15. Forum posting
16. Ask influencers to link to you
17. Guest Post and Invite Guest Bloggers to write for your blog
18. Attend Conference and/or Give a Talk
19. Ning community
20. Integrate Your Blog into Your Signature
21. Publishing a round-up post and/or pitching others who do round-up posts
22. Blogengage.com
23. MyBlogGuest.com
24. Quora.com
25. Plaxo.com
26. Sponsorhip
27. Repost other people's content
28. Contest
29. Blogrolls
30. Trackbacks
31. Webinar
32. Inbound.org
33. Hacker News
34. Tumblr
35. Flickr
36. Triberr
37. IFTT.com
38. Delicious
39. Stumbleupon
40. Reddit
41. Technorati.com
42. NetworkedBlogs.com
43. Blog Directories
44. BizSugar
45. Twitter Feed


1.  Facebook.
Create a Facebook page. Click here to begin the process.
Give your audience a reason to become fans. Incentivize them by giving free trial, coupon or any real value.
Be creative with your post by writing about a current event about your blog, funny Youtube videos or ask your audience an interesting question. Always stay on your topic.
Include pictures in your Facebook updates. Follow these strategies by Amy Porterfield to maximize your engagement with people.

2. Twitter
Create your own voice when sharing valuable content on Twitter. Be natural by commenting and retweeting others' tweets. Send them a @message and give insights about their posts.
Don't sell on Twitter. Rather, add value by cultivating relationships with people. Watch for conversations and identify a problem that you are able to solve.
Use keywords in your tweets that best describe your blog. Make the most out of your 140-character post.
Connect your Linkedin account with your Twitter account.  You can keep track those who follow you on both social accounts. Use Hootsuite or Buffer for easy management of these accounts.
Use Summify to help you filter contents that are relevant to your industry. Mix them with your own original content to establish credibility for your brand/blog.

3.  Linkedin
Keep your Linkedin profile fresh and interesting by rebooting your profile every couple of months. The advantage is that the update allows you to share to your activity feed as long as you have the feature enabled in the settings.

Build a quality network to expand your connections. You can maximize your exposure when you have a new connection. Make sure that the person who wants to join your network has a completed Linkedin profile and has an interest and reason to connect.
Be visible and valuable when you participate on Linkedin groups. Post discussions in groups like Q&A and include relevant source(s) of information.
Post a status update once or twice daily to take advantage of the most recent activity feature of Linkedin.

4.  Google+
The same rules for social platforms mentioned above can be applied to Google+. From targeting your audience to promoting others, your Google+ account should be engaging and helpful by sharing and +1 of others' content.
Make your Google+ profile SEO-friendly by including your keywords in the about section.
Change your cover photo into something that represents your blog. Check out this Google+ cover photo guide by Inline Vision.
Use Google+ as a mini blog. Read these two posts by Jason Acidre to learn how you can create content on Google+ for blogging and get credit for it.
Get involved in communities. The rule of thumb in finding the best communty is the level of its moderation. Look for one that has an interaction and useful conversation which you can use to leave posts that are highly relevant to the topic.
You can also start your own community. Make sure you follow the Communities post guidelines and let other people know about it.
Understand how these 25 biggest communities on Google+ brought the highest members so far.
Make the most out of Google + Hangouts. This is a great tool to conduct interviews and host webinars. You can collaborate with your team of people by using this tool.

5. Pinterest
After completing your Pinterest profile, create specific and memorable Pinboards. Make the board names as short as possible.
Describe the image with a compelling description. Use keywords in the description so people can easily find your image.
Build a list of followers. Add people who might be interested on your content by following other pinners.
Be consistent in pinning.
To increase engagement, run a contest. Incentivize your followers by offering discounts, coupons, etc.
Use Infogr.am or Visual.ly to create infographics like quotes, how-tos, inspiration material and other valuable contents.
If you have a new blog for your business you can post your clients/customers' testimonials in the description of your pins. It gives you more credibility and a social proof of how good your brand is.
Pinfluence is a complete guide to marketing your business through Pinterest. You may want to check out the book.

6. Instagram
Use Statigram or Nitrogram to manage your community and measure your efforts.
To build a huge following base, host a contest or giveaway. Create a landing page for the promotion and monitor its success after announcing the winner of the contest.
According to Digital Buzz, 81 comments are posted every second on Instagram. Make sure you actively engage in your community by responding to comments.
Use hashtags to monitor and measure the growth of your community over time. Look at the number of photos and your audience's impression of your blog.
Here are some truths revealed by Visualy.ly in one of its infographics:
Instagram says it has 90 million monthly active users.
Top 3 brands on Instagram are Nikes, MTV (music television) and Starbucks Coffee. They have 1,494,058, 1,310,632 and 1,243,858 respective followers.
As of May 23rd 2013, Instagram's 67 interbrand companies reach more than million followers.
67% of brand consultancy interbrand's Top 100 brands are on instagram.
Brands are seeing more than 5600 engagements per photo.
23% of active interbrand 100 companies post more than 50 times a month, up from 20% last quarter 2013.
98% of Instagram photos posted by brands are shared to Facebook resulting in 274 engagements per photo which is a 30% increase since November.
In total, more than 2 million likes, comments and shares of Instagram photos have occured on Facebook since the network bought the photo sharing app (based on interbrands top 100 companies' usage of the app).
Use the power of Instagram when you promote your blog. Don't get behind the curve.
Connect your MySpace profile to your Facebook and Twitter accounts to find your friends.
You can add audio files, events, videos and create albums in MySpace which is different from other social networking platforms. Use this as your advantage to provide value to your audience.
Customize your streams if you want specific types of updates from your connections. Vary your update types so your followers can always see some of your updates.

8.  Shorten your posts' url.
Use Goo.gl, Bitly or the url shortener of Hootsuite to shorten your post's url. With the use of the tools, you can track how many clicks that the Url got.

You can customize your url and make it easy for people to remember. Ex. bit.ly/PinterestTraffic.
You may want to check out my post on how social media branding can grow your business.

 9.  Facebook Notes
Use Facebook note to post your information or insights and make it as your viral marketing tool.
Any topic will do as long as it relates to your niche. It can be a blog post, article, personal experience or itps.
Let the tagging begins. Tag people who do you think might be interested to comment on your note. They may be your friends, family members or those people whom you think are related to your industry. Every time someone comments on your Note, it increases its visibility since it pops in their Facebook Feed.
Import your blog's RSS feed into the import options. Every time you post an article on your blog, it will automatically pop up as a Facebook note.

 10. Include the links of your social networks in your author bio
Include two or more links in your author bio. I recommend you limit your linkage to two links.
Promote your blog to your friends and families on your social networks. When they share your link, people who are related to your industry will most likely be your followers.
Add your latest blog post in your email newsletters.
Send an email to your list of friends with your latest blog posts and ask them for feedback.

12. Facebook Groups
Join groups on Facebook and get personal. Collaborate with other bloggers. Participate on conversation beyond the usual posting of wall posts.
Answer questions seen on the group and ask questions as well. People will trust you as you solve their problems.
Make sure you know the privacy level and rules. Do not go beyond the rules or else, you'll be kicked out from the group.

13.  Blog commenting
To make the most value for your blog commenting efforts, follow these tips:
Read the post or skim it. Don't comment like if you don't actually read the article.
Aim for longer and valuable comments. Don't comment for links. Rather, add value to the conversation.
Use your real name when you comment on a post. It builds your authority while giving you a credit for your comment – a plus vote/link.
Link to your internal pages and social pages. They can be your potential landing pages for your visitors.
Search for high authority blogs that target the same audience as yours.
If you're a team working in an SEO campaign, let one person do the task for commenting on blogs. It eliminates the risk of two persons (you and your coworker) commenting on the same blog. Otherwise, the webmaster may think that you're spamming his/her blog.
Determine the publishing schedule of your targeted blogs. Like in my case, I comment on posts published on Quicksprout every Monday and Thursday. Aim to be the first commenter on the post.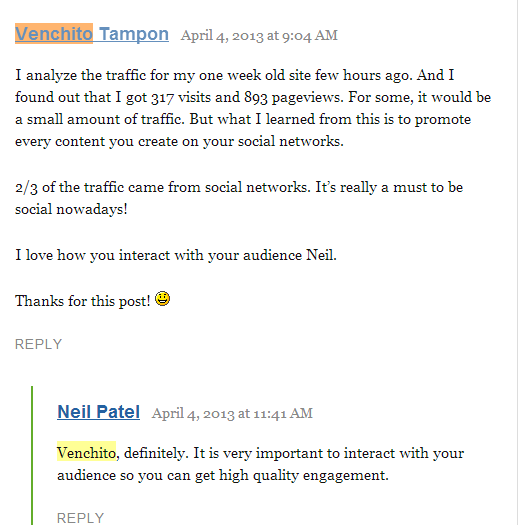 14.  Use KeywordLuv or CommentLuv on your blog.
Build a community on your own blog by installing plugins such as KeywordLuv and CommentLuv.
KeywordLuv. When people comment on your blog, they type their first name or full name plus an anchor text that links to their url. For example, if Jason Acidre comments on one of my posts. He will include an @sign in the middle of their name. Jason Acidre @ SEO Strategies.
Commentluv. When you purchase the Commentluv premium, the person who will comment on your blog is able to build link to any of his latest 10 blog posts. You can still install the plugin for free. When someone comments on your article, it will automatically link to his latest blog post.

15.  Forum posting
Find forums that are highly relevant to your site. Type "forum + niche" in Google search.
Complete your forum profile. Use your real name and add your social profile links to your profile.
Consider the strict rules of the forums. Don't just add links. Make sure you add useful knowledge to forum threads.
Post unique and interesting content on forum threads. Show off your expertise by answering questions.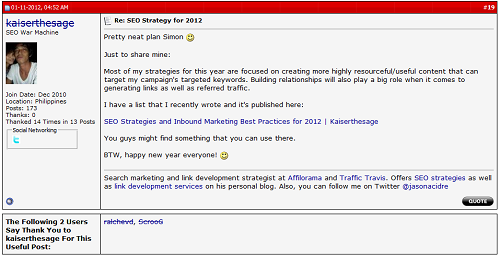 16.  Ask influencers to link to you.
This tactic doesn't happen overnight. Determine your goal whether you want to drive traffic to your blog, spark an online conversation, increase brand awareness, etc. Set goals you want to accomplish.
Are you targeting a specific or broad audience? Identify your target personas. This will help you find the right influencers for your campaign.
Each influencer has a different type of audience, read different contents, and accomplish different goals.
The following can be your guide when you create your content:
Create an emotional experience for the audience. This can be a personal photo/experience or an original concept that reflects your blog/brand's values. E.g. Skyscraper Technique, 1-2 Punch Marketing, etc.
Engage, educate or provide some value to your readers.
Contest, giveaway or promotion which I will discuss later on.
After creating your content, it's time to promote it.
Here are four ways to ask influencers to link to you.
Check out this marketing flywheel by Moz to understand how you can leverage your outreach.

17.  Guest Post and Invite Guest Bloggers to write for your blog.
Guest post opportunity is a win-win situation for both the blog owner and the guest blogger. As a blog owner, you can publish high quality content while as a guest blogger, you are able to get a link (either on the content or author bio) and increase traffic and readership back to your site.
To start with guest blogging, you need to look for authority blogs that allow guest blogging opportunities.
Use thisQuery Generator to enter your keyword(s) and generate search queries that you can use to find blogs/sites that accept guest posts.
You must understand what your target audience wants to read. From that, you create a high quality post based on the guest post guidelines. Be creative. Use infographic, chart, video, etc.
Generate your author bio using this tool or customize your own. Email or submit your article to the publisher/editor/website owner.

Guest Bloggers Write for Your Blog
Allowing guest bloggers to write on your blog helps you build authority in your niche. Here are some ways you can do to catch other bloggers to write for you:
Create a page and name it as "Submit Guest Post" or "Write for Us". Mention the benefits your guest bloggers can get and guidelines when writing the post.
 Generate a list of guest bloggers and contact them through outreach. If you'd like to invest money in this, you can try this artificial link building technique. Here's how you do it:
Find authority bloggers in your niche and make a list of them through

Followewonk.

Create a personalized template.
Implement authorship markup for guest bloggers.
Invest on buying contents from these guest authors.
Use your social profiles to invite guest bloggers to write contents for your blog.

18.  Attend Conference and/or Give a Talk
Getting traffic to your site doesn't always depend on online efforts. In-person meetings, seminars or conferences are remarkably useful to grow your influence and show off your expertise. This may lead to discussions about your blog and ways to help your colleagues with their campaigns/strategies. Links, tweets, shares and guest posts are increased even by just attending a conference.
It also helps you become a relationship marketer which must be your target in your promoting your blog.
Use Lanyrd to identify meetups and conferences that are worth attending in your community.
If you're asked to speak in conferences, go for it! It helps you positioned yourself as a pro.
The founder of Lanyrd also contributed this great answer on Quora about other search engines/directories for events (which makes me like them even more).

19.   Ning community
Search the Ning site. Look for network that matches your interest and niche. Join all the relevant Ning sites and create a profile on each and bookmark them so you can have a chance to get back to them.
To build a community, you can create your own Ning group and brand yourself by engaging with your members. Connect to your members by simply asking a question or commenting on their profiles.
Avoid spamming by commenting or sharing the same post on many members' profiles. Invite your friends on your social networking sites to connect with you on Ning community.

20.  Integrate Your Blog into Your Signature
You use email for sending messages to your friends and colleagues. Make sure you do not ignore putting your link on your signature or bringing up your blog when it is relevant to answer some questions. I used some of my posts to answer questions through email. This helps me get a link with a little effort.
Add a blog link to your signature. It looks something like this: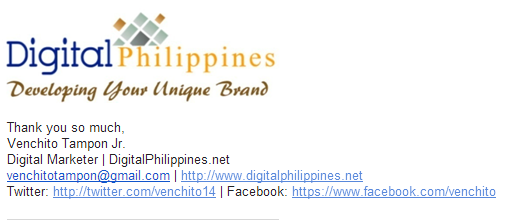 21.  Publishing a round-up post and/or pitching others who do round-up posts
Roundup is a method of selecting and gathering of other peoples' content and share them all in one post.
When you publish a roundup post, you can get the following benefits:
Generates more engaging readers and followers to your site.
Gains traction by sharing your interests and adding more conversations to your audience.
Adds new angles to your content by adding perspective/approach in writing.
Brings new voices to your content as people are getting excited to see what posts you will be including in your round-up post.
Use the following search queries to look for blogs that do round-up posts:
"your keywords round up"
"your keywords round up post"
"your keywords weekly round up"
"your keywords mash up post"
Write an email asking for other bloggers to mention your post in their roundups.  Use this guide to create a personalized email template.
If nobody in your niche/industry does this, be the first one to write a round-up post. One good example of a weekly round-up post is Kikolani's Fetching Friday

22.  Blogengage.com
Join the community of bloggers – Blogenage.com. Share your post to get massive amount of traffic and quality links.
You can also build your own network by sending messages to your friends and commenting on their posts.
Take a part in the contest (guest post contests) to build credibility, increase exposure and earn some money.

23.  MyBlogGuest.com
Find massive networking opportunities in MyBlogGuest.com like guest posting and content submission.
Establish collaborations and partnerships with webmasters and content creators within the MyBlogGuest community.
Create valuable contents and get good links from MyBlogGuest.com through guest articles and partnerships with other bloggers.

24.  Quora.com
Find related topics by teaching a keyword/phrase in the search bar of Quora. Follow a handful of threads that are relevant to your industry/blog.
Add value to the conversations found on threads or answer some of the questions. You can link to some of your posts if it is related to the topic.  Remember to comply with the Quora guidelines and best practices.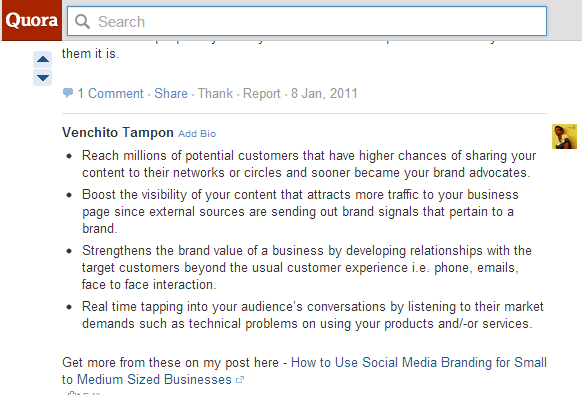 Don't sell an affiliate product or anything on the Quora threads. It would hurt your reputation as a blogger.
Quora is your tool to find you readers' common questions and what type of content they want to read about by asking questions.

25.  Plaxo.com
Add your powerpoint (via Slideshare) and feed your blog into your Plaxo profile.
Use Plaxo Pulse in your social streams.
Use Ping.Fm to automate your plaxo status updates. Use this also for other networks. This will help you save time in visiting those sites just to add status updates.

26.  Sponsorhip
For Sponsors:
Look for blogs that their readers would be interested to use your product and promote it as well.
Interact with the bloggers by leaving comments and sending them emails to build relationships with them. Do this consistently and you'll get to know whether you're a good match or not for the sponsorship.
Develop relationships with the website owners. Remember that sponsorship must be a long term strategy.
To start with your sponsorship, you may spend 10% of your budget to offer freebies or giveaways to your target blog owners.
Maximize your sponsorship efforts by attending conferences or seminars. Look at how Neil Patel use sponsorships to grow his Crazy Egg users up to 100,000. In one of his posts, he said.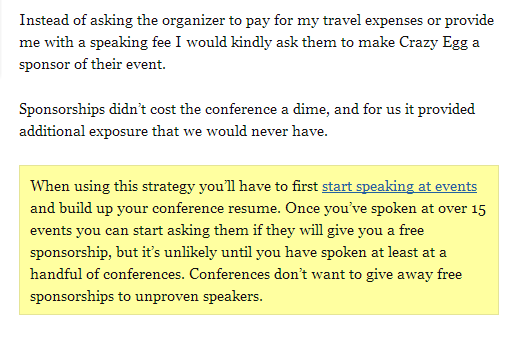 Be generous with sponsoring events or blogs. You can research on the average price that other sponsors are paying for the same event.
For Bloggers:
Accept sponsors whose products can benefit your readers and friends. Look only for products that you would want to recommend on your blog.
Love your sponsors by mentioning them in one of your posts. This will help your readers build trust on them.
Create a static page and name it as "Advertising Page" or "Sponsorship Page".
Follow the steps in the image below: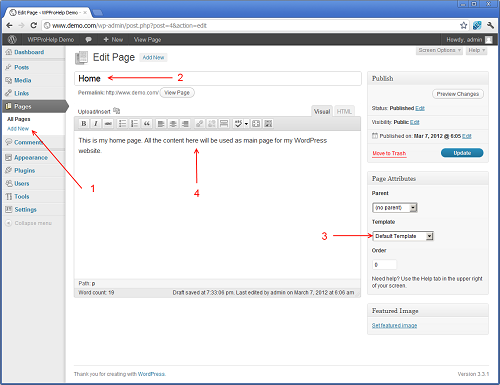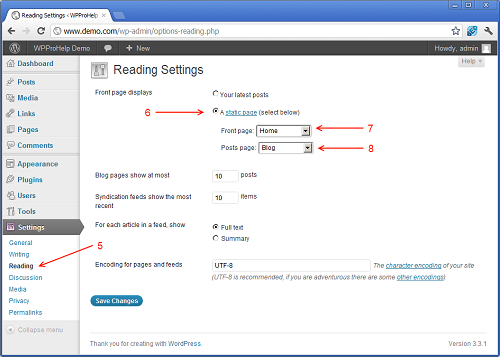 27.  Repost other people's content
Share other bloggers' posts by sharing them on your social profiles.
If you plan to post others' content on your blog, don't simply copy their post word for word. It won't give additional value to your readers. Follow these simple tips when you repost others content:
Add your own thoughts. Your opinion will make the content unique.
Summarize their post. Write the main point of the post.
Give credit where credit is due. Add the link (naked url) of your source or include their social profiles such as their Twitter accounts on your blog.
Know what demographic you're aiming for. Narrow your audience to yield better responses when conducting a contest for your blog.
Select a contest that reinforces your blog or brand. Let's say your blog talks about technology. You might be giving away free mobile phones as rewards for the winners.
There are many options to run a contest online. Here are some of them:
Use tools like OneKontest, Rafflecopter, Tabsite,  and Interactwive to run your own social media contest.

29.  Blogrolls
Use this widget to add external links on your blog. Add only blogs/sites that are related to your niche.
If you already have a blogroll on your blog, take some time to evaluate it. Check your stats. See if people are clicking on those links. If not, those links may not be the most effective to include in your blogroll.
Check the links on your blogroll to make sure they're still working. Make sure that your blogroll is a useful resource for your readers.

30.  Trackbacks
A trackback is link back to your post that will appear at the bottom of the external post. When a trackback is listed on a blog that links to your post, you will get a good amount of traffic.
Use Akismet to prevent spammers submitting trackbacks to your blog.
Create a post and include a source/link of other site as your reference. If your reference blogger has trackback enabled, you'll get a free link back to your site. Otherwise, you can still send him an email letting him know that you want to include your link on his post.

31.  Webinar
A webinar is an online event that is hosted by a company/organization/speaker and broadcast to a selected group of individuals.
Follow the schedule of your webinar. Start on time. Being consistent with your schedule gives your followers/readers an impression on how consistent you are in creating campaigns for your blog.
Use GotoWebinar or Webex to create your own webinar.
During the webinar, keep your desktop tabs and media applications closed. Speak clearly and loudly. Show enthusiasm. Take it as if you are speaking in front of a public audience.
Include your twitter and facebook page on your slide presentation. Ask your listeners if they can tweet about the webinar before and during your presentation. Hashtag with the title of your event or your blog url drives more listeners to your webinar.
Leave a plenty of time for Q&A. Too much discussion can cause boredom to your listeners. Let them participate on the event.
Join the community the marketers and participate by upvoting your favorite articles in Inbound.org.
Be the first to submit articles that are relevant to inbound marketing. Make sure that the title is intriguing to get the attention of other marketers. Select the most appropriate category for your post.
Participate on some discussions by inbound marketers like Rand Fishkin and Jonathan Colman.

33.  Hacker News
Be authentic on Hacker News. Read and comment other people's posts. Participate first so when your time comes, others will do the same for you.
Write an article that is relevant for the Hacker News audience. Offer tips for startups like this article that can generate more engagements with your content. Fresh issues are also good topics to write about.
Create an outstanding content to generate more subscribers and shares.

34.  Tumblr
Majority of blogs found on Tumblr discuss very general topics. To stand out from the competition, your account must serve a purpose.
Focus your efforts on a certain angle – it may be your passion or something that you might be interested to blog about.
Customize the layout, design and functionality of your blog. Pick the right name that is easy to remember and make sure you link your main blog to your Tumblr account.
Craft posts that are engaging and interesting to your audience. Trending issues, opinion-based content and personal experience are good basis for writing your content. Give credit to the original source.
Integrate Disqus to allow users to comment on your posts. Interact and spread your thoughts through engagement within the Tumblr community.

 35.  Flickr
Choose quality rather than quantity when taking great pictures to be posted on Flickr. Use Photoshop and other editing tools to enhance any photo. Craft your image as if you're a photographer.
Get a quality shot daily. Single shot that captures your audience's attention is what matters.
Flickr's stream in the Explore Section should be your main target. The higher your rank, the more people can see your photo. Rankings are high when people tag, comment, or view your photos.
Be involved in the Flickr community by liking, commenting or tagging other photos. One fav is equivalent to one vote. Fav others' photos and they will fav yours as well.
Use photos when writing a blog posts. Let your readers know that they can download it on Flickr. It helps you get more views and favs. Email the link of the photo to your friends/subscribers if you want.
Participate on game groups on Flickr by posting your photos and commenting on others. Don't spam.
Tag your photos to increase visibility and be on top of the pages..

36.  Triberr
Get more followers in Triberr. It determines what kind of folks you'll have as tribemate and the number of members your own tribes will have.
You must target people with a lot of followers. If they happen to share your content, it boosts your visibility and credibility since the content will bring in front of the page.
Use bonfires to look for tribemates in your industry whom you are interested in. Leave comment on their post and add a link to your blog.
Start your own thread and ask others to connect with you by joining your tribe.
Tweet about your Triberr account. Add a good call to action and let them join your tribe.
Be true to your headlines. Catchy headlines give your tribemates a good impression but don't let them be dismayed when they read your content and found that your headline is a lie.
Submit your article to StumbleUpon first to get the most exposure.

37.  IFTT.com
Create a work flow in IFTT based on your custom tasks. "If" this thing happens, then it will do another thing. Use pre-made Recipes to quickly create your posts.
The following are the reasons why you should use IFTT as your marketing tactic:
Potential for your blog to be talked about and be a thought leader in your industry.
It gives you the ability to check out your competitors' marketing strategies.
It helps you get updated with the latest topics on the web.
The obvious reason to use Delicious is to organize your content daily. You can bookmark all blog posts you've seen on all social networks.
Use action tags to save a page you don't want to forget and make it as a resource for your blog post/content. You can share these resources to your colleagues in the company or to other bloggers.
Keep track of mentions about your blog posts. Use them as references for your next articles.
You can export all your bookmarks and download them as an HTML life. Do this always so you won't lose your bookmarks.

39.  Stumbleupon
Complete your StumbleUpon profile by creating a bio with details like a personal description, link to your blog and other social networks.
When you are favoriting an item, be sure to use the tag icon to add tags to your favorites.
Find friends who are already connected to you on your social networks like Facebook and Twitter. Connect with stumblers that have complete profile – avatar and basic biography.  Look for influencers and bloggers who might be interested to your blog.
Use the Discover tab and tags to look at a particular or the most popular topic.
Use the StumbleUpon toolbar to get the latest shares from your following.
Share one of two times a day. Otherwise, you will probably get unfollowed – no one wants a flashing red number in the toolbar.

40.  Reddit
Dig into the comment threads of each link to see what topic people are likely interested to read on. The most valuable content is always on the top of the thread.
Click the new tab to see what had been submitted moments ago and start to upvote and downvote depending on your choice.
When you submit a link to Reddit, it is difficult to appear on the front page since 70,000 links are shared to Reddit each day. Apply the following tips to gain traction using Reddit:
Put humor on your posts. Funny pics, stories and memes are usually the top posts. You can still add a link even if it's not funny, you'll never know your post will be on the top page.
Reddit is the best place for political news and opinion. You'll fin controversial topics related to politics that are on found and discussed on the front page.
Interesting facts, in-depth reads and personal stories may catch the interest of your people.
When submitting content to Technorati, add tags to posts.
Ask other bloggers who link to you to submit their blogs to Technorati. The more pages linked to you, the greater is your Technorati Authority rank.
Focus on a particular niche. If it is SEO or tech, then write only about those topics. Cover topics that are trending in your niche. Be consistent and know what your audience wants to hear from you.
You can host contests and giveaways to increase readership.
Comment and guest blog on high authority blogs found on Technorati. It will help you improve your Authority rank since those blogs are already index and have higher ranks than your blog.

42.  NetworkedBlogs.com
Add the NetworkedBlogs app in Facebook by installing it on your page.
Test the feed settings to make sure that when you publish a post on your blog, it will automatically be updated on your wall.
Your friends/connections on Facebook will start to follow your blog when they see your blog post posted on your wall. This is the same thing that happens when they subscribe using RSS reader.
Start by clicking the add button found in NetworkedBlogs.com. Enter your blog details and confirm
Syndicate your blog to your Facebook page by clicking the "Syndication" link, adding the Facebook target and choosing the profile you want your blog to be syndicated.

 43.  Blog Directories
Adding your blog directories increases your readership since your blog increases its visibility in your niche.
Here are 17 directories where you can submit your blog:
Build your community on BizSugar by recognizing your members. You may add a "Contributor of the Week" portion where you can interview a valued member. Reward him by giving something that is valuable.
Manage your site by creating a moderation plan before you launch it.  There is a potential that your site will be spammed by 10,000 entries every day.
Choose the right category when you submit your story. That's one way to reach out to your readers.
Grab a widget so your blog can have its own Bizsugar voting button. This increases the visibility of your blog.

 45.  Twitter Feed
Use Twitter Feed to feed your twitter to Linkedin, Facebook and other social networks.
Customize your twitter feed by installing this plugin on your WordPress Account. It lets you output Twitter's embeddable timeline into your WordPress site.
Image Credits:
If you liked this post, kindly share it to your circles/networks, subscribe to my feed or follow me on twitter @venchito14.
Whenever you're ready…here are 4 ways we can help you grow your client or business through performance-based link building:
Claim your Free Link Building Strategy Session. If you've achieved initial traction from Google, we can help you scale up to record-breaking search traffic and sales faster, claim your FREE Link Building Strategy Session. We'll brainstorm some ideas to increase your search traffic through ROI-driven backlinks, including practical solutions to add more content within the next 90 days.
If you'd like to learn the exact link building strategies we use for free, go to our blog or visit our resources section, where you can download guides, cheatsheets, and templates we use for our most successful clients.
If you know another marketer who'd enjoy reading this page, share it with them via email, Linkedin, Twitter, or Facebook.