Every link management campaign requires the use of tools to facilitate activities in link prospecting, qualification and outreach.
These tools can help scale link building tasks by semi-automating repetitive actions, by filtering domains and pages using certain metrics and by exporting necessary data into spreadsheets (for further filtering and qualification).
In the past, I've reviewed some link building tools, which I highly recommend, Citation Labs and Ahrefs. You can check out my individual reviews about them. 
Today, I'll cover another link building tool that I've been testing and using for some of my personal projects.
Introducing LinkHunter…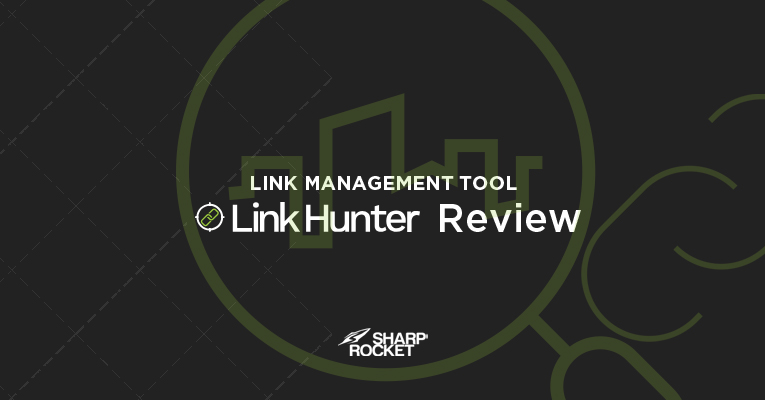 LinkHunter is one of the recently launched link building tools that is founded by my good friend, Jeff Oxford. He has several years of experience handling eCommerce websites and enterprise brands such as Mastercard and Belkin. 
This only ensures that he can effectively cater to a huge market of SEOs by addressing the need for lack of tool's features that'll best help improve effectiveness and efficiency of link building campaigns if integrated to LinkHunter.
Let me show you how the tool works.
After you sign up and sign in to the tool, you can quickly see the overview of your campaigns.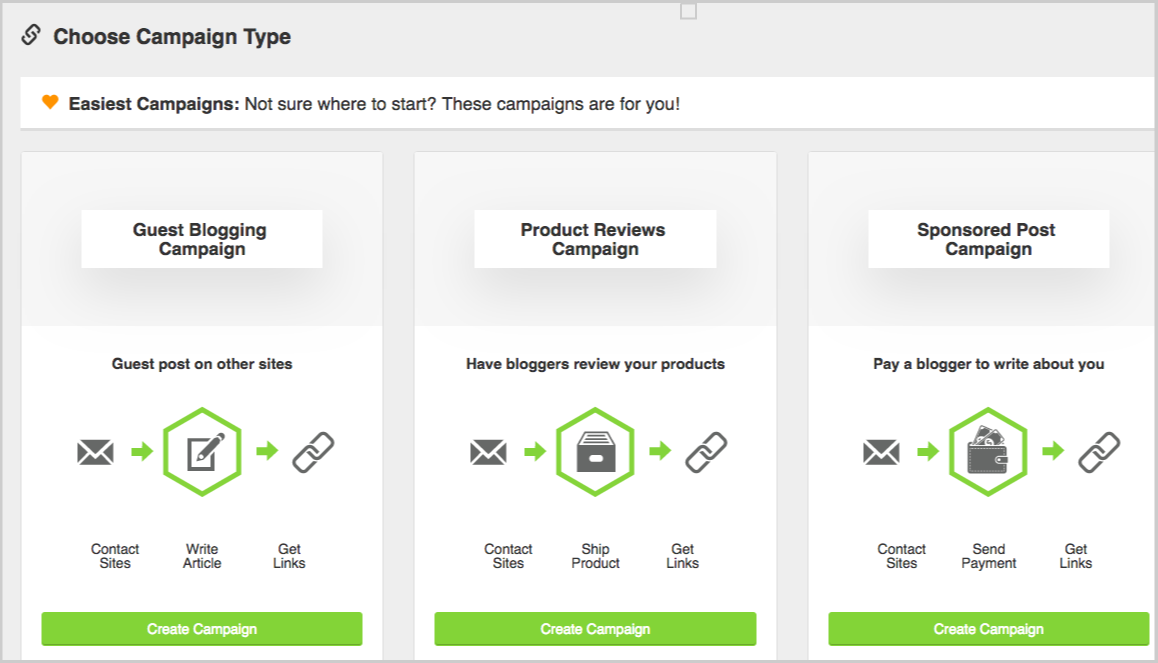 If you intend to create one, there's a button for "Create New Campaign".
You'll have to choose for three types of campaigns:
Easiest campaigns (includes guest blogging campaigns, product reviews campaigns and sponsored post campaigns).

Content promotion (includes blogger outreach campaign, resource page campaign and link roundups campaign).

Situational campaigns (giveaway campaigns, interviews campaign, podcast campaigns, and custom campaign).
The advantage of this campaign classification is that it allows you to quickly start a campaign based on a specific purpose and types of links you're trying to acquire for your site.
For example, when you want to create a campaign for guest blogging, you simply choose Guest Blogging.
For custom campaigns, you can create one by clicking Create New Campaign.
There is also a field for email account usage. It is best to integrate your email accounts (outreach emails) right at the very start so you can easily choose from the drop-down menu of email accounts when you started with the campaign.
If you wish to add your email outreach account, click on "Add Email Account".

Going back from the new custom campaign, you have to input the name of your campaign (better if it's a client name or code you create just for that website).
Next is the link prospecting platform of LinkHunter.
One of the best features of LinkHunter is their "Automated Link Prospector". This is not the exact name of the feature, but for this review's sake, let me label it that way.
You have to input keywords that are relevant to your website and campaigns. On the right side of the platform, there's a quick guide that shows which keywords are good or bad to use.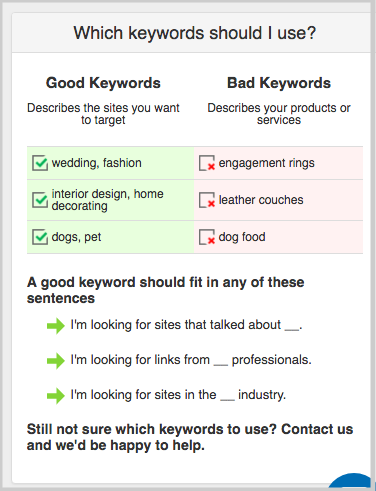 You can then choose the country of search. The tool will basically filter the search pages into the country that you prefer. By default, it's worldwide, but if you're prospecting for country-specific websites, you can choose the right country.
LinkHunter provides free outreach templates for each campaign type which is a big help for those who're new to outreach activities.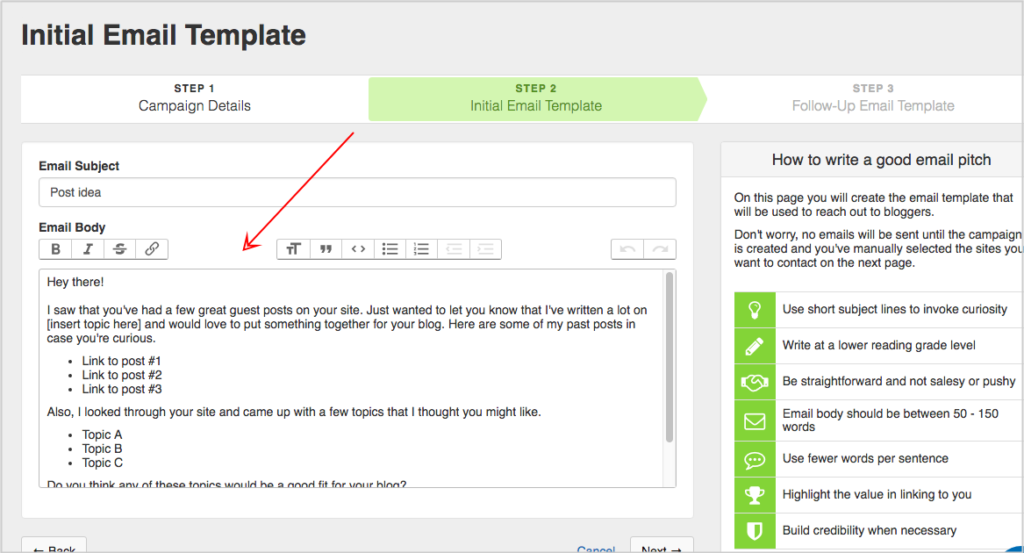 The link building tool also includes an option for follow-up emails (which can be automatically sent days after your initial emails have been sent).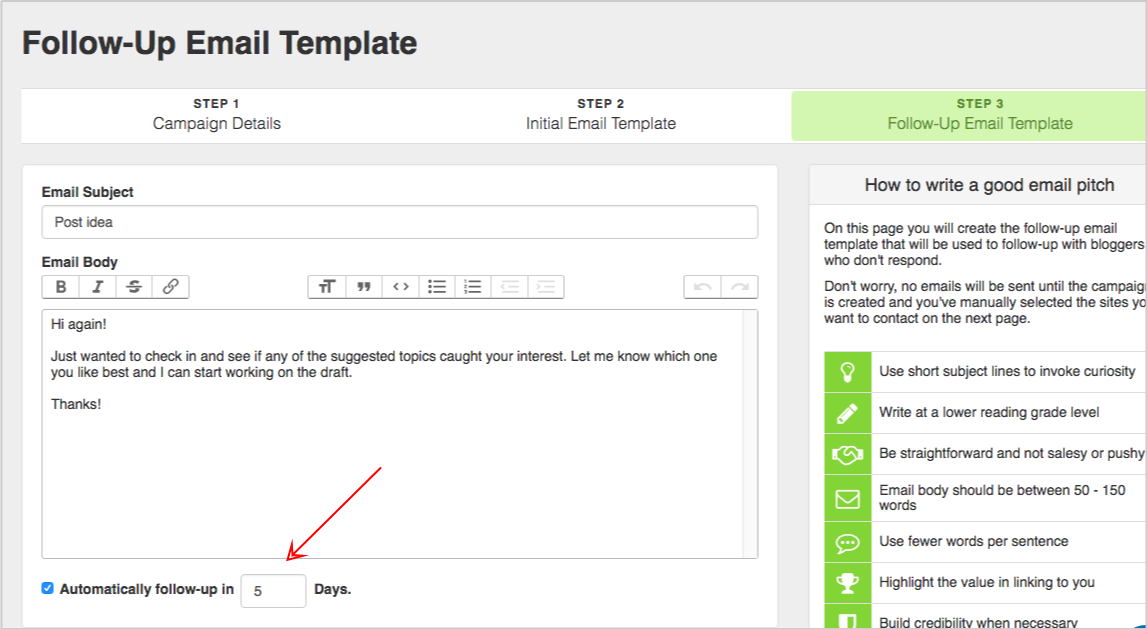 Pages automatically searched by the tool by using your target keywords and its default advanced search options for a specific campaign will now be ready to filter.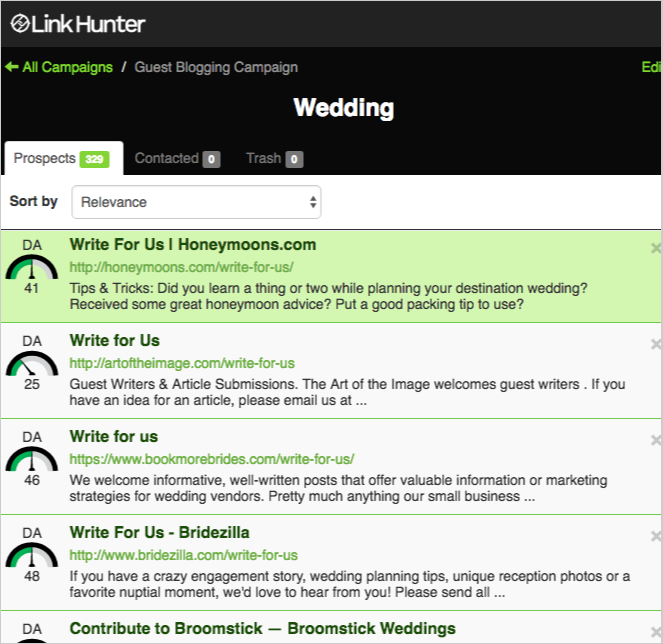 It has a sort option for relevance, domain authority and alphabetical.
Link qualification is critically important in executing a link building campaign, in that knowledge that you only choose the page that fits right for your campaign before you proceed to outreach.
LinkHunter gives you the opportunity to preview each page you want to qualify.

If you want to go directly to the website for further analysis, you can click the button "Open Website a New Tab".
One upside of LinkHunter is that it closes the gap between link qualification and outreach. You don't necessarily have to open a new outreach platform or your email account to send your pitches. You can go straight customizing each email at the right panel and send it right away.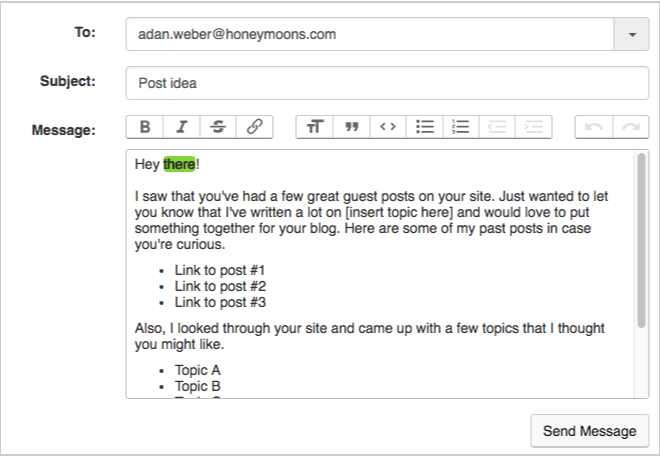 Pro tip: Choose the email that has high chances of responding to your pitch. For blogging campaigns, if there's no direct email contact person, you can choose editor@domain.com. Avoid reaching out to info@domain.com, sales@domain.com, support@domain.com and other departmentalized emails (your pitch might not be directly addressed by these departments).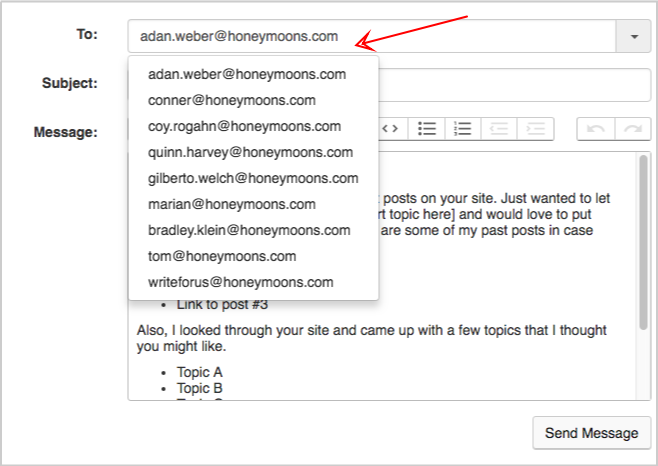 Every link building tool always has room for improvements. No exception with our product today.
What Needs Work
A few things to note, that when added as features of the product can make it more efficient to use:
1. No email scheduling – there is no option to schedules emails at later dates (both for initial emails and follow-ups). It is best to have automated follow-ups that can be sent as replies to the original emails than be sent as new emails.
2. No filtering capacity by relationship stages – there is no filtering option or list for relationship stages. There are visible stages from the campaign overview (prospects, contacted, responded and links), but there's no room to filter emails based on relationship stages.
3. Visible campaigns to certain people – campaigns are all visible to the person who logged into the tool. There are no options to make certain campaigns visible to assigned people only. I'm looking to avoid any errors committed, such as archiving campaigns by mistake.
4. Additional fields in templates – embedding images in email for creative email pitches and email signature.
5. Adding opportunities in bulk – lack of option to import a list of websites derived through other sources (competitor link research using link analysis tools or a list of link prospects through manual prospecting on search engines).
Overall, LinkHunter is best for a one-man link building team (who does every aspect of link acquisition) and small agencies who don't need to switch between link research and outreach campaigns. With further improvements, I think LinkHunter can be a highly efficient tool for link builders.
If you have questions and inquiries about this link building tool, leave a comment below.
Hear about new posts as they happen. Build extraordinary links.