This is a guest entry by Andrew Dennis, a Content Marketing Specialist at Page One Power. He also regularly contributes to Linkarati and Biznology. When he's not writing or reading about link building, you'll find Andrew discussing link building in the G+ Link Builders community.
As links remain at the very core of Google's search algorithm, they continue to be an integral factor for determining search rankings. Due to the importance of links, link building is still the most effective way to increase visibility within search.
However, link building can be useful in other ways and the benefits are not limited exclusively to search. Along with providing SEO value, link building can effectively improve brand awareness and brand recognition.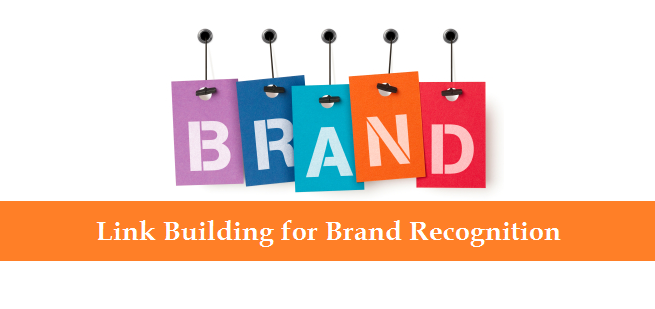 Importance of Brand Recognition
In the marketing sphere, brand recognition is not a new concept. Any marketer worth their salt can tell you that brand awareness plays a key role in successful marketing. Studying advertising in college taught me the power of a strong brand and the value it provides to an entire marketing campaign.
Unfortunately, we as link builders forget that building links is just part of the overall marketing process. We sometimes overlook the importance of the various marketing concepts, including brand recognition.
Brand recognition is important because people are more likely to trust brands they know or recognize. If your target audience doesn't know who you are, chances are you're not going to be very successful. Your brand ties directly into how people think of your company and without a strong brand, you will get lost in the noise.
The importance of creating brand recognition online continues to grow. Link building can be utilized to build online brand awareness, but it takes a certain mindset.
Establishing the Brand Building Mindset
Before you can effectively improve brand awareness with the links you build, you must first establish a brand building mindset.
To approach link building from a branding standpoint you must first internalize your brand's core marketing message and core target audience.
Take time to consider what truly differentiates your brand from competitors and what unique value your brand provides. Carefully consider who your specific target audience is and where you can find them around the web.
Remember to keep in mind:
Brand identity
Brand message
Target audience
Once in the right frame of mind, there are specific strategies that are ideal for building brand recognition in conjunction with building links.
Reverse Image Search
A reverse image search can be used in a few different ways to build links. Just as importantly, these searches can be used to increase brand recognition as well.
A good place to start is to conduct a reverse image search on your company's logo. However, any copyrighted images or images closely associated with your brand can work to build both links and brand recognition.
Using Google image search or a program like TinEye, you can locate where your logo or other images you own may be being used across the web. If these sites aren't already linking back to your site, they present a great opportunity to create a new link and increase brand awareness.
The key to successful brand building during this process involves your outreach to the sites hosting your images. You want to foster a positive relationship and thank them for hosting your image, while also asking if they wouldn't mind including your link.
Simply being polite and courteous can go a long way in helping to build your brand online, not to mention improve your chances of successfully building a link. Conversely, approaching these webmasters in a threatening manner and demanding they give you a link can be quite damaging for your brand.
Logos and other images associated with your brand can be very powerful in terms of brand recognition and you want to make sure that your website is tied to them with a link wherever they may appear online.
Press Releases
Now before you take to the comments to remind me that Matt Cutts said links from press releases won't benefit your rankings:

The goal of your press releases shouldn't be building links on press release websites.
Your main objective with press releases should be to build brand awareness and get your brand/product/content in front of as large of an audience as possible. Utilize these press releases to gain exposure for your brand.
Although links on PR sites won't have SEO value, this doesn't affect links on external sites if your press release is picked up by news organizations. If your press release gets picked up by external news organizations, not only will it help with brand recognition, but it can lead to some valuable links that pass serious link equity as well.
In this post, Alisa Scharf of SEER Interactive discusses a successful press release they did and why it was effective.
Blog and Forum Commenting
Again, these strategies don't necessarily provide the most direct SEO value (as typically comment and forum links are "no-followed"), but they can be used quite effectively to build brand recognition and drive traffic to your site.
Comment sections and forums provide an ideal place for you to engage with your target audience. Aim to add value to the conversation and answer any questions posed by the community. Typically, you can include your name with a link back to your site. Even if this link is "no-followed", it will still strengthen brand recognition and help establish your brand as an authority. Also, these types of links can still drive highly targeted traffic to your site with all your branding on the home page.
Blog commenting in particular can be a great way to engage industry leaders and influencers as well. They allow you to cut through the usual noise and interact with these people directly. AJ Kohn wrote an excellent post detailing the power of blog commenting.
By engaging influencers with a branded account you can start to build relationships between industry leaders and your brand. Building these relationships will assist you in branding as these influencers will be more likely to endorse you and share your content in prominent forums and communities within your niche.
Guest Contributions
I know, this is another strategy that is supposedly "dead". However, guest blogging remains a viable strategy for brand building.
Much like press releases, guest contributions give you the opportunity to get your content in front of new audiences. Guest blogging provides a great opportunity to increase your brand awareness online by gaining extra exposure for your branded content.
When trying to increase brand recognition, you should be aiming for regular contributions on prominent sites within your niche. By regularly contributing to a column on a trusted site, you can begin to build that awareness and reinforce your brand as an authority.
Also, you can link to branded content (when relevant) you have published elsewhere. Not only does this increase brand visibility, but it also provides direct SEO value to the content you link to. Building these types of links will go a long way towards helping your content rank in search results, once again furthering brand recognition and authority.
As always with guest contributions, the most important aspect is that your posts add value to a site. The spammy, low-quality stuff Matt Cutts refers to has never been a worthwhile tactic. However, if the quality is there, an editorially placed link back to your site makes sense. Again, make this is a branded link so that readers begin to associate useful content with your brand.
Recap
Due to the fact that links are so valuable in terms of SEO, we sometimes forget that link building can be beneficial in other ways. Along with increasing your brand's visibility online, link building can also be used to build brand recognition and awareness through certain tactics:
Reverse image search
Press Releases
Blog and forum commenting
Guest Contributions
Brand recognition is vital to a business' success.
Your brand represents how your audience/customers feel and think about your company. Without a strong brand, your company can easily get lost in the noise. Strengthening brand recognition is a crucial marketing process and with the right mindset you can implement link building as part of your brand building process.
Hear about new posts as they happen. Build extraordinary links.