If there's one under-utilized content asset of any website today for link building, I'm pretty sure it's images.
Most of you think it has lesser link acquisition value than other content types – probably for two reasons: One, it doesn't catches longetivity.  Unlike a typical 3500-word utlimate guide, normal images don't inform a lot of messages.
Two, it's plain, simple and most of the time, it's commercial-context. If a visual asset originates from your company for example (i.e. branded team photos), you would think it's not usual for a blogger to link to such a particular piece. And your next problem is, how can I can remove the commercial intent in these images?".
These examples of link builder's dilemma causes you not to believe much in the power of image link building.
I hope that at the end of this post, you would have plently of ideas how you can use images to build links for your site.
Below is a list of 9 image link building strategies that we had the most success with. They can be used in conjuction with others in order to increase the value of the proposition for outreach.
1. SKYCRAPE OLD INFOGRAPHICS
If the word "infographics" is for sale in the SEO market, I think it's sold out already (and perhaps a best seller).
Just kidding..
Infographics are abused in almost all industries. Try searching for your "industry" + "INFOGRAPHIC" as your keyword phrase in Google, and you'll start seeing tons of infographics published.
Not all of them are giving much value to users, ofcourse.
One way you can do to breakthrough the noise is to observe your industry's visual market and see which visuals previously gained success and which ones didn't worked out well.
By doing that you can start digging into old and most-linked images. When you see one, you start to strategize how to update it and give a revamp.
Skysrape an old visual asset.
How can you do that at scale?
Use Buzsumo and its "infographic filter" and go search for a topic that's relevant to your industry.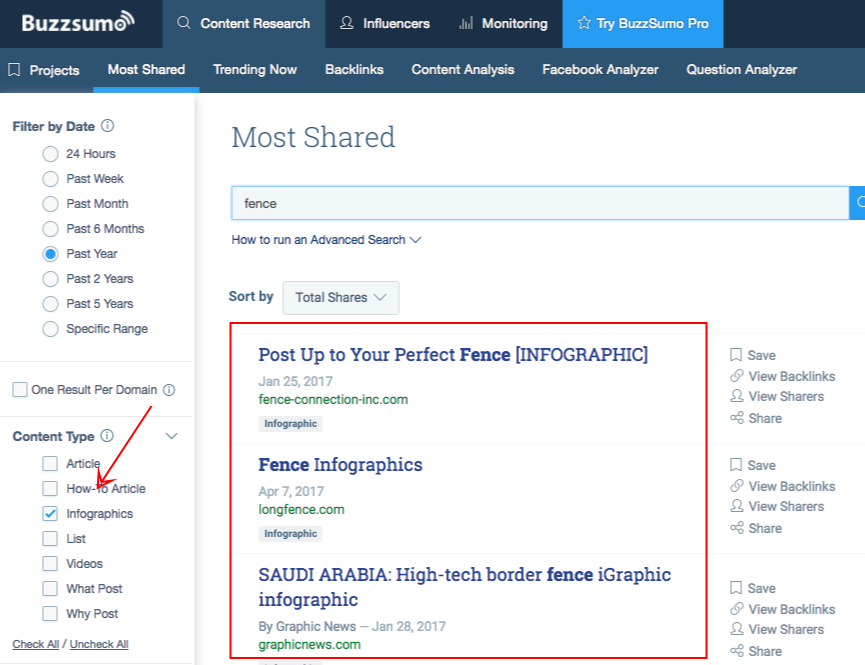 You enter industry keywords and look for previous infographics that gotten shares and links, some just earned shares, and it's okay. In visual marketing, there's a neat probablity shares could result to a few links.
Further Reading: 4 Intermediate Tips to Improve Guestographics
2. UTILIZE EVENT EXPERIENCES LINKS USING FREELANCE PHOTOGRAPHY
Events become memorable because of great experiences. No one will deny that he wants go back to certain events where he had a great time with, at the same date and same place, if possible,.
It's classic. And what would make someone remember those events?
Photos.
If you can utilize event experiences with freelance photos, there's a huge link opportunity that awaits you. Get someone to cover an event with freelance photography.
Instead of sponsoring bucks or free pizzas for after-event parties, hire a freelance photographer to cover that event.
Get those high-quality captures and upload them on a specific page on your website – and dedicate that page just for that event.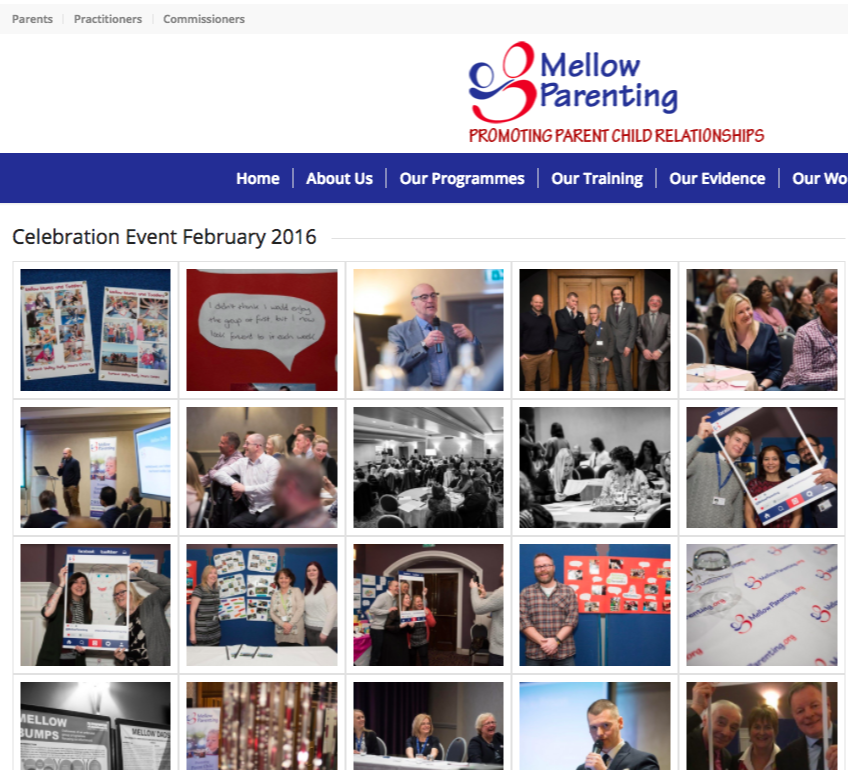 Reach out to event organizers and let them know that you have captured great experiences on your website, and these are publicly available for republishing/resourcing. Politely ask those who have used your photos to credit you as the original source.
Depending on vertical markets, if there are niche bloggers/marketers/PR professionals who may have attended the event, there are more link opportunities that you'd see coming from participants' own websites.
3. CREATE CONTENT FOR "QUOTES" KEYWORD
People love inspiration. And getting quotes from anywhere is one way to hype up one's day.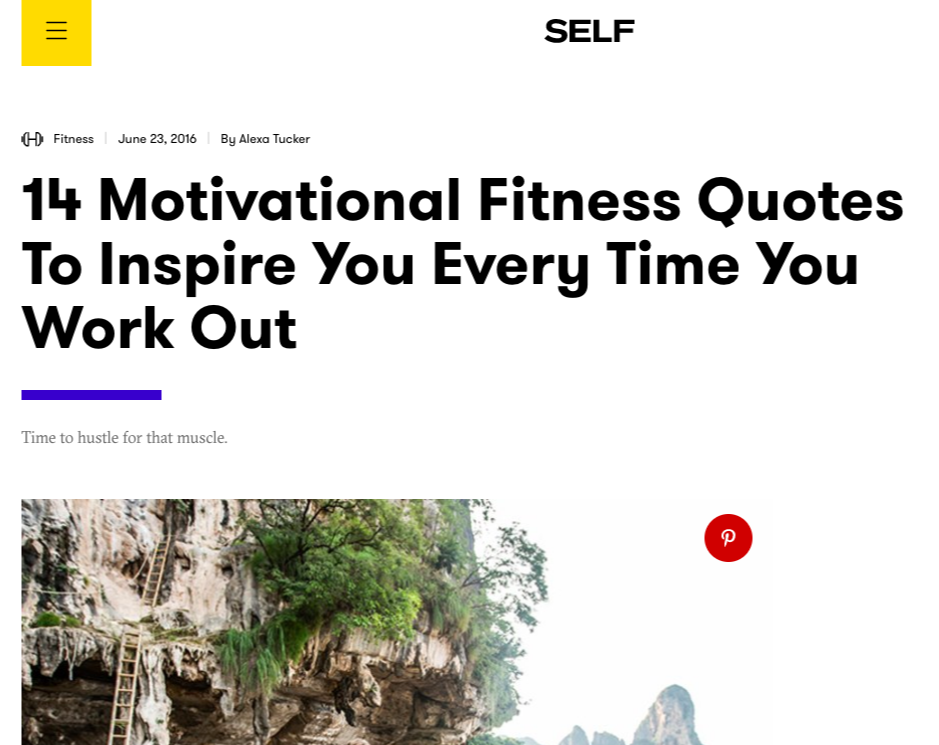 Knowing that, if you take industry quotes (e.g. parenting quotes) to a keyword research tool, you'll see that there's an immense opportunity to cover a content specific to that.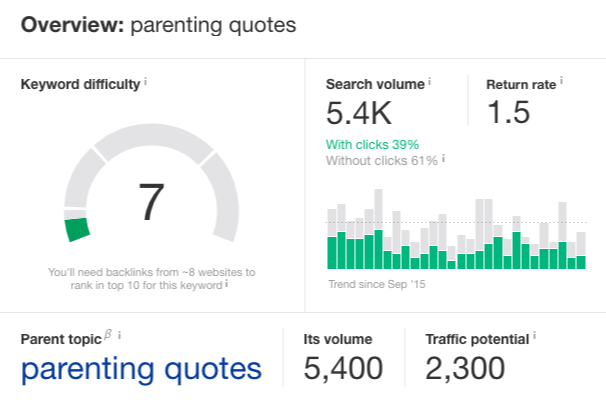 Though most industry quotes that you'll see is just a compilation of all sayings/wordings from different sources or people, there are sure-fire ways to help your content get more visibility and definitely help it rank on search.
Ross Hudgens shared that in a post on ranking for "quotes" keyword:
Aim for the Most Quotes on the SERP – which means if you see 80 quotes, try to aim for 120 or 150 for example.
Make Shareable Images for Some Quotes – shareability is important to get more visibility to the content.
Use Longtail KWs as H2s or Filters – to rank for related keywords, like "parenting a child with disabilities" quotes", you can categorize quotes based on different audience intent.
Add Share CTAs on Individual Quotes – add customized tweet-to-share buttons to individual quotes to increase social shares.
In addition, here are some more actionable tips to maximize quotes content for link building.
First is to include sayings or statements of your industry influencers.
By having them at your blog spotlight, there's a reason for them to share your "quotes" page as you give them exposure upfront.
One way to find their best statements is to check their top-performing/best articles. Get one or two statements they said powerfully (and probably would be found valuable to other people in your industry).
Create an individual graphic just for that. Then, reach out to those influencers and share your content.
Second is to make it part of a big post.
If you're creating a content that you think one quote from your "quotes" page can best fit, make it as part of that content. By doing so and including a link to your "quotes" page, you increase its visiblity – that more people wil visit and check the page.
4. REPOINT SLIDESHARE LINKS TO YOUR WEBSITE
Whether it's a personal brand or corporate profile, if there's a brand ambassador, marketer and industry practitioner in your organization that gets invited to speak to different events, then chances are you'll have a library of slide decks.
You may haven't uploaded them yet on your own website or on public platforms like SlideShare.
But if you do, congrats! Otherwise, there's a missed opportunity there to get links. In fact, in industries where there is a huge demand for expertise information, slides are strong assets for links.
If you have uploaded your slides in Slideshare, track how many links it organically receives. You can semi-automate this process by creating alerts to give you email notications when a link to a specific page has been found.
Ahrefs can help you with this.

You can go deeper by tracking mentions of a popular slide you have uploaded (which you probably have the confidence that it'll get shared massively and earned links based on its initial visibility).
Say, if it has been viewed thousand times without much promotion, you may be expecting it to be seen more organically and if boost it with manual promotion, there's a high chance it can receive some links.
Your next action then is to send emails to publishers who have embedded your slide/s in their content and ask if they could link to your website.
Nudge bloggers with specific anchor text that they may use, i.e., you can state lines like this in your emaill, "You may link to [domain.com] with texts like, via "Brand/Persona".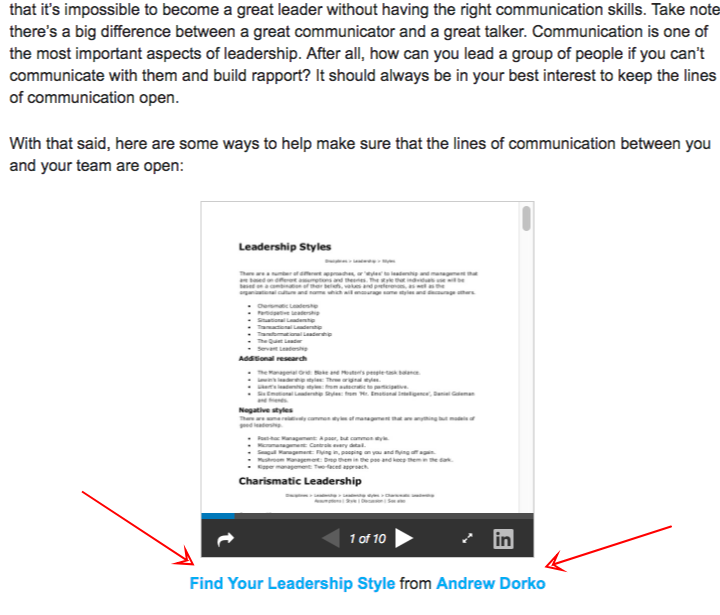 By doing so, you increase your conversion rate, as you remove the commerciality intent of your pitch.
This link building tactic is simple yet undertutilized by link builders for clients with strong speaking portfolio.
Further Reading: The Definitive Guide to Link Reclamation
My fifth image link building tip is connected to the method above.
5. CURATE CONFERENCE SLIDES
One clever way I've seen in company blogs doing to get more site visibiity is publishing a curated list of slide presentations of all the speakers when they have organized an event.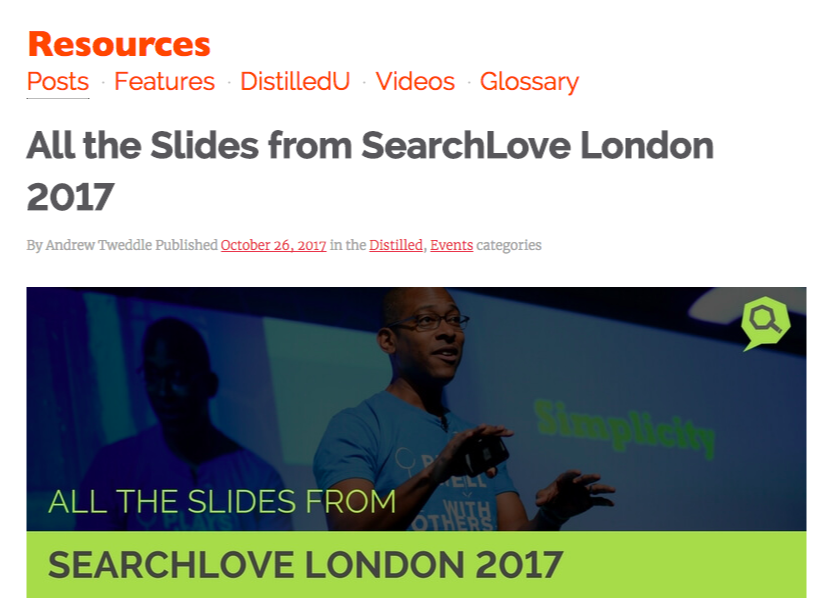 Some SEOs may just look at it as a simple marketing strategy, but it's a crafty newsjacking idea to put a list of visuals that often have high demands for consumption.
How many people have asked speakers this question, "will you upload your slide presentation online?".
There's many of them – attendees who are always looking for speakers' decks.
And if they've found the organizer's blog that puts up a page for those resources, would they not be willing to share or link to it?
The essential here is that you have to be the organizer yourself and been able to publish slides first among every other else (because speakers tend to publish theirs on their own blogs as well).
Besides creating a page that is dedicated to those slides, it's also important to upload those pieces in your Slideshare account to get more organic visiblity (as they have chances to rank for long-tail industry keywords).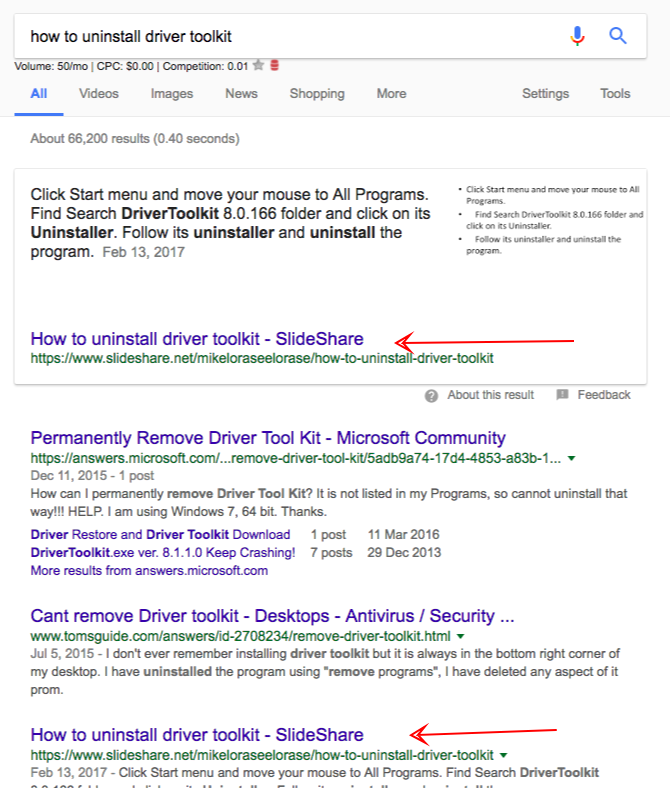 Imagine if there are 3 to 5 slides (just you curating it) has earned links from blogs in your industry. It's 5 or 10 links acquired with just simple method!
Just reaching out to them and reclaiming those links, asking if they can credit you as the source of those visual assets.
6. TRACK MENTIONS OF FLICKR ACCOUNT
Flickr maybe an old platform for people uploading photos online. But it can still be a gateway for links in respective industries where images are heavy-indexed, like travel, lifestyle and home improvement.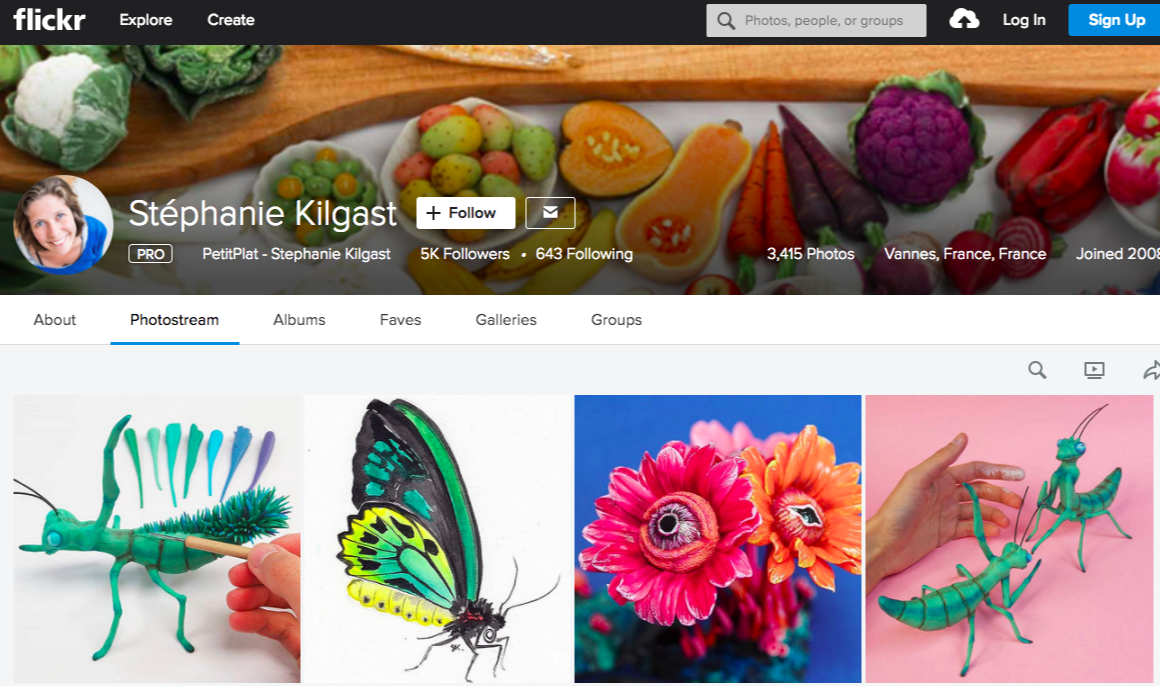 Flickr profiles with customized photos are getting links from time and time – and if you've got one, find out who used your images.
You email the contact person and ask if it is possible not to link to your Flickr profile, but to your direct website itself.
There are strong signs of linking, such in the case with links that have via [Name] or Photo captured by [Name] below the embedded slide deck.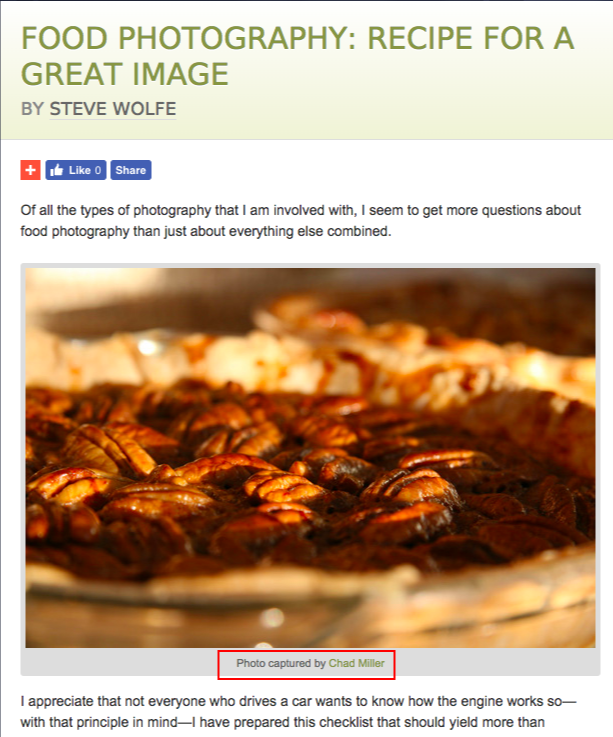 You can insert lines in your email that say, You may provide a source of link in your caption text (via domain.com).
If you got it right, that's a few homepage links you'll never just easily get from other link building methods.
7. RANKING OPPORTUNITIES WITH VISUAL CONTENT USING PINTEREST
When ranking your website in Google, it's imperative to find low-hanging keywords you can easily rank without much due diligence in promotion, especially if you're a relatively new website.
Those keywords are goldmine opportunities that may only require you to put a content that is only 2x better than other pages in search results.
And be mindful that you don't have to create 10x content just to rank. With an average DA of your domain, it's possible to steal those easy organic traffic.
One brilliant tip to find those visual ranking opportunities (h/t to @dan_shure) is with the use of Pinterest.
Pinterest pages rank for keywords you may haven't thought that are relevant to your industry. Some keyphrases even have high link intent, which gives you enough confidence for manual outreach.
How to start this content creation approach?
Put Pinterest into semrush.com. (I prefer SEMRush than Ahrefs when filtering millions of organic keywords straight on the platform without exporting CSV files).

Your next step is to filter keywords by your topic + "ideas" or "images".

Then filter again with keyword difficulty.
Do this method every month to find newly suggested or searched keywords and you'll have endless visual keyword opportunities you can rank content with.
For example, "backyard fence ideas" keyword has Pinterest pages with good link intent (20+ average linking root domains).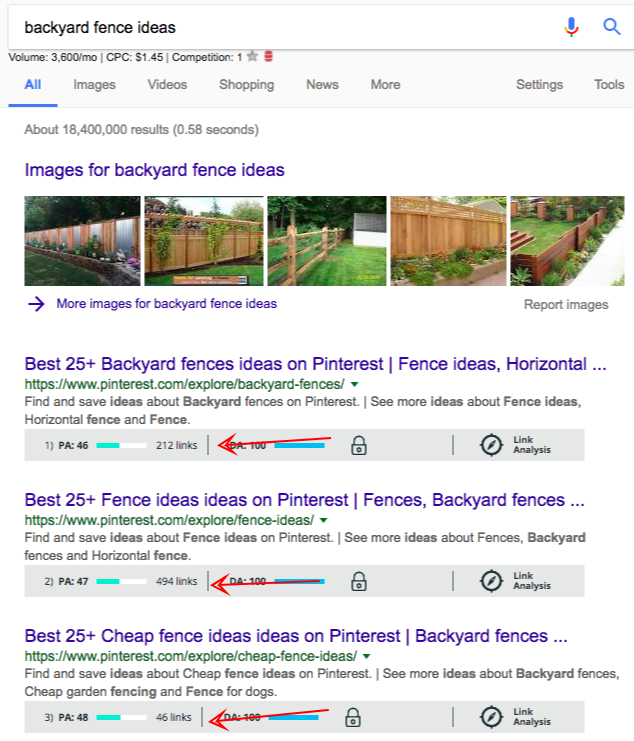 That keyword opportunity alike, given in your respective industry, is something you can grab and create 2x content with it which passively helps you earn links when you rank.
8. REVERSE ENGINEER IMAGE SITE LINKS
Image links, for some of you who don't know, are links pointing to your site not with the use of an anchor text, but with an image.
Image links are acquired from different approaches. Here are some common examples:
Image directories 

Loyalty cards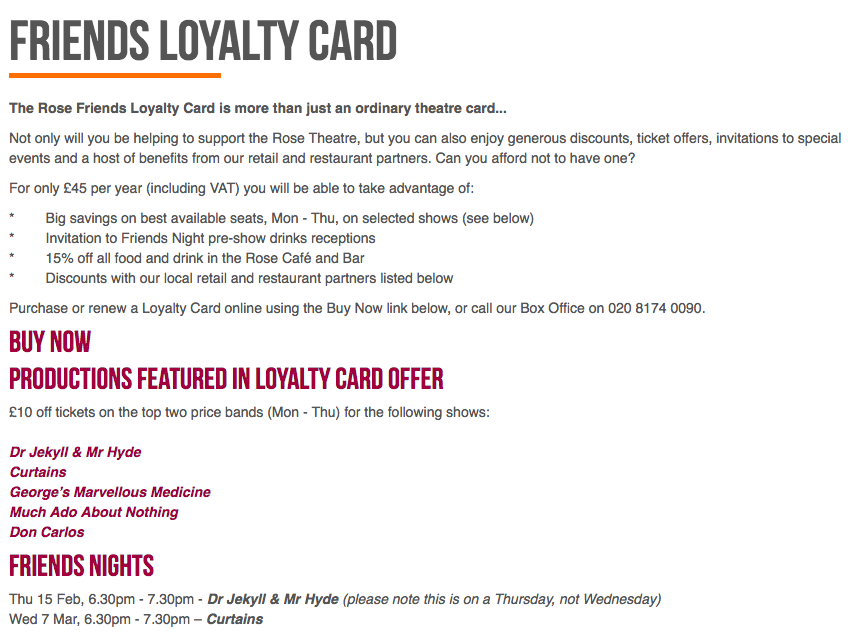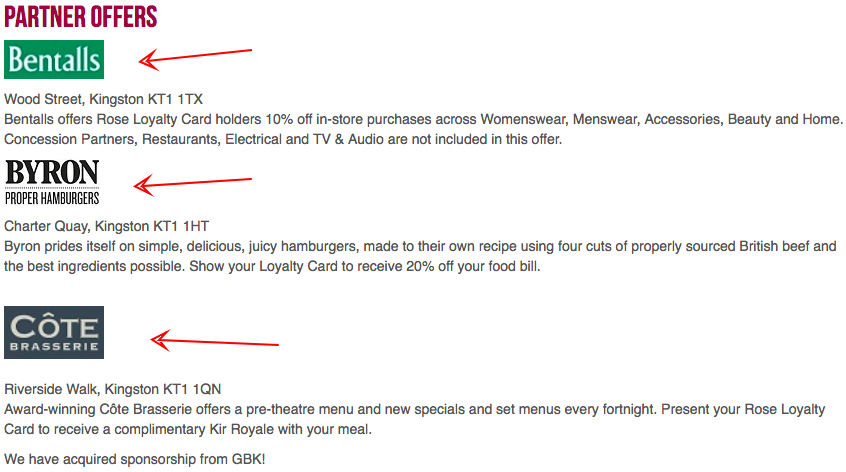 Partnerships or Sponsors
Example link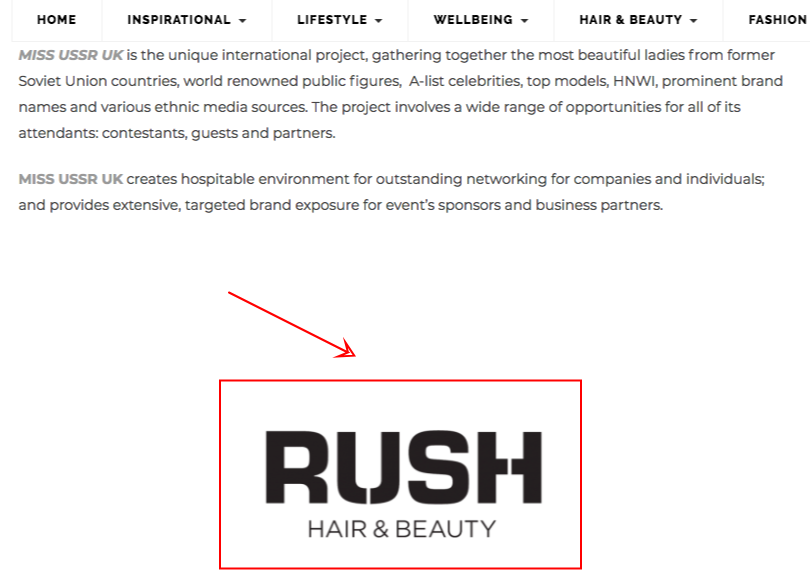 –
Professional Organization Links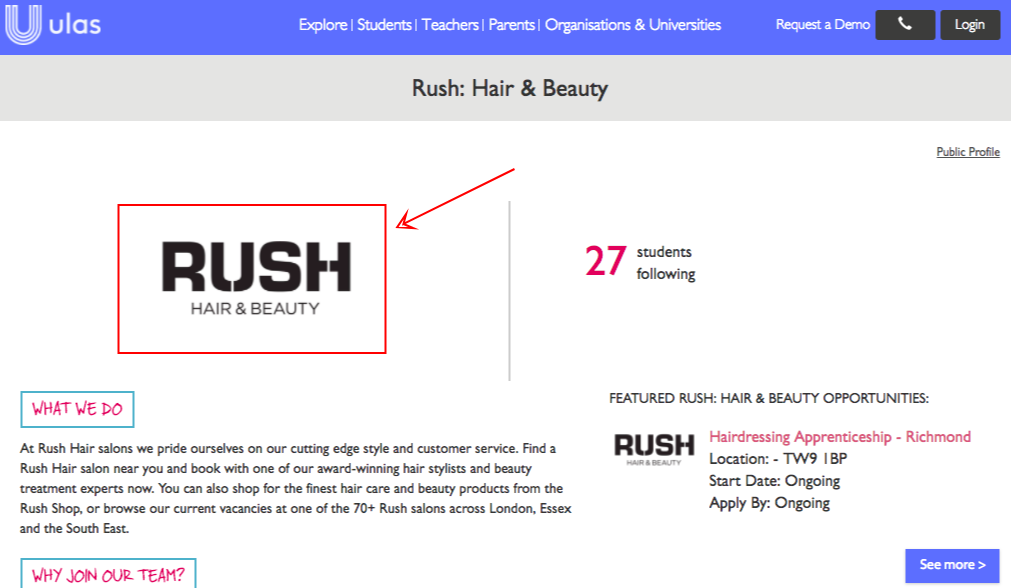 As you can see, these are legitimate links, that are mostly executed from a traditional partnership perspetive, i.e. the case with professional organization. You join a partner group and they give you link from their partners/association page.
In most cases, these links are hard to get by just doing outreach, and requesting for a link.
You don't do that. for sure. These are gold mines. You think and plan how to acquire the link properly.
But with good approach and if your brand permits you to sponsor/partner/join or even create a loyalty card for customers, it's not only a branding opportunity. But along the way, you can create image links.
How did it started?
Put up a competitor's domain to a link prospecting tool.

Go to its Backlinks profile and export a backlink report (CSV).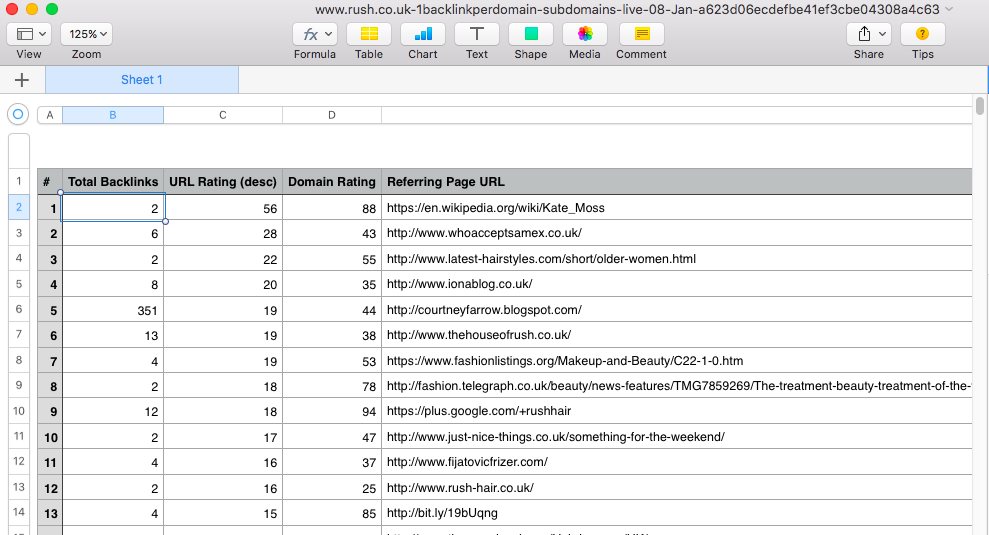 Filter the list with words containting "Image" to only find image links, either do-follow or un-follow.

Search through potential link opportunities. Understand how your competitor acquired links. Some may take manual outreach, others may take weeks to partner for a program. But there are a few that only requires to create a profile and upload images, just like this one.

9. IMAGE SHARE WITH OTHER WEBSITES
Honestly, not all image link building tactics can best fit for your website.
But if there's one tip that is very simple to do to build links through images is you approach publishers and give them permission to use any of your visuals.
By giving them permission, you provide value upront that sets you apart from other link pitches, that say, "give me a link".
Jason Acidre established a solid image link building strategy of creating a private gallery/library of images and cinemegraphs and offering it to bloggers in exchange of links.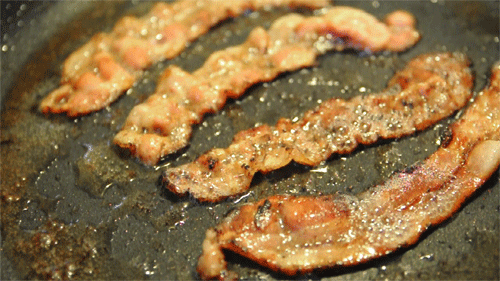 With more bloggers caring more about the design of their content, they'll likely perceive your pitch as highly valuable, especially if it's given for them intentionally and for free.
If you don't have the time or inclination to do them, you should probably find someone who can. Learn more about our link building services.
Hear about new posts as they happen. Build extraordinary links.