Link building can be tough especially if the same process that you used to get links for a website yield the same undesired results. Knowing how to get high quality backlinks strategically could help you change the outcome of your link building campaign. This type of strategic link building campaign is often termed as, tactical link building.
There is no hidden gem in this kind of campaign but the only difference of this campaign to other campaigns is that it is adaptive to what the industry needs. The truth is, there is no one link building campaign that fits all sizes of companies and all types of industries. You could have one standard link building campaign that you implemented to your team to make it easier for them to understand how the system works. But it shouldn't end there, you have to identify your client's needs and make changes to your campaign (mostly you only add things that are useful to the process).
Why Tactical Link Building Campaign Works?
There are several reasons why this type of campaign is useful and effective in today's search. Here are a few of those reasons:
Adaptive to market changes. The market and customers decide the next trend in the industry. If the campaign can adapt to that trend, it would be easy for it to achieve both the short-term and long-term goals of the brand.
One good example of this is the penetration of small non-profit clubs and organizations in the virtual world. These institutions only earn income through sponsorships and/or material donations which most link builders took advantage by giving monetary value or branded products in exchange of links.
Those tactics are small yet effective in today's link building scene.
Strategic link building requires a bit of creativity to create tactics that are not yet familiar to many but are soon to be known in the industry. Being the first one to showcase it would increase the chances of earning natural links beforehand since most people are fond of linking to new content/tactic/concept.
Targets the "ego" factor of the target audience. Search engines always want to provide the best result to their users. The same view should be adapted by brands every time they market their offerings to their customers.
Visual asset is now the trending type of content these days given that there's an ego factor to share/link to an image that is creatively done by a brand. Interactive visual assets are also, soon to rise (not sure if it will outweigh the number of infographics online) but because of its ego factor to engage with the users, it becomes more useful and informative to the readers (we're visual beings, remember?).
How to Get Backlinks Using 3 Tactical Link Building Campaigns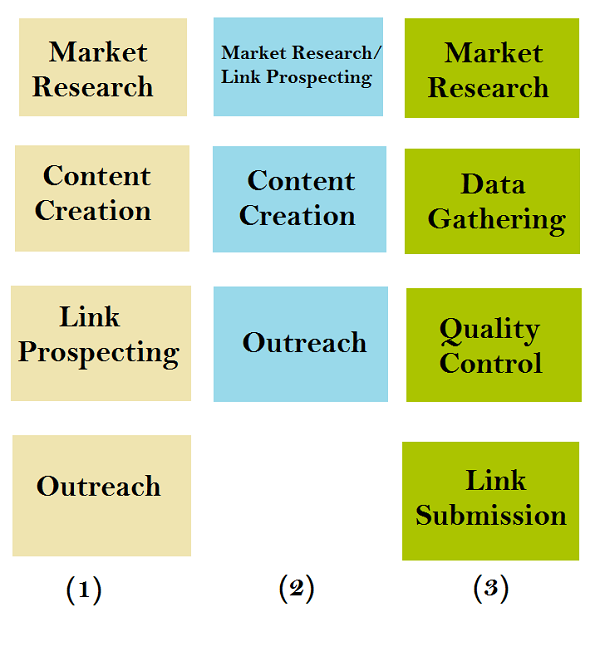 The first campaign is the most common of the three tactical link building campaigns. The reason is that people usually want to create good content before reaching out to webmasters and ask for a link/share/mention. Because content is king and if the content is useful to the target audience, this first type of campaign works effectively in getting links for the site/brand.
The only difference of the first campaign with the second one is that link prospecting replaces content creation in the succession. You may want to see first the possible link targets of your campaign and identify which type of content works before creating your own content. The advantage of using this is that you already have a list of link targets even at the start of the campaign which you can already start building relationships with them. And as soon as you're working in the last activity (outreach), you can gain better response rates since connections are already built with webmasters.
The last campaign works in the first week of link building since it is easier to submit links to submission-based websites than conversing with people to get a link (which can take you two to four weeks to have that link). This campaign should not be done in a monthly basis (in my opinion) unless you have a comprehensive resource (pdf, infographic, etc..) that you created for your site.
Also, it is not good to submit to thousands of submission –based websites to get quick backlinks to your site. You can just have 15-20 web directories and 10-20 content-submission sites (uploading sites)… in your list (don't allow the whole portion of your backlink profile to consist of links from web directories).
I've covered some of the activities in the above campaigns in my previous posts: content creation and link prospecting using free SEO tools. But I will still give takeaways from my previous posts.
Let's get started…
Market Research
Understanding your customers' wants and needs allows you to create a robust link building campaign since you're placing your customers as your highest priority. There are several tools that you can use to get an overall view of your industry's market system. I listed below the best tools that you can start using for your campaign (no bias and affiliate links here).
Google Alerts, Talkwalker Alerts and Twillert. These are alert tools that can help you track conversations/trends/activities of your target audience. By automating alerts for your target keywords and top industry terms, you'll be able to know which content gets the most value (links/shares) and how these types of content are optimized for search.
SEMRush and Google Keyword Planner. These are easy-to-use tools to search for keywords that have high traffic (search volume) and are potential to convert visitors into customers. SEMRush is good at identifying keywords that your competitors are optimizing or searchers are using to discover your competitors' websites.
Ahrefs and OSE. Analyzing what types of links your main competitors are building to their websites gives you an idea on what tactics work best in your industry (tactics that should not be against with Google Webmaster's Guidelines).
Content Creation
I delve into this phase in my previous post about content creation and development. You may want to check out that one to get several tips about content marketing. But here are some key takeaways from the post:
Use trend tracking tools like Google Trends to see which keyword has the highest search traffic for current and future time periods.
Repurposing other people's content and making it more useful and comprehensive is one good strategy to consider when creating content.
Using your competitors' backlink profiles could you give an idea which keywords work best for organic traffic.
Aside from keyword research tools, use informational pages like FAQs to see terms related to your target keyword that may not be targeting by your main competitors in their link building strategy.
If you are using the second type of link building campaign, you may always want to consider linkable assets that managed to get several links/shares in the past. This would help you see which type of content has a potential to get high quality links for your brand in the long run (infographic, interactive content, resource page, etc..)
Additional Tips for Content Creation
Connect with your clients' staff members (if it is possible). They can suggest new content ideas since they know the industry better than you. Ask them if they have list of satisfied customers (those who used their product, contact them through email for support problems and the customer's problem had been solved by the support department). This can be turned into a blog post highlighting the problem experienced by the customer and what solution the brand offered to the person.
Product reviews is a good opportunity not only for link building but also for content distribution. By incentivizing bloggers, they might give you awesome reviews about your product (that is different from 500-word product review by other bloggers you see on the web). Use Tomoson to look for bloggers that are interested to write about your offerings.
Improve your client's existing content assets. Not all content assets have been promoted to an extensive level by brands. Some of them are high quality in terms of design and context but had not been pushed to their limits.
Look for those less-promoted content assets and see if you can repurpose them or improve some elements in it to make it work the second time around.
Link Prospecting
Use free SEO tools in link prospecting to make it easier for you to do the task. In this phase, you may only want to have one paid tool and use other tools that are free all the time. This will allow you to allot your money in other link building efforts (outreach, paid tactics, etc..)
Consider the following things when you're looking for a link target:
Ad placement. By simply looking at your link prospect, you already know if that is a good term for your link building campaign. Check out where the ads are placed in the whole site. If all ads are stocked up above the fold, you don't want to consider it as your link target. The reason is that it's weird to see all ads placed in that part of the website which means that the site owner is not focusing too much on the user experience of his site.
Relevancy. This is one of the most important ranking and link prospecting factors. Given that if the linking page is not relevant to what your brand is offering to people, it may not be appropriate to include in your spreadsheet.
Always look for relevancy, use the chunking technique I've shared in my latest guest post at Page One Power to get insights on how you can build a larger list of related link targets.
Obtainability. Do you have the ability to get a link from the page? Let's say the page is a donation/sponsorship page. If the cost of donating to that site does not fits your budget, you may not want to consider it (but it varies if you have a $100 budget set for your sponsorship link building strategy).
Is that a blog post or a resource page? If it is a blog post, it will be difficult for you to let the content publisher update it and get a link from the page even if you contact him for link request. He will just deny your request since blog post cannot be updated in most cases (especially if it was created years ago).
The key here is to look for pages that are linking out to content assets similar to yours.
Level of Acquisition. Getting high quality backlinks for your site may be easy for you if you have a pre-built relationship with your link prospect. No matter how hard it is to get that link, if you have already a connection with the person, relationships will do the linking for you (remember people build links, not the pages themselves).
Always add a column (level of acquisition) in your spreadsheet to help you see which link targets are easy to contact with and get backlinks from them.
There are still some other factors that you have to store in your mind while doing link prospecting in your campaign but the above elements matter most in today's link building (it works for me, hopefully it might work for you). J
Pro Tip: Ask your client if he has a list of persons who are working in the same niche of your client or other verticals that are related to client's niche. This is an easy tactic to get link prospects and a good opportunity given that those targets may have already connected to your brand in the past.
Use LinkClump to work efficiently during link prospecting and other link building activities. The tool saves a lot of your time (trust me!).
Data Gathering
This is somehow similar to link prospecting since you are also listing down websites related to your industry with a list of their metrics (PR, PA/DA). But the only difference is that you are only looking for submission-based websites since it falls under the third type of tactical link building campaign.
With data gathering, it is a must to get the exact page where you will submit the link/content of your brand. Add the "submission form" or "submit your site/link" page in your spreadsheet to make it easier for you to submit the link once you're done with data gathering.
Here are some tweaks when finding submission-based websites:
If it is possible, look only for websites that have featured content and/or top contributors section in the homepage. Though it will not double the linking opportunity that you want for the site, it is best to consider this since you'll be receiving referred traffic once your submitted content is featured on the homepage. The moment repeating visitors of the site landed on the homepage, they will see your featured content, click the link and visit your site. Always add your homepage link or the main source of the content to let people see your brand/site).
Avoid including submission-based pages that link out to other websites using keyword-rich anchor texts. It would be better if the page use branded terms or naked URLs of websites for external linking so you don't have to worry over optimization of your anchor texts.
The simpler the details of submission-page websites that you have (i.e. only contact details and submission form pages), the easier it will be for you to organize the list.
Quality Control
It is one of the most forgotten parts in link building. Without ensuring that the links that you get from the link prospecting phase are of high quality, you are almost wasting your time reaching out to webmasters of those low-quality link targets.
Quality control simply means, reviewing your list of link prospects. By reviewing your list of link prospects, you can filter out websites that are low quality and irrelevant to your brand (which had been overlooked by your link acquisition specialist).
Two things that you must not forget about in quality control: Relevancy and Obtainability
Outreach
It is important that you already have a complete list of details for your link targets (email of the contact person, his/her first name, level of acquisition and listed broken links if you're building links from resource pages). This would make the process easier since you don't need to go back from the start (link prospecting) to search for important details of the link target.
You know that you have to create a personalized email template during outreach. But oftentimes, those personalized pitches lack creativity that makes the whole outreach activity receive lower response rate.
Here are some creative tips that you can apply for your outreach activity:
Incentivize your link target. You will not pay him to get a link from his blogroll (or other sitewide links) but you will give him a reason to accept your link request (e.g. guest post and other valuable link opportunities). You can give him a free version of your product not to get a product review but for you to write a guest post for his blog. He will not deny the request since you will give him two valuable things: free content (guest post) and a discounted/free product.
Buy aged domain. If you've come across with aged domains, you may want to pitch the site owner and ask him if you can buy the whole website instead of paying him to get a link from his sponsorship page. The reason you want to buy the whole domain is that you'll be able to have a control over that website and you can improve its content to get some links and pass the link value to your site (tier link building).
Include the number of words in your email pitches (when you do guest blogging). Webmasters are more likely to respond to someone who has the ability to pass over his guest blogging guidelines and exceed his expectation towards the guest post that was contributed to him.
Citing the number of words of your guest post in your email pitch and adding a brief description on what you will cover in your guest post helps your outreach to gain positive responses.
Use industry terms to replace SEO phrases. Instead of putting the word, link, you may want to use mention. Also, I used the phrase, New Content for [Site Name] as my subject line instead of the common phrase, Guest Post for [Site Name]. I've tested this out and found that people are more likely to respond when you use the phrase, New Content for [Site Name] since most of them are always seeing the phrase, guest post in the subject lines of emails sent to them (which makes them less likely to respond to those bloggers).
Given that people are bombarded with guest post pitches (and other common best practices), you have to be creative in putting details/phrases to your email pitch. It's not enough to personalize your email, you have to be creative to standout from the crowd.
Arrange the activities above to align to your chosen tactical link building campaign.
Bonus: Quick Winning Tips to Get High Quality Backlinks!
Learning how to get links with quick and effective tactics can help your content earn links in a short period of time. Here's how you can get high quality links:
Massive Round-Up Posts. I've tested this recently and got a decent amount of links using this quick tactic.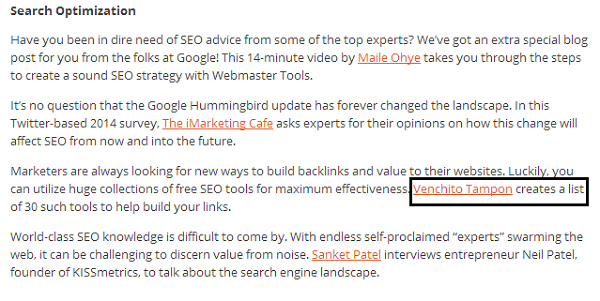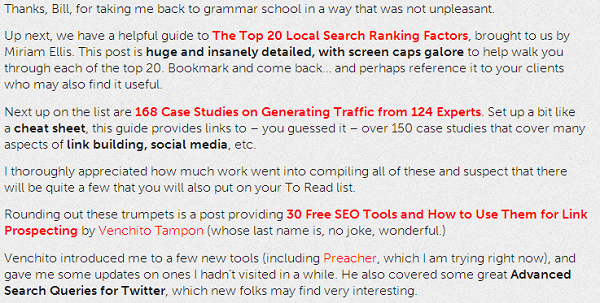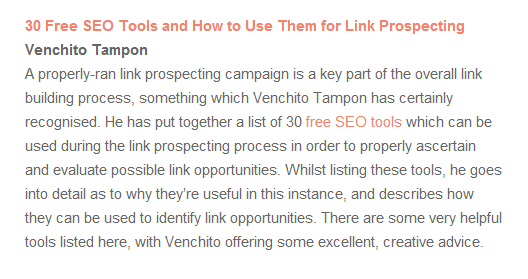 And a few other links…
The good thing with this tactic is that you're able to blast your content to your target audience and let them remember you as a brand since you enable yourself to be seen everywhere in consecutive days (especially if those websites that you target are authoritative and have strong social and blog followers).
Use the advanced search query: round up post OR weekly round up to find  websites that offer round-up posts. Make sure you've done some research about which type of content they always linking out so you can have a chance to get links from them.
Extreme Guest Posting. You can have a one-week guest posting tactic for your link building campaign to get the extreme exposure that you want for your brand. The main key in this tactic is to set the momentum for your content distribution. You will not write low-quality guest posts and submit them to various article directories. But you can set time (three to four days) to write awesome posts that people can remember you because you've given some takeaways in your posts (and a few unexpected hooks!).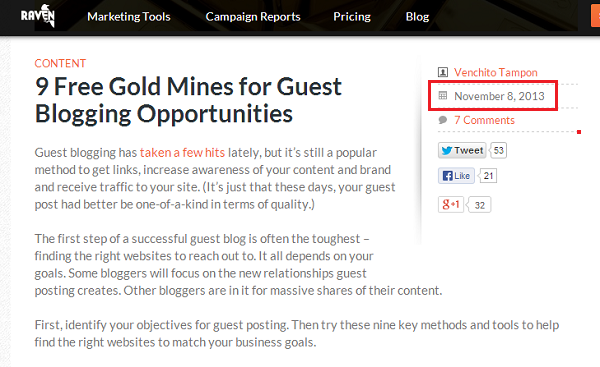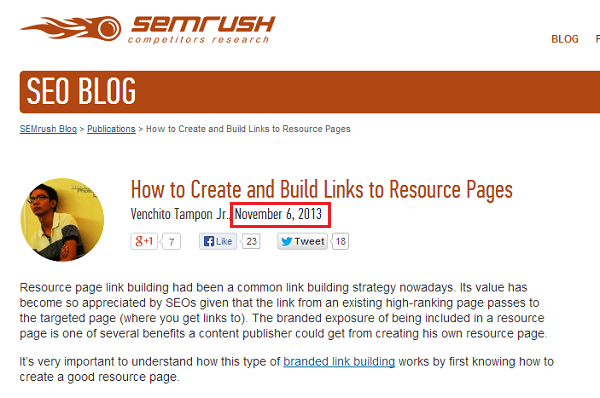 What I did is to chop sections in my previous posts and turn them into expanded guest posts. I added my takeaways and a few hooks to those guest posts to get the attention of my target audience and bring referred traffic back to my site.
Did you enjoy reading this post?
 If you liked this post, kindly share it to your circles/networks, subscribe to my feed or follow me on twitter @venchito14.
Hear about new posts as they happen. Build extraordinary links.