Implementing your first month's link building campaign is one of the critical points in link building given that you need to prove to your client that you are able to acquire decent amount of high-value links to his site even if you don't have any background/knowledge about the industry he is working in.
This link builder's problem can be solved by preparing an easy link building spreadsheet of websites/blogs where links can be easily acquired through:
Submission of homepage link and/or content (e.g. whitepapers, videos, etc..)
Creation of user profile and uploading client's existing content pieces (completing the needed information will reduce the chances of possible removal of the profiles).
Preparation is better than nothing. If you don't have any before-hand link building tactics, it will be difficult for you to land some powerful links in the first month of your link building campaign.
This easy link building will give you more time to create link bait content pieces and perform some outreach which both requires several hours to execute properly.
Below are eight easy link building techniques that you can apply for your client's website to get powerful backlinks.
1.     Content Conversion
Find existing content pieces of your client that had proven to earn valuable links in the past. You can use the following methods to find them:
Do a Google search with this query: site:domain.com. The first 10 results (aside from the homepage link) are probably the best pages of the site.
Use link analysis tools like Ahrefs or Cognitive SEO to identify your client's top linkable assets (Ahrefs – Others – Top Pages).
Find the site's most visited pages using Google Analytics (Behavior – Site Content – Landing Pages).
Type in content-based search queries in Google search (site:domain.com + infographic) for infographics and (site:domain.com + filetype:pdf ) for whitepapers and/or case studies.
Convert content pieces to other content formats.
E.g.
Blog posts to pdf/infographic/ebook
PDFs to ebook
As soon as you get these content assets converted, you can now submit them to content sharing sites to build high quality links to your site.
PDF Sharing Sites:
https://www.slideshare.net/login
http://www.gazhoo.com/main.gaz
Infographic Sites:
http://www.bestinfographics.info/
http://www.omginfographics.com/
http://www.bestinfographics.co.uk/
http://www.infographicsarchive.com/
http://www.infographicsshowcase.com/
http://www.pureinfographics.com/
http://www.infographiclove.com/
http://www.info-graphic.co.uk/
40 Brilliant and Complex Topics Explained Perfectly By Infographics
2.     Image Bookmarking Sites
Ask your client if he can provide you branded images (business office, staff members, events, etc..). Use those images for this link building tactic.
You can also add images found in his website like logos, staff members' profile pictures, product images, etc..
Create profiles in the following image bookmarking sites, add a homepage link and upload images:
3.     Audio Sharing Sites
If your client doesn't have any audio pieces or podcasts, you can ask him to create a 3 or 5 minute-audio discussing one specific topic related to his niche (e.g. one easy technique to lose your weight).
You can also convert his existing video content (mp4) to mp3 file format or hire an audio expert from Fiverr to create an audio that you will use for this link building technique.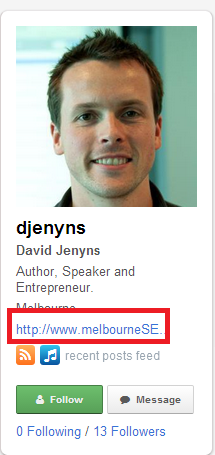 Create profiles in the following audio sharing sites to get some strong links:
http://www.my-audiosharing.com/
4.     Twitter Link Building
Using your social profiles like Twitter to build easy backlinks (aside from social links) is a powerful link acquisition method that you can use for any type of industry.

All you need to do is to sign up as a member of the site, complete your profile and add a link to your website.
Here's a cool list of twitter link building sites:
5.     Ebook directories
Ebooks should not only be used to increase email subscribers but also to add some links to your backlink profile.
You can apply any of the following methods to create your own ebook.
Compile your client's existing blog posts into one solid pdf file. Add an introductory page and create an ebook cover. Hire someone from Fiverr .or Odesk to do the job for you.
Buy PLR articles from PLR Store and PLR Publish. Combine all the articles into one ebook. Add an ebook cover to ensure submission approval from ebook directories.
Submit the finished ebook to the following directories:
6.     Business Profile Sites
This profile creation technique is simple. Sign up to become a member of the site, create a profile for your business and add a link back to your site.
For all types of industries, you can submit your business to the following business profiles sites:
If you want to find niche-specific business listing sites, here are some ways you can apply:
Do a competitive backlink analysis on your competitors' sites. Grab all their backlinks and upload them in a spreadsheet. Use Find option (Ctrl+F) and type in business or company to quickly find business listing sites.
Use this link prospecting tool. Type in your keyword, change the link type to Add or Submit, then click Submit. This will give you a list of link building queries that can help you discover more business-listing sites.
7.     Video Submission Sites
If you client is working in the video production niche, then you can have tons and tons of videos. But if he is in other niches, then you must exert some effort to create cool videos for link building. Here's how:
Outsource video creation to video experts from Odesk or Fiverr ($5 to $10 is a cheap price for one high quality video).
Ask your content marketing team if they can create one branded video for your client ($5/$10 is savings!).
When you already have videos, you can now start to create profiles for the following websites and upload your videos.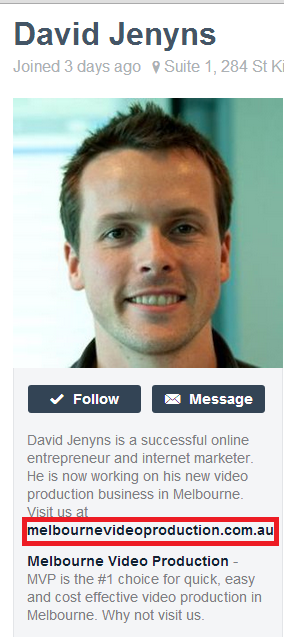 8.     Geographic Based Listing Sites
Local listings are best to get some quick wins in link building given that the same link building strategy above can be applied here.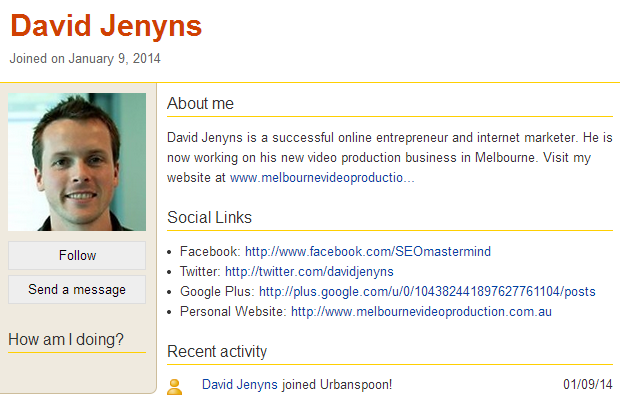 Location-based listing sites can be found by doing a Google search with this query: "location" "submit your business" OR "add your company" OR "sign up".
Filter out the results by removing low quality websites (based on your preferred metrics) and user-generated and profile sites that don't allow links in the profile.
Here are some listing sites in US that you can take advantage for easy link building:
Bonus Link Building Tools!
Link Prospecting Query Builder + Simple SERP Scraper = Faster Targeted Link Prospecting
Finding link opportunities is a time consuming task. If you know someone who can help you manually discover link targets, then that would be great. But if there's no one here to help you, you need to do it on your own.
This is probably the main reason why Gareth Brown created these two link building tools:  link prospecting query builder and Simple SERP Scraper.
The first tool can ease your process of finding search queries that are best suited to your link building campaigns.
For instance, you want to find guest blogs that are related to your industry. All you need to do is to type in your keyword (e.g. weight loss ).
Add a query suffix (e.g. –site:wordpress,com) to remove any undesired type of links/pages.
Select the number of results to 100 (if you want 100 guest blog prospects) and then choose Guest Blogging as your link type.
Click the Submit button!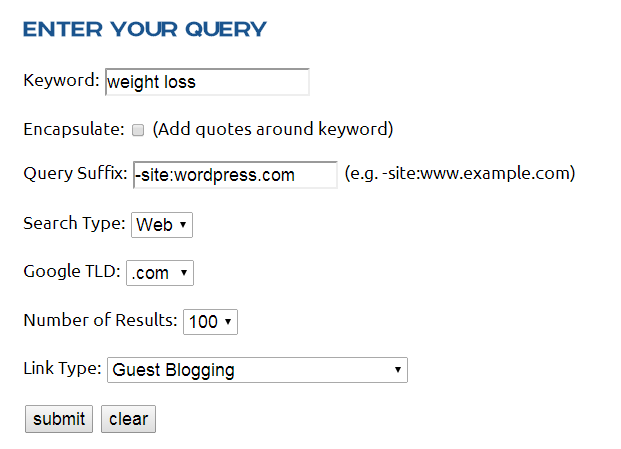 It will now give you a list of link building queries that you can use to find potential link targets.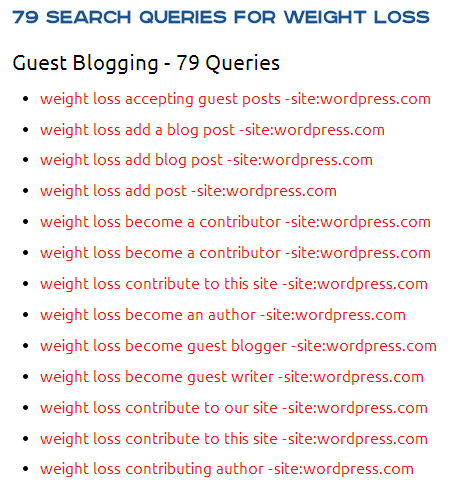 To continue with the link prospecting process, you might need the link scraper to pull the backlink page factors of the links (PR, DA, Citation Flow – Majestic SEO, etc..)
Note: You need to download the link scraper tool and install it on your computer (you can follow this simple guide on how to use the tool).
Now, copy the link building queries you've found using the first link prospector tool and paste it in the simple serp scraper.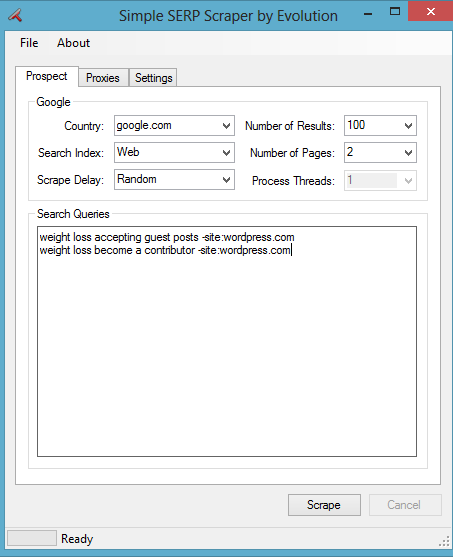 Add your Majestic SEO and MozScape APIs in the Settings tab to fetch your desired link metrics.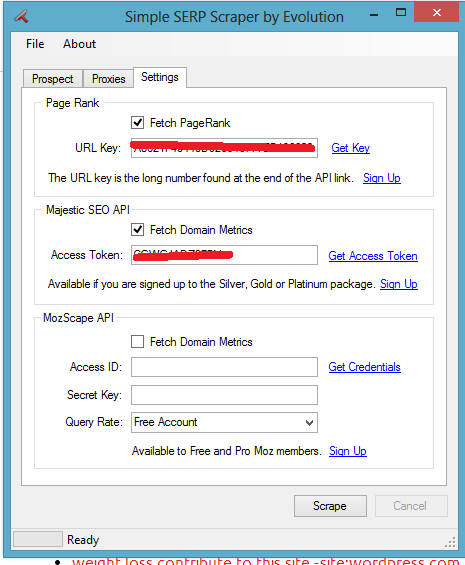 Click the Scrape button, type in the File Name then click Save.
Wait for a few minutes and you now have a list of link prospects with fetched link metrics.

In finding email addresses, you can check out this new tool – ContactOut.
Further Reading:
Conclusion:
Easy link building boils down to discovering link opportunities that are already out there which only requires a simple act (submission, completion of link profile) to build some easy and high quality backlinks.
Do you know of other easy link building techniques?
If you liked this post, kindly share it to your circles/networks and follow me on twitter @venchito14. If you need help in your link building campaigns, you can contact me here. 
Whenever you're ready…here are 4 ways we can help you grow your client or business through performance-based link building:
Claim your Free Link Building Strategy Session. If you've achieved initial traction from Google, we can help you scale up to record-breaking search traffic and sales faster, claim your FREE Link Building Strategy Session. We'll brainstorm some ideas to increase your search traffic through ROI-driven backlinks, including practical solutions to add more content within the next 90 days.
If you'd like to learn the exact link building strategies we use for free, go to our blog or visit our resources section, where you can download guides, cheatsheets, and templates we use for our most successful clients.
If you know another marketer who'd enjoy reading this page, share it with them via email, Linkedin, Twitter, or Facebook.