I found many content marketers fail in the researching activity of their content strategy because too often, they just rely on this iterative process: keyword research, identifying a topic and setting up to write a 500-word article.
Though the aforementioned activities are obviously essential in content creation, a thorough research about a certain topic is one of the overlooked steps in content marketing. Research, if not carefully done, can result to poor quality content and negative user experience.
Acquiring resources and/or ideas to come up with a concrete concept or main point for the content is a major part in content research. Though this requires human effort, time and creativity, collecting useful resources/references would be a simple task for team members and/or those involve in the content creation (freelance writers, graphic designers, etc..) given that, they can easily get help from each other if there are some parts of the activity that are not clear to them.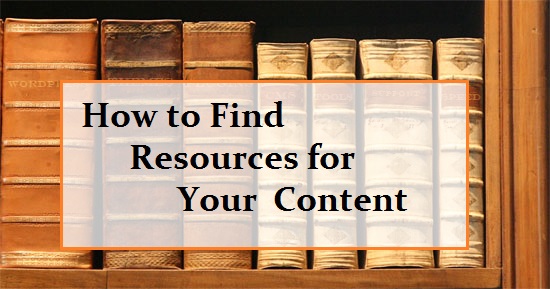 Here are some guidelines that I personally follow when finding resources for my content.
Topical relevance of the resource to the content (e.g. theme).
Contains fresh and unique ideas/concepts (e.g. market trends)
Potentiality to solve industry issues/problems (e.g. how-to's)
I listed down seven ways on how you can find valuable and relevant resources for your content.
1. Industry Guides
This is my first in the list, seeing industry guides are one of the best sources to find insights for your content because most brands/sites have already done extensive research to create this type of content piece, which in my opinion can give credibility to your content.
One thing that I also love with industry guides is that you can get insights of what form of content you can create for your own site. For instance, I found this "100 Content Marketing Examples" by CMI where they managed to collect great examples of branded content and created one solid industry guide. Though at first glance, you'll not see bullet points that would tell you how to create each content piece. But by taking time to read at least five of the examples, you'll have an idea that insightful answers from top brand owners would make your content piece credible in the eyes of your targeted audience. (This brought me into an idea of creating my first group interview – The 33 Creative Ideas from Content Creators.
How to find industry guides?
Doing a Google search will give you a list of industry guides that you can start reading and get data from them.
Use the following queries:
filetype:pdf + "your keyword"
filetype:ppt + "you keyword"
filetype:xls + "your keyword"
top industry guides + "your keyword"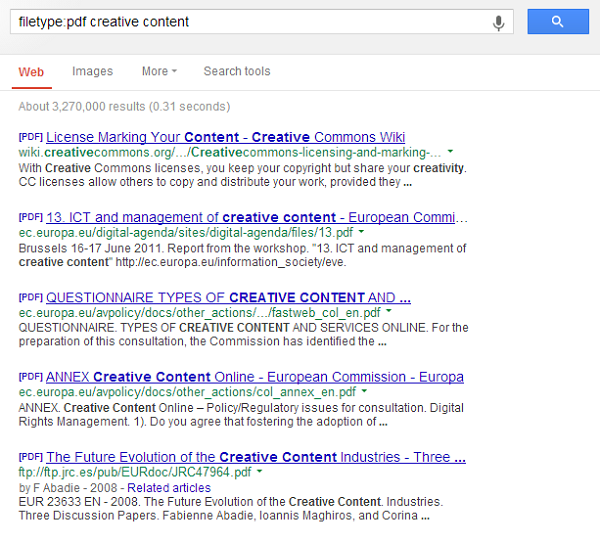 2. .Edu libraries
Academic studies/research can be found on online libraries. By typing this search query (inurl:.edu + "libraries" + "your keyword"), you'll find educational websites that have online libraries where studies by professors, students and by those persons involved in the community, can be seen.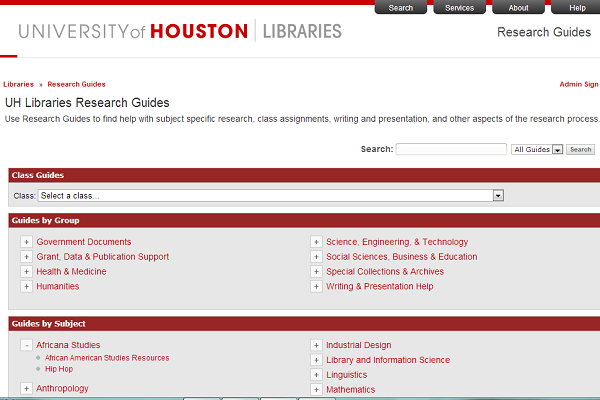 3. Community Discussions
Not all resources need to be in good formats (PDFs, PPTs), some are just texts (sentence/paragraph) which are insights from experts who participate in comment sections of popular blogs or community threads (e.g. forums).
Let's first try the comment section.
Comment sections
If you have a list of authority sites in mind that have decent amount of comments in their blog posts, you can use them to find resources for your content.
You can use this search query: site:domain + intext:http://www + "your keyword" to find pages where your keyword is mentioned. With the intext query (intext:http://www), there are two types of pages that will come up in the search results:
Pages where the author cited URLs (his own content or other site's content) which he thinks are relevant to the topic.
Pages where a person comments and include URLs of pages which he thinks can add value to the discussion.
The URLs in the second type of page are resources listed by active bloggers in the community of the website you typed in.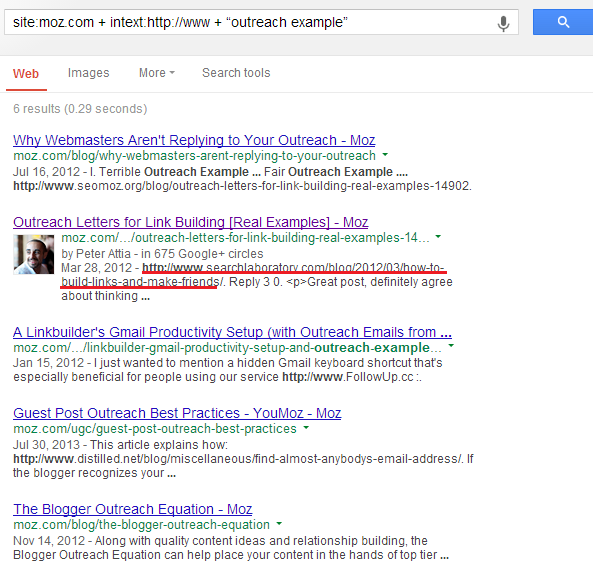 Here are the comments in one blog post written by Peter Attia.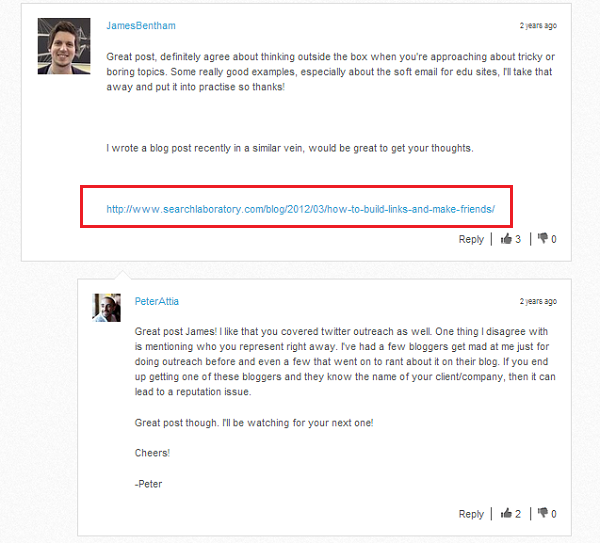 There are people who are active in contributing insights in the comment sections of popular blogs. A good example of a blogger who enjoys leaving comments on authority blogs like Moz is Gianluca Florelli. One thing that I admire him is he actually put resources in his comments by adding URLs.
I know that there's someone in your industry who is so active in blog commenting like Gianluca. You should only find that person.
Anyway, if you want to find URLs listed by an active blogger, add his/her name in the search query I mentioned above.
site:moz.com + intext:http://www. + "gianluca"
Knowing the active people in your industry will help you in your content research given that they're not only adding comments but also including resources which can be relevant and valuable to the content you're researching for.
Forum Threads
Using search queries like inurl:/forums+ "your keyword" will give you a list of pages with plain forum threads (threads where you can't get much value from). By adding some commonly-used words like "advices" can yield to better results.
Use this query: inurl:/forums OR inurl:/thread + intext:http://www. + advices + "your keyword"
If you're a member of a forum site (e.g. warriorforum.com), you can just type this query in Google search. site:warriorforum.com + intext:http://www. + "your keyword" to find threads where your keyword is mentioned. (Some sites require you to login first before you see the forum thread).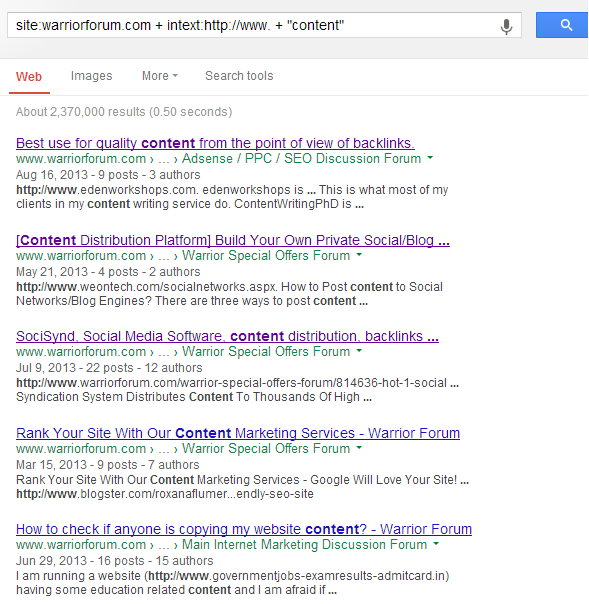 If you're looking for resources for your content related to inbound marketing, why not use Inbound.org as your advantage? There are tons of resources that are shared daily on Inbound.
Discussions are what make the site more valuable than other IM sites given that experts freely give their opinions about a particular topic which can be used as a reference for your content piece.
Look at how Matthew Barby did in his post – Why Local Businesses Don't Need Big Budgets for Their Content Marketing. He mentioned in his post the discussion he started on Inbound.org  where he managed to get insights from experts about the topic, content marketing.
Asking people in your community about a certain issue can be your first initiative to get plenty of content ideas.
These search queries may help you a lot if you're working in the Internet Marketing space:
site:inbound.org + "your keyword" + "?"
site:inbound.org + intext:www + "your keyword" + "?"  (Use this if you want to see discussions that contain URLs on the side).
4. Round-up Posts
There may be at least one person in your industry who do round-up posts on his blog in a regular basis (weekly/monthly). Find that person. You don't even know that he always curate lists of awesome resources.
Do a Google search to find those round-up pages. Use the following search queries:
"weekly round-up" + "your keyword"
"round-up" + "your keyword"
"mash-up" + "your keyword"
5. Social
I bet you know this technique, but there are still some secrets that I want to share with you about finding resources using social networks that you may or may not know about.
Facebook
Brands that have online accounts like Facebook share two types of content: their own content and others' content. Use this as you own advantage to get resources from those brands.
Like their page. If you are active on your Facebook account, you can see their posts on their wall. Include those posts in your list of resources.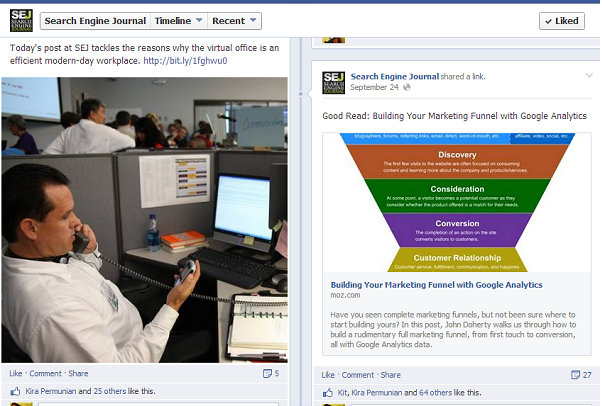 Have you tried using Facebook notes for any of your content strategy? There are some Facebook notes that are insightful; you just have to pick the best ones.
Use this search queries to find those notes:
inurl:facebook.com/notes +  "your keyword"
inurl:facebook.com/notes + "how to" + "your keyword"
Twitter
Twitter search is one of my coolest techniques to find recent and awesome picks of content. I type each of the following search term to find content resources:
"awesome post" "your keyword"
"nice post" "your keyword"
"solid post" "your keyword"
"good read" "your keyword"
"thanks for sharing" "your keyword"
You'll notice that I include in the keyword expressions that are most commonly added  by people when they tweet someone's content. Influencers always do that. They add a short phrase that explains how they appreciate the content.
Tweets about "good read linkbuilding"
6. Slide Presentations
Oftentimes, industry influencers repurpose their article to a slide presentation where people can easily grasp every thought that they're telling to their audience. This can be a big help for you especially if you want to gain knowledge from an influencer who talked in a conference in which you did not participate in (due to location conflict, low budget and other reasons…)
Slideshare is my top priority when looking for awesome slide presentations. When I search for a term, I filter the results by changing the time frame based on the content that I'm researching about. If the content is timely and it needs an updated resource, you can adjust your results by the filter option (Last 7days)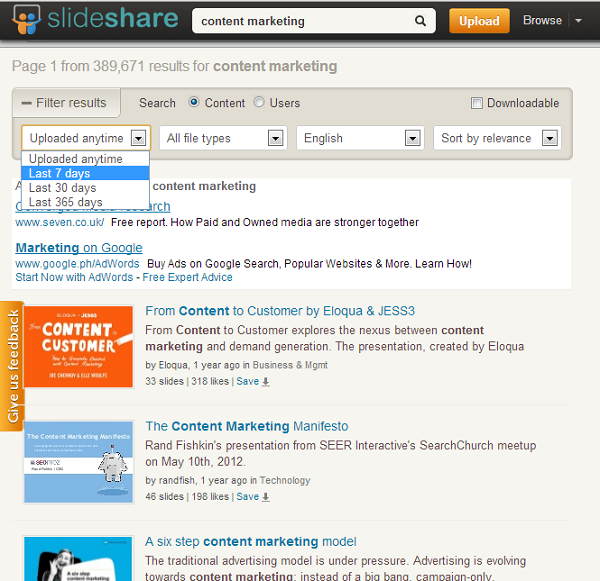 The good thing with Slideshare is you can directly save the presentation by clicking its "Save" button. This can help you collect enough resources for your future content without going back over and over again to your first research.
Be on the radar of those influencers whom you think can present topics with branding. Follow them on their social accounts and let them know that their content piece is one of your resources (tip for relationship building).
This leads us to our last method of finding resources..
7. Tips/Insights from Influencers
One of the key techniques to make your content credible and epic is getting insights from industry experts. They in this case, can become your brand advocates if you've setup relationship with them at the start of your marketing campaign.
The first key point that I'd like to emphasize is relationship building. This matters in every aspect of content marketing including content research. It's easy to get answers to a question you've sent to an expert who knows you already than sending a cold email to a stranger. This will make your research easier and faster than the usual.
Note: Give attribution to the person you get an answer from.
Let's move on..
How I get resources from industry experts?
Interviews. Search in Google the name of an industry expert. You'll see interviews where he participated in and most of the time, they share their best secrets during their interviews – gold! You can also type in this query: "interview with" + "Name" to find more interviews.
Subscribe to their blogs. If they write epic posts, you surely want to get resources from them. Add their blogs on Feedly so you can track if they release a new content piece on their sites.
Follow them on Twitter. Influencers are active on this social platform. If they've read a good content, they immediately share it on Twitter. Making a list of top influencers can help you track their behavior and easily see what type of content they share in public.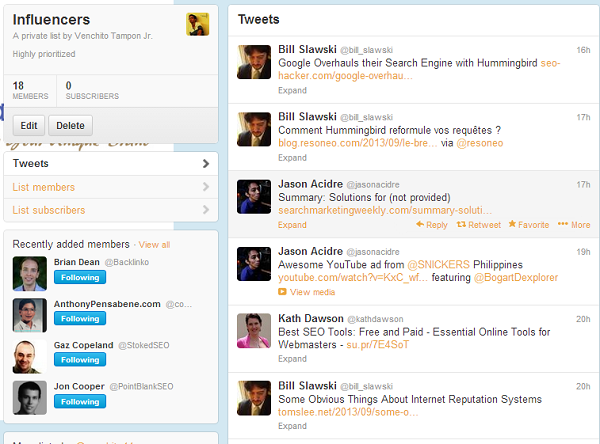 If you still don't have a list of influencers, start with using Followerwonk. Use your niche as a keyword and sort the results by social authority (you want influencers who have strong social following so they can help you promote your content).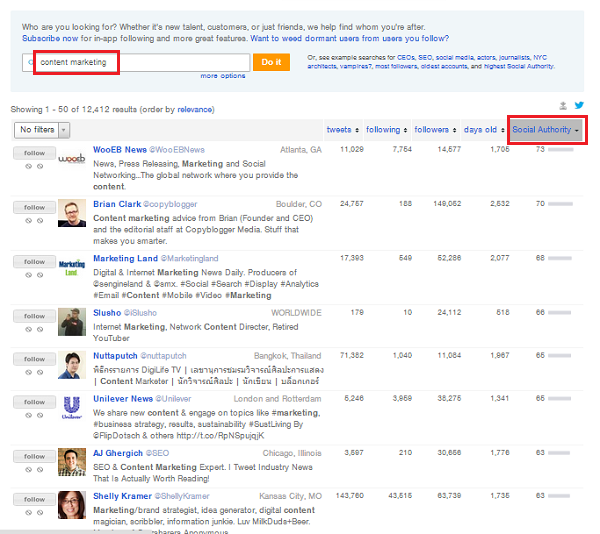 Guest Posts. I believed influencers don't write low quality guest posts. Even if they're not writing for their own blogs, they give effort to create unique posts for someone's blog which are also worthy of being shared and linked to same with their own posts.
Use this search query to find your influencers' guest posts: inpostauthor:Name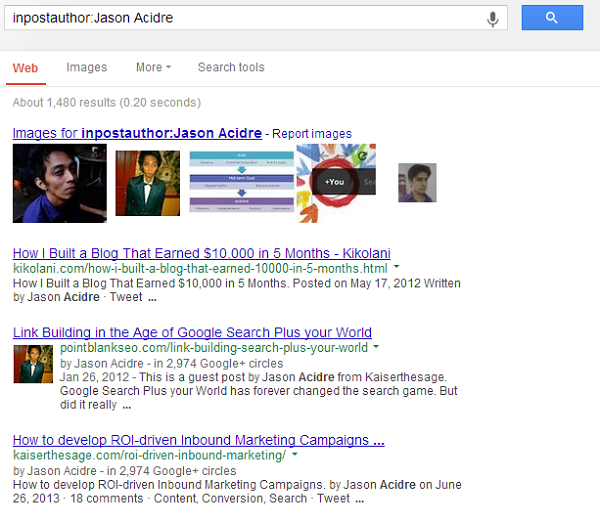 Or try Allmytweets to find all your influencer's tweets. The advantage of using this is that you can track all their guest posts given that they always tweet their content. Some of the articles they contributed to other blogs may not be attributed to them as authors (Google Authorship).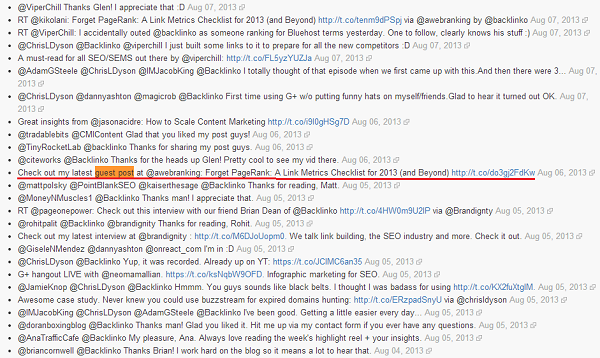 Conclusion:
List of resources is the foundation of your content research. Creating it for your own content doesn't require a huge budget to perform. There are free web resources that everyone like you can access. Some are already mentioned on this post. Try each of them to get tons of resources and create epic content for your site!
 If you liked this post, kindly share it to your circles/networks and follow me on twitter @venchito14.
Whenever you're ready…here are 4 ways we can help you grow your client or business through performance-based link building:
Claim your Free Link Building Strategy Session. If you've achieved initial traction from Google, we can help you scale up to record-breaking search traffic and sales faster, claim your FREE Link Building Strategy Session. We'll brainstorm some ideas to increase your search traffic through ROI-driven backlinks, including practical solutions to add more content within the next 90 days.
If you'd like to learn the exact link building strategies we use for free, go to our blog or visit our resources section, where you can download guides, cheatsheets, and templates we use for our most successful clients.
If you know another marketer who'd enjoy reading this page, share it with them via email, Linkedin, Twitter, or Facebook.