Discovering new and existing link building opportunities for a brand/site could open doors for creativity for link builders which they can use for future content creation and formulating new link building strategies for their campaigns.
Regular initiatives of this task could give rise to other inbound marketing practices such as:
Email partnerships. Asking other bloggers to mention your brand/content in one of their email templates. You can secure a positive response from them by giving something that is valuable.

Social traction. Get more social followers from places where you had your name/content placed (i.e. guest post, mention in crowdsourced/round-up post).

Conversions improvement. Adding more to call to actions on your guest posts, explaining your brand's services/products could possibly attract more customers to your brand which can increase your conversions.
Link building is all about finding opportunities. The more you can find, the likelihood of earning/building links with/without content is higher.
Two Superb Methods for Link Opportunity Discovery
Reverse Engineering
This is the most common method of finding new link opportunities that you may not found during your link prospecting phase (using advanced search queries and commercial keywords to get a list of opportunities).
The usefulness of reverse engineering is still evident in today's search (and will still be useful in the coming days given that the technique is an imitation of the offline marketing practices – consumer research, market analysis and the like activities). You can't the most value from this method without considering these two things:
Relationships of the linked pages / Obtainability. How did the site owner/content publisher earn the link from the page? Identifying this part could help you setup your own link building strategy for categorized link prospects (i.e. guest posts).

Type of content that get links. Which content type works best in attracting links in your industry?
Make sure you've included them in your spreadsheet for your future link building efforts.
Two Ways to Reverse Engineer Your Competitors' Backlinks
Manual
Use Ahrefs, OSE or your other preferred backlink analysis tool to manually check your competitor's backlink profile.
Put the site/content URL in the search links bar.
Check each URL and see if you can replicate each link using your own strategy. Take note again that you must consider the obtainability of the link since it eases the process of outreaching the webmaster when you know that you have a high chance of getting that link.
Bulk
I used Backlinko's backlink profile as my example (and grab it's first 500 backlinks).
Grab the CSV file of your competitor's backlink profile.
Once you have downloaded the excel file, you may now proceed to getting the backlinks' referring domains and their PR values.
But first, you want to insert two columns at the left side of the "URL to" column. Label the columns with "Referring Domains" and "PR".
Next is to get the referring domains of the backlinks by using this Excel function:
=LEFT(G2,FIND("/",G2,8))
Drag down the plus sign until you reached the end of the list.
For PR values, use Neil Bosma's Excel for SEO. Click Google Page Rank in the OffPage menu and type in the Cell that you want to get the PR value.
Drag down the plus sign until you reached the end of the list.
Then use the Pivot option of Excel to create a list of PRs with the number of counts for each PR.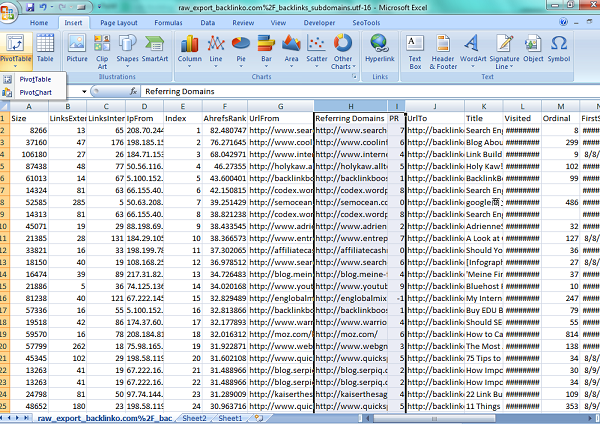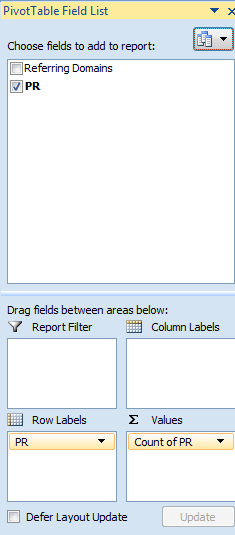 You should now have a table for the PRs together with their number of counts.
Essentially, you must create a visual graph for the Page Rank distribution.
By observing the graph, you are able to see the number of high valued links your competitors are building/earning. If you will go back to your spreadsheet and categorize the links by PR values, you can view the top PR links of your competitors.
This may sound confusing knowing that the referring domains are used to determine the PR values of the links (Youtube is actually the highest-valued link among all – ofcourse, it has high homepage value).
But take note that reverse engineering process doesn't end at finding high-valued links of your competitors, you must be able to analyze the following:
Relationships of the linked pages / Obtainability. Could you do the same strategy your competitors did to get the link? Or think of other techniques to get the same link without even paying the webmaster (unless he has a sponsorship/partners page)?

Type of content that get links. Which content type works best in attracting links in your industry?
With these important considerations in mind, you can customize your link building strategy based on what your site's needs and what other factors you can add to the strategy to make it more effective (i.e. adding incentives to your email templates to yield higher response rates from your link building outreach efforts).
Additional Resources:
Ultimate Guide to Reverse Engineering Your Competitors' Backlinks
Market Finder
Market finder method will help you see opportunities that competitors' backlinks can't show you. It basically goes down to each market-defining keywords that your competitors may not be targeting for their content assets.
Market-defining keywords are not your target keywords but these are the phrases that other sites (thematically related to yours) are using/optimizing for their webpages.
I'll show you how to do it.
Identify your market-defining keywords
First, you need to identify your market-defining keywords by looking for different variations of your target keyword (commercial keyword).
Let me give you an example.
For sports insurance sites, you might have following keywords:
sports insurance
recreation insurance
By doing a Google search and seeing the tor top results for your keywords, you can see MDK in the meta descriptions and meta titles of other content pieces.
When you find their search volume using SEMRush or Google Keyword Planner, you may notice that they're not good to target for your content piece since they do have low traffic volumes.
If this is the case, you can use your MDK for:
Latent semantic indexing. Include MDK on your future content assets to target other related phrase/terms your target audience might be searching for in the future. These keywords will act as synonyms that the search engines will use to identify the relevancy level of your page with the search intent of the users.

Co-citations. Optimize your content distribution efforts by adding MDK as co-citations.
Ways to take advantage of co-citations are the following:
* Group interviews where you have control over the words that you use. Include your MDK as co-citations for your contribution.
*  Guest posts. Add your MDK to reference your brand/product (a good way not to be salesly with your content).
Look for link opportunity types
I will not go deeper to this section since Garett French already wrote a post about finding opportunity types with tips on quantifying each opportunity.
But here are more tips to find link opportunity types with MDK:
Get more linking opportunities by entering your MDK in the search bar of your competitors' websites. You might be able to see pages in the search results which you can include to your link prospecting sheet and see if you can build links from those pages.

Look for blogs that are targeting your MDK (use this query: "blog" "MDK"). Reverse engineer your founded blogs to see more linking opportunities.

Use free SEO tools to stalk your competitors' content assets and see where they earned links in the past (e.g. using Reverse Image Search to discover blogs that embed their infographics).
There are a lot more ways to discover new link opportunities but the aforementioned methods are enough for link discovery.  Try one method and let me know if it works for you.
If you liked this post, kindly share it to your circles/networks and follow me on twitter @venchito14.