To achieve the best results in content marketing, you must  focus only on two things: strategy and team members. Without these two important marketing arsenals, you cannot leverage any planned campaigns and achieve the level of competence that you want to attain for your organization/brand.
They may be too broad to think of and analyze. But really understanding the ins and outs on how you can effectively create a strategy and pass it onto your team members isn't too difficult to do.
To help us understand this matter, Matthew Barby (today's guest!) would share to us his secrets on how he created a content marketing team from scratch and regularly trains them to become successful content practitioners.
Let's get started.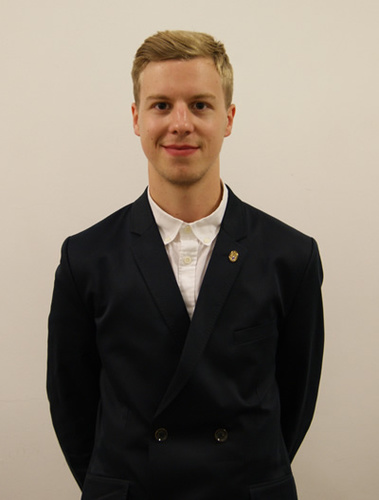 When and how did you learn SEO and content marketing? Who are your influencers?
I started taking an interest in content marketing from a fairly early age. I've been working within digital marketing for over 5 years now and focused my university degree around e-business – my passion lies within creative marketing strategy, primarily via content marketing.
Aside from my academic knowledge, which contrary to popular belief, gave me a good understanding of core marketing principles, I have pretty much self-taught myself (which many people within the industry do). I learnt basic web coding when I was around 11/12 and have been experimenting with it ever since. This evolved into developing an in-depth understanding of technical SEO, alongside the more creative off-page side of things.
One of the first people that I would really look up to as a 'thought-leader' within SEO was AJ Kohn. I've always read his material religiously. As well as AJ, I really loved reading/watching Pete Meyers content.
What specific model/structure you've created for your content marketing team? Can you give us a diagram that explains each operation in the model?
One model that I use to build successful content marketing campaigns with my team is to use my 'content outreach pyramid'. This essentially focuses around building a list of high authority targets to build exposure for your brand and bedding in a content plan focused around getting their attention. This can be great for strategies focused around timely content, for example, newsjacking.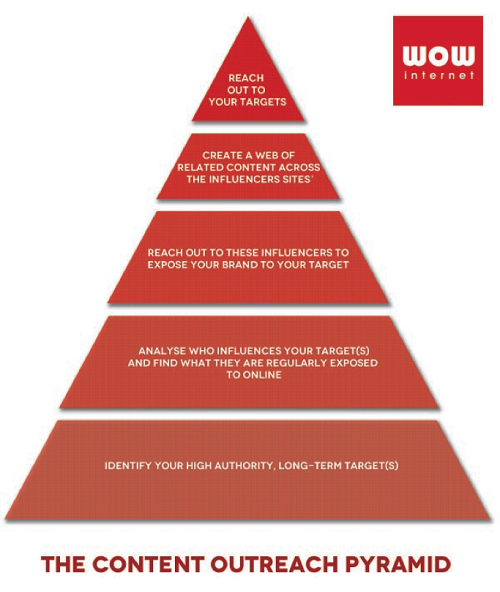 Who are the persons working behind your team? What are their roles?
I have a great team that work with me at Wow Internet. There's Charlie Floate, who I recently brought in to the SEO team to look at bridging the gap between our content marketing strategies and our SEO. He's a young and incredibly bright guy and we have been working on some pretty awesome campaigns since his arrival.
Alongside this, we have Liam McCarthy who is a link wizard. The majority of all my outreach targeting and research, alongside link analysis comes from Liam's fingertips! Liam has a great mathematical brain so can help with a lot of the planning and execution of our content campaigns.
As well as this, we have an in-house development and design team that work their magic to bring our ideas to fruition. We also use a range of different writers, usually based on specific projects to get the best results possible. I'm a firm believer in building a team around campaigns rather than just a 'one-fits-all' strategy.
How do you manage to train your team members? (in-house or online)
Some of the best training/experience that I've given to my team members usually comes when they are involved in actual projects.
I make sure that whenever we are bringing in a team member that they are a good fit for the dynamic of our business in general anyway. We don't have structured training plans because I want to get an idea of the creative capacity of the team members without teaching them a 'formal routine'. Having said this, we always ensure that they are in tune with the culture and understanding that runs across all areas of our business – this is why we work well as a creative agency.
What are the skills one should possess to become part of a content marketing team?
To work within content marketing it's incredibly important to be able to quickly identify opportunities. It's often that case that there are short windows of time to take advantage of content, so being able to spot these early is essential.
As well as this, you need to be able to really understand what 'content' is. I speak to people all the time that have a very linear perception of what content actually is. I hate to break it to everyone but a blog article isn't the only form of content around!
Content can be found in all kinds of forms, for example, look at Hooters. One of Hooters' greatest pieces of content is the uniform that their staff wears – it has become an internationally recognizable symbol. Now, I'm not saying to dress all of your staff in revealing outfits but if you can identify an opportunity that separates you from your competition then that can be critical to your business' success.
Scalability is a buzz word in the search industry. How does this term apply to your team?
Scaling content marketing is something that many small agencies find particularly tough. One piece of advice that I would give is to invest in a small selection of key tools that streamline the manual processes involved within content marketing.
I really don't know what we would do without tools like BuzzStream or Sprout Social. They increase our productivity an immense amount and save us a lot of cost in the process.
Another thing that really helps us to scale our content marketing is by building relationships with industry influencers and hiring freelancers that we trust. If you haven't read Paddy Moogan's link building book before then make sure you check it out to read about how he scales link building through oDesk – this opened my eyes when I read it.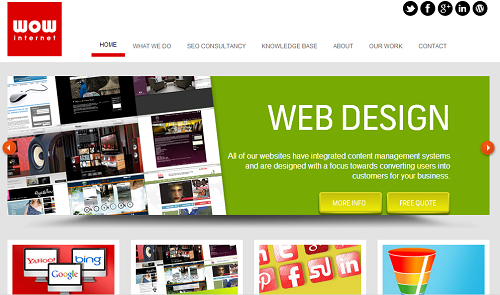 Targeting a persona in each piece of content is essential to deliver your content's message to your audience. What are the things that you consider in choosing personas for your content?
Personas are incredibly important within content and it's something that a lot of the generic stuff you see on the web often misses out. I think the first stage is to look at it from your audience's perspective:
Who are you targeting with your content?
What type of content does your target audience enjoy?
What triggers emotion from your audience?
Once you've answered these questions, you have a good platform to start building a persona with. It's important to connect with your audience and trigger emotional cues that will initiate interaction and engagement with your brand.
One of my favourite examples of this was within an amazing infographic about the trucking industry in the US (http://www.truckerclassifieds.com/truckpocalypse/). These guys/girls clearly understood their target market and developed an amazing piece of content that earned their brand some great exposure.
On a personal level, I ensure that all of my content carries through my personal voice. It's incredibly important to keep consistency across your content, regardless of who you're targeting. Each writer should have their own personality but the core values of the brand should be present throughout.
Do you have rules/guidelines to follow when creating content?
I have more of a process than 'rules' when it comes to content creation. It's vital to build a systematic process that can be used across your content marketing campaigns to ensure that you stay focused towards the end goal or objective. It's really easy to get side-tracked when developing creative content – trust me!
The process that I usually work to is:
Identify the key objective of the content and set performance metrics. This could be to earn links, build your social following, increase brand exposure or a combination of a few things.
Profile your target audience.
Find the platforms that your target audience are exposed to regularly.
Build an initial concept for your content.
Decide upon the medium(s) in which your content will be delivered. For example, will it be a video, an article, some offline literature, etc.
Scope out the distribution routes that can be utilized to gain exposure on your chosen platforms.
Set timescales for the project and delegate project tasks.
Leverage industry influencers through targeted outreach.
Report on performance and learn ways to improve the processes in the future.
Give me one unique core value (attitude) you have as a team leader?
One of my core values is to make sure that failure is not always seen as a negative. The only way we learn, especially within this industry, is to fail at something.
Edison famously said "I haven't failed; I've found 10,000 ways that don't work" and that's something that stuck with me. There is no sure-fire way to make a content marketing/SEO/social media campaign successful and all we can do is learn from our previous attempts (both the successes and failures) – what we CAN do, is make sure that members within our team aren't afraid to be creative. Once this is established, you can start getting really creative!
Where do you see yourself and your team in the next ten years?
10 years is a LONG time – this time 10 years ago I was a hyper-active 13 year old!
Personally, I'd love to think that within 10 years time that I would have travelled to every continent across the world, happily started a family and had build a brand that I could be proud to put my name behind.
In the short-term though, I'm focusing on increasing my knowledge and establishing myself within the digital marketing industry. I'm looking to go live with my personal blog soon (http://www.matthewbarby.com) and start building a thriving community on my current blog focused around helping other bloggers succeed online (http://findmyblogway.com). Alongside this, we are rapidly growing our business and have recently become an international company – there's a lot more to come from Wow Internet!
If you liked this interview, feel free to share it to your friends. Subscribe to my blog and follow me on  twitter @venchito14.
Hear about new posts as they happen. Build extraordinary links.