Content is king. This is the most popular statement we usually hear from internet marketers. But do we really understand how content affects the quality of our websites and why almost all brands use this strategy in their marketing campaign?
Today, one of the most prominent SEO here in the Philippines would share to us his branded content strategies that will bring our marketing campaign to the next level.
Ok. Let the interview begin!
Introduce yourself. How did you get the name, "SEO Hacker"?
Hi my name is Sean Si, I'm a Filipino motivational speaker, SEO Specialist, and the head honcho, and editor-in-chief of SEOHacker and God and You. I recently started SEO Hacker's online SEO School on top of catering to our clients for SEO services. Obviously I'm a born-again Christian solely because of the amazing love of my Lord, Jesus Christ who saved me from the eternal damnation of an excruciatingly painful hell. I love to teach, write, blog, experience new things, share stories, experiment on SEO, and lead my team.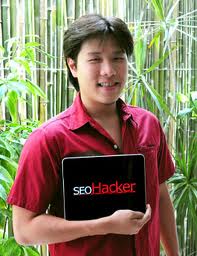 Who became your mentors in SEO? How did they motivate you to work hard?
Hmm that's a tough question. I don't really have 'mentors' who taught me hands-on. Instead I simply followed a handful of people who were doing great things with their blog and business. One of the most successful people I follow online is Brian Clark of Copyblogger.
I started out as a content marketer who blogged about SEO. I followed his model of content marketing –he keeps writing out great stuff and un-intrusively pitches in how he can help you through one of his products. He didn't have any real product to sell back then. Now he has four – Scribe, Genesis theme & child themes, Synthesis webhosting, and Premise Landing Pages.
He's someone who knows what he's doing and doesn't stop when he's comfortable. He has a lot of partners because he knows his skill-set. He's an exceptional copywriter so he partnered with programmers, designers, writers, editors – all who helped him move his business forward. One of his best people, in my opinion, is Sonia Simone – who helps him manage and run Copyblogger so he can venture off to some other product or business.
(Hint: I'm looking for my own Sonia Simone.)
Other people I've followed through the years would be: Rand Fishkin (Duh!), Ana Hoffman (She's given out a lot of free advice and crazy online tools to me), Danny Sullivan, Jonathan Colman, Neil Patel, AvinashKaushik, AJ Kohn, Kristi Hines, etc. Of course, I don't just follow them without application – if there's anything they blogged out that has interested me, I experiment on it on my own and build experience and knowledge around it. Basically they motivated me to working hard because of my own curiosity in how they made their way to their current expertise and success.
What I really liked about your site is the "SEO Hacker School". Can you give us more details about it?
SEO Hacker School is all about serving up SEO in simple terms. Teaching up-and-coming or aspiring SEO specialists on how it is to make their way up the SEO ladder.

SEO is insanely broad and ever-changing. SEO School is all about keeping up with that, and helping others to do the same. I believe SEO is going to be huge – and it can't be dominated by agencies alone. SMB's would need to have their own learned internal team or train one of their existing people – and SEO School is a great way to do that.
Right now it's still in the development stages as SEO Hacker is just (officially) 2 years old as a company. We're pretty young and we're trying to expand to this product vertically. It spreads me and my team pretty thin but we're doing our best to make this happen.
Below here is an introduction to SEO Hacker School.
What makes you stand out among SEO experts/specialists?
I'm not really sure. Perhaps the best answer to that is my company's history and how I see it as a blessing from the Lord. I don't really believe in luck – I believe that every major event in history is purposed and planned by God beforehand. There is nothing that has happened that He has not allowed – all for His great purpose and time.
Other than that I'd like to think that I'm different because of the SEO Hacker blog – which caters to new SEO specialists who are looking to expand their knowledge in SEO. We don't really target to publish content that focus on linkbuilding, advanced SEO or SEO news (though we do have limited content about those). The voice and feel of the whole blog is for people who are starting out and who want to keep things simple.
Define branded content in less than 20 words.
For me, Branded content is all about publishing content with exceptional value, and delivery under the flagship of your brand. (Sheesh, 20 words is a bit too short!)
Give us five branded content strategies you work best in your company.
Our content strategy has our brand deeply intertwined with it because of how we cite internal sources, platforms where we publish it, writing voice we use, etc.
To know more about our content strategy, here are some of our works you can check out:
What is the first company you worked with your team? Can you share with us their feedback on your services?
One of the first companies we've been working with since we started is Uratex Philippines.Regarding their feedback, it'd be best if we could get it from them directly. So far, from a 700 visitors per month average, they are now hitting the 40,000 visitors per month mark.
Aside from the SEO tools recommended by Jason Acidre (SEOQuake, Excel, Google Analytics and Ahrefs), what other tools do you commonly use for your campaign?
I do recommend using SEMrush for competitor analysis. They have a huge bulk of data there to assess your client's competition. SEMrush can also be used to gauge how much the contract size has to be between you and a prospective client depending on their current standing and competition. It's a really helpful tool.
Buzzstream is also a good tool-set to use. It provides a great way to keep track of your link outreach efforts. Since we used Buzzstream, it's saved us a couple of hours every day – which is really valuable for us.
Screaming Frog SEO spider has also served us really well in the technical aspect – especially in advanced on-site SEO stuff for our clients. Check out our take on Screaming Frog.
Where do you see yourself in the next 10 years?
10 years? Wow that's a pretty long time from now. I'm the visionary type so by 10 years I should already have a building for SEO Hacker as a company, a huge team of software engineers, content marketers, editors, link developers, SEO consultants, etc. We'd probably have built SEO School to be one of the biggest go-to online estates in the web for SEO training, certification, tool-set, and more.
By then we're supposedly the top SEO company in the Philippines. Most importantly, we have expanded our business to form groups of companies of our own. These can include industries such as mobile, merchandising, retail, etc. After all, if you have the skills and resources for cutting-edge SEO, what's stopping you from developing your own products and apply it there?
What strategy do you think will still be effective in the future?
I think that content marketing will always be there to stay. It has existed since the early developments of Google and until now it has never been directly penalized. The thing is, everyone's in the content marketing boat right now. There is no real reason for Google to penalize content marketing but if everyone's doing it, you would have to be really, really, really good to break through the clutter of content marketers in your niche.
Aside from that, best practices using on-site optimization is one of the most powerful ways to set your SEO foundations right. You can download our eBook: 8 Actionable Onsite Optimization Techniques to Boost your SEOto make sure you're on the right track with onsite SEO.
Do you have tips to add about your SEO strategy – Content Marketing?
This is very timely because we're doing a series called Breaking Down Content Marketing. It's a tutorial series that is purposed to help out our readers on how to start out content marketing on their own.
It's very broad as it rewinds all the way back to tips regarding how to write your outline and why you should write one, and it tackles all the way to how to promote your newly published content. Here are two lessons in the series for you to check out:
Where can we find you?
I'm usually on the road going to meetings and stuff so you can best "find" me via email, or via our Facebook Groups or Google plus, or if things are not too busy, I'm usually creating havoc in our office 😀
If you're looking for more content marketing tips, you can subscribe to my feed or follow me on twitter @venchito14.
Whenever you're ready…here are 4 ways we can help you grow your client or business through performance-based link building:
Claim your Free Link Building Strategy Session. If you've achieved initial traction from Google, we can help you scale up to record-breaking search traffic and sales faster, claim your FREE Link Building Strategy Session. We'll brainstorm some ideas to increase your search traffic through ROI-driven backlinks, including practical solutions to add more content within the next 90 days.
If you'd like to learn the exact link building strategies we use for free, go to our blog or visit our resources section, where you can download guides, cheatsheets, and templates we use for our most successful clients.
If you know another marketer who'd enjoy reading this page, share it with them via email, Linkedin, Twitter, or Facebook.