This is a guest entry by Glen Dimaandal, an Online Marketing Manager at Emerson Network power, a business platform of Emerson Electric Co. He is also the founder and CEO of GlenDemands Inc, a Philippine-based SEO and Content Consulting firm.
To the person on the outside looking in, doing SEO for a big corporation sounds dreamy. Large enterprises have significant budgets, established brand names and sites that land on your lap carrying a good amount of link equity. What a lot of people don't see, is the fact that big websites usually face equally big challenges. Massive site audits, deep page hierarchies and organizational bureaucracy can really get your SEO wheels stuck in the mud. Building up a competitive link profile in the big leagues is the same way: if you don't make smart use of your time and resources, you can expect your competitors to bury you while you're trying to figure out what's going on.
When you're a high-PageRank site and you're facing PR7 competitors, you better come to the ring carrying dynamite in your fists. Scoring several links from a few guest posts per month just doesn't cut it in this arena. Getting widespread brand mentions, coverage from premier sites and getting links from the most reputable domains are the keys to securing a dominant position in search results for highly competitive keywords.
Early in my career, I was lucky enough to have worked with two Fortune 500 companies that ran successful organic search campaigns. These organizations taught me that in order to win big, you have to think big without falling into the black hat SEO pit. It's a fine line to straddle, especially if you've got the resources to do as you please with your campaign. Discipline, integrity and a desire to win the right way are the keys to successful link acquisition for large enterprises. Here are six of the go-to methods I use when handling client or employer sites engaged in billion-dollar verticals:
Press Release Distribution
It may sound elementary, but issuing a press release and having it carried by news wires is the fastest and easiest way to earn backlinks for reputable enterprises. If you're not familiar with the concept, a press release is an official statement made by the company that's targeted towards news and media outlets. Press releases often carry detailed information on newsworthy announcements that people in your industry will want to know about.
In Emerson Electric, we routinely release press statements when we have product launches, appearances in major events or major organizational developments. These stories get covered by media sites such as the New York Times and the Wall Street Journal. We also get media mileage from industry-specific online media outlets like Data Center Knowledge and Computer Weekly for our IT manufacturing news. Sometimes, they publish stories with live links to us and sometimes they don't. However, even when we don't get live links, we get SEO-boosting brand mentions and more importantly, we raise awareness about our activities among members of our target demographic.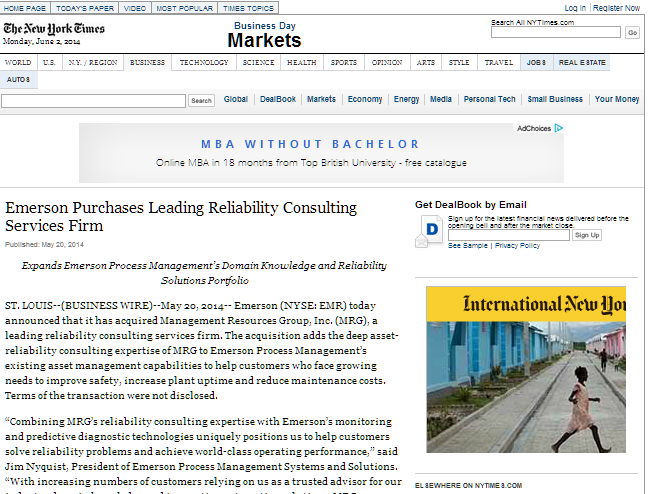 News coverage from the New York Times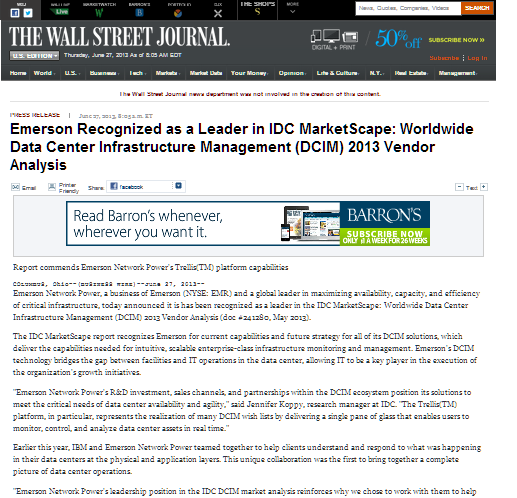 And from the Wall Street Journal, too!
If you're running an SEO campaign for a medium or large enterprise, make it a habit to write press releases when you have something of importance to say. Invest in services such as PRWeb and let them distribute your news release to hundreds of sites. You'd be surprised with how much coverage you can get for very little effort. If you don't have a dedicated writer who can compose a news release for you, you can probably learn to do it yourself. Writing a press release isn't exactly rocket science, so go for it and see how it works. Here's a nice guide for you to follow if you're just starting out.
Thought Leadership Campaigns
A thought leader is an individual or an organization that's recognized as an authority in a field of knowledge. The advice of thought leaders is constantly sought out and rewarded with everything from simple praises to financial compensation. If you're running a big website owned by a major enterprise, there's a good chance your company and some of its employees are already recognized as thought leaders in your industry.
Leverage this cache by translating it into content and campaigns that can get you more traffic and more links. Work closely with product marketing and ask them about hot trends in your business. Get their thoughts on customer needs and wants. From there, you should be able to list down a set of themes and topics that will drive your content and target it towards the right people. Effective enterprise link builders and content developers are able to create whitepapers, blog posts, videos and SlideShare presentations from collaborations between the content team, product marketing teams, product development departments and your sales force.
McDonalds with another great thought leadership campaign
Here's a good example of an effective thought leadership campaign: McDonald's is aware that North Americans are becoming increasingly careful about the food that they eat. Fast food enterprises are feeling the hit because nutrition experts have hammered into the public's mind that fast food is unhealthy. In response, McDonald's is trying to use transparency to bolster trust and regain lost mindshare.
In Canada, the company launched the Our Food, Your Questions campaign that allows anyone to raise a query which an official McDonald's representative answers. From the first day to now, more than 16,000 questions have been raised and countless links have been earned. From a single campaign that ran for what appears to be marginal costs, McDonald's was able to reap returns in the public relations, content creation, thought leadership and SEO arenas. None of its competitors has anything similar, which is why Ronald and his friends have stayed atop the American food industry for such a long time.
Tool Creation
When it comes to linkable assets, we often think of blog posts, infographics and videos. One of the areas that we forget about as a potential link magnet is good functionality. You see, people don't go online just to find information and to interact with people via social media platforms. We also go online to find solutions to our problems. One of the easiest ways to provide a solution is by providing a tool that users can enjoy on your webpage or download and install right on their devices.
In the year 2014, it's cheaper than ever to get apps developed for PCs and mobile devices. The payoffs can be huge as simple games, productivity tools and information software can take your branding and link acquisition efforts a very long way. If you're looking for examples, you don't have to look outside the SEO industry. Just check out Aaron Wall's SEOBook website: sure, it has excellent content but one of the biggest reasons people go to it, share it and link back to it is because of his popular (and free) set of tools. SEO for Firefox and Rank Checker are two of the most downloaded and most beloved applications in the search marketing game and it's been that way for years now.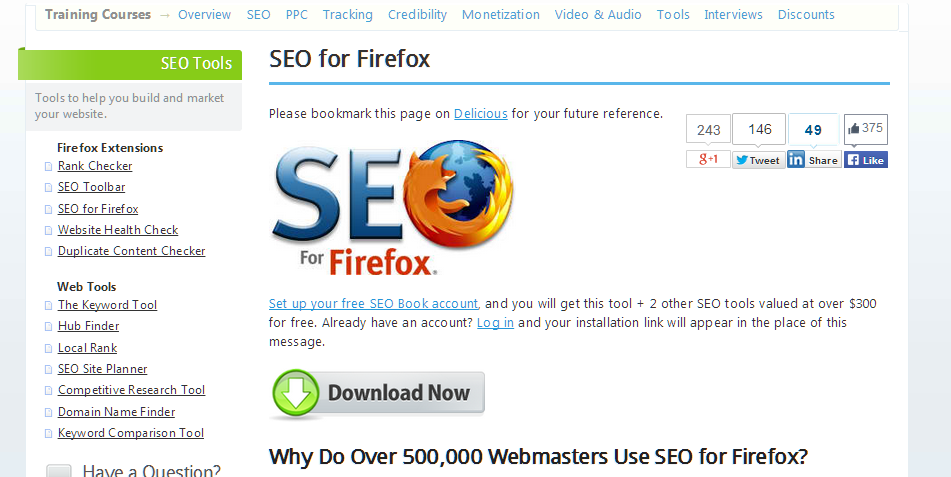 SEO for Firefox earned Aaron Wall links and then some
In Emerson, we are heavily engaged in the marketing of our data center infrastructure management (DCIM) solution. One of the challenges we faced was how to show CIOs, data center managers and other executives the business value of our offering before they even buy them. The solution? An ROI calculator that provides potential customers an estimate of how much money they'll make back if they adopt our DCIM platform.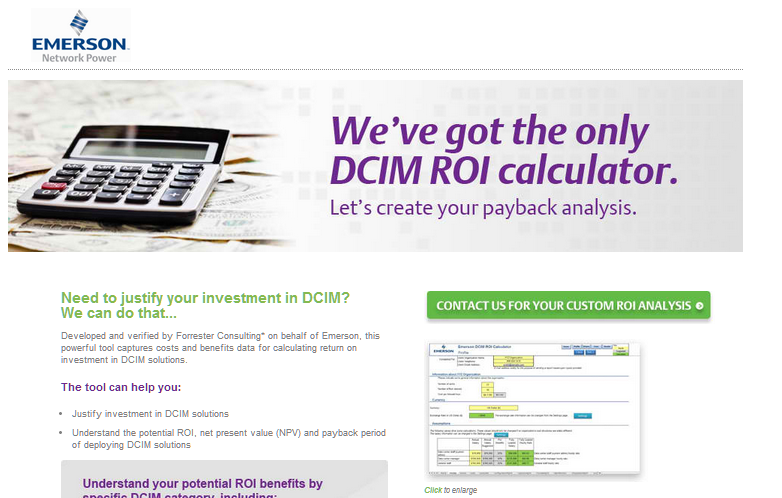 By developing an ROI calculator tool, we earned links and media coverage
The tool has enjoyed positive feedback so far and we've received a nice amount of links from media outlets that have taken notice of our tool.
Interviews
Having industry experts in your company pays off beyond just content development. You can also leverage their authority for interview opportunities that yield quality links. The same news sites and blogs that cover your press releases may also be interested in writing features that are reinforced by the knowledge of respected people in a given industry. Make sure that you keep your ears close to the ground when new trends come along and look for opportunities to hook up your company's experts with reporters who are in need of a source.
You can do this in one of two ways. First, if you can ask your company's experts for their opinion when there's breaking news in the industry. You'll want to run this past your branding officers to make sure that you're allowed to comment on the matter. If you are, you can do a little outreach and ask the news site if they'll be interested in interviewing someone who has a good perspective on the issue. Reporters and editors often appreciate this as they're always on the lookout for opportunities to publish exclusive content.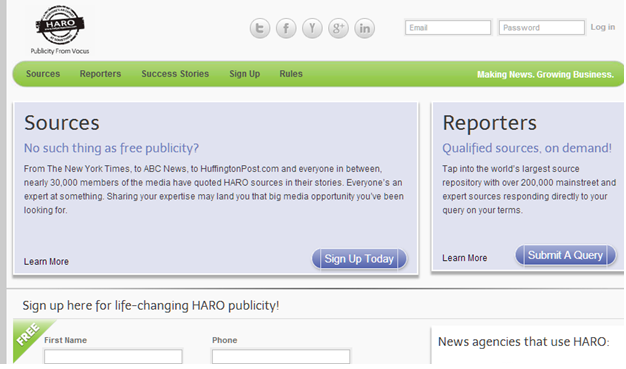 Help a Reporter is a great way to earn interview opportunities and links
Another way of getting interview opportunities or being sourced by media is by using Help a Reporter. It's a cool service that facilitates hook-ups between online news writers and potential info sources. SEO expert Jason Acidre recently wrote about it in a blog post where he revealed the link acquisition tactics he's currently focusing on. It also works for small and medium-sized businesses, so check it out.
Leveraging Corporate Partnerships
Of the many advantages that big companies have, one of my favorites is having strong relationships with equally powerful, influential and non-competing business entities that have monster websites of their own. These partnerships don't work just with the financial aspects of business: it can and should be a synergy for marketing and link acquisition. Collaborating on thought leadership campaigns, content development and product placement is a great way to get mileage out of a partnership and enjoy the SEO and branding benefits.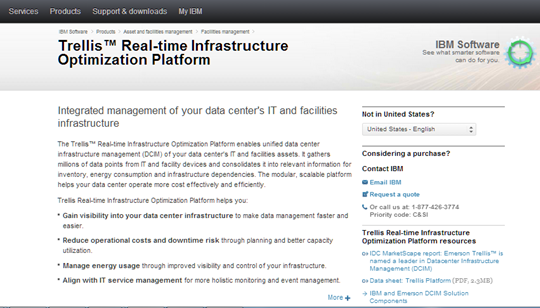 Big partnerships gets you noticed by the online press
One of the recent partnerships that we ran is between Emerson's IT manufacturing business platform Emerson Network Power and IT giant IBM. IBM had decided to adopt our DCIM solution to work with its own Tivoli portfolio. Without getting into the technical details, it would be safe to say that we turned a lot of media heads when we announced the partnership which drove plenty of quality links from high-profile sites and blogs. Of course, we also got some very valuable backlinks from IBM's elite-level pages and so did they from us.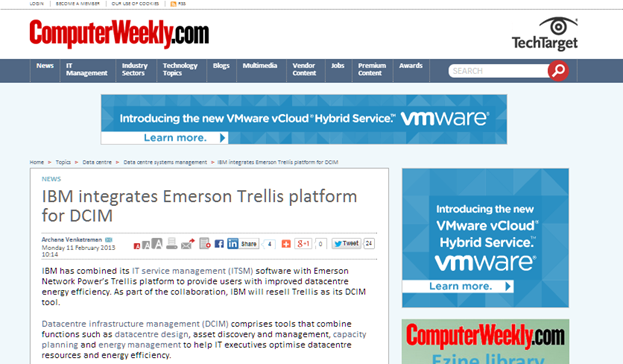 Our IBM partnership yielded mentions and strong links from their website
Site Acquisition
You won't get to do this every day, but buying a website or a blog can result in huge gains for you from a link acquisition perspective. A credible blog with an author who enjoys a good following will drive traffic and links to your site for years to come, giving your pages a nice push in competitions for tough keywords.
Pratik Dholakiya wrote about this in his own guide for enterprise-level link building. He recommended moving the content under your own domain and pointing the old pages to it via 301 redirects. He added that convincing the blogger to stay and keep on writing is a good move that will help the blog's transition process. Indeed, readers from the blog that you acquired are more likely to become readers in your own site when they see a name and a writing style that's familiar to them.
Conversely, it can also work for you to maintain the blog or site that you acquired just the way it is and not move it to your own domain. This is for cases when you feel that readership will suffer a lot because of the branding and domain shift. You can just make it a subtle promotion hub with graphics brand mentions and links to your own pages.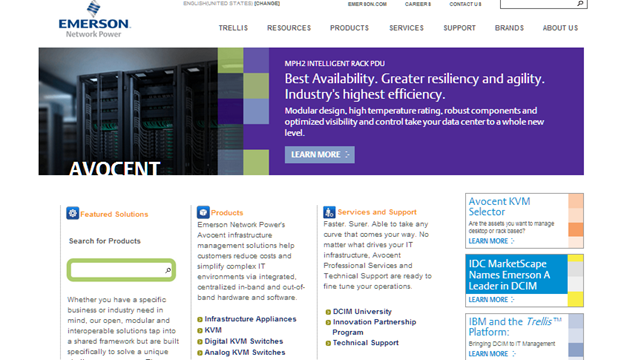 An example of a site acquired and rebuilt into our own domain where it brings in more link equity
In Emerson, our business platforms are grown through the acquisition of top brands in markets that we want to enter. Our information architecture is set up in such a way that our websites house rebuilt pages of sites that we've acquired in the past. We redirect all equivalent pages, effectively telling Google to credit the Emerson site with the link equity of the old one. The site then becomes a bigger and ever-expanding ecosystem of content, backlinks and brand signals. Above is a screenshot of Avocent, one of the brands we acquired, and its own main page within EmersonNetworkPower.com.
Of course, there are a lot of other ways that enterprises can facilitate link acquisition. These are just the most common ones I use because of the high degree of ROI that we get. If you have other ideas, do share them in the comments section below and I'll be glad to share notes.
Other Resources:
If you liked this post, you can subscribe to this blog and follow Glen on Google+.
Whenever you're ready…here are 4 ways we can help you grow your client or business through performance-based link building:
Claim your Free Link Building Strategy Session. If you've achieved initial traction from Google, we can help you scale up to record-breaking search traffic and sales faster, claim your FREE Link Building Strategy Session. We'll brainstorm some ideas to increase your search traffic through ROI-driven backlinks, including practical solutions to add more content within the next 90 days.
If you'd like to learn the exact link building strategies we use for free, go to our blog or visit our resources section, where you can download guides, cheatsheets, and templates we use for our most successful clients.
If you know another marketer who'd enjoy reading this page, share it with them via email, Linkedin, Twitter, or Facebook.