Time for another expert interview!
Today, I'm glad to share my interview with my SEO friend, Anthony Pensabene. You will always see him commenting on SEO blogs like Kaiserthesage and TripleSEO. This cool guy shares his tips on how to become a content authority in your industry.
Let's begin!
Who is Anthony Pensabene? What's your daily SEO work?
He is a member of the rebel alliance (party of one), hiding how devilish he is from the angels and how angelic from the devils, spending days amongst the sea and sand.
My daily SEO work varies, depending on short/long-term tasks, but I do a lot of research/writing, analyzing, strategizing, counseling, and more thinking.
My greatest asset is my ideas.  It's a vague value point to describe, but basically, I get my hands dirty in your business.  I ask a lot of questions about the brand, goals, intent, and market behavior.  Then, I place your business, vertical, and customer personas under a high-magnify lens, and try to give you gems of good insight.
I feel lucky in that I am able to do both in-house and private work.
Where did you get the name of your blog – Content Muse?
I have a tattoo on my writing hand, "muse," since 2002. It holds personal meaning for me, but it reminds me of what is. I'm a writer –no escaping this.
When I first got in the vertical, I noticed people would refer to writers as 'copy' writers or 'content' providers.  I thought 'content muse' was an apropos label for my intentions,  Moreover, I think Shakespeare was some sort of genius; he oft invokes his 'muses' before writing a piece.  The name is a tip o' the cap to his inspiration as well.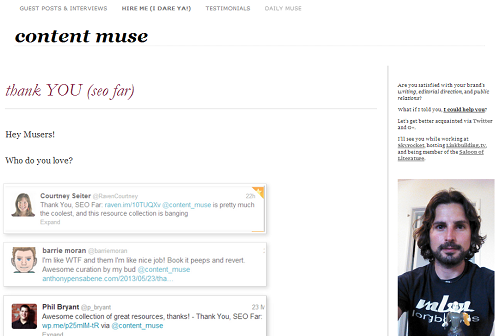 Who is your biggest SEO influence?
I have a few.  Dan Shure was the first dude to really encourage and help me; he also happens to be one of the most savvy out there in my opinion.  I also have to give a shout to:
What do you focus most of your efforts on when you are working on content?
The end receiver, dude, for sure.  I'm not going to b.s. you and say I've never been a part of a content project that seems to be more about just producing 'something,' but I hate those tasks, and much prefer creating something that satisfies.
People are looking for entertainment or education online; if the content provider can infuse both, all the better.
What is evergreen content?
I see evergreen content, like reference material, as content that can withstand time and trends.  For example, psychology students are still perusing the writings of Jung and Freud, forefathers of the study yes, but their thoughts are not 'current' as we normally understand that sentiment.
Evergreen concept addresses broad concepts more than exact tactics.  Tactics are always changing in relevance and implementation.  However, general concepts, when defined well, usually stand the test of time.  For example, do you want to learn about exercise and nutrition?  Read some Bruce Lee. Honestly, I think you can say that one hundred years from now; because, Bruce understood anatomy and exercise that well.
When do you say that content is reliable?
I will take a quote from a former student: "Be who you say you are, and do what you say you'll do."   I think content should 'show, not tell.'
It's reliable if it's guiding the end users through a sought journey.  That journey may consist of buying sneakers, modifying a mortgage, downloading a sample resume, etc.
What are the best books and tools on content strategy?
This is a good question, and I think 'content' being incredibly broad, warrants 'thinking' foremost.  You can become a better thinker by doing a lot of things (experiencing people too, when it comes to marketing, not just reading.)
Jon Colman has a great list here:
The Epic List of Content Strategy Resources
Recently, I'm reading, Public Speaking for Success.  It hosts a number of great marketing insights.  Marketing, writing, communicating is about people.
The BEST tool for content strategy is your senses and ability to understand people, specifically your market.
Webmaster's Note: You can also check out this list of free link building tools.
Which is more important: content or design?
Definitely depends.
Let's consider I'm a janitor.  I need light bulbs for the school.  I don't think you need great content or design, but you it's likely you need to ensure it's easy for me to make my order.  Do I need to come across 'the most epic' post on school lighting a janitor's ever seen? No.
You need to take the purchase journey in the driver's seat of your consumers.  Get feedback from others.  What do you/they think is more important from your specific market's perspective?  Of course, there's always room for improvement.  Never be satisfied with your market's level of satisfaction.
How would you define quality content for Content Marketing?
I can't do that, unless I'm one of your customers.  I'm not being slippery; I'm being a realist.  Because, a small group of tech people think I'm a good writer, that doesn't mean a thing if I can't influence my intended market, influence and 'stir' them, affect them in some way.
Quality content, like mentioned above, keeps true to your brand's intent.  It helps your brand 'be' what it intends to be.  If you're a refreshment company, and you want your brand associated with youth and fun, then your content needs to integrate those elements, creating associations of fun and youth with the intended audience.
If you can't be what you want to be, then you need to understand why your content is not reflecting your intentions.
How can we connect with you?
Please check me out on the Skyrocket.com Gplus page. I try to write there often about business strategies, ideas.
and Twitter @content_muse
Of course, be much obliged to see readers at AnthonyPensabene.com
Thanks for having me on the show, Venchito.  I really appreciate you wanting to know my thoughts.
/End of interview
If you're looking for more content marketing tips, you can subscribe to my feed or follow me on twitter @venchito14.
Whenever you're ready…here are 4 ways we can help you grow your client or business through performance-based link building:
Claim your Free Link Building Strategy Session. If you've achieved initial traction from Google, we can help you scale up to record-breaking search traffic and sales faster, claim your FREE Link Building Strategy Session. We'll brainstorm some ideas to increase your search traffic through ROI-driven backlinks, including practical solutions to add more content within the next 90 days.
If you'd like to learn the exact link building strategies we use for free, go to our blog or visit our resources section, where you can download guides, cheatsheets, and templates we use for our most successful clients.
If you know another marketer who'd enjoy reading this page, share it with them via email, Linkedin, Twitter, or Facebook.