Branded content is an increasingly common term in the online world, seeing that there's a need for brands to come out from the traditional marketing box and turn into a strategic and scalable content marketing strategy.
With that being said, content should still not be considered as a complicated and irrelevant form of marketing compared to other branding channels (e.g. social and PPC). Instead, uniting these marketing approaches into a robust branded arsenal can further amplify your reach to your targeted audience and thus, yield better results for your brand.
Recently, there had been a wildfire discussion on the topic –  choosing between link building and content marketing. Matt Gratt's wrote a solid post on Buzzstream as to how we should treat these two approaches. It's true when he said that the combined efforts of the two will solidify the ability of the brand in achieving its short term and/or long term objectives.
The idea that content in itself is enough to achieve successful marketing outcomes is fundamentally false.  Content should be promoted as much as possible.  Fundamentally content with great ideas and great production values will not achieve its maximum ROI without great promotion.

–       Matt Gratt of Buzzstream
I list down nine branded content examples and provide you with ways on how you can build links to and through them.
Training Tutorials
Online training tutorials can make a valuable contribution to the community by addressing the needs of people (e.g. the need to improve industry skills). Niches like technology (e.g. CSS tutorial), food (e.g. "how to cook") and even online marketing (e.g. how to optimize for local search) have online training tutorials where people can learn basic to advanced topic or course.
If you want to create an online training tutorial, you need to consider the following elements:
Theme and purpose
Sequence /order of topics
Type of visualization used (images, videos)
Accessibility (with or without restriction, free or paid, internet browser compatibility)
These elements will vary depending on the type of r audience you're targeting to and the depth/difficulty of the subject matter.

How to build links to training tutorials:
Acquire links from resource pages. You can use the following search queries to find sites that accept training tutorials or tools.
"Your keyword" resources
"Your keyword" useful links
"Your keyword" handbook
Intitle:handbook + keyword
Intitle:reference links + keyword
Intitle:tutorial links + keyword
Inurl:/tools + keyword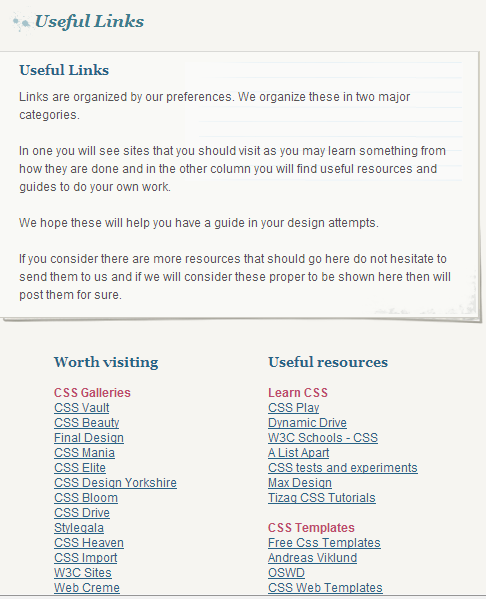 Build relationships with site owners by introducing who you are and what value you can offer to them. Get their emails from their "contact us" or "about me" pages.
Submit to resource directories. There are niche-specific directories that accept resources (in this case, training tutorials). Some have visitor ratings, member reviews and review/detail section of the resource.
Search Queries:
"your keyword" + resource directories
inurl:/tutorial + your keyword

Obtain editorial links from bloggers or site owners who write website or tool reviews. Get in touch with these people as they can be your future brand evangelists. Offer incentives like discounts (for paid version of your tool) or just make your training tutorials free for them.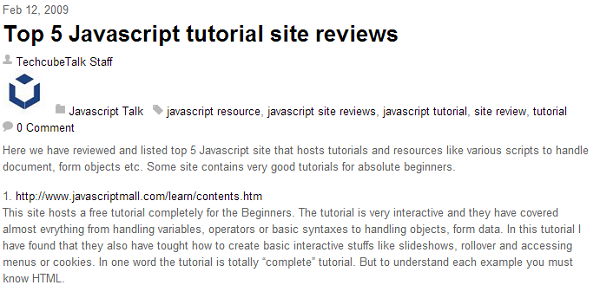 Participate on discussion boards found on forums and blog communities. Search them by typing these queries in Google search:
"Your industry" + forums
"Your industry" + discussion boards"
Add your tutorial links if it is relevant and useful to the discussion.
Quote/Tip
Embedding quotes in an essay, article or any literary form of content has tested to be effective given that it proves that your ideas/concepts are correct and/or demonstrate the method of arriving to your original idea.
If you're an authority in your niche, you surely have something to tell to your audience based on your experience and/or skills. Two or three sentences are enough to write your own quote/tip that encompasses a concept/idea that no one else had ever said before.
Search engine optimization is not solely visualized as a rocket science by THOSE WHO COMPLETELY UNDERSTAND IT. – Danny Sullivan, Search Engine Land
How to build links to Quotes:
Submit them to quote directories. There is a handful of websites that allows submission of quotes/tips.
Here are some of them:
Give remarkable insights to your interviews. As people are searching for the details about you and/or your brand in the search engines, they can see the list of interviews you had been with. They might read those interviews and get some thoughts about a certain issue or an answer to a question related to your industry. They might include your tips in their future posts. (yes, with a mention to your name/site!)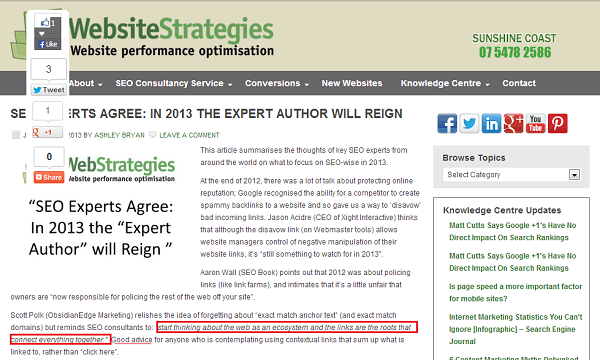 Industry awards
Credibility increases when there's a proof embedded on your website. A badge that is obtained from winning an industry award is one of the best ways to prove that you're a brand authority. This can also help you gain the trust of your target customers/clients who seek only for high quality services.
How to win an industry award:
Write exceptional content on someone's blog. There are several websites that recognize top-notch guest posts and some give embeddable badges to winning bloggers. If that is the case, you should aim for expertly-made content. If you write a high quality guest post (detailed and/or actionable), the chances of including your article in the top list of contributor's content is higher.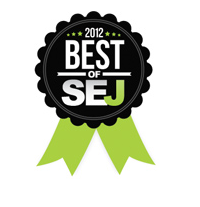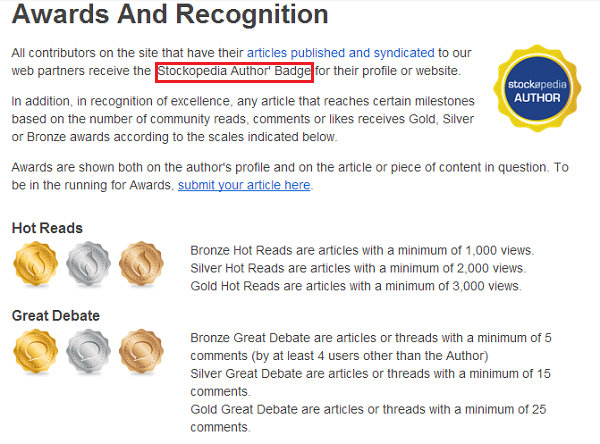 Apply for company awards.
Search Queries:
"apply for" + "your industry" +  "awards"
"submit" + "your industry" + "awards"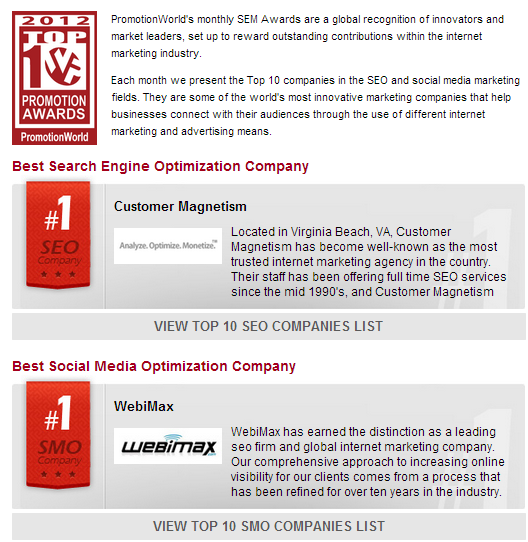 Company awards are usually conducted every six months or one year. So you have to take down all of these award pages together with the deadline of their entry submissions.
Note: Before submitting your entry, make sure you read the submission guidelines. J       
Submit your ebook and ebook design cover to digital book awards. If you will hire a graphic designer to craft your ebook cover and/or a writer to write and research content for your ebook or just do both of these two on your own, make sure you give the maximum exposure of your branded content (ebook). How?
Submit it to websites that list down award-winning digital products (in this case, ebooks!).
Search Queries:
"submit your ebook" + "awards"
"submit your ebook" + "your industry" + "awards"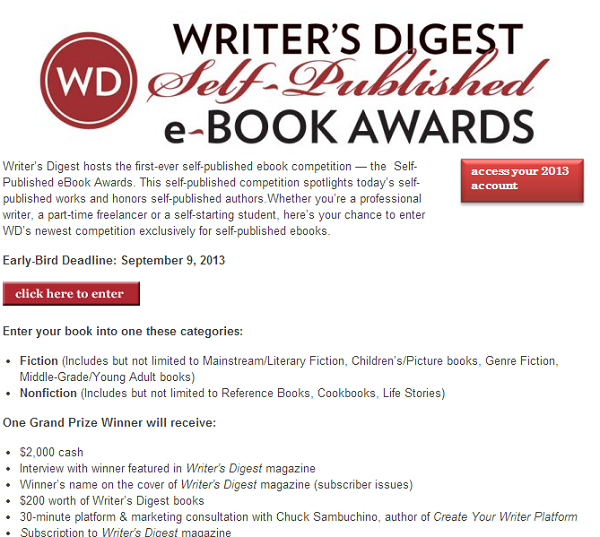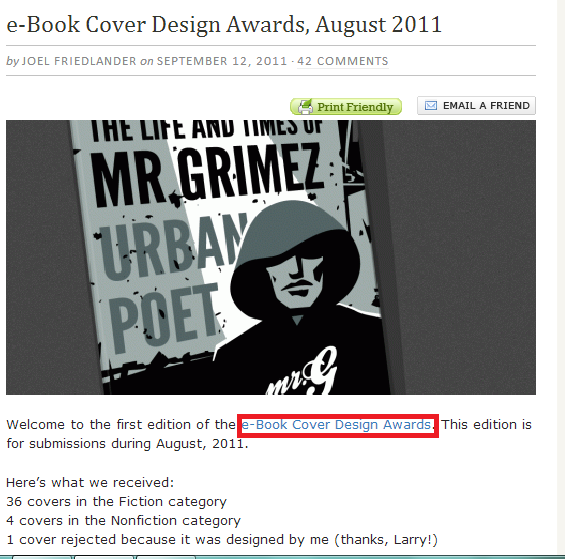 Receive recognition from blog/website awards.
Blog/website awards accept entries from site owners who may or may not own a company/brand.
Search Queries:
"submit your site" + "awards"
"apply" + "blog awards"
"apply" + "website awards"
You can also search for niche-specific award pages. Add "your keyword" or "your industry" in the search term.
E.g. "apply" + "food blog awards"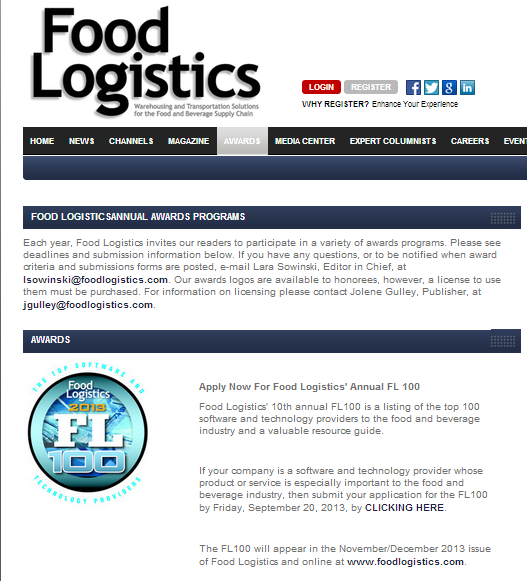 Also, you can add a specific country/location to the search term so you'll get a list of sites that have geo-specific award pages.
E.g. "apply" + "blog awards" Australia
Newsletter Contribution
A newsletter is the new twist that a lot of organizations are using to help promote their products/services and form relationships with their customers. It's also use to publish industry-related advices and insights from experts, members or contributors of the newsletter.
Submitting articles to an authoritative newsletter is an advantage to you given that it will include your name as a contributor and it will help you build your online reputation.
An increase in conversion, as well can be one of the benefits of a newsletter contribution.

How to do it:
Search for websites that have regular newsletters and accept contributions from industry authors/bloggers.
Search Queries:
"contribute to newsletter" + "your industry"
"submit to newsletter" + "your industry"
inurl:/editorial + "your industry"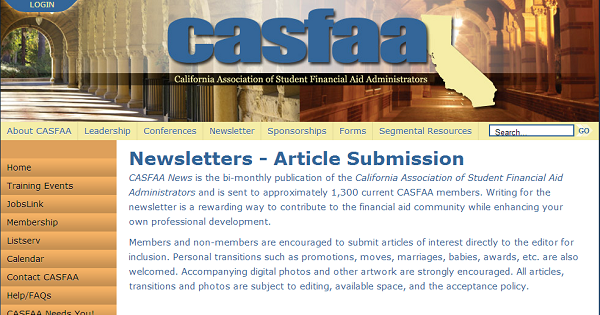 Subscribe to the newsletter and determine what type of content they're picking up to be included in their newsletter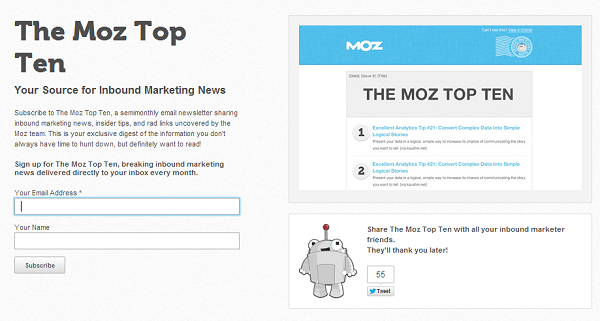 Create a content that matches to the newsletter guidelines. Don't forget to add an author bio to your submission. Some sites have pages that list down the names of their contributors and brief descriptions about their work and companies they're working with.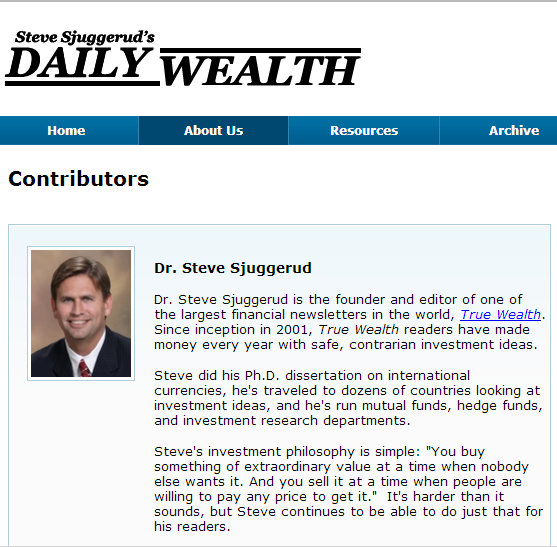 Interviews
Interviews are strong indications that you had established an authority in a particular field which is usually based on the insights/tips/answers you wrote/said in your interviews.
How to do it:
Create a Press page or interview request form hosted on your site to show to your readers/followers that you're accepting interview requests.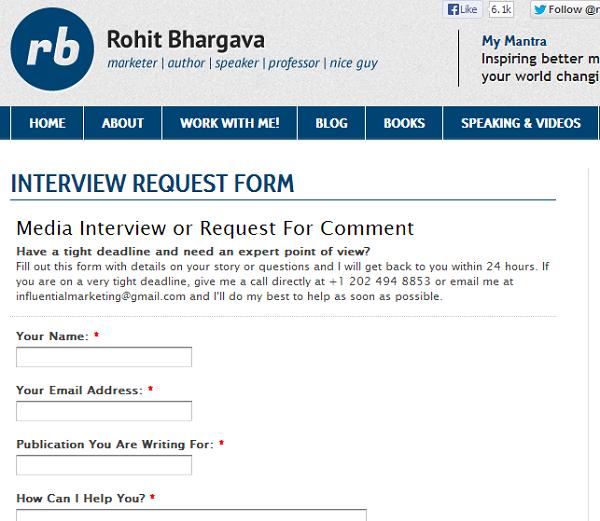 Pitch site owners who conduct regular interviews.
Search Queries:
"interviews" + "your industry"
"weekly interviews" + "your industry"
http://chiefmartec.com/category/interviews/
You can use this email template by Matthew Barby:
Hi [Webmaster],
I hope you're well.
I just wanted to drop you an email because I've been following your 'expert interview' posts recently and have enjoyed them a lot. Great work! I was just wondering if you were looking for more interviewees within the [your industry]? I've had 5 years experience within the sector and head up the SEO and Social Media division at Wow Internet, a leading UK digital agency (wowinternet.co.uk).
I regularly write on digital marketing and I also run the Find My Blog Way blog (findmyblogway.com). Here are a few examples of my articles if you haven't seen them before:
http://moz.com/blog/link-building-for-the-little-guys
http://moz.com/blog/how-to-build-links-to-your-blog-a-case-study
http://findmyblogway.com/link-prospecting/
http://www.wowinternet.co.uk/blog/on-page-optimisation-with-a-view-to-the-off-page-seo/
http://pointblankseo.com/content-outreach-pyramid
Let me know what you think.
Regards,
[Your Name]
Why is this effective?
Provides a brief description about yourself and your work experience in the industry.

Lists down samples of your work (articles) published on authority sites.
Expertly answer the set of questions and include step by step instructions if it's relevant to the topic.
You can obtain a high link value from the interview and can attract more links pointing to the page. (link bait concept!)
My expert interview with Chris Dyson got a link from UpCity's weekly round-up post.

Sponsoring a Webinar
Webinars are best to perform in ripening your prospects to become your potential customers through different means which include:
Answering the best solution to a common problem people are actively looking for.
Meeting the current needs of your audience.
Making a connection with your prospect you'd not otherwise make.
With the mindset of sharing the right information to your targeted audience, you're able to come up with effective webinars that can boost the competence level of your organization and encourages people to know more about your offerings. This is a sure win for your company!
You can set up your own webinar and conduct it on your own site or try to partner with industry leaders and sponsor a webinar for them. In the latter case, you can get more traction for the same type of audience your partner (industry leader) is targeting to.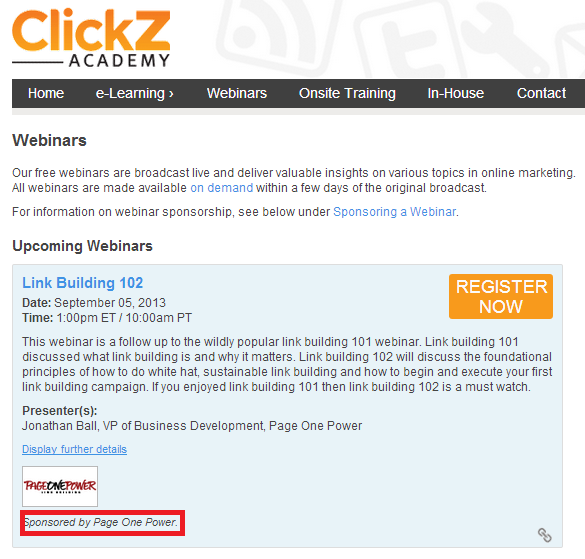 How to do it:
Find industry-specific sites that are conducting webinars and have a huge number of social followers and email subscribers. This will further increase your brand's visibility given that webinars are often announced thru social platforms and emails.
Search Queries:
"your industry" +"webinar sponsorship"
"sponsor a webinar" + "your industry"
Carefully read the terms and deliverables in the webcast sponsorship form (like this one) to understand the requirements of sponsoring such webinar and the benefits you can obtain from it.
Build links to the webinar page. Though the webinar is not hosted on your site, building links to your sponsored webinar page can help it rank higher on SERPs for specific keywords and in turn, pass link value to your site. (a win-win situation for both sides).
How to build links to sponsored webinar page:
Submit your webinar/webcast to generic and/or industry-related pages that accept webcast submissions.
Search Queries:
"submit your event" + "webcast"
"submit your event" + "webinar"
Examples:
http://www.crmadvocate.com/webcasts.html
http://www.mustseewebinars.com/submit_webinars.html
Industry-specific Search Queries:
"submit your webinar" + "your industry"
"submit your wecast" + "your industry"
"submit your event" + "webcast" + "your industry"
"submit your event" + "webinar" + "your industry"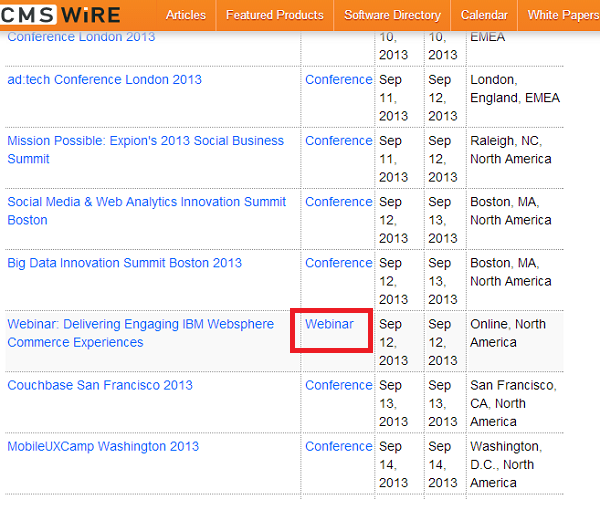 Pitch industry bloggers who cover top lists of webinars. Make sure you have recorded your webinar so you can send your prospects with the url of the webinar.
Search Queries:
intext:webinar reviews + "your industry blogs"
Resource Pages
Resource pages will always be one of the effective content a brand can create. Its ability to list useful links can gain the trust of the brand's visitors given that they're looking for references/guides that can cater to their needs (e.g. for content creation purposes)
Knowing this fact, there's no reason for you not to create at least one resource page for your site. Kevin Espiritu wrote a simple guide on how to create a resource page.
When this page is created and published, you can now move on to the link building part. You will build links to your resource page so you can get the maximum exposure for this as well as rank for specific terms/keywords the page is targeting to.
How to build links to a resource page:
Reference your resource page on your guest posts. The more it becomes visible and useful to your targeted audience, the chances of building more links to it are higher. Your aim should be to expertly write a guest post where context will match to the title/topic of your resource page.
Send personalized emails to bloggers who do regular round-ups.  Ask them if they can link to your resource page.
Build links from localized resource pages. The response rate of pitching to the owners of these pages are higher since both content (your resource page and your prospect's resource page) is highly relevant to each other in terms of information and geographical location.
Search Queries:
inurl:/local-links + "your industry"
inurl:/favorite-links + "your industry" + "location"
Slide Presentations
Slide presentation is a branded content useful in visualizing the information/message the brand is needed to convey to its audience (e.g. webinar session).
I will not dig deeper to creating a free-flow and eye-catching slide decks, since there is a ton of guides on the web that discuss this subject matter.
Here are some of those resources:
Once you're done with your slide deck, you can now maximize its branding potential to earn and build links by applying these actionable tips:
Submit to popular slide directories to get the first exposure on the web. (e.g. Slideshare) or use these..
Search Queries:
"slide presentation directories"
"slide directories"
"submit your presentation"
"submit your ppt"
inurl:/slide + "submit your presentation"
Increase the linking potential of your slide deck by submitting it to various resource pages.
Search Queries:
inurl:/resources + "slide presentation"
inurl:/resources + intext:slide presentation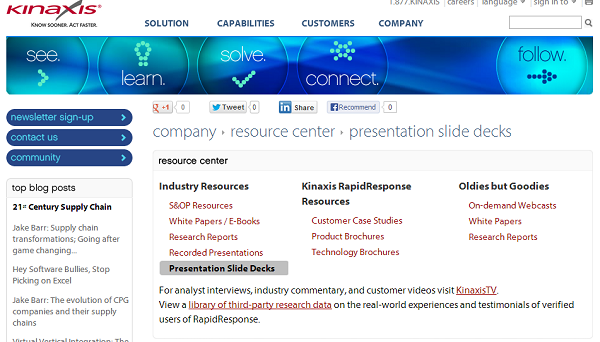 If you created a slide deck for webinars, use it instead of your slides to build links to your website. Find resource page that lists down webinars/webcasts. (Use the aforementioned tactic about webinar sponsorship).
Search Queries:
"web seminars"
"web seminars" + "your industry"
Reach out to bloggers who love to include slide decks on their blog posts.
Search Query:
"your keyword" + intext:presentation by
Try this email template when pitching those webmasters.
Hi [Webmaster],
How are you doing today?
I notice that you love including slide presentations in most of your blog posts. You know what? I actually created a slide deck that talks about [details about the topic]. I know that your readers/followers on [Site Name] would learn a lot from this.  
Here's the url of the slide deck [url].
Thanks,
[Your Name]
Event Sponsorship
Sponsorship/donation is one of the worthy investments and became the first initiatives of many SEO practitioners in the link building scene. The obvious reason would be the ease of pitching webmasters and getting higher response rates compared to the results of other link building approaches. This is because you have already something to offer in your hands – monetary value.
The usual method in sponsorship goes this way:
Search for sponsorship/donation pages that are relevant or within your verticals.
Pitch webmasters, asking to get a link from them in exchange for money.
There's no doubt that this strategy is successful in every niche campaign. But if you're creating them for larger brands, you can't just contact $5-$50 donation pages and pitch their creators with the same email template you use for sponsorship.
You can go beyond the usual tactic.
Why not sponsor an event/conference?
Though it requires a huge amount of money, utilizing this tactic for your marketing strategy has a lot of benefits – wider brand's visibility and possible link opportunities (both online and offline). Don't miss getting its benefits for your brand.
How to do it:
Create a list of sponsorship pages about a seminar/workshop/conference.
Search Queries:
"sponsor a conference" + "your industry"
"workshop" + "sponsor"
"conference" + "sponsor"
"seminar" + "sponsor"
Segment your list based on their requirements (e.g. budget required and location). Find those requirements in the event sponsorship form.
Reach out to the contact person of the event and ask for more details (some of them may not be clearly stated in the sponsorship form).
Make sure you understand all the requirements so you'll not waste both your time and money in the sponsorship (though you can still obtain some benefits but not to the fullest).
Close the deal.
If the location of the event is within your reach, you can attend and participate to get more exposure for your brand. (Remember that relationships can give you more links!)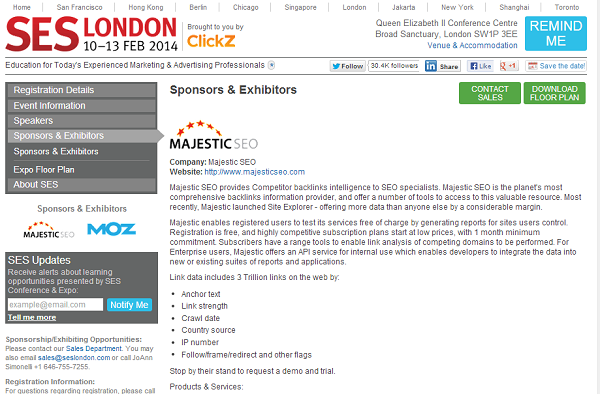 Some sites have a contributor/sponsors page with bonus profiles.
There are two pages where you can build links to:
The page hosted on your site that details the 4WHs of the event or a creative approach to describe the benefits your audience could get from attending your sponsored event.
The sponsored page where your brand's profile is embedded. Though it's not your page, building links to it can pass significant link value to your site (second-tier link building).
How to build links to either page above:
Submit it to event calendars.
Search Queries:
"event calendar"
"industry event"
"submit your event" + "calendar"
"submit your event" + "calendar" + "your industry"

Identify websites that have event listings and/or event categories.
Search Queries:
inurl:/events + "your industry"
inurl:/conventions + "your industry"
inurl:/conferences + "your industry"
inurl:/speaking + "your industry" (for speakers)
Get links from speakers' websites/blogs. Ask them if they can link to you on their "speaking engagement" page or  "key takeaways" blog post (after-event review).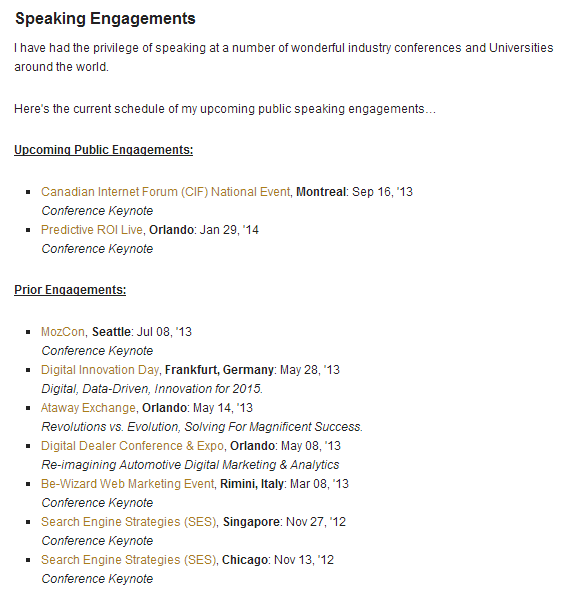 Bonus List of Resources:
ü  60+ Content Marketing Resources – Categorized
Conclusion:
Creativity is a key element in building links to or through your branded content. You just have to find opportunities where you can offer your content.. Replace your crappy-old-content mindset with a user-friendly and strategic content one!
 If you liked this post, kindly share it to your circles/networks and follow me on twitter @venchito14.
Image Links: Link 1, Link 2, Link 3, Link 4, Link 5, Link 6, Link 7, Link 8, Link 9, Link 10, Link 11, Link 12, Link 13
Whenever you're ready…here are 4 ways we can help you grow your client or business through performance-based link building:
Claim your Free Link Building Strategy Session. If you've achieved initial traction from Google, we can help you scale up to record-breaking search traffic and sales faster, claim your FREE Link Building Strategy Session. We'll brainstorm some ideas to increase your search traffic through ROI-driven backlinks, including practical solutions to add more content within the next 90 days.
If you'd like to learn the exact link building strategies we use for free, go to our blog or visit our resources section, where you can download guides, cheatsheets, and templates we use for our most successful clients.
If you know another marketer who'd enjoy reading this page, share it with them via email, Linkedin, Twitter, or Facebook.