Hey readers! Here is the second part of the "120 Marketing Tactics for New Blogs" guide. If you missed the first part, here is the link or if you want to jump into the last part, click here.
You can either skip to your chosen tactic(s) using these quick links or start scrolling to read them all!
46. Interview Influencers or Industry Leaders
47. Create Pinable and Attractive Images/Infographics
48. Become a co-author or columnist for a news site/blog
49. Convert blog post and submit it to Scribd
50. Ebook
51. Press Release
52. Post regularly
53. Use enticing descriptions for your posts
54. Video
55. Content Curation
56. Slide Presentations
57. Meme
58. Give something for free
59. Internal Linking
60. Research your competitors
61. Egobait
62. Drawings
63. Quizzes
64. Charts/graphs
65. Games
66. Create follow up posts
67. Blog Design
68. Use Social Sharing Buttons on your site
69. Add polls to your page/site
70. Social Proof
71. Logo
72. Tagline
73. Zemanta
74. Callout Section



46. Interview Influencers or Industry Leaders
Interviewing experts in your industry helps you build trust and creates a good content that everybody wants to read, share and linked to. Highly recognized influencers are passionate to talk about a specific topic, so you need to start with a little preparation (questions) before the interview.
Industry thought leaders had their interview requests in the past and you can check those out to derive ideas for your questions. Q&A sites like Quora and Topsy help you see the most common question or topic your audience would like to know about. Social platforms are good source of information given that people are daily engaging in these communities.
Learn from the famous interviews of Michael Stelsner and Pat Flynn and see how they construct questions and connect to their audiences.
Ask the interviewee if he can provide a short 'bio' with his or her links and if he can do a favor for you, that is to promote the content (blog posts or podcast) on his or her social networks.
Use Skype for voice interview or email for written interview. Use this plugin to prepare the output for your website.

47. Create Pinable and Attractive Images/Infographics
I covered the how-to's of creating an infograhpic on the first part of my 2-part series. However, I can give you additional resources that you may want to check out to boost the link acquisition of your site.
Use Pinterest Pin It Button for Images so users can easily share your content on Pinterest.

48. Become a co-author or columnist for a news site/blog
Columnist is a journalist or expert in a specific area who has no special training. Most industries like interior design and fashion used the idea of getting influential bloggers to write for their columns/newspapers/blogs.
Take advantage of this technique as you can get more followers/readers for your site and the writing exposure can get the attention of other industry leaders.
Follow these steps to start your co-writing career:
Choose a specific area/theme where you want to dominate and established your content authority.
Use advanced search queries to look for high quality blogs/sites and determine if they are a good match to your standards (site's domain authority, social shares, number of high quality comments). Get the contacts of the website owners and put them down in a spreadsheet.
Stay up to date with the latest subject/topic. Use Topsy and Quora to find your readers' needs and try to help them through your blog post. You need to understand the behavior of the readers of your targeted blog/site. This will be your deciding factor on what writing voice or tone you will use for your content.
Link to older posts of your blog that you think will be useful for your column write-ups.
If you're in the search industry, you may try becoming a columnist on Search Engine Journal and Site Pro News to gain more readers back to your site.

49. Convert blog post and submit it to Scribd.
Watch this video to learn how to use scribe to convert your blog post to Scribd.
After the conversion, you can submit the file to the following sites to attract more traffic (search, social, etc..) to your page.
Aside from the earning potential an ebook has, it also leverages the ability to attract natural links and massive shares to your page/site. Given that the content of the book provides valuable insights (how-to's, crowdsourced, product review, etc..) to users/audience, the likelihood of ranking high on SERPs for a targeted keyword/phrase is higher.
Listed below are the benefits you can get from publishing an ebook:
Decreases your bounce rate (percentage of readers who leave one of your pages without visiting other page(s), seeing that your readers are spending more time reading your content.
Easy-to-download and faster to produce than paper books. Updating it for correction and for additional information is an easy task to do.
Builds your credibility as a brand given that it shows your expertise as an industry leader.
Get mentioned easily on top news/blogs whose owners can use your content as a reference/resource.
Increases your conversions (leads, subscriptions, etc..)
Multiplies your potential to gain more followers/readers, encourage comments/feedbacks.
Identifies your competitive advantage or unique value proposition as a brand.
You can check out the complete guide by Pat Flynn on how to write and publish an ebook.
Press release is an effective strategy to boost your online presence as a brand for your company/blog.
The use of this kind of public relation has three simple yet actionable steps you can apply to promote your website/product/services.
Pitching a Journalist/PR Agency
Your main goal of understanding the behavior of journalist/PR is to get them covered your website/blog/product. Behavior includes their requirements of a good email or contact pitch.
As soon as you send them an email, you engage with them. Ask open-ended questions of what they are looking for to cover. Give them the necessary requirements until they're satisfied and ready to cover your blog/site.
For product launch, it's important to send journalist materials or a sample product to help them with their press coverage. The faster you provide them the needed requirements, the faster your news/PR release will be published.
Mention your competitors in the article/news so as to make a remark of your strengths and weakness. It helps you stand out among your competitors.
Meet the journalist or a group of them in person (press tour). It's easy and cheap since you want to submit all the needed requirements and answer all their questions in one day.
Invest on your PR skills to cultivate relationships with top journalists and PR Agency Owner/Manager. This is your best asset to acquire hard-to-earned links that will boost your credibility as a brand and are good for word-of-mouth marketing.
Here are some top news sites you can get coverage with:
You can check this case study by Larry Kim of Wordtracker on how he got a link from the Wall Street Journal.

52. Post regularly
Your blog posting frequency may either affect the reputation of your blog positively or negatively given that your readers may actively participate on your blog through social shares and comments. The more you update your blog, the higher is their interaction on it.
Another advantage of posting new blog posts is that your readers have a reason to visit your blog in a regular basis. There's a better chance to get new entry points in search engine given that your blog posts may rank high in each specifically targeted keywords.
Aside from absorbing unique visitors to your site, regularly updating your blog can retain your repeating visitors. Your subscribers will either receive an email directing them to your blog or see your new blog post in their feed readers.
However, getting the benefits of regularly updating your blog requires you to determine first your blog goals. If it is for maximum growth, you can post multiple times a day.
If you're only aiming for slow growth, you can post two or three times a week. But this level of growth doesn't always happen. In the case of Jason Acidre of Kaiserthesage, he published his post once every week but then, his evergreen content gets him into the mainstream of search industry.
It is better if you ask guest authors to write on your blog as this can keep your readership grow, seeing that you can obtain their followers or readers.

53. Use enticing descriptions for your posts
Search engines use meta descriptions as a snippet to appear below the title of the search results. The more relevant and enticing your snippet, the more likely your users will click through your link.
When you share a link of your post/page on social media sites, the description of the page is included in the share. Again, the more enticing your description is, the more your content will get tons of shares. It also increases your Click Through Rates (CTR). You can check out this guide on how to use titles and get the best exposure for your site.
Crafting your meta description has only two guidelines to follow: call to action and cliffhangers. Ask people to take an action. Use phrases like "Read more about", and "Click Here" to get them see your page.
Cliffhangers are best to encourage your viewers to click through the full story of your blog post.

54. Video
Add videos on your blog to make your content more compelling, seeing that readers are actually seeking for elements/content aside from a plain text. There's lot of reasons why you want to add/create a video for your blog.
One is to educate. Amy Porterfield and Pat Flynn are famous personalities when it comes to creating tutorial videos.  See some of their videos here and here.
Tips on How to Create a Video
First and foremost, you have to plan your video content. From the start to the end, the video must convey the message you want your viewers to know about.
Make it short but meaningful to your audience. Avoid fluffs that only make your video longer. Keep it straight to your point.
Make sure that your video looks presentable. It positively affects the viewpoint of your visitors towards your brand.
If you have several videos, sort them by categories. Use playlist to arrange videos according their type.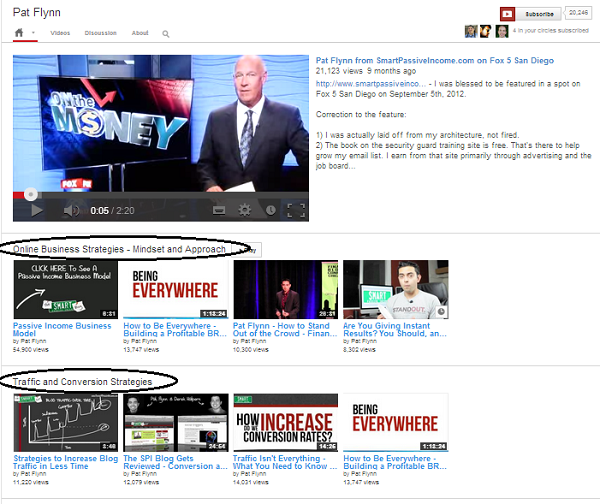 Check out this guide by Phil Notigham on how to invest on videos to build more links for your site.

55.  Content Curation
Content curation is not about collecting links of great content on the web. It's more on delivering a context that is well-organized and presented clearly to the targeted readers.
Additionally, a content curation should offer high value to readers, given that it requires more time and focus to get the right information about a certain topic.
You'll find several blog posts/articles that discussed each part of content curation – the why and how. But this guide by Mark Acsay covers the whole picture of content curation.

56. Slide Presentations
People are visual beings. And so, if you want to provide great content, add some slide presentations to your blog.
Here's a cool video by Rand Fishkin on how to create an exceptional slide presentation.
After you created the slide presentation, you may submit it to SlideShare to increase its visibility and attract more links/shares. Don't forget to put the url of your website on the description box.

57. Meme
Meme is a viral piece that you can use for your content marketing. It's incredibly the most viral tool, seeing that it gets traction in social media accounts particularly in Pinterest and Facebook.
The use of meme is worth your effort given that it can generate tons of traffic and visibility to both your social media and content campaigns.
Pamela Vaughan wrote a post about Memejacking. It's a complete guide to creating memes for marketing.

58. Give something for free
If you own a business, giving free is one of the best strategies you can use to attract more leads/subscribers/traffic to your blog.
Pat Flynn emphasized in his presentation the importance/power of giving free for your blog/business.
What stuff can you give away for free?
Extensive guides on Ebook/PDF formats (ex. Moz'guide, Hubspot's Branding in the Inbound Age)
Tools/Softwares (ex. TrafficTravis)
Consultation and advices through emails or social media platforms (ex. Quicksprout)
Sample products in exchange for links (mentions, reviews, shares, etc.) on someone's blog through linker outreach.
Advertisement of your readers/customers' product/service on your page ("Advertise with Us") and on the sidebars of your site. Only offer them free advertising for a short period of time (1 month or two).
Make it easy for your readers to download your free stuff. Ask for feedbacks/suggestions on how you can improve it (ebooks, whitepapers, etc..) The more you are transparent to your customers, the better you can build relationships with them.

59. Internal Linking
This term would not be the sexiest but it's one of the vital parts of a solid/effective link building strategy. But before I dive in to how you can build a good foundation in internal linking, let me first define what an internal link is.
An internal link is a hyperlink that is a reference or navigation element in a document to another section of the same document or to another document that may be on or part of the same website or domain of the internet.
<a href="www.digitalphilippines.net">brand building</a>
In the above example, the word highlighted in red, "brand building" is an internal link.
Below are some simple tips you can apply on your internal linking strategy:
Get links from other sites (must be authority/high quality).See 10 types of links that really matter and how to get them. Use longer anchor texts in guest posts/forums/blog commenting as these can increase your click through rate (CTR) and does increase your traffic.
Add links of your own blog posts, given that it does not only promote your own content but increase the time spent by your readers on your site. (lowers your bounce rate). Link juice is passed to the blog post where you linked your content.
Add an extra navigation to your popular posts/most recent posts as these can give some extra link juice to your profitable/landing pages. Use Yet Another Related Post Plugin or Zemanta to encourage your readers to click through to more pages/blog posts on your site.
Include keyword(s) in your URLs. Make it short and use lower-case letters.
One great tip that keeps your strategy (link building in social media, email, content, etc.) ongoing and stand longer in the inbound marketing scene is to research your competitors. Gaining competitive intelligence gives you a basis on the behavior of your audience (readers/subscribers/customers) and spends more time in providing value for them.
How can you gather information from your competitors?
Use free tools like Google Trends and Google Alerts to see what keywords your competitors are commonly searching for in search engines.
Tap the social network to see where your competitors have higher interaction whether it's Facebook, Twitter or Pinterest. See 26 Tips to Create a Strong Social Media Content Strategy.
Gather stories/feedbacks from your audience. They might be speaking to you real experiences/information from their service provider/supplier (your competitor). You can beat what their offering by providing a better service/content.
Attend seminars/conferences/meet-ups and other offline events to learn on what and how they interact with their specifically targeted audience.
Ego bait is a blog/business asset that is designed to attract attention of a group of people in which its main purpose is to generate tons of links/shares as well as to increase the site's visibility.
There are several guides/resources about this topic but here are some of the good ones you may check out:
Many businesses are now running into new ideas on how they can market their blogs. I mentioned earlier that for you to stand out in the competition, you have to think of a unique and creative idea.
One idea/content that everybody else is missing out is drawing. It gives room for your brand to tell your story/message to your customers/readers. Roger, Moz's mascot, was created by Matthew Heilman (Creative Director of Moz) for the visual recognition of the company and also, to be part of its product innovation and customer service.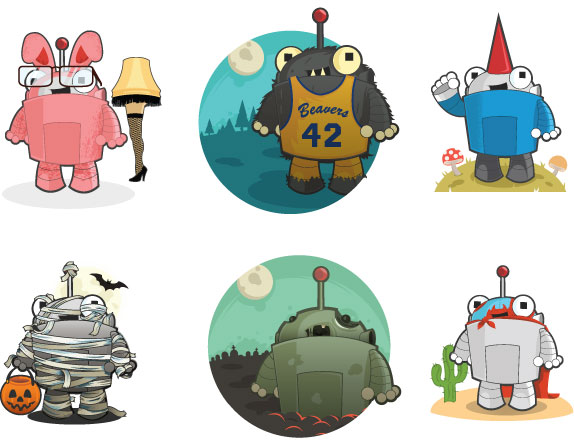 Use tools like Scribblar, FlockDraw and Scriblink to create your own drawing.

63. Quizzes
Build thousands of links with quizzes. Look at how Matt Inman considers the viral strategy in his quiz entitled, "how many 5 year old can you take in a flight".
You can also use it as your own advantage but make sure that your quiz:
Is topically relevant to your subject matter/topic of your website.
Has an embeddable badge with the name of your quiz as its anchor text and link pointing to your quiz.
You can check out the SEO quiz by Bill Slawski and Moz's upcoming quiz.

64. Charts/graphs
You can create a good data-driven content using visualizations such as charts and graphs. There's a better way to do it than in Excel. In fact, there are lots of tools/generators you can use to start with this type of visuals and they are as follows:
How to create a chart or graph?
Identify the purpose of your content. For comparison of two variables, it's best to use a bar chart. When the data adds up to 100%, use a pie chart.
Use colors to bring more attention to your graph and sort the data according to their kind. (ex. blue for advocates, green for followers and red for others).
Use direct lines instead of legend to make your data more compelling.
Save the chart as a template.
Here are some useful resources on how to create a sexier chart/graph:
Video games are not only addictive but can also improve your search engine rankings given that the reward can add value to your content and thus, attract referral links.
The more goals a person needs to complete in the game, the more it can influence other people to take an action (ex. promote the blog/site on social sites).
You can check out this interview with Chris Anton on how he made $10,000 in his first month and Neil Patel's post on how to use game mechanics to improve your SEO.

66. Create follow up posts
Give your new readers a momentum to keep reading your blog post/content. It can be in a form of a regular blog post like this guide or a guest post (See: Other-Worldly and Alternative Link Building Strategies – Part I and Other-Worldy & Alternative Link Building – Part II by Anthony Pensabene).
This content strategy helps you increase your followers/subscribers given that they'll be watching over your next/follow-up content/blog post.
Make sure that you provide value to your follow up posts to exceed your readers' expectation towards your expertise/skills.
A creative blog design brings more traffic to your site given that it is one of the formulas for a positive user experience.
Unbeatable content + Compelling design = Positive User Experience
I covered the importance of a compelling design in my post on Kaiserthesage.
I list down essential characteristics of a compelling blog design:
Good readability through the contrast of the background color and foreground color. Font size should range from 12-14px.
Easy-to-find elements like menus and side bars displaying recent/popular posts.
Engaging comment section such as IntenseDebate and Disqus.
Integration of social media sites for easy sharing of content (ex. ShareThis).
Memorable content that reflects your brand or blog's mission/vision/core values. (ex. Blog Design for ROI Rule: KISS Headers, Navigation, and Sidebars)
Semantic HTML structure for blog maintenance and better search engine results.
Coherence in organizing your content through proper navigation (categories).
Creative post title design. (Check out this "Make Posts Easy to Read" by Darren Rowse.

68.  Use Social Sharing Buttons on your site
Social media share buttons are great way to get your readers share your content on their social profiles before or after they read your work.
Here are some WordPress plugins you may use to add social buttons on your site:
You can check out this guide by Mari Smith on Social Media Examiner and my recent post about social media branding.

69. Add polls to your page/site
Polls are hot items on news sites/blogs that drives interaction. It's a good way to ask feedbacks and get some real ideas for your content creation.
Here are some interactive polls you can add to your site:
http://fiorecommunications.com/2013/04/10/social-proof-to-grow-your-business-expert-insights/
Take a look at this infographic to understand the power of social proof.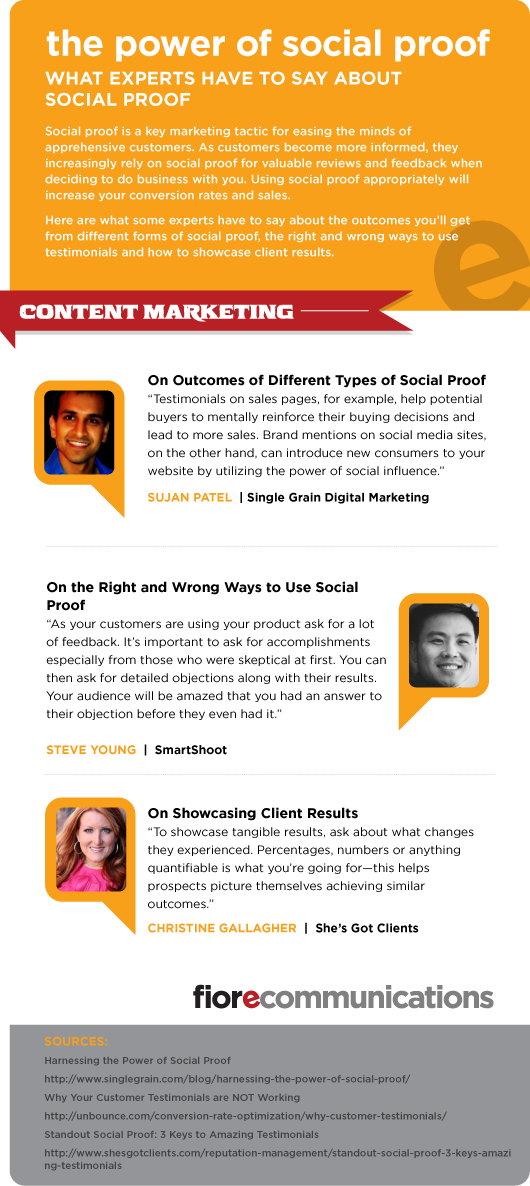 Social proof is a marketing material that can help you build trust with your potential customers and entice them to buy your product/services (ex. Customer testimonials and case studies).
How to use social proof to drive traffic and conversion to your site?
Include both your name and your company in your social proof and make some impact on your conversion given that companies/readers would like to see your credibility as a brand/blog.
Inspire others by sharing results. Look at how Neil Patel did in his social proof.
Tailor your social proof to your audience. Choose only one good testimonial from your clients and put their logo below the text.
Try different social proofs to see what drives more conversions. What's working for Neil Patel may not work for you. Check out his guide on how to effectively use testimonials for your brand/blog.
Logo is a visual representation of your brand. It establishes loyalty between your business and your visitors/clients/customers and creates the first impression about your business.
To get started with your logo creation, follow these step by step tips:
Think first about your mission statement or the message you want to convey to your customers/readers.
Analyze how your competitors are creating their logos by identifying some elements that play a significant role in logo creation (visual design, nature/behavior of specifically targeted audience, brand personality, etc…)
Sketch your logo. Use original art instead of copying a clip art from other sites. Make it clean, functional, easy to reproduce (for black and white copies) and memorable.
Try not to exceed three colors given that there comes a time that you will produce the logo on stationery. It would be pricey if you choose more than three colors. Try different color studies using different versions of the logo.
Use evergreen content even for your logo. It should last and stay current for 10 to 30 years so you no longer need to redesign it when it is outdated.
After creating your logo, you should consult a professional designer. He or she knows how you can easily transfer your logo design into print and make changes/edit some elements of the design.
Use your logo as your brand asset in business cards, letterheads, ads, brochures, your blog/site, etc.. This will increase your logo's visibility both online and offline that can lead to more business opportunities.
Tagline became the most underused element in both personal and business blog. Several blogs don't understand the huge function of a tagline and how it can be used to get more readers/subscribes for a blog.
A short yet powerful tagline can make a big difference for your blog's online presence. This is a snapshot of your service, expertise, and what you can offer to your readers. The more compelling your tagline is, the better.
How to create a catchy and SEO friendly tagline?
Identify the purpose of your blog. Is it to educate, entertain or promote a product/service?
Keep it short. Shorter taglines are memorable and appealing to your readers.
Be clear and concise with your tagline. Make sure it conveys the message/purpose/promise of your blog.
Add some humor if possible into your tagline to make it interesting and humanized.
Ask your friends/colleagues for suggestions or comments. They might have a better idea than what you think.
This WordPress plugin is one of the powerful link building tools but you need some careful insights on how to use it properly.
Zemanta is a service that can scan your content and suggest "related" articles and images from different sources. Make sure that you open every suggested link and only include those authority links that are relevant to your topic. Add credits to the authors/creators of the image and/or blog post.

74. Callout Section
A call out may be a simple text, box, arrow, bullet or any decorative treatment. It is usually set apart from the content by enlarging or contrasting its font.
Cyberchiimps wrote a post on how to enable the callout action in the blog settings.
If you liked this post, kindly share it to your circles/networks, subscribe to my feed or follow me on twitter @venchito14.
Hear about new posts as they happen. Build extraordinary links.