Content became one of the main areas of emphasis for SEOs to focus on in 2013 and beyond. You must be creative on your content, which is one of the top SEO skills you must possess as an SEO professional to potentially gain more traffic to your site.
Guest blogging became a popular method to gain traction, credibility and networking opportunities in the search industry.
We are here with Jayson Bagio, the founder of SEOteky and he will share to us the basic and advanced principles of guest blogging and how it can affect your site's branding.
Who is Jayson Bagio? When and how did you get started working with SEOteky?
First of all, I always joke on this during my college days in Adamson U. It's Jayson with Y and Bagio without U. I have come up with an introduction like that every 1st day of the subject so people can write my name correctly.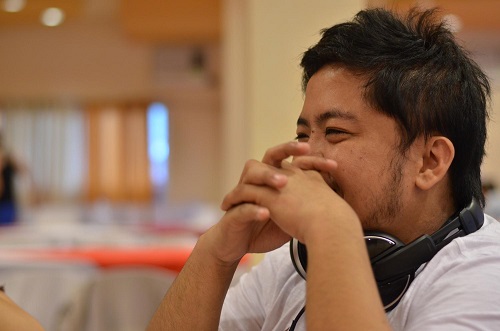 Before SEOteky, I worked as an ASP.net consultant and become also a wordpress UI designer / Link Builder for an offshore company. I also became an SEO Director of an iphone app development company that is based in LA and has a local office in Ortigas. I started SEOteky July 2010 as a blog and then later on become a place where people can connect to me and ask what SEO help I can offer to them. Today I'm focused in guest blogging and public speaking.
Who are your influencers back then starting out your SEO career?
The greatest influencer when I was starting is Sir Benj Arriola. He is like the Filipino hero in SEO. The InternetMarketingInc.com SEO director / SEO champion, SMX speaker, teacher and a good listener. He is the best influencer that you can have! Then there was Jason A, Mark A, Zaldy and Ed P.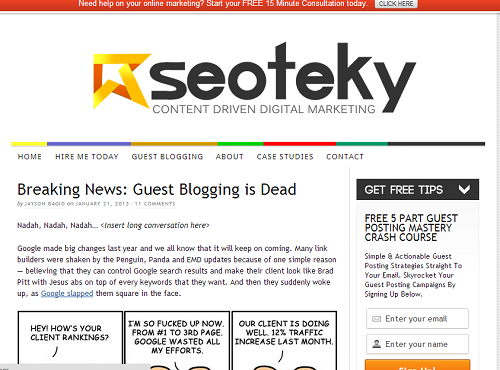 Why a business should care about guest posting in its marketing campaign?
It's not like every business should invest in guest blogging though. Link builders are just making an excuse for using guest blogging when they are selling pillows and foam mattresses. Guest blogging can increase traffic referrals and brand presence.
I love guest blogging in travel niche but hated it the most with ecommerce type of sites.
Give me 5 benefits that a content marketer can obtain from guest posting.
Guest blogs is your time to shine and get noticed. Not just your brand but you as your persona who is known an expert of a particular subject.
Increase your circle by reaching out to people who are involved to you. You don't only make friends with other bloggers but you also get the respect from people who are considered to be influencers in your niche.
By all means, make friends. Guest blogging can reach greater heights when you know how to nurture those relationships that you were able to built.
Your audience reach is what matters the most. Take the opportunity by being in front of other people's audience.
Those1 to 4 benefits leads to #5. Traffic referrals.
What is link baiting and how it can affect your site's branding?
For me, link baiting should be defined as any means that you can influence people to link to your site. The branding effect? When it's intriguing, creative and awesome, it can definitely help you increase your brand popularity.
What do you think are the risks of accepting guest blog posts?
There's no risk at all. Guest blogs and guest contributions is a natural thing, newspapers and communities have guest writers and contributors. It all depends on the quality of the guest contribution. If you accept dumb works, your readership will suffer.
What are your quality measures for choosing the right blog for guest blogging?
Relevance is the most important thing.
Social media signals is the next big thing.
Readership and interaction should be evident on his or her previous.
Webmaster's note: Use this list of free SEO tools to help you find relevant and high quality guest blog targets. 
If guest blogging is not allowed by search engines like Google, what alternatives you should consider as your link building tactics?
Guest blogging will always be there forever – High Quality Guest Blogging. But if you are asking for tactics then the next cool thing is conversational marketing. For example, when someone in the internet is talking about Lionel Messi and FC Barcelona, you can always join the conversation if you are marketing sports apparel or anything related to soccer. Don't be an ass though and act like a salesman.
Can you share with us your guest posting strategies that work best on your company?
Guest blogging / posting is just a tactic and not a strategy. Just like any link building tactic out there, guest blogging will not work alone if that is the only tactic in your strategy.
The only help that I can give to people who want more from guest blogging are these:
Understand the 4 pillars of guest blogging
Follow the 10 commandments of guest blogging
What's your advice to those link builders who want to start their journey in SEO?
Don't be contended of what you have learned today. Read, read and test what you have learned. Be on the right path. Don't just sit your butt in an office chair and wait for your tasks – Keep growing!
How can we connect with you? (Social accounts)
You can always read my stuffs on SEOteky, add me on your circle at Google+ or follow me on twitter @seoteky. Join the largest community of Filipino SEO's today – SEO ORG PH.
/End of interview
If you're looking for more link building interviews, you can subscribe to my feed or follow me on twitter @venchito14.
Hear about new posts as they happen. Build extraordinary links.