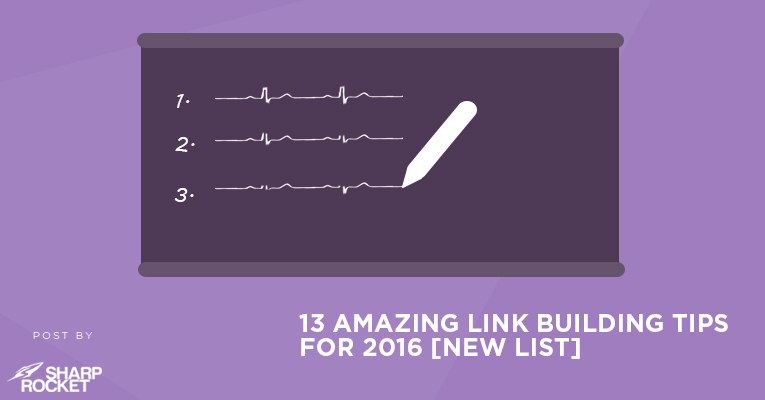 There are two phases that we always keep improving at SharpRocket: link research and outreach. Changes we made on the process aren't intended for additional link building tactics, but to yield big improvements for our clients' link development campaigns.
I've written a post last year about link building 2015 tactics, which I guess would need another remake for 2016.
Link builders and inbound marketers in general should understand that they don't need additional link building strategies for 2016 but should be observant and creative for small tweaks to their existing process to make it work effective for their campaigns.
Without further ado, let's go with 13 link building tips for 2016 and beyond.
1. AVOID FALSE SINCERITY IN EMAIL OUTREACH
As link building evolves, old-fashioned spammers turned into manual email outreachers also changed the way they construct email copies. They don't look like spammers now but if you've been receiving several emails from them, there it seems a spamming hint.
"I've been reading your site, www.domain.com" for quite some time"
"I'm an avid fan of your blog, www.domain.com"
"I noticed you're interested in [industry]" (but they're coming up with guest blog ideas that aren't relevant to my niche).
All of these introductory messages indicate false sincerity. It means that you want to please other people by saying things nice to them (i.e. being a fan of their blog) without doing them actually (i.e. reading or even subscribing to their blogs) – well, all boils down to a lie.
Avoid these introductions to your email. It won't personalize your copy simply by using them.
Here are some useful personalization tips to increase email and response rates:
Know who they are, state the name of the blogger or the person you're trying to reach out to. It's amazing to see emails that didn't indicate my name (i.e. Hi,) even if they can just click on my blog's about me page.
Location (use Rapportive to see their current location). This can also be added to subject lines of your emails.
Company (finding the companies where sole authors/bloggers are working for and adding the brand name to your copy is a plus factor in outreach).
Phone-based outreach. Pick up your phone and be ready to call the person. You can add to your email things like, "I'd be happy to discuss this with you over the phone".
2. CREATE CHECKLISTS FOR SCALABILITY
Do you have common issues that result to some inefficiency in your current link building process? Problems like which email should be prioritized (if there are multiple emails listed in a contact us page), differentiating a company website from a blog (when training new link builders) or simply identifying if a page/site is high quality or not (based on certain campaigns' metrics).
Questions regarding these issues could be answered through creating a checklist. Checklist for link building helps you answer work-related questions of your link builders (especially for new ones) without the need to routinely provide them with answers.
Samples of checklists that we've been using internally for scalability are:
Priority of emails to pick up (contact finding) – useful when looking for the right(s) email to target as opposed to pursuing generic emails (info@domain.com or sales@domain.com)
Checklist of requirements/standards for every link building campaign (DA, Trustflow, CitationFlow, target niches/audiences, SEMRush traffic base, average # of social shares per post, average # of comments per post, etc..). Set these metrics right with your client so you won't be in trouble in the latter part of your campaigns.
Checklist of "to consider" and "not to consider" when looking for related posts/pages from target domains (e.g. not to consider guest posts/sponsored posts from other blogs as well as pages with too many external links – especially those that point out to company pages/sites).
3. INVERTED BROKEN LINK BUILDING
Broken link building is known in the search marketing industry as one of the effective link building techniques in all time. Pros like Jon Cooper and Garrett French who mastered this art very well provide actionable link building guides to help you create linkable assets and properly do outreach campaigns.
The basic process of broken link building goes like this:
Find relevant resource pages using search engines (with the help of search operators: intitle and inurl) and link prospecting tools (Ahrefs, CognitiveSEO, etc..).
Check each page for any broken links (404s) and list them down in a spreadsheet.
Reach out to potential linkers and let them know of any defunct links in their links pages, then follow up with a suggestion to include your content in one of the resources/references.
There is another way to do broken link building and we'd like to call it – inverted broken link building.
Here's a step by step guide on how to do it:
Step 1: Find broken pages in your industry (you can find broken links in your existing list of resource pages – use LinkMiner to check for broken link opportunities).
Step 2: Dive into Archive.org to see their visible recent content. You can also look at the number of available pages/sites linking to those broken pages to see if there is a high link potential on a specific topic.
Step 3: When done brainstorming for a topic that is highly linkable (with available linkable audience).Create 10x content on that content idea and ensure that it is better than information contained in broken pages (when they were lived).
Step 4: Find existing linkers to broken pages and list their contact details in a spreadsheet/document.
Step 5: Reach out to them and let them know of those broken links. Recommend replacing those defunct links with link to your content piece and/or suggest your page for additional resource listing.
[image]
4. TURN SEEMINGLY NOs TO YESes
In outreach, there are seemingly "no" messages that could actually be turned into real links. However, you've got to understand why these messages are going to routes of lost link opportunities then take creative actions to make your outreach to them works.
Case 1: Relevant domain, irrelevant resource
How to solve this issue:
See the exact resource listing or page/site where you want to get your links built. Are there any specific sections of the page where your content could be referenced? Include that point to your response, add some compliments as to why your resource is a good fit to their page and let them take a second look at your content.
Provide similar resources that could be added to resource listings and state complements of your resource with other content assets.
Case 2: No capacity to update the page
How to solve this issue:
Ask the potential linker if he/she knows other contacts that have the capacity to update the page (i.e. main webmaster). If there are multiple contacts in the website, you can already get one in the list and try to pitch him/her (in case, the first contact didn't respond to your next message).
When emailing the next contact, include your original message, so the person in charge of the website would understand your concern very well. This also shows that you've made some effort to reach out to someone in their organization.
You can try using any of these subject lines for second-contact emails: new contact forward by [first contact name]: [original subject line] or can you help update n'the page? [original subject line].
Case 3: Not at this time
How to solve this issue:
Do follow-ups indicating that you recently send him/her the message (you can forward the original message perhaps). Follow-ups may be 5 days, weeks or months after your initial pitch.
Ask the reason why this is not the right time to update the page. You'll never know, it may simply just be about the case #2 (doesn't have the capacity for page editing).
5. LAST MODIFICATION IN BLB OUTREACH
Figure out when the pages were updated last. This is a very cool trick to personalize your pitch as you can simply add this info (i.e. The page hasn't been updated for [months] or since [date]). This allows your outreach to stand out among other emails.
Knowing the last modification date is also a pretty cool way to know if there's a high link opportunity
Pages haven't been updated for years may not be the best link opportunities).
To see the last modification date of pages, you can use Archive.org (example).
Though modifications could be in forms of page designs, text editing and other minor changes in the pages, still considering it could give you an idea of whether or not the page is constantly being updated.
6. ADD BRACKETS TO SUBJECT LINES
Outbrain's recent study shows that adding brackets to post titles bump CTR by 38%. This is a little cool trick when you're creating content for your clients as you'll get more traffic to your website, but have you tried using it for outreach emails?
Headlines with bracketed clarifications (e.g., [photos], [interview], etc..) performed 38% better than headlines without clarifications, which only means that readers would likely to read a page if they have a clear picture of what the headline/content is all about.
Here are a few reasons why bracketing would work for emails' subject lines:
Differentiates your pitch from other messages, as most emails won't have brackets in their subject lines.
Highly emphasizes your content's description (i.e. [New Tutorial]).
7. SCALABLE LINK RECLAMATION
Reclaiming links from someone who have used your brand's content, whether an image, video, or simply a quote from your presentation is a pretty good way to pass additional link equity from external websites to your page/content.
Doing this manually would take too much time. However, you can scale this link reclamation process for all your clients or for a single brand with high reputation/authority in the industry – as they would normally have acquired branded link opportunities (unfortunately, unlinked).
Chris Dyson of TripleSEO recently published a link building tutorial on scaling link reclamation. I won't go deeper to this but would like to share some more tips to make this strategy work more effective:
Aside from using ImageRaider or other automated reverse image tools, you can use inurl:/tag "brand/product/service name" to find more unlinked branded mentions – tags are basically used by bloggers to help visitors find more pages relevant to the page they are already viewing.
Look pages that haven't linked to your content but have use it otherwise (i.e. an infographic posted on someone's blog without a credit to your brand). You can use the allintitle: search operator to find these link opportunities.
For instance, my infographic about blog promotion, which was published 2 years ago, earned high quality backlinks from the blogging community (forums, infographic lists, news sites, etc..) as well as unlinked use of image content on some other blogs.
Using allintitle search, I've found out that there are 300+ blogs that have mentioned and/or linked to my content. Note: Make sure you have distinct content title so whenever you use allintitle search, you won't get results that have no mentions of your brand.
8. WIDEN YOUR REACH THROUGH PROPER LINK ANALYSIS
There are many incredible insights we could draw from link profile analysis besides mining for link opportunities – though this is one of the main usage of third party link building tools like Ahrefs.
There are still other benefits of an in-depth link profiling, such as:
Finding sub-niches to tap into simply by observing linking pages of a particular content asset. At SharpRocket, we've found this benefit really useful for us, as we are able to get multiple resource pages targeting "seniors guide to computer literacy" theme, which are potentially linking to a starter's guide to blogging.
Populating link prospecting phrases through the use of anchor text section of a third-party tool, like Ahrefs. See both anchor texts of pages linking to the content piece, and anchor texts used by the site pointing to its references.
Identify relationships between linking pages in a particular link profile, which could open new link opportunities. For instance, if an ecommerce site acquired links from suppliers, manufacturers and associations, you can reach out to these existing linkers and have them linked to your brand as well.
9. PHRASE MENTION MONITORING
If you've been doing link building for years, then you pretty know much about reclaiming unlinked brand mentions from linking sites of your brand. This could be in a form of image credit, infographic reference, persona inclusion or simply a mention of the brand name.
I'd like to share the idea of "phrase mention monitoring", which is somewhat similar to link reclamation.
This is how it works:
Look for a topic with low friction point to getting similar blog posts from others (you can use Buzzsumo to find content ideas). The topic must have low competition and is uniquely identified on search. One search operator that can validate these factors is allintitle:"keyword", which gives you an idea if the topic has been exactly covered on other blogs and proves that there is a low competition level ranking for that topic.
Develop a 10xcontent that people would want to link to from their own blogs and share on their own social platforms. If it's a seasonal topic that you'd like to discuss (i.e. money saving tips for 2016), try to come up with new information that isn't brought up for the past few years (always add unexpected hook in the content).
Create email alerts for future mentions of your content's topic. You can use Mention.net, Brandmentions and other brand monitoring tools to automate receiving emails when someone has published a content on it or at least mention the phrase in their contributed articles.
Reach out to content creators who would be discussing your content's topic (e.g. link building tactics for 2016 on other link building blogs). These publishers are more receptive to pitches of mentions or link requests as they have recently just published their content (it won't require too much of their time editing the resource as they may have been checking for blog updates, especially right after they published it – engaging new comments).
10. ASK FOR REFERRALS IN OUTREACH
Link opportunities aren't easily discovered through manual search. Using every link target as a source for another target site is an effective way to build a list of potential linkers with less work.
Utilize networks and relationships for additional blog prospecting by asking your publishers with built relationships if they know someone who would be interested for the same kind of content value you gave to them.
In our own data testing, we've found out 20% referrals from our existing list of link targets, so you'll get 3 additional link prospects out of 15 publishers whom you've asked for referrals.
A few things to keep in mind when asking for referrals in outreach:
See to it that the referred site/blog isn't owned by the person whom you've asked referral for. Otherwise, he/she owns several blogs and formed a private blog network.
Highly consider your metrics when checking the referred sites. They may refer bloggers but have sites that are irrelevant to your brand.
11. OPPORTUNITY OPENING THROUGH URL AND TITLE VARIETY
At Sharprocket, we always come up with new tricks/tips that we use to improve our link research for our client campaigns, one of which is observing URLs of existing resource pages in the lists and search results.
For instance, in the language literacy space, ESL or English as a secondary language is frequently mentioned in literacy and writing niches.
By using this as the exact URL term, we can come up with resource pages specific for ESL literacy.
Examples of search phrases are:
inurl:esl-links.html – lists down ESL-specific HTML links pages
inurl:esl-resources-for-students – brings up exact learning resources for students
inurl:esl-blogs – lists down resource listing of top esl blogs
intitle:"esl resources for teachers" – leaves out reference ESL pages for teahcers
intitle:"esl resources for kids" – gives a list of links pages for kids' ESL learning
12. USE EMAIL VALIDATOR TOOL FOR UP-FRONT AVOIDANCE OF FAILED MESSAGES
One common issue that we encounter as a link building team when pitching prospects for the first time (initial outreach) is getting failed delivery notifications from the server. This doesn't impacts heavily to our campaign if we're only reaching out to less than 50 publishers. But if we are pitching to 400+ people individually (which we did to one of our clients), we don't want to miss some link opportunities.
What we do is we use My-addr to validate email addresses (seeing if these email are still functioning). This helps us avoid up-front any possible failed messages when doing initial pitch and we can just come back with secondary emails to move forward.
The tool isn't perfect in terms of accuracy. I've tested this for 16 failed messages that we received in our inbox. It resulted to 2 OK emails and 14 FAILED emails (~12% inaccuracy rate).
My addr is cheap, it only costs $0.500 per 1000 emails (I'm not affiliate of this product, but if you want to improve your outreach process, then you may want to test this out).
13. TYPO LINK BUILDING
This link building strategy originally came from John-Henry Scherck which is basically a process of getting links from bloggers, content creators and publishers who may have linked to mis-spellings of your domain name.
How to actually do this:
Step 1: Find possible typos of your domain name using this domain typo generator. Just put in your domain, click "Generate Typos" and it will give you different variations of mis-spellings.
Step 2: Grab links pointing to those domain variations using Ahrefs Batch Analysis. The tool will help you generate multiple backlink reports of those mis-spelled domains.
Step 3: Reach out to publishers of these links and let them know about mis-spelled domains/urls. You can ask them to change the URL, so it would point to the right domain of your brand.
Have We Been Helpful?
SharpRocket is a team of link building specialists who love building high quality links.
To learn more about how we can help you, take a look at the services we offer.